We love Thanksgiving, and not just because it's an excuse to come home and visit family members we miss so much. It's not even because it's an excuse to eat as much mashed potato as possible in our stomachs. (Although we're being honest, it's up there). 
We love it because it's an opportunity to take a break from the hustle and bustle of everyday life, reflect on our current situations, and express real gratitude. By the way, it's scientifically proven that expressing gratitude on a regular basis makes you a happier person. But we move away.
As with all holidays, our favorite way to get into the party spirit is to channel it on our nails. Seriously, there's something about a new manicure that makes us feel a visceral sense of anticipation and excitement, especially if there's some sort of nail art involved. 
To clarify, we are not talking about painting turkeys and cornucopias on our nails. No, we're talking about sleek and subtle nail designs that channel the colors and warmth of the season. Keep scrolling to see our 30 favorite nail designs for Thanksgiving. 
Related Post:
Best Picks Thanksgiving Nail Ideas To Copy
French Nail
The queen of nail art is always the French. There are a lot of ideas for your thanksgiving nails and you don't even have to be super precise to get a very beautiful final effect. You can have fun sponging the warm colors on the smile line, or applying glitter.
An here you can play with turtoiseshell print that's pretty much easy to create on your own. Gives the vintage look for your thanksgiving nails look.

Metalic Touch
A precious, shiny, luxurious metal gold will warm the manicures of the thanksgiving event. The gold leaf is easy to apply and gives an majestic result.
Perfect to combine with milky nail polishes that let you see the natural nail in transparency, or even with other nude nail polishes in shades of beige. Perfect and easy thanksgiving nail design to impress others.
The Brown Heart
A warm and pastel brown, rich in love. Bronze is less precious than gold but no less trendy in nail art. Alone, in a nude version, or to combine with heart shape, for more details. Some easy nail ideas to copy.
Ingenious Lines
Artistic way to create lines print on your simple coffin nails. Go with the cross patterns for surprising look. Nude nails will get the fall-y vibess.
Thanksgiving Nail Color
Neutral lovers, rejoice! This one-tone nail look is bold in no print, making it a great option for your Thanksgiving model.
To the nuances just seen for the autumn collection are added other colors of nail polish that even used alone will be enough to have fashionable tanksgiving nails.
Curvy Details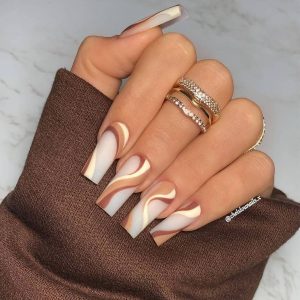 Curvy details nails are a great way to make a bold statement without using tons of polish – take these Tan cuties with coffin nails, for example.
Cheers Live
Perfect for Thanksgiving's day and any festive occasion where green is the protagonist. The Gel Manicure in forest green with raibow dots andbronze picture is good for a cheerful and auspicious manicure.
Petal Shades
These graphic fall floral nails have a unifying theme of red maples , while each nail features a unique petal shade (or a combination of a few) with glittery or wavy details.
Fall-y Things
If you stray from pastel colors even in fall and winter, take inspiration from this colorful nail design, worthy of a harvest festival. With your fall colors on orange, yellow and brown shades.
Holographic Nails
The holiday season is just around the corner, which means all the things that sparkle are around the corner, too. Why not make it part of your beauty routine sooner by opting for this subtle holographic gold glitter manicure. You can add some details if you like glamory style but will also look great on holographic alone.
The Glittery Picks
For those who love to stand out, this nail art full of glitte applications,but in more simple ways to make you easy to copy. Glitter is perfect for carnival or for any other events in which to let yourself go fully to the color, without inhibitions! 
Gray Gang
Begins with a grey colored polish. The exquisite detail of the thanksgiving letter and pupikns is very popular and easy to design on your own. Fo splash look features one nails on tottally different vibes like this sparkly bold red nail.
Leaves on Autumn
One of the prettiest parts of fall (aside from the gorgeous chunky sweaters and knee-high boots, of course) is how the leaves change from lush green to shiny shades of burgundy, orange, and yellow. To show off your love of the transition, pay it tribute on your nails this Thanksgiving holiday.
Clear Gels
Thanksgiving is a time to eat, drink, and be as comfortable as possible. To project those good vibes, try painting your boards with this festive brugundy colors with clear stand layer gles.
Abstract Form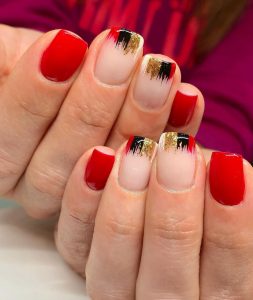 Can't decide what to wear on your nails? Why not rock some superimposed patterns in the name of abstract art? This red with metalic combination is sure to turn heads.
Animal Pattern Print
These seamless animal print nails play into the ever-fashionable pattern while offsetting them with feauting other nails in black. And, hey, we're obsessed (chances are your family is too).
Gold Flower
Dark flowers are the hallmark of fall and winter, which is why I am amazed at this gold rose pattern on a black backgornd. The splashof color make it even more stunning.
Orange Marbles
Marble is one of ost trendiest pattern for this year. And yeah you can cretate it in more autumn vibes. This design  encapsulates the colors of the fall season by combining various shades of orange.
Halfsies Pumpkin
The pastel is always rising on the autums season. And pumpkin nails will ake it perfect to give more accents for your thanksgiving nails,
Thanks Letter
The tHANKS letter for your easy ad matched thanksgiving nail ideas. The combination of silver words on dark green makes it at=stonishing without any effort.
Rainbow umpkins
If you love super colored nails for sure you will not be able to appreciate this multicolor pumpkin nail art. Fuchsia, blue, green, cyan, there are all the colors of the rainbow! To be made in gel or with glazes it does not matter, it is certainly of great visual impact and, perhaps, a little crazy!
Regular Accents
Pair your solid sweater with a minimalist design like this one from Paintbox Nails. Simply start with a base of white polish before adding a matching cube to the base of each nail. It's simple but chic.
Similar Post: