Spring Nail Ideas~It feels like New Years just recently come but Spring is here again. As the weather has become brighter and warmer you may want to change your look and try new spring nail design with these seasonal manicure from the dainty daisies spring nail ideas to the glow galaxy to festive your spring.
Now, Without further ado : All the spring nail art designs (spring nails inspo) for you to go through the season.
Related Post: 
Trendy Spring Nail Ideas to Rock in 2022
1. The Season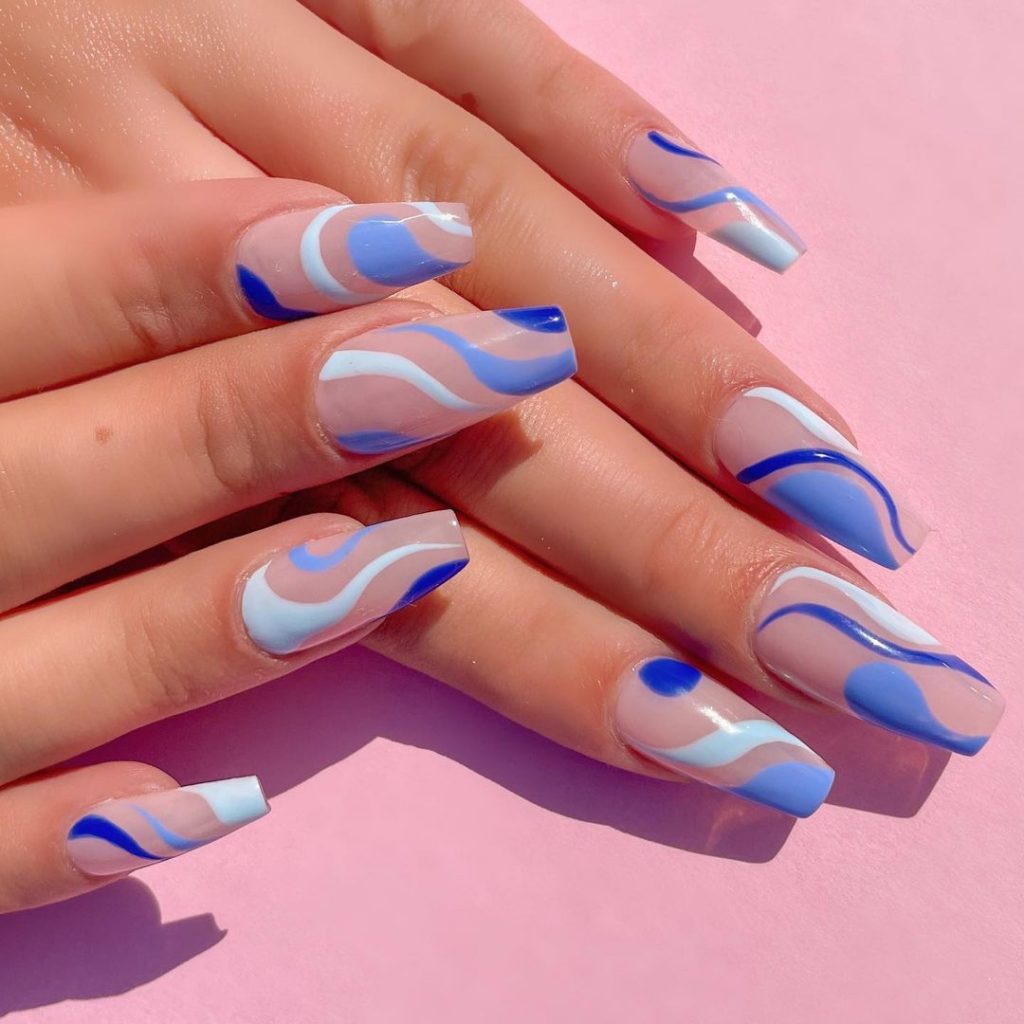 Instagram | sassnailartistry
Not only do neutral and transparent bases, release all the vivacity of nail art with tropical flowers, dark and deep matte colors are also ideal. 
Copy With:
2. Sweet Pink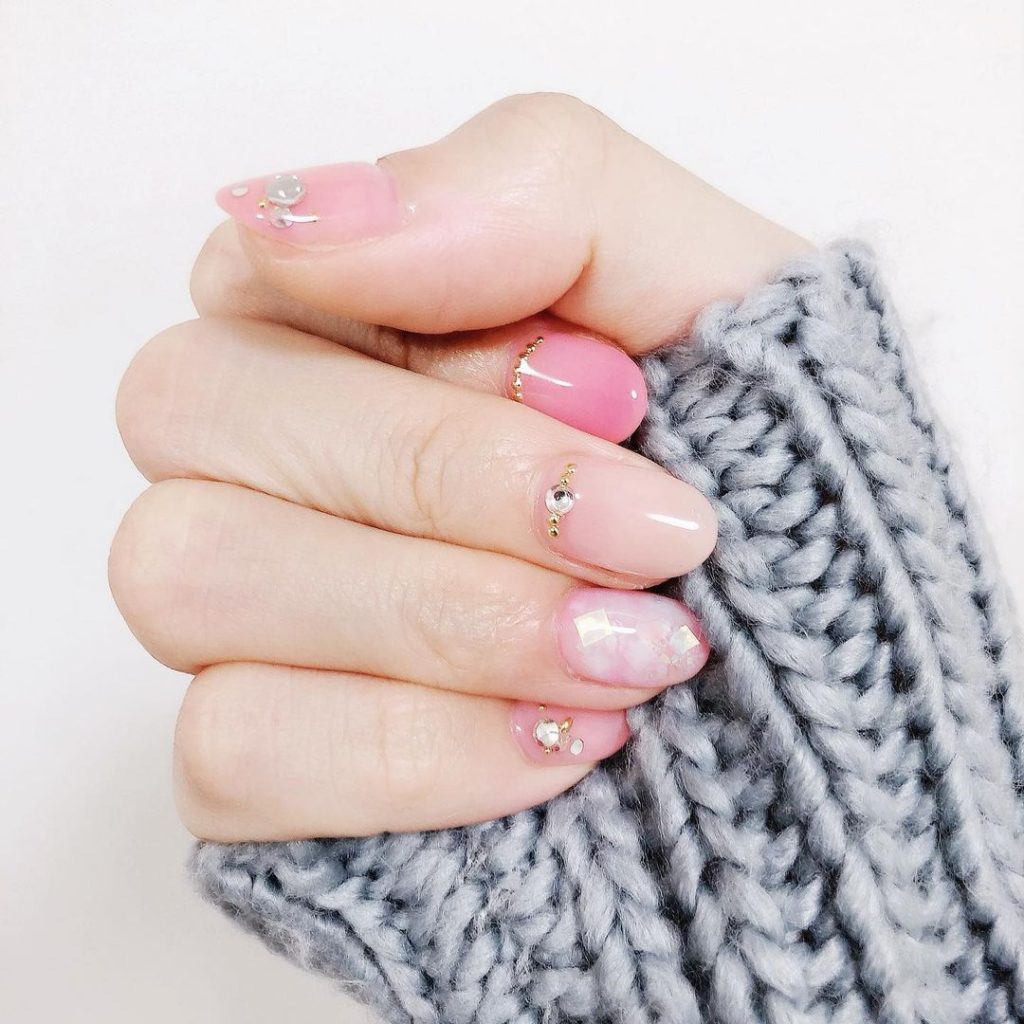 Instagram | ficklebaby1230
Rose quartz blends perfectly with marble for a subtle crackling effect.
Copy With:
3. Yellow Sun
Instagram | @ beauty_basecoat
Soft colors like pastel yellow are the perfect base for spring nail art with simple and beautiful flowers like sunflowers. 
Copy With:
4. Blue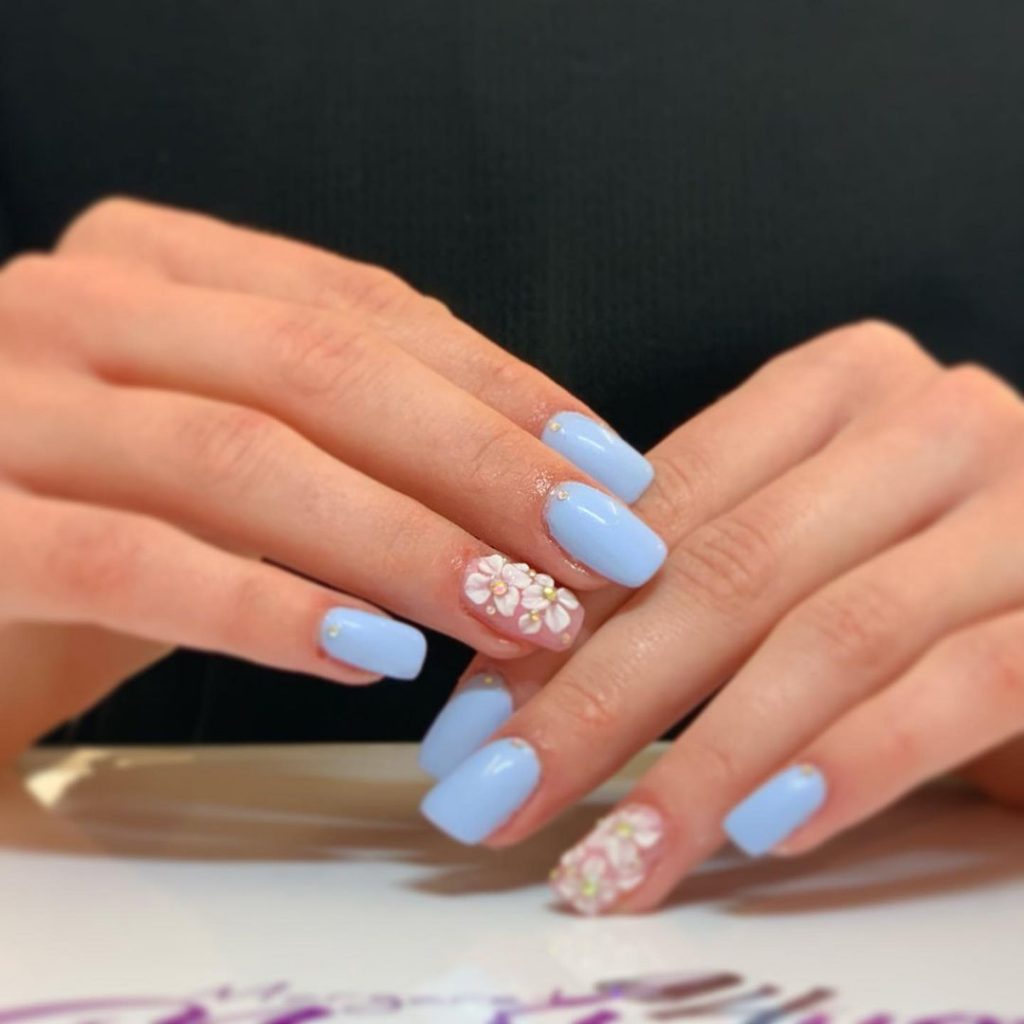 Instagram |marget_nails_boston 
This baby blue base is the perfect company for the blossom flower,
Copy With:
5. Simple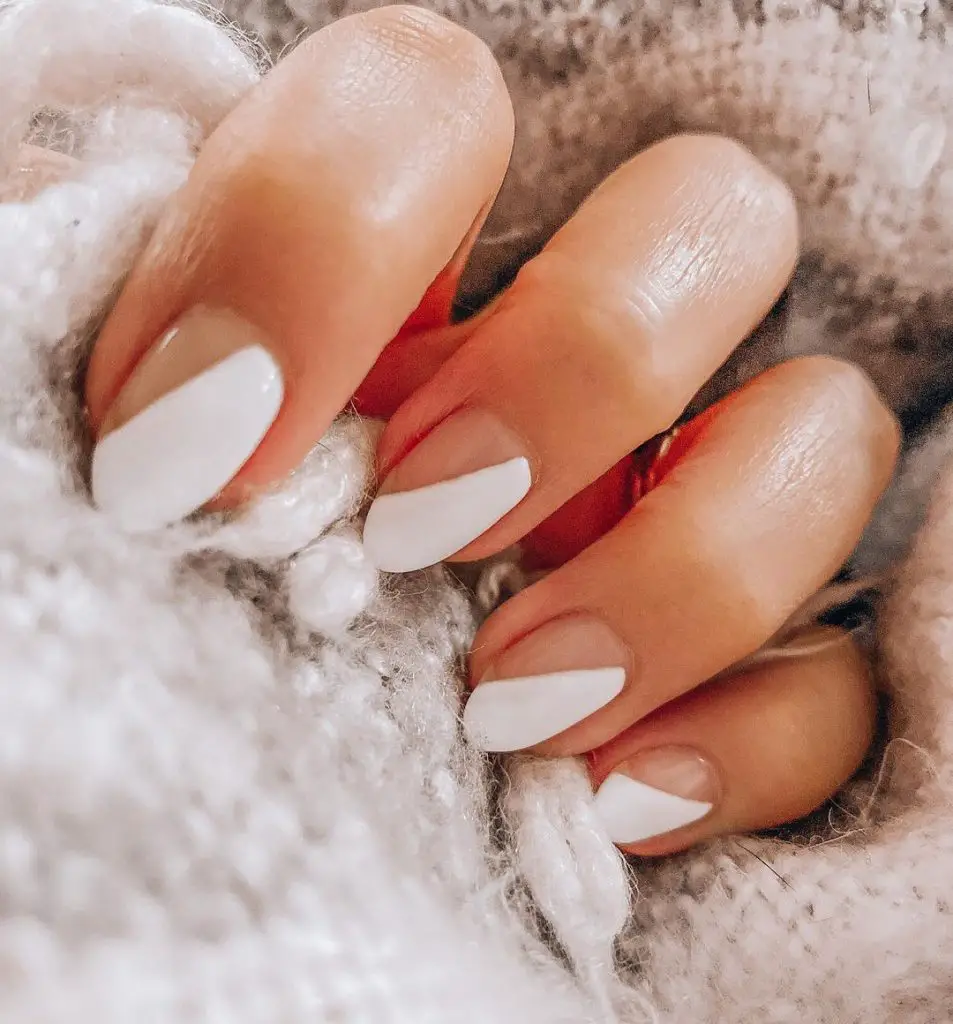 Instagram |little_miss_jojo 
This look was designed for minimalist nail art lovers and newbies alike because it couldn't be easier to do.
Copy With:
6. Number Nail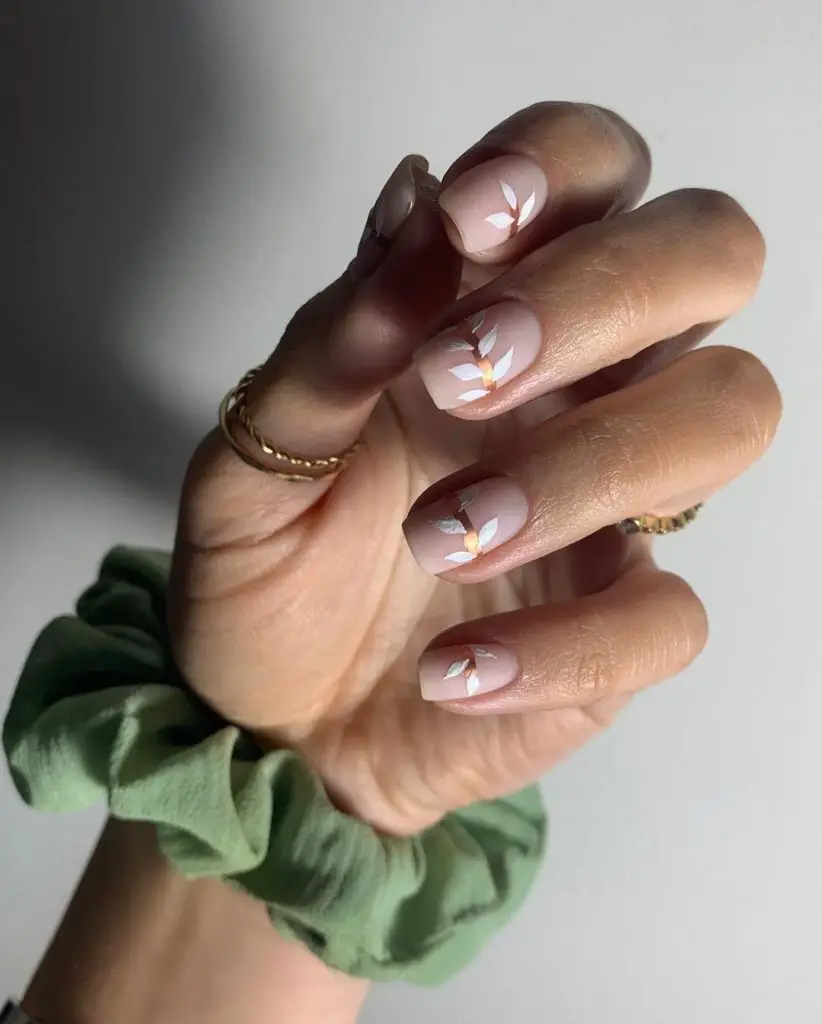 Instagram | mannacured
Don't have a green thumb? No one will know when they are golden this spring. Add a polish like Butter London The Fully Monty paint box to your tips for even more flair.
7. The Ombre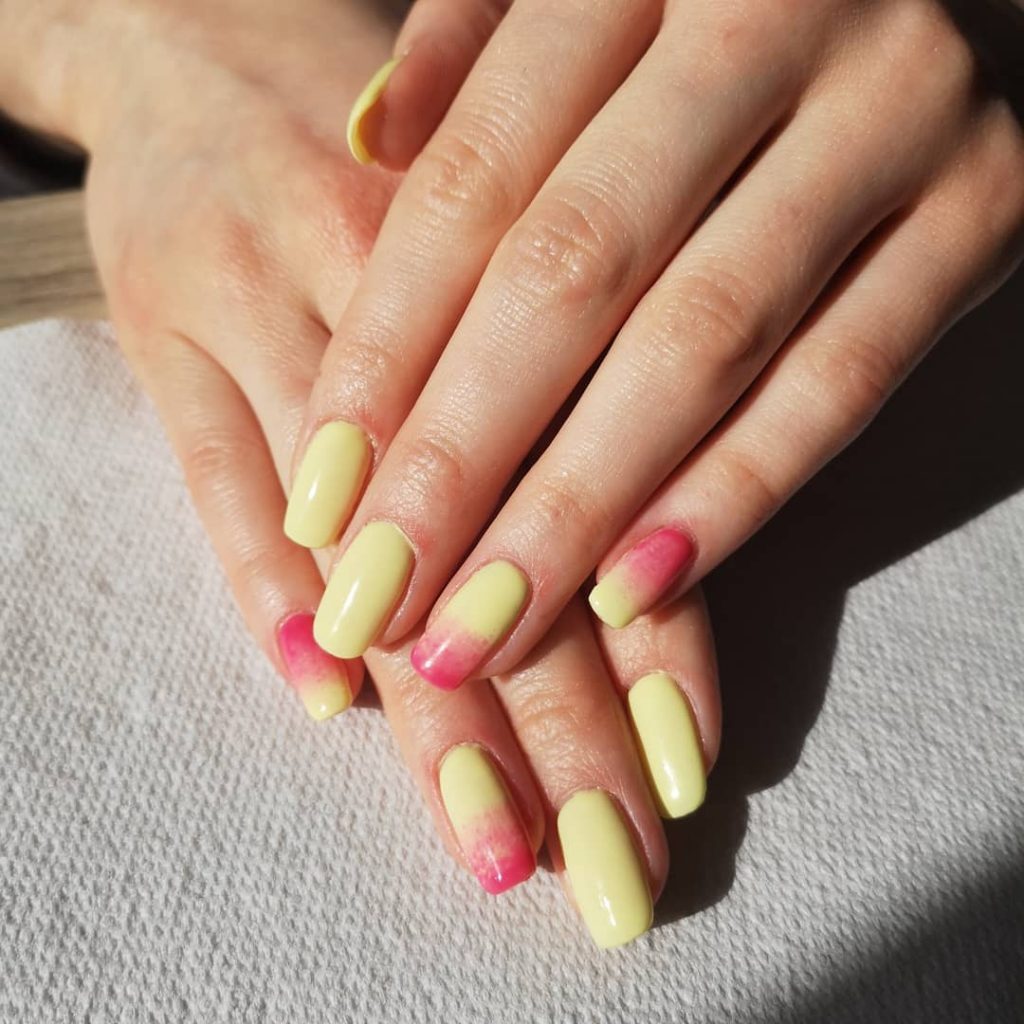 Instagram | carolain_naildesign
Ombre nails are always a good move, but this bold and vibrant yellow to hot pink gradient will definitely make you stand out.
Copy With:
8. Spring Rythm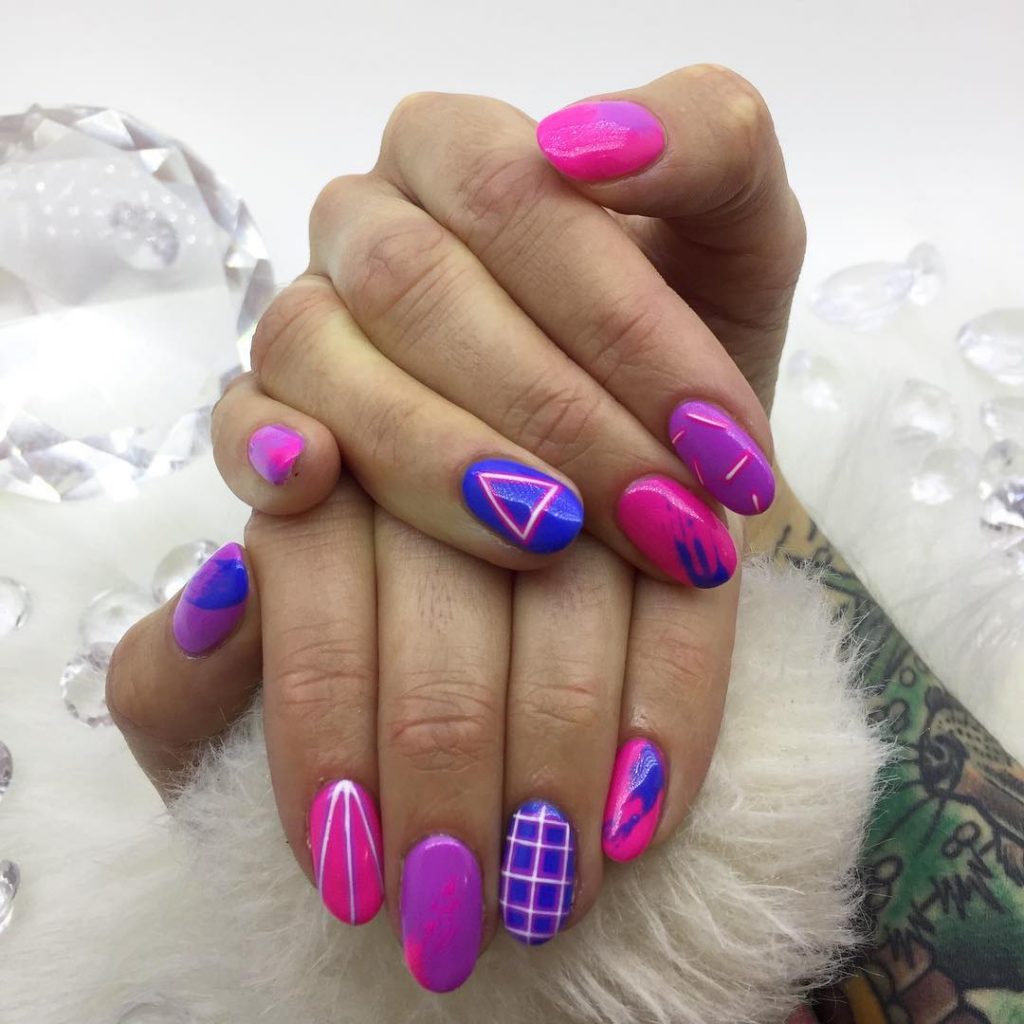 Instagram |littlemythy 
The spring nail ideas for you to copy. Vibrant color nails will give you more mood in this spring 2022.
Copy With:
9. Genki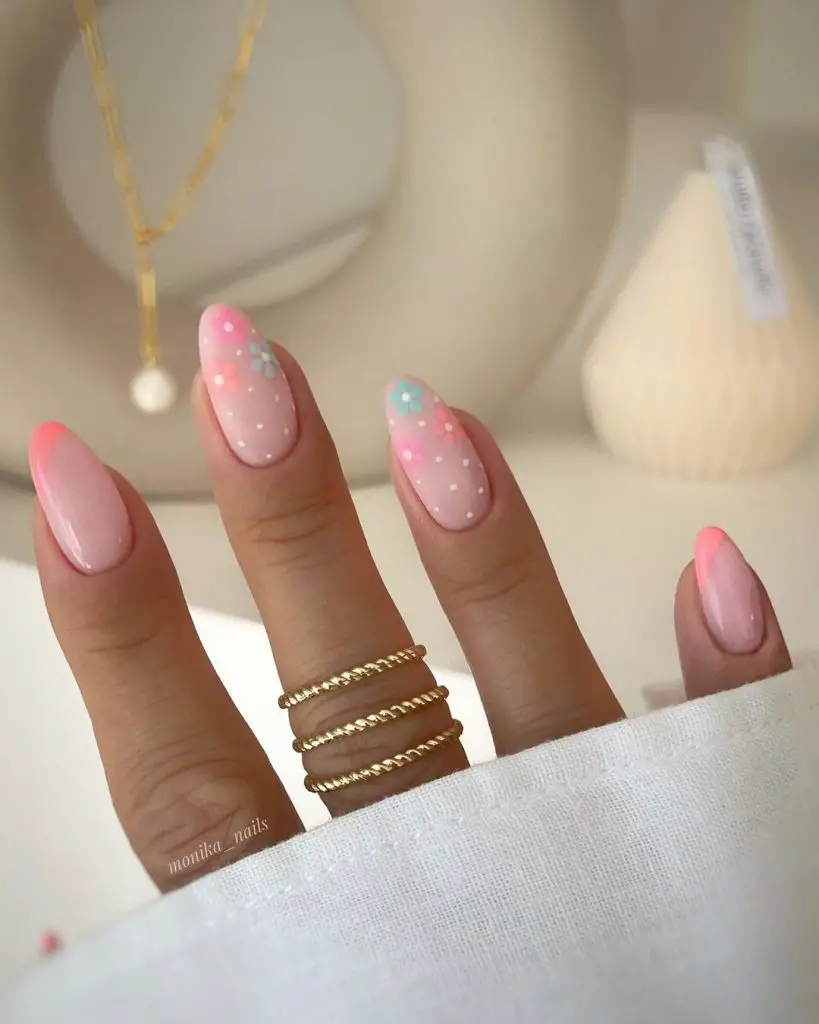 Instagram| monika__nails
Green is so zen nail color. And will be perfec ail color for spring to bring the mood throughout the day. You can also designs it i this genky style played in green shades.
Copy With:
10. Bear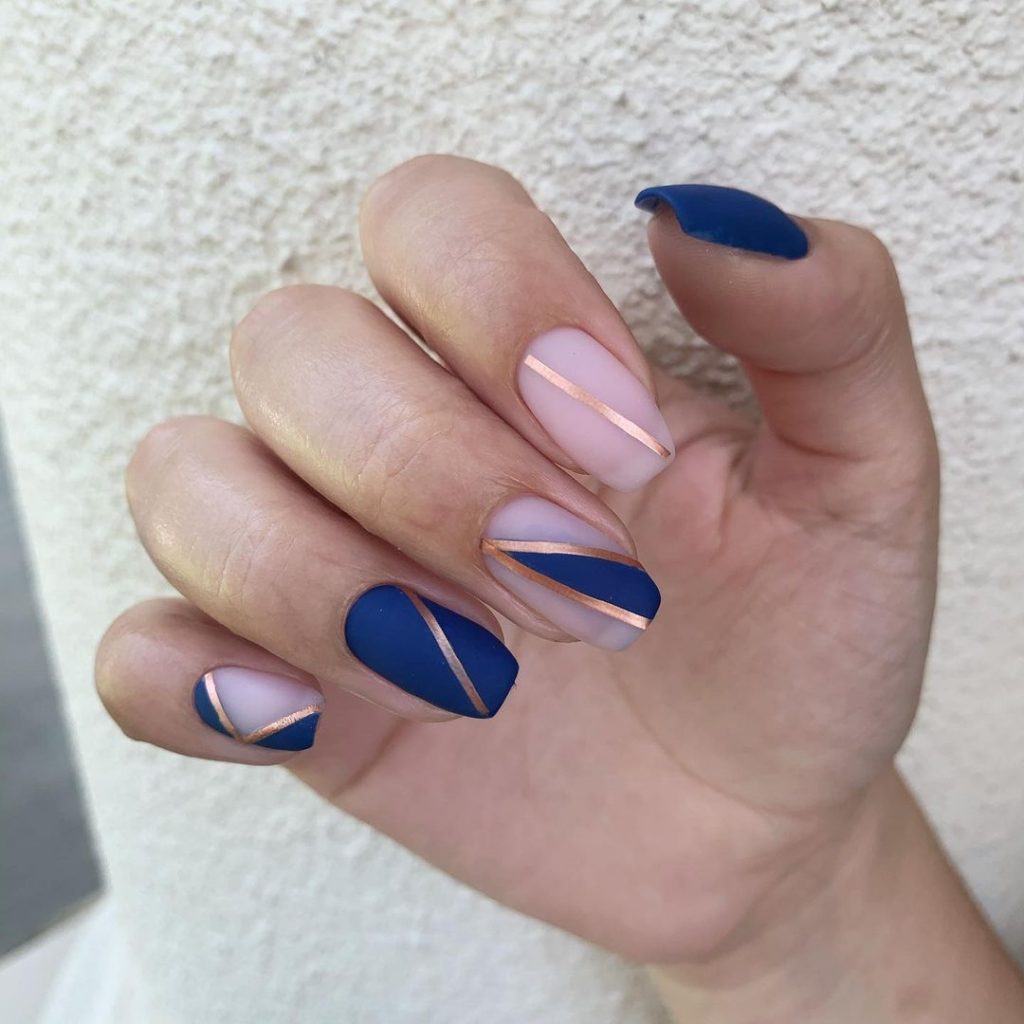 Instagram | luxy.nails.orlando
Vivid pink lies overly navy blue polish is another nail ideas for spring that you can execute on your own. It's a simple elegant nail designs to elevate your look.
Copy With:
11. Chic Egg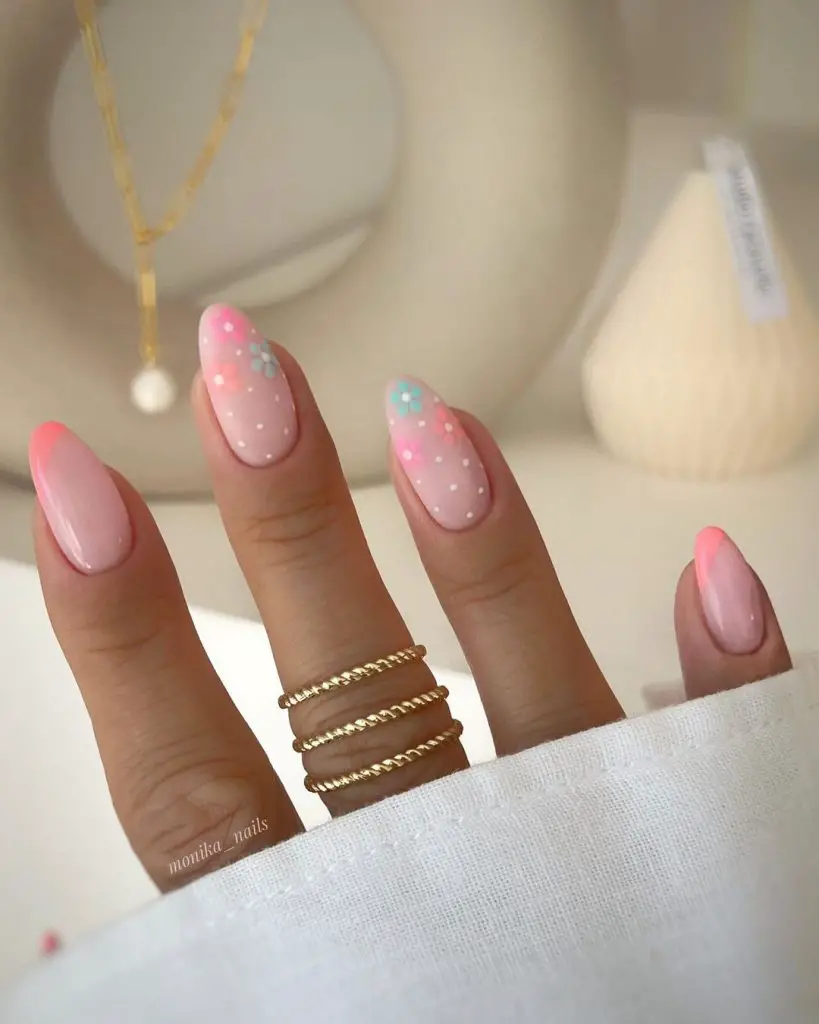 Instagram | monika__nails
To get this spring nail design you don't need excessive skill or specific tools. You just have to choose the colors and draw it symetrically.
Copy With:
12. Fade Away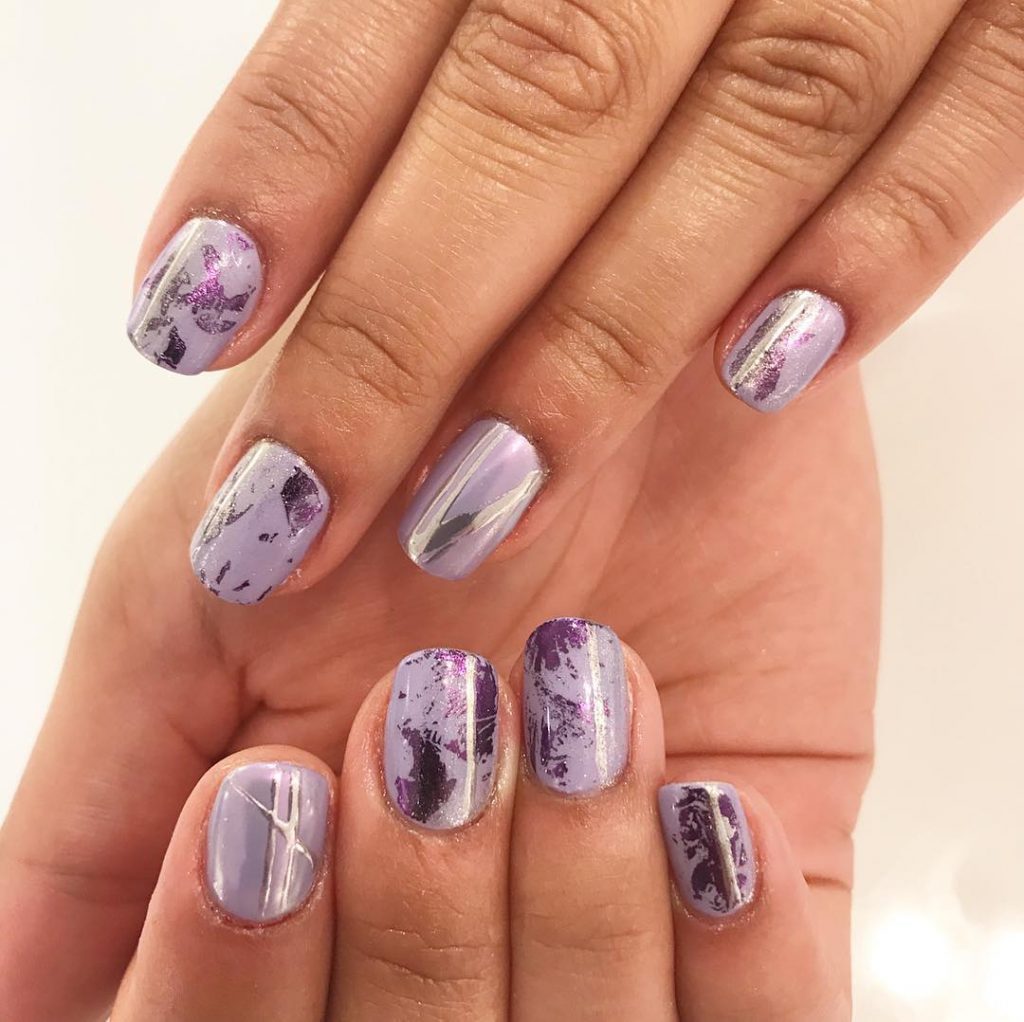 Instagram | fluhmeglamberp
Spring nail color ideas to rock this year is with lilac shades. for more dimension creates the scatter effects with mixing in dark purle on light lilac.
Copy With:
13. Tweed Nail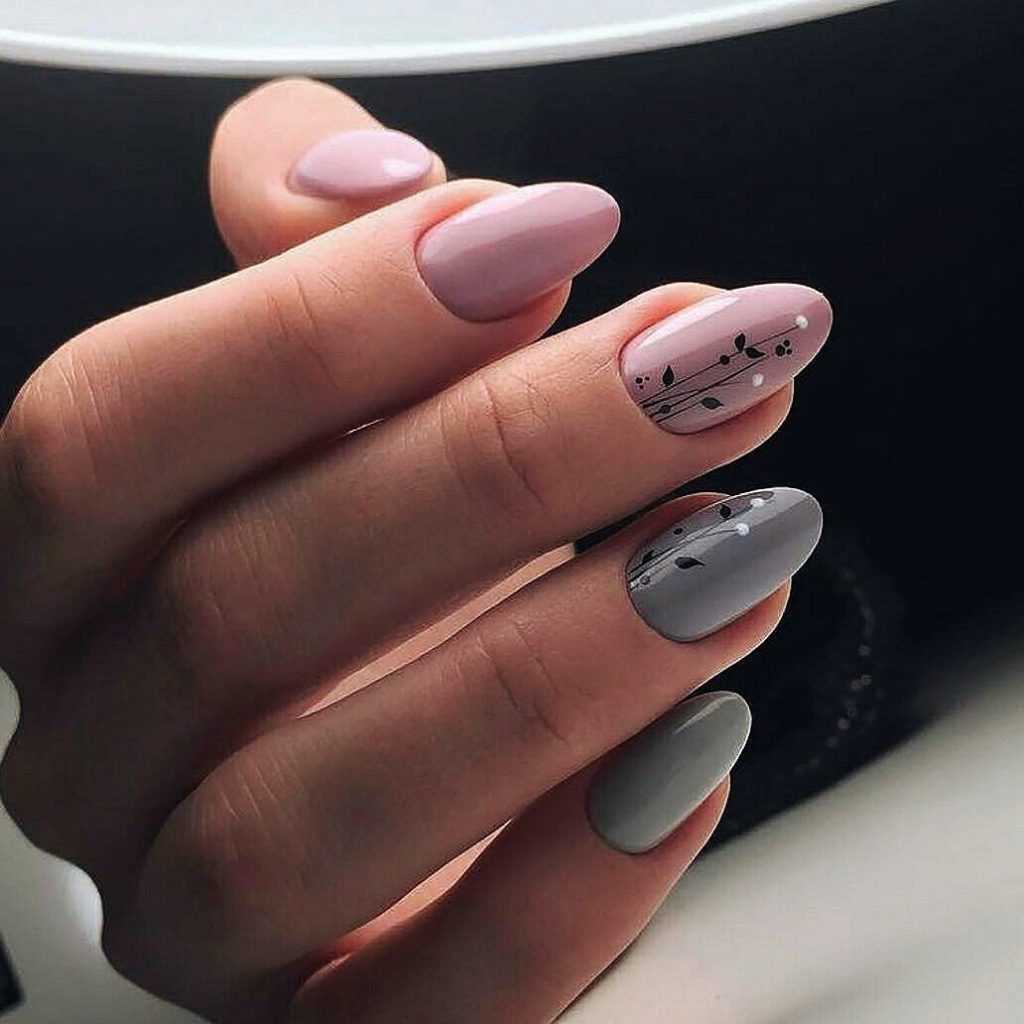 Instagram |nail.modelll
Just like tweed jackets are the perfect piece to transition from winter to spring, tweed-inspired nail art is the perfect way to welcome slightly warmer weather. 
Copy With:
14. Anything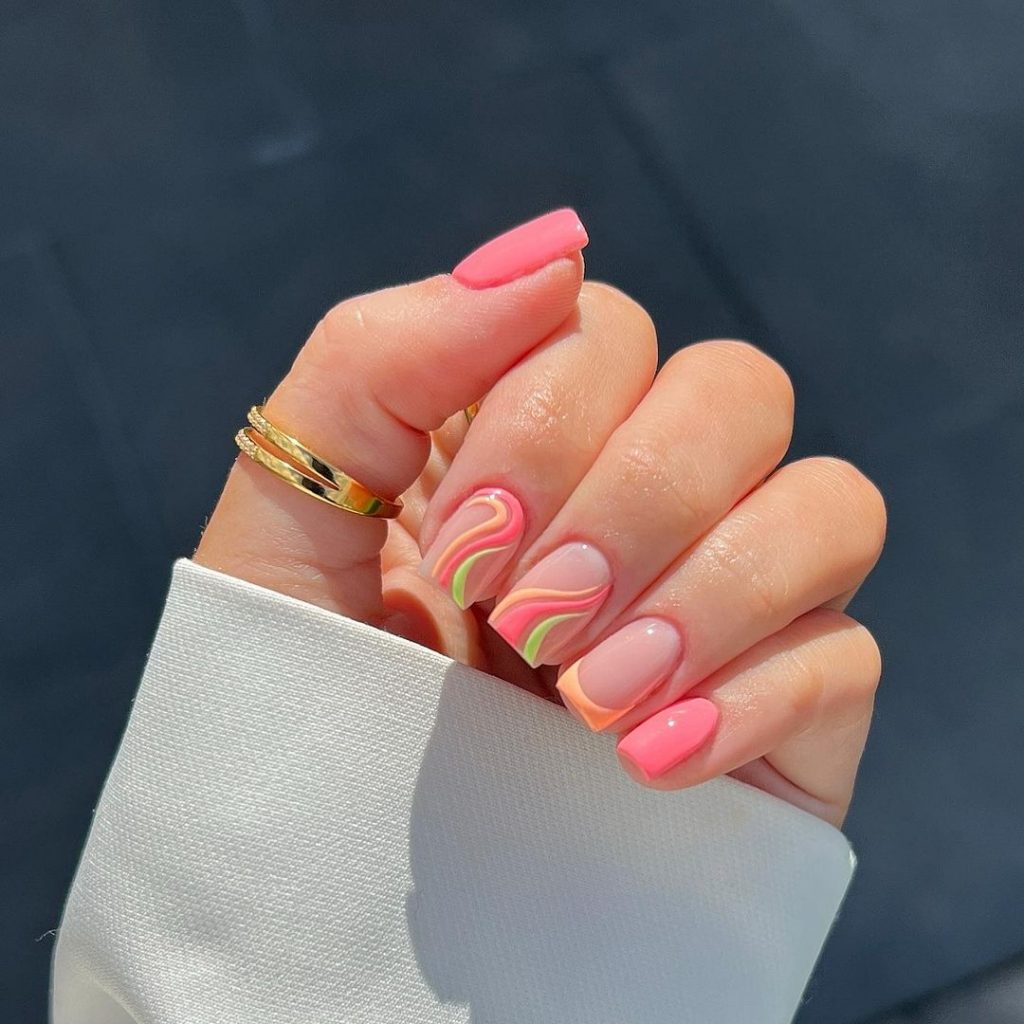 Instagram | _nailsbybethany
If you are all at sea with too any nail designs. Then you can def just mix and atch em' and create your own spring nail design.
Copy With:
15. Fav Flo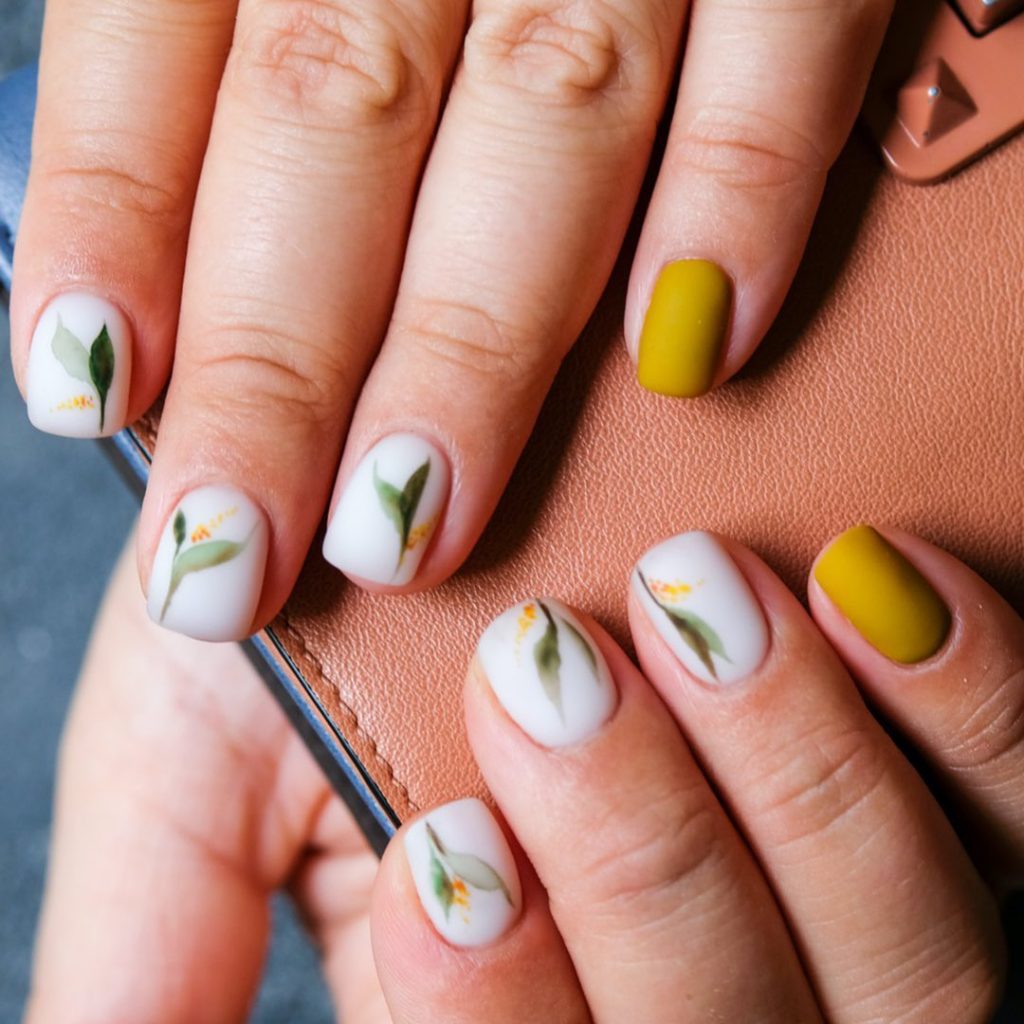 Instagram | americanailspro 
You will need  tiny flowers  (or the ability to draw them) for this trendy mani, plus a very strong top coat. 
Copy With:
16. Pastel Mani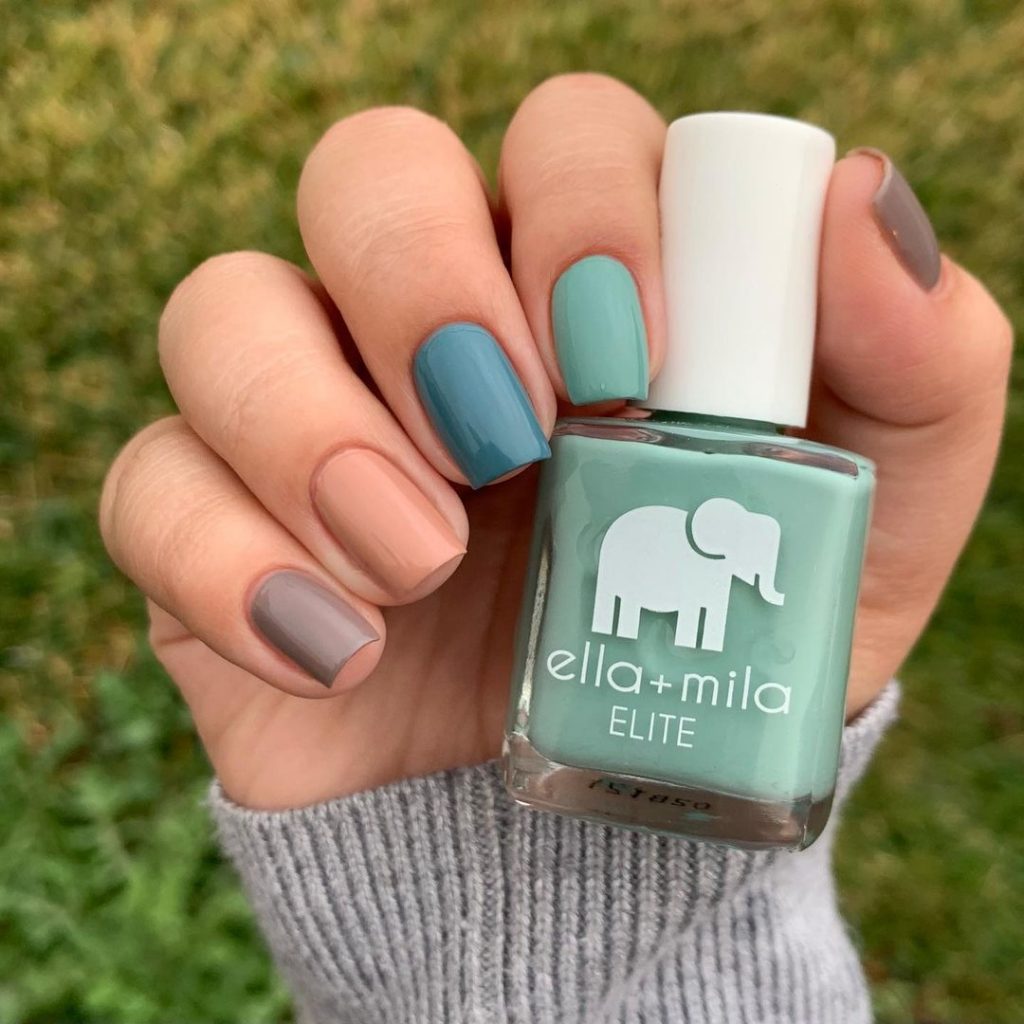 Instagram | sherylnblognails 
What is more appropriate for spring than cake? Soft, muted hues let you get away with a wider variety of colors.
Copy With:
16. Pitch Dark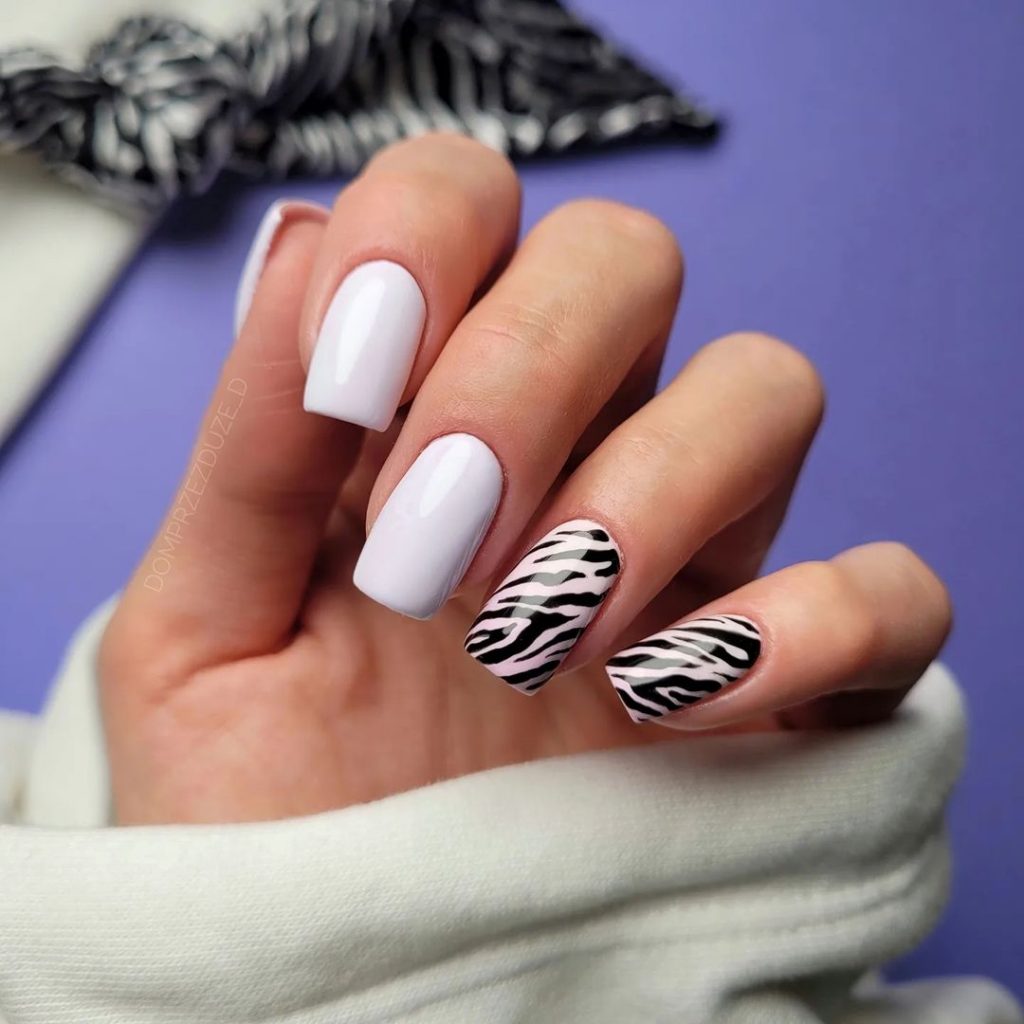 Instagram | renata.dyszlewska
This spring nail art may be different from what you're normally looking for, but the black pace and simple design make it totally modern.
Copy With:
17. Wild Swatch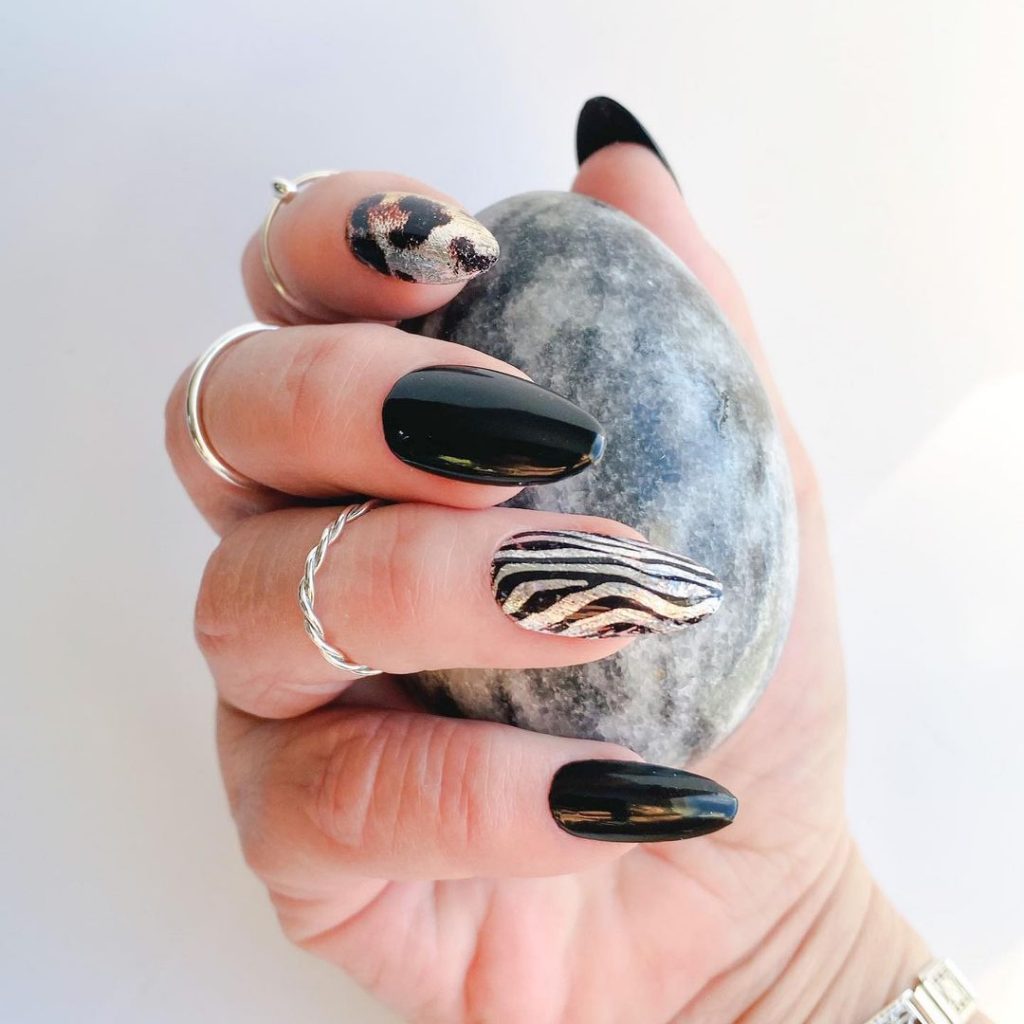 Instagram | studiodegasnails 
Copy With:
18. Cloud Seven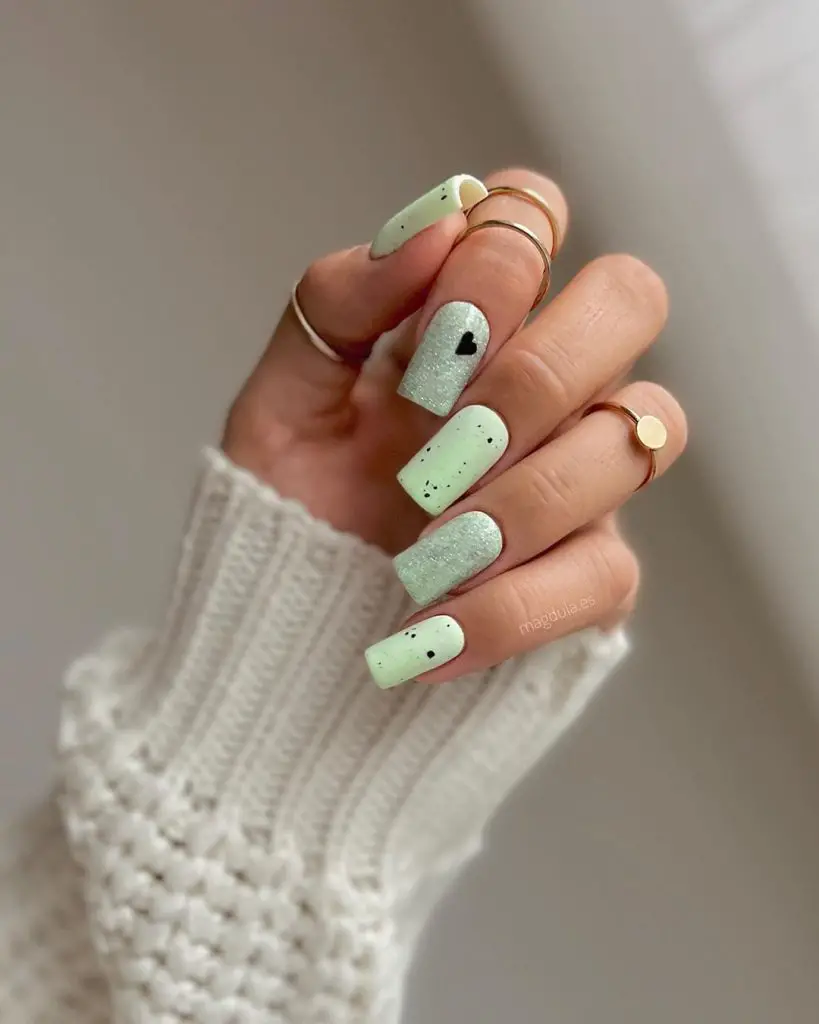 Instagram | magdula.es
Copy With:
19. Galaxy Greek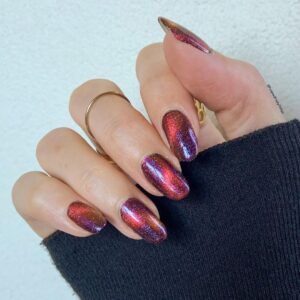 Instagram | polishedprettythings
Copy With:
20. Pinks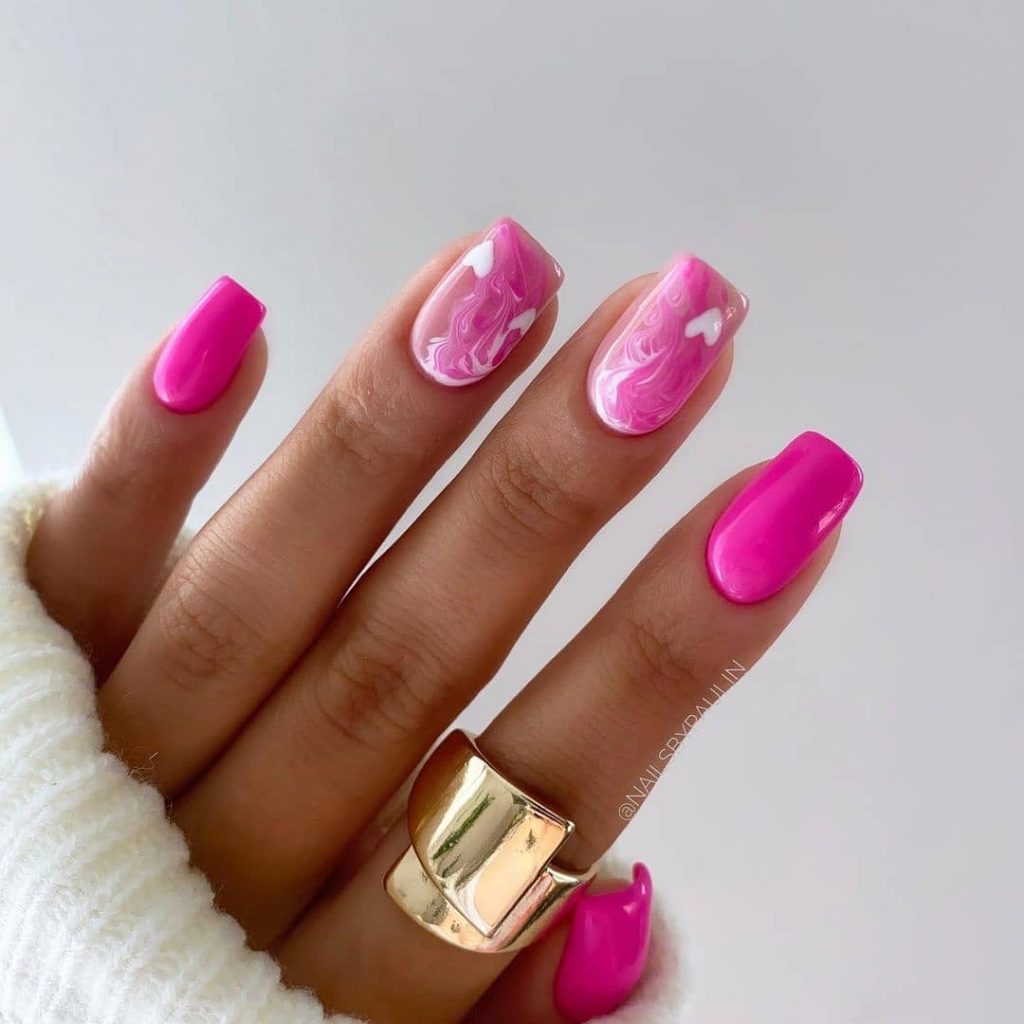 Instagram | @naildesign_ideas
Pink is really a must in all seasons: shades can change, but it is a color that must never be missing in our beauty case!
Copy With:
21. Star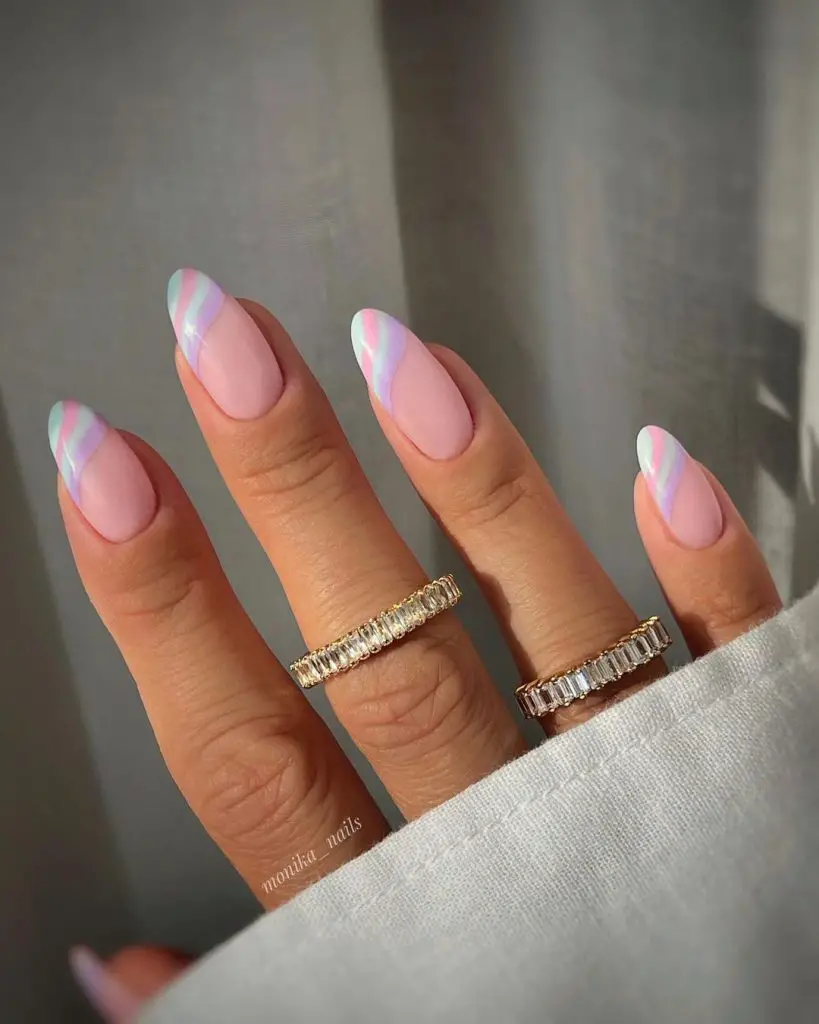 Instagram | monika__nails
For the most inexperienced, with the dotter it is possible to create a star nail art with the semi-permanent.
Copy With:
22. Daisies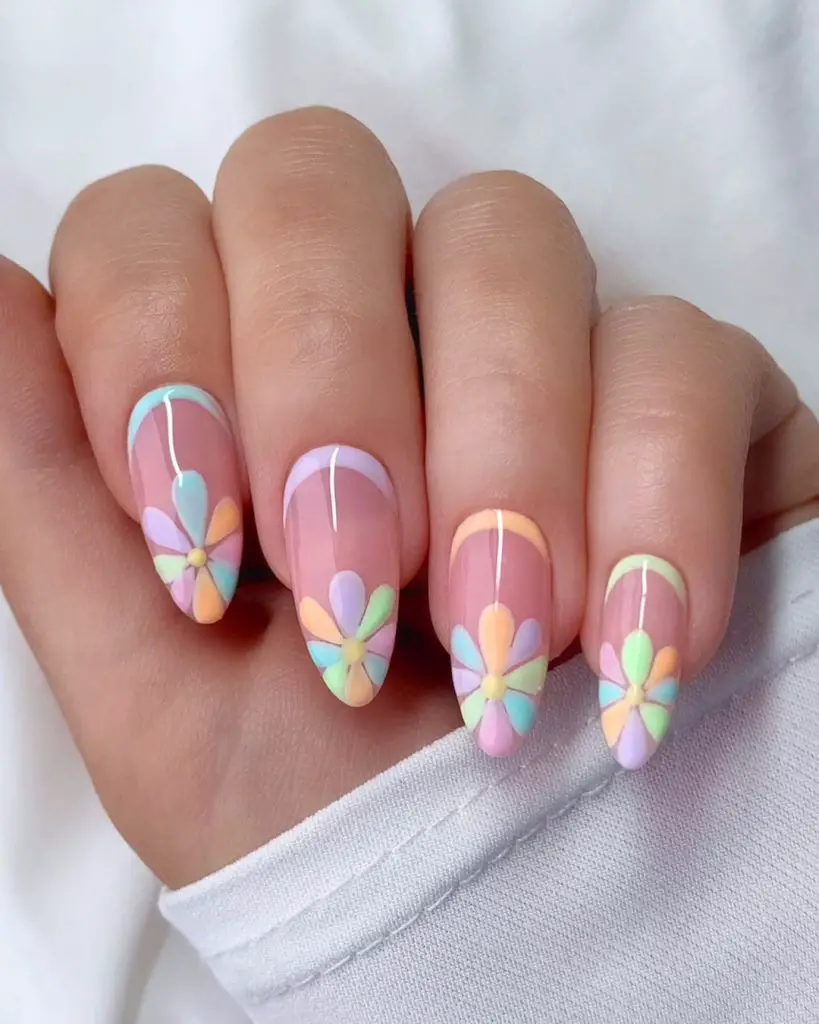 Instagram | charsgelnails_
Floral nail art is really small works of art, with spring flowers and elements drawn like in a watercolor. 
Copy With:
23. Odd French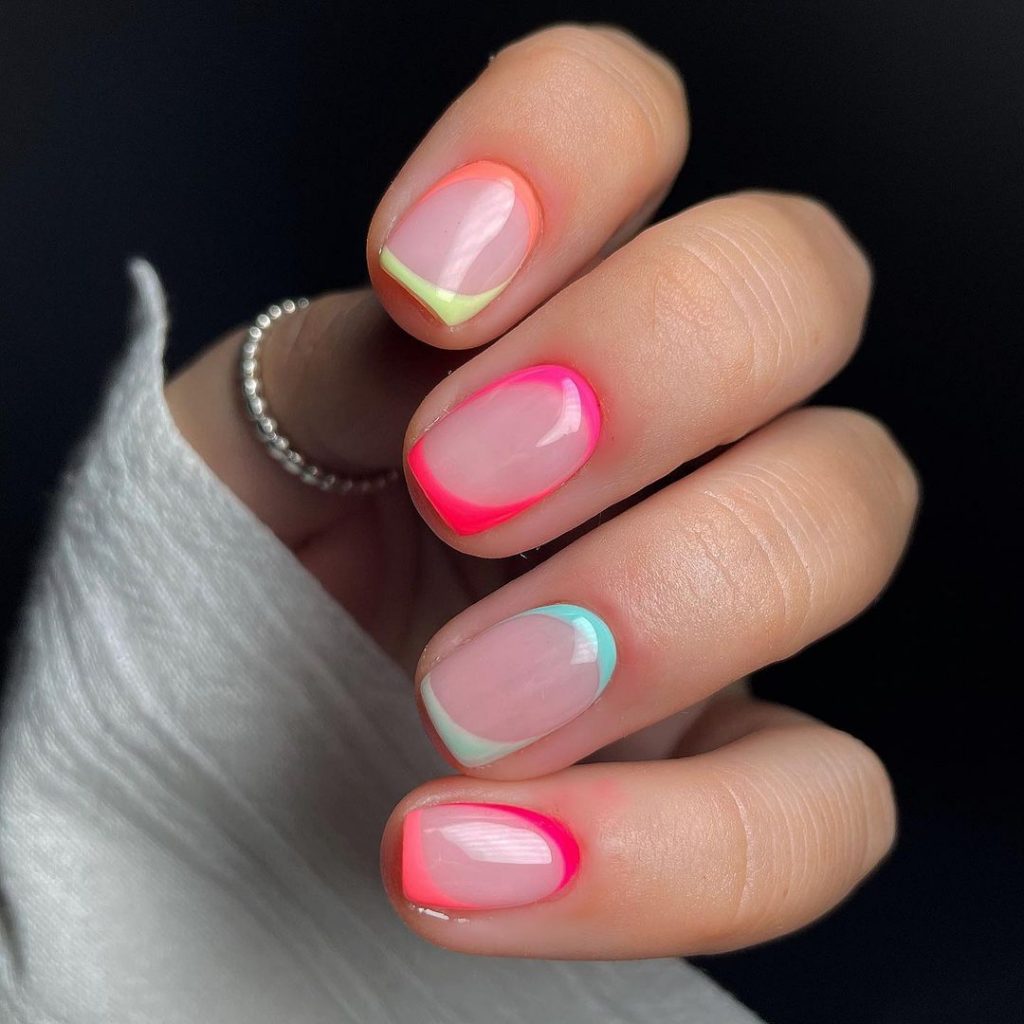 Instagram | thenailroommanchester
This french mani will alwasy in for any season. With a cheerful and carefree touch that will adapt well to the spring
Copy With:
24. Cozy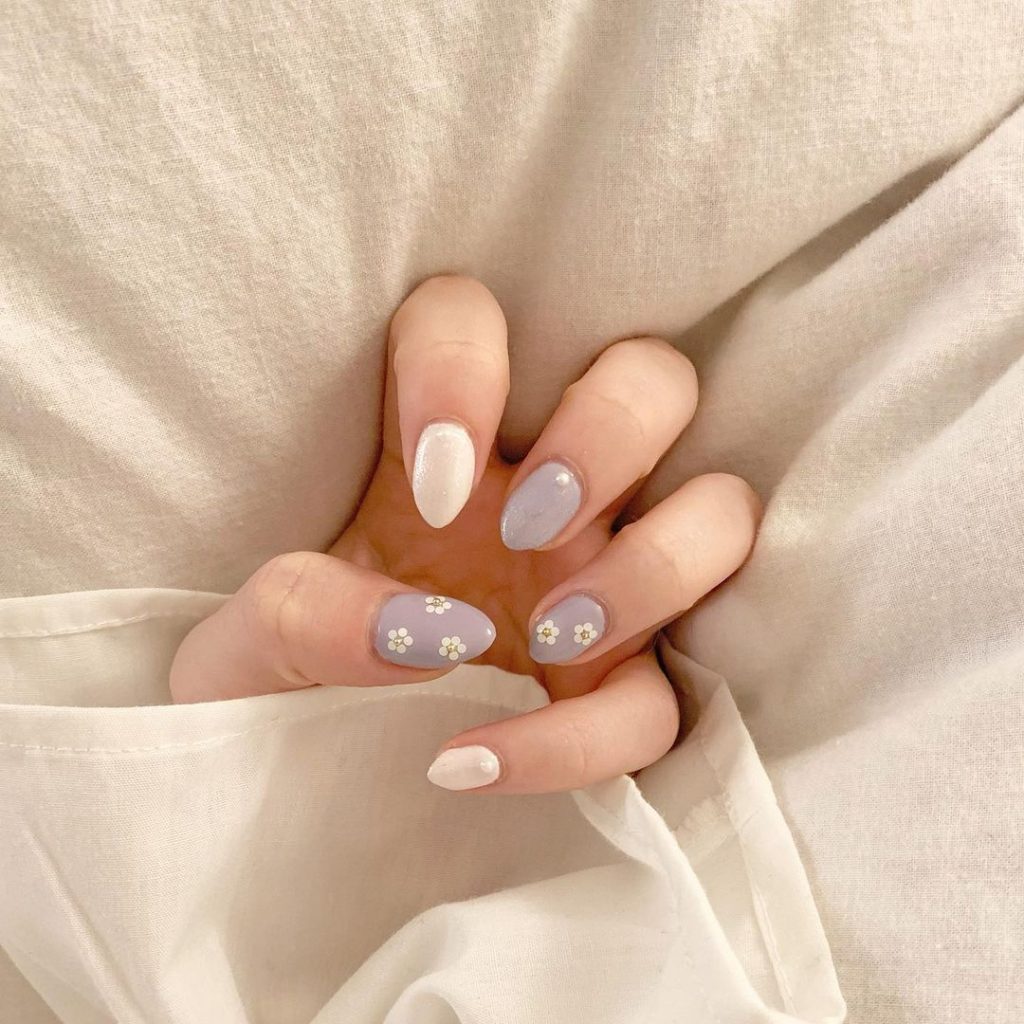 Instagram | _maaayu_01
Besides being super cute, this manicure is also easy to do. "To recreate this look, start with a pastel purple color, then, when dry, you can add daisies with a white polish.
Copy With:
25. Gold Foil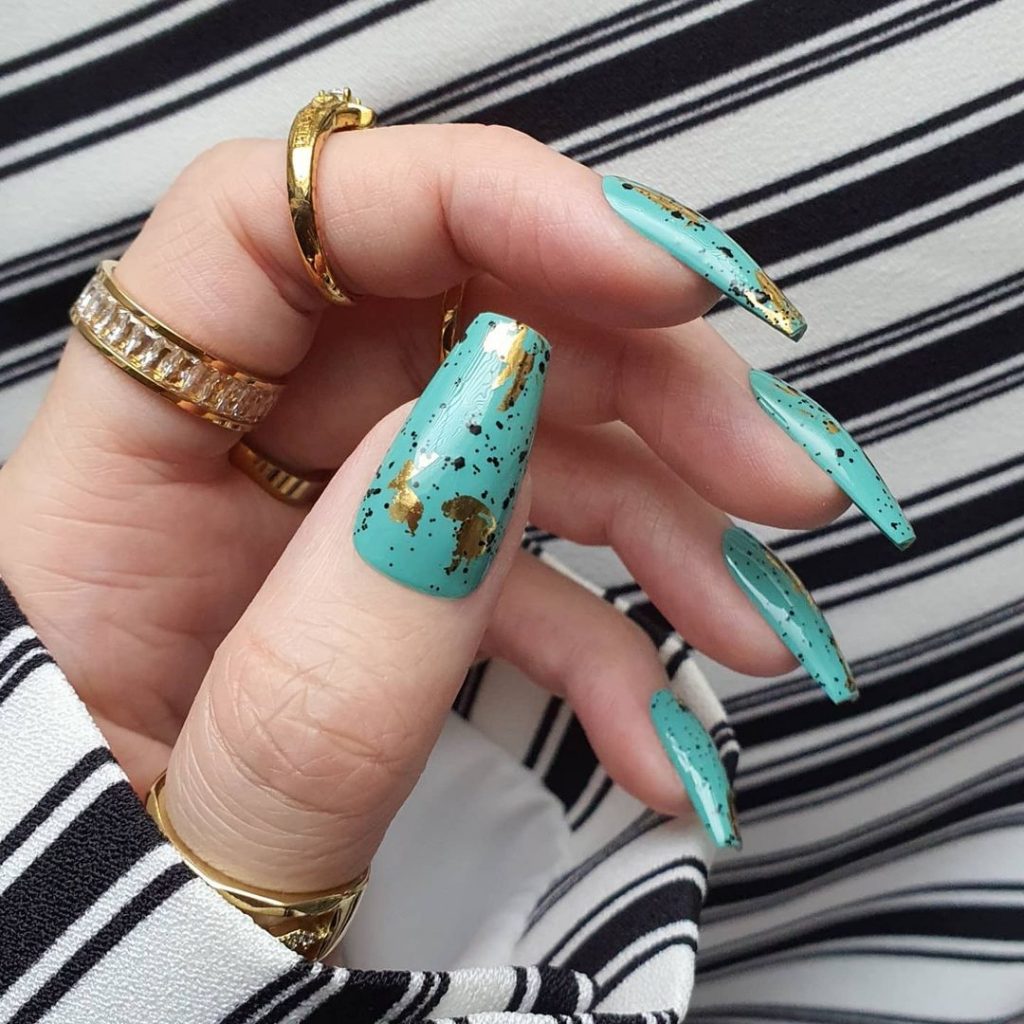 Instagram | perfectly_nailed
You know what they say: a little shine goes a long way. Bonus: this style doesn't need to be absolutely perfect, so if you don't have a totally steady hand, you can still achieve wonderful results.
Copy With:
26. Metalic Art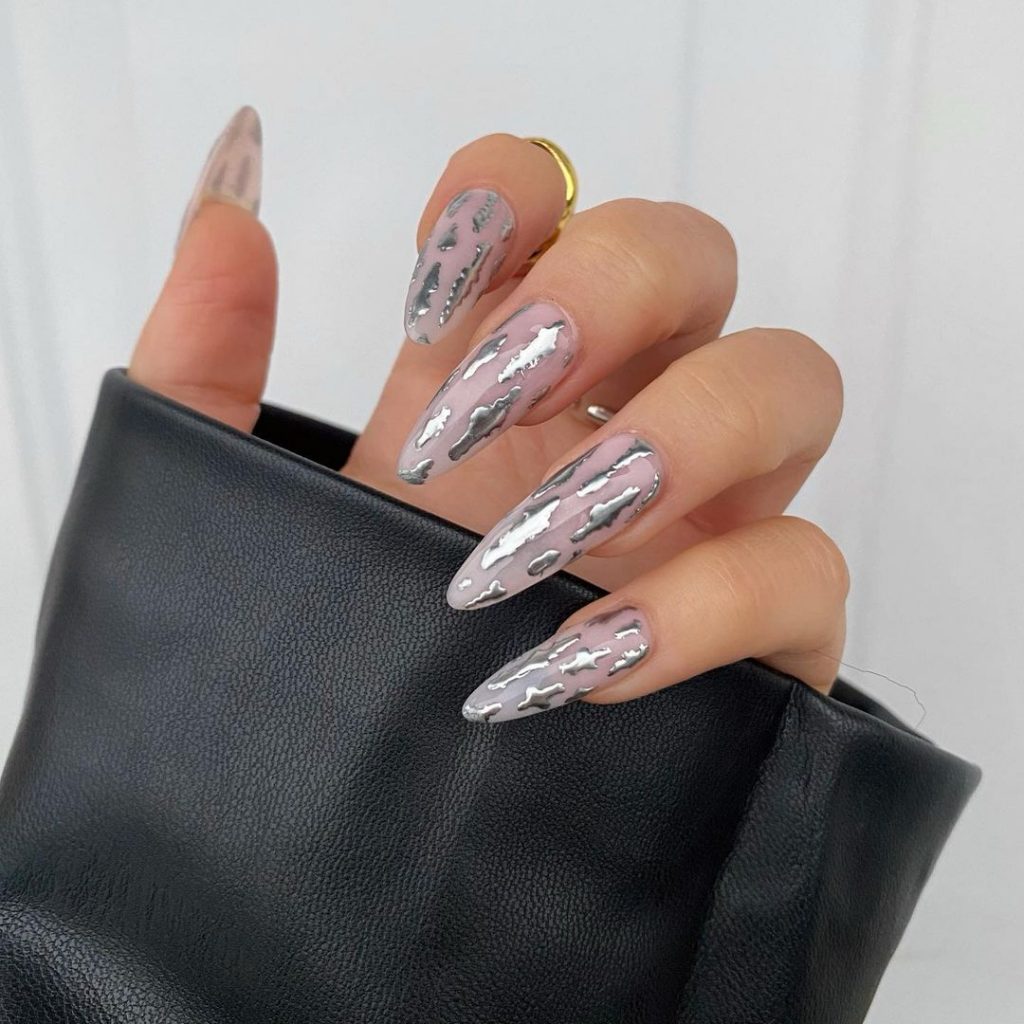 Instagram | nelza_dun
For a modern take on clear, try adding chrome accents. A metallic crescent along the nail bed or on the nail tips gives the manicure a flair, just like with these stunning chrome details.
Copy With:
27. Rainbow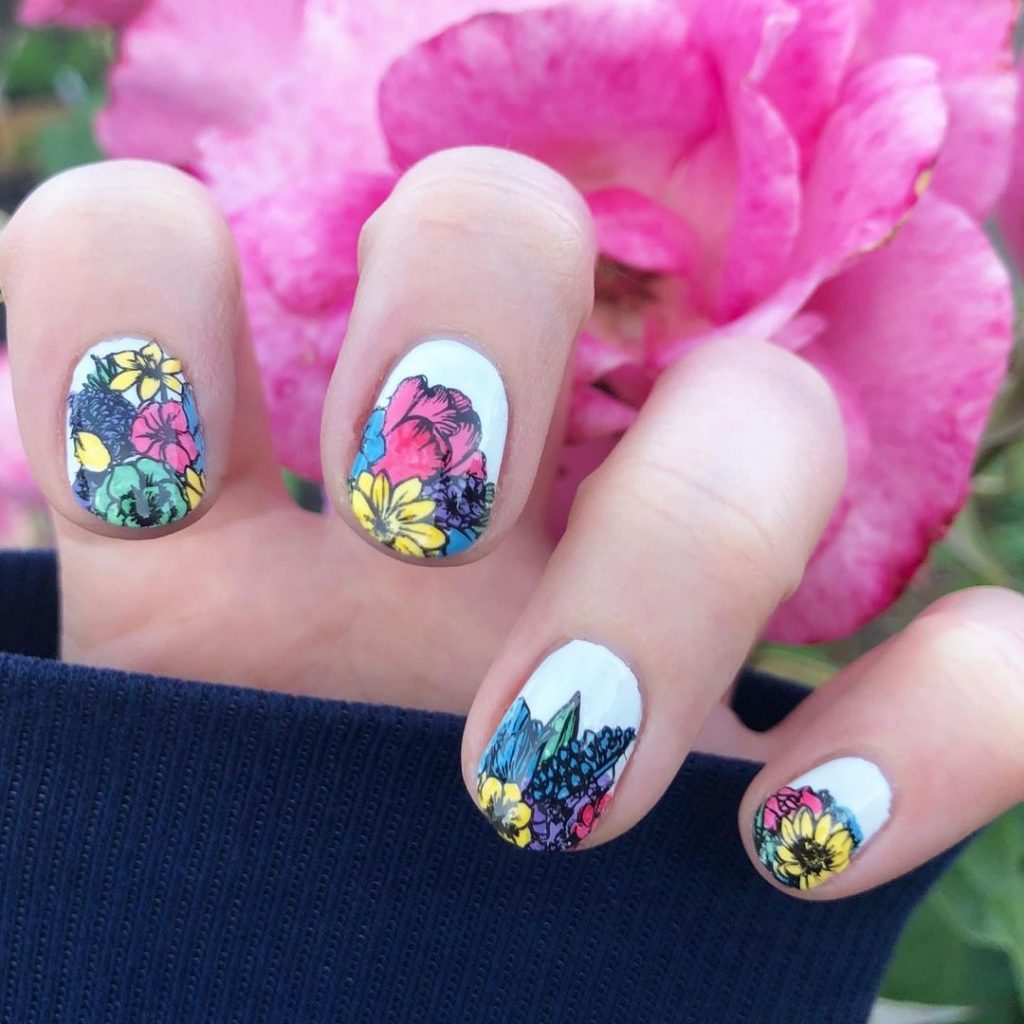 Instagram | fowler08
Another cute spring nails for you to copy for this year. The perfect rainbow nails for spring look.
Copy With:
28. Your Natural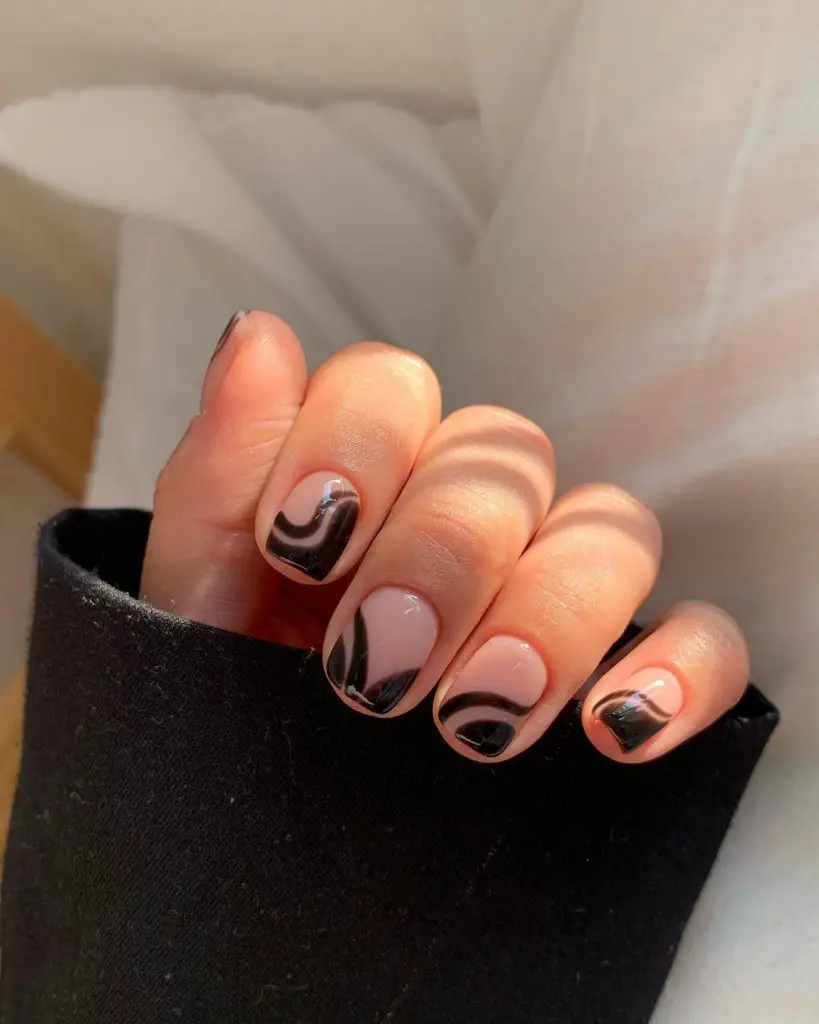 Instagram | @globeautysussex
When it comes to this nail polish, any shade of black and white in your collection should do the job.
29. Simple Plaid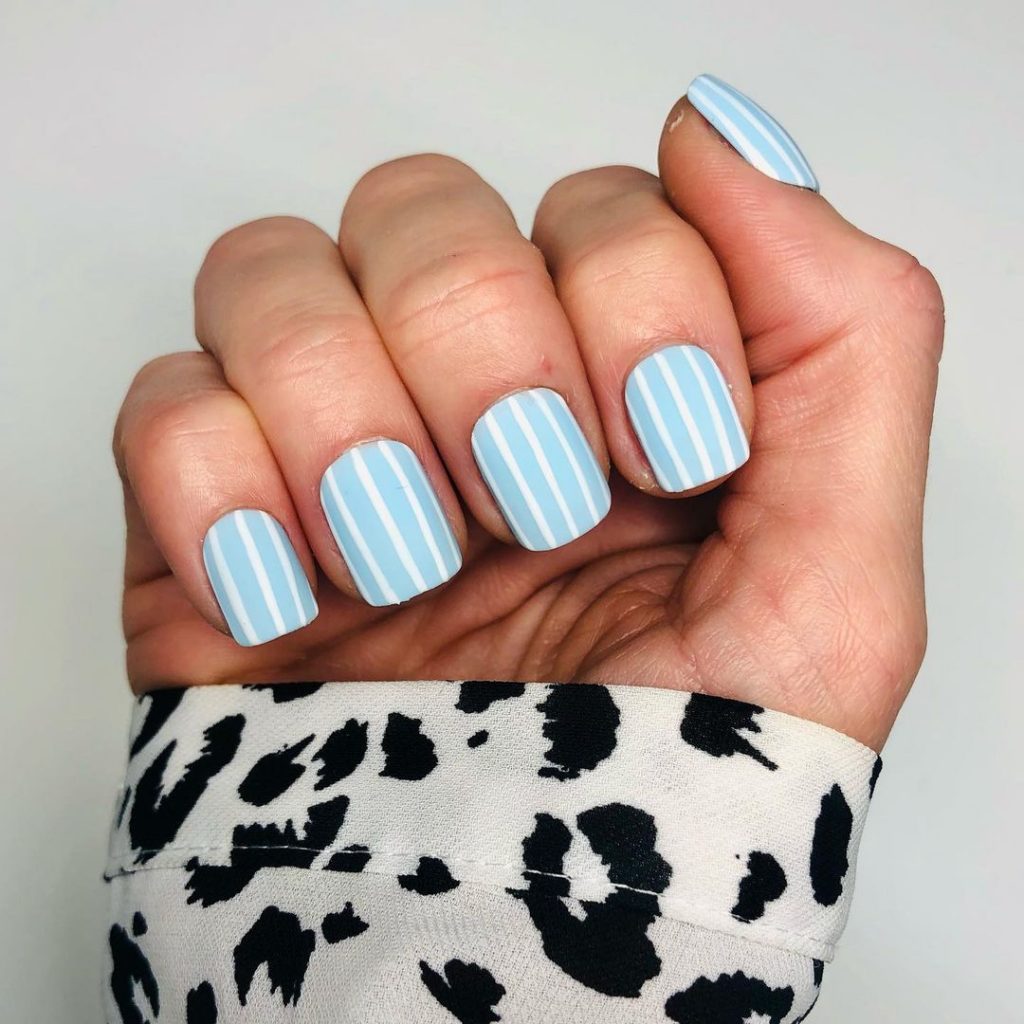 Instagram | bzeeceebeauty
Plaid nail art is really small works of art, with simple few strands drawn like in a watercolor and get the spring nails,
Copy With:
30. Ombre Spring Nail Ideas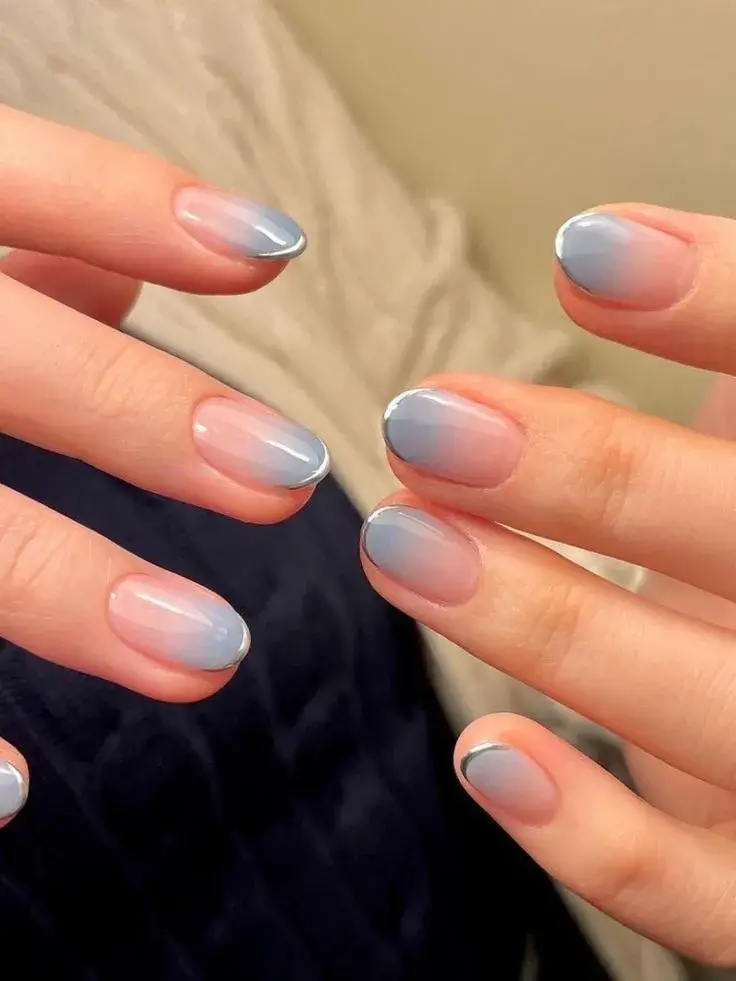 Instagram | miss.pretty.polished
Copy With:
31. MIx Match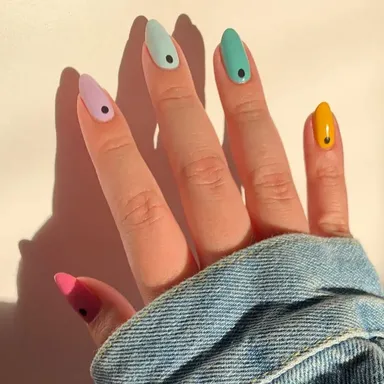 Instagram | katebonarnails
This super simple manicure is another great idea for beginners in nail art because it is so simple. Just paint each nail a different color and add tiny white dots with a toothpick
Copy With:
32. Contour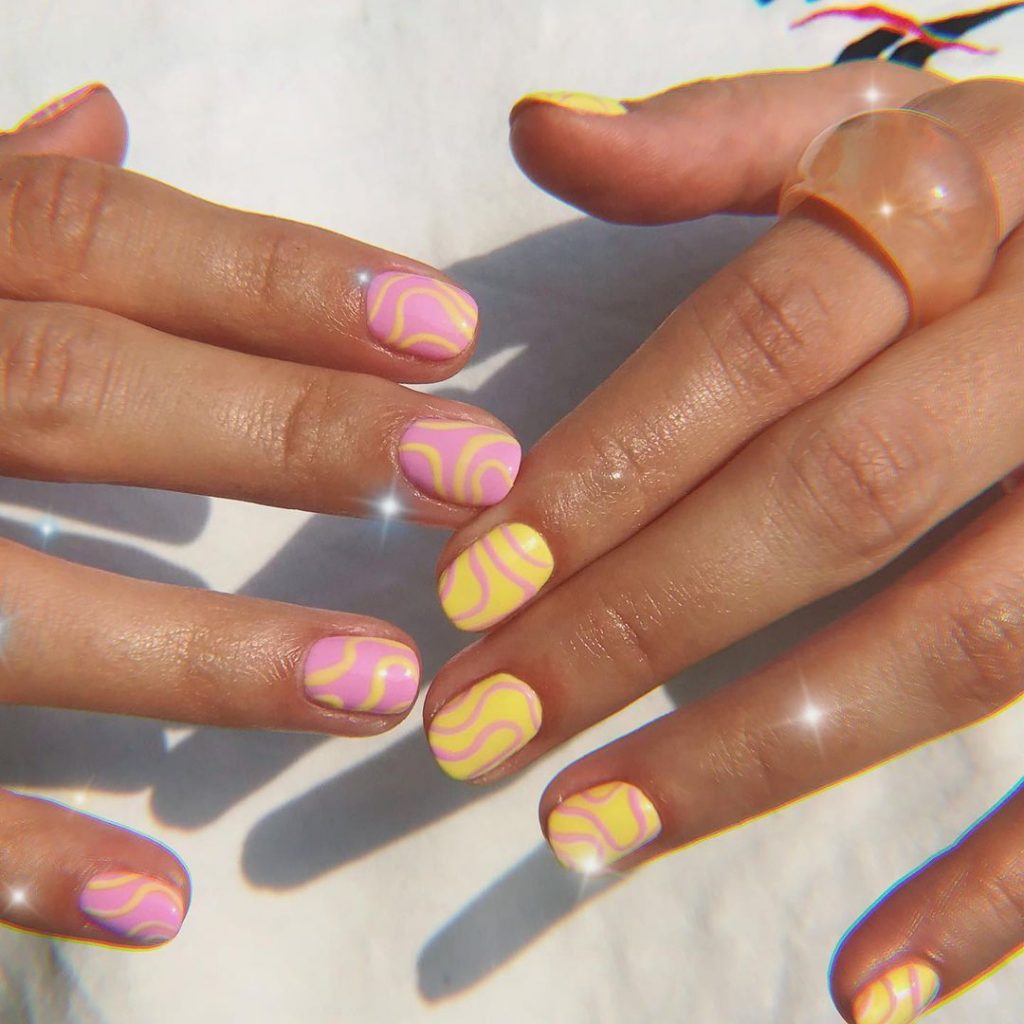 Instagram | nailsknowhow
Another spring nail ideas for you to rock
Copy With:
33. Blemished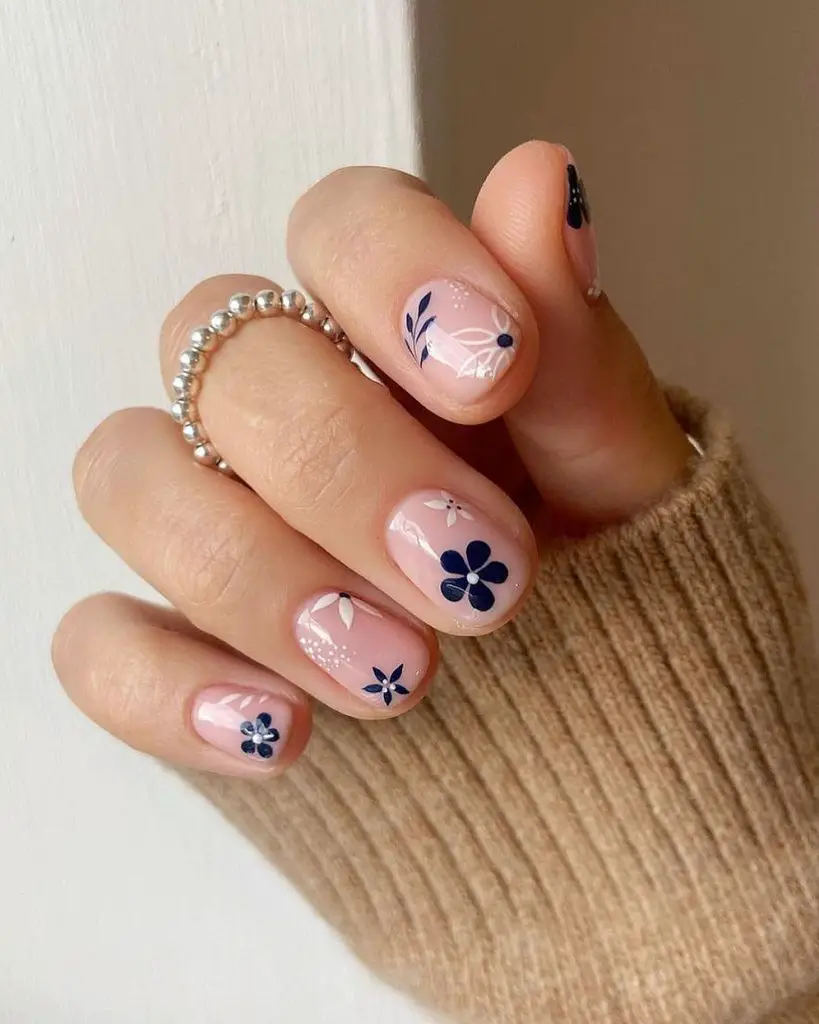 Instagram | _by_shelley
If you're not that good at nail art, this is an easy way to make a set look vibrant.
Copy With:
34. Cute Spring Nails in Swirl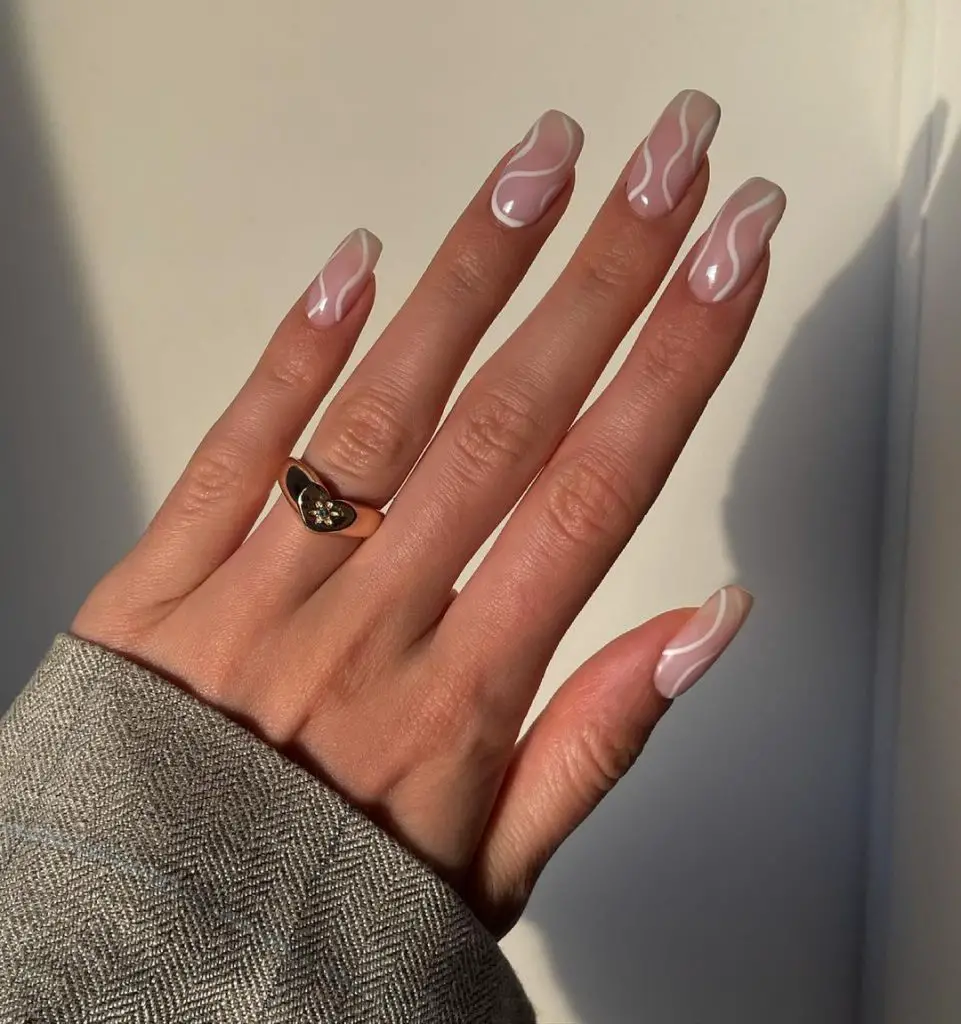 Instagram |natzzv
This nail design is in trend since last year, and will still definitely loved by many mani addicts. You can recreate this look using any color you like.But the white swirl on nude pink base look so mesmerizing.
Copy With:
35. Abstract Spring Nail Ideas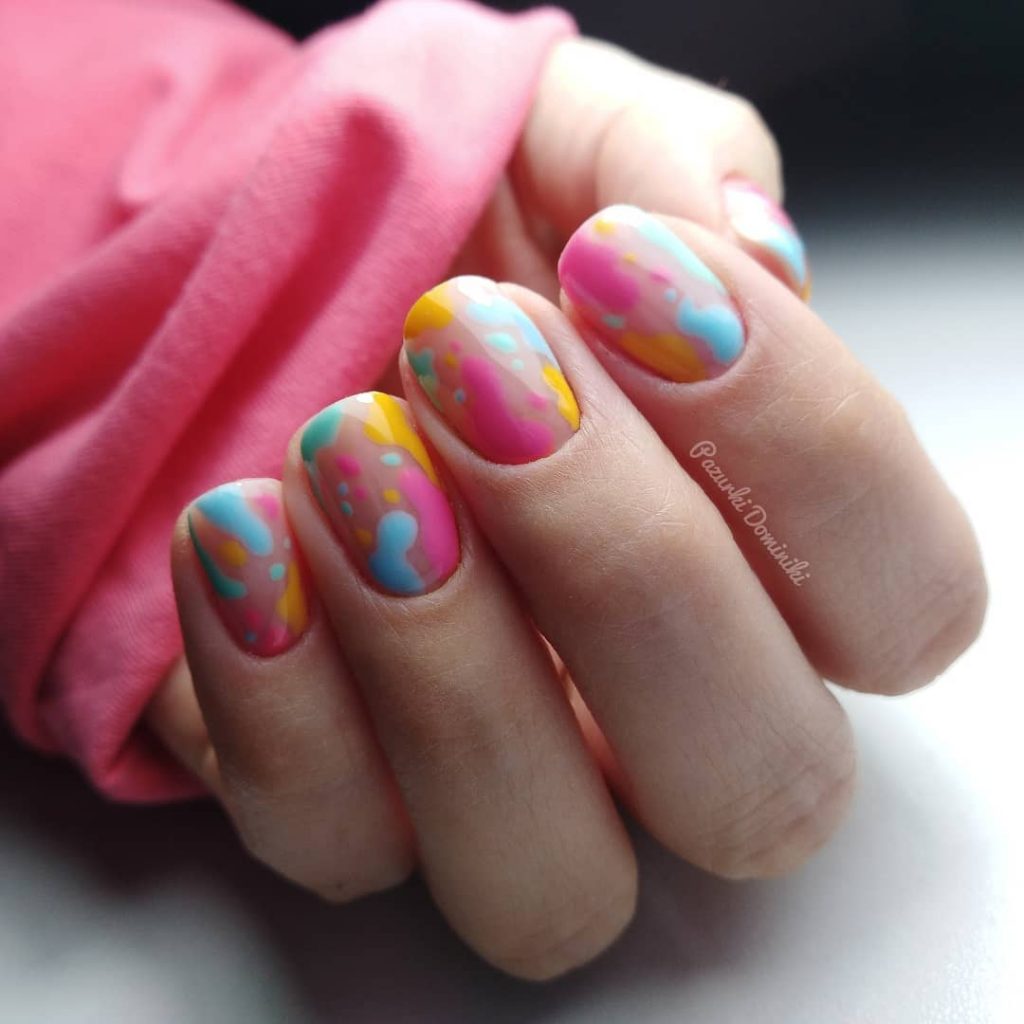 Instagram | _pasurkidominiki
Nothing can be more fun than these Colorful bright nails on the abrupt themes. You can create the shape based on your own, no rules and no exact tips to get the design.
Copy With:
36.The Details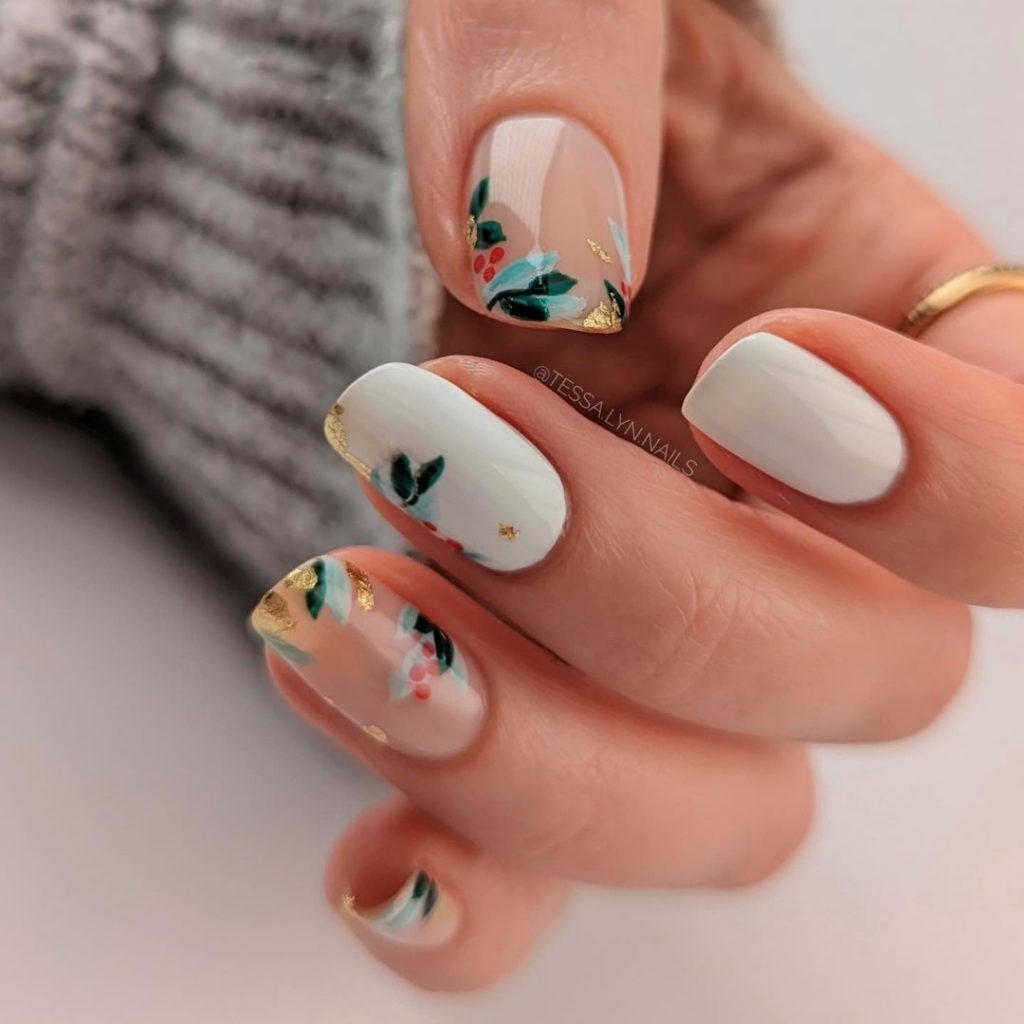 Instagram | tessa.lyn.nails
This look screams 'spring' in very cute way. The details that seems on shape actually are just random shape. Use any color to create the details.
Copy With:
37. Phenomenon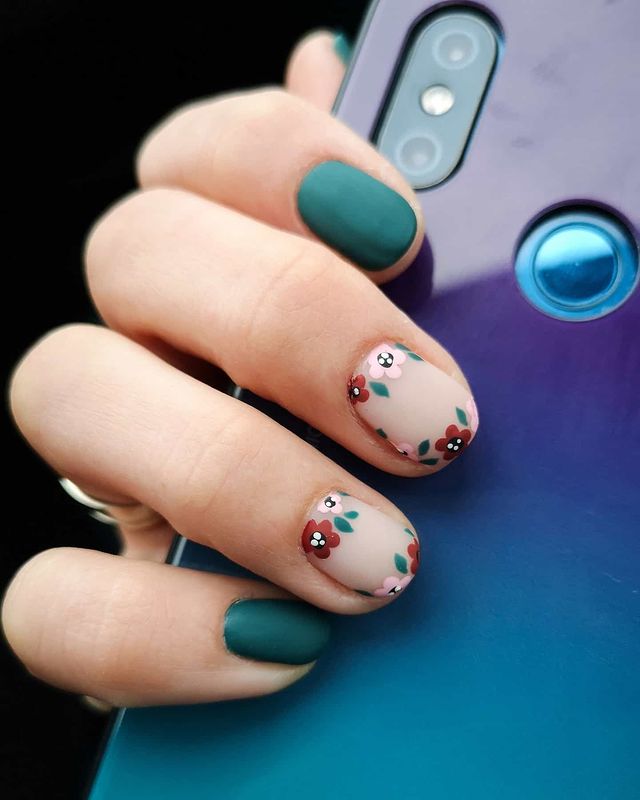 Instagram | martanikolajew 
Copy With:
38. Spring Nail Ideas in Polkadots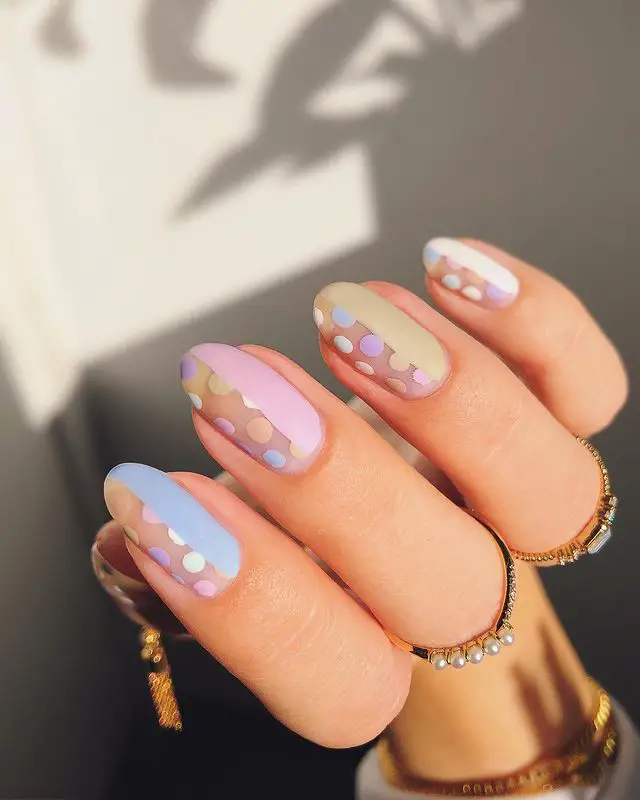 Instagram | basecoatstories
Another easy spring nail design is with polka dots. You can use pastel shades for more live nail designs.
Copy With:
39. Euphoria
If you like fantasy but simple nail to recreate, this euphoria inspired nail will be your taste you can copy for your spring nail deign. The pink and blue collision for cute spring look to bring the mood.
40. Pastel Pallete
Pastel nails is one of the most nail color trends that scream spring the most. And it's been in trend for few years back and will remain so. For spring mood you can create checker nail designs in spring you will absolutely obses over.
41. Yellow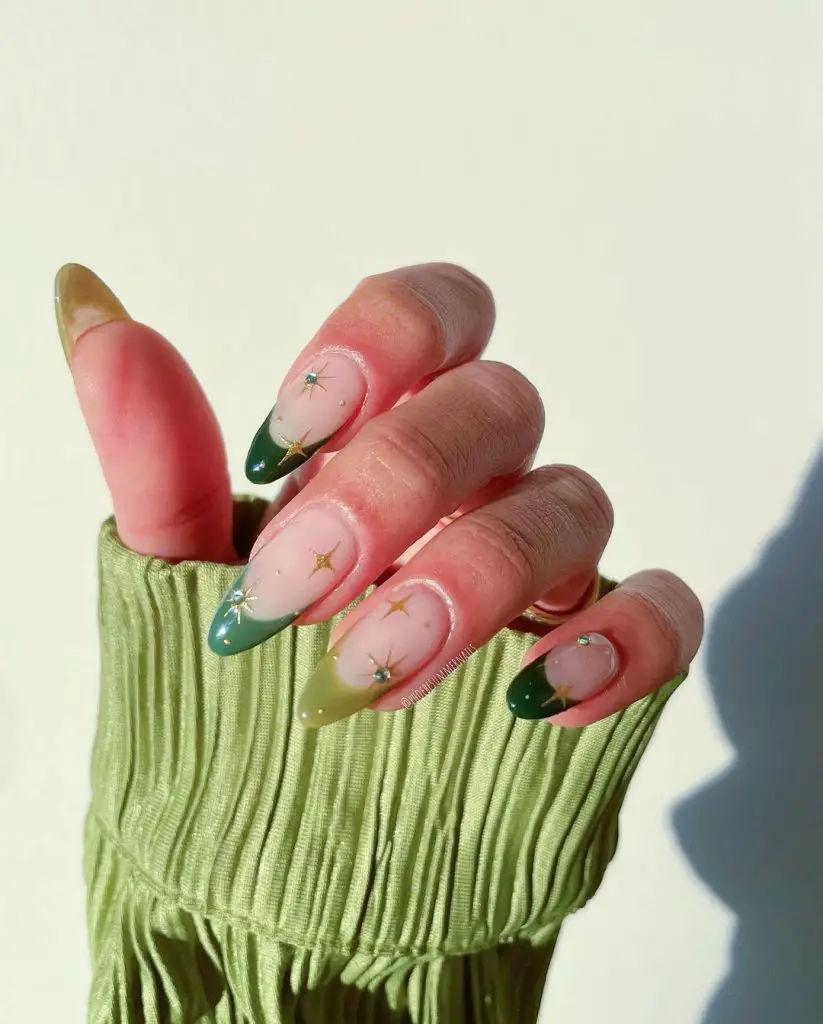 If you can describe spring in color, Yellow will definitely in the season. And these yellow simple nail deigns should be on your list for this spring.
42. Minimalist Daisies
43. The Wave
44. Pink Pave
45. Neutral
46. Violet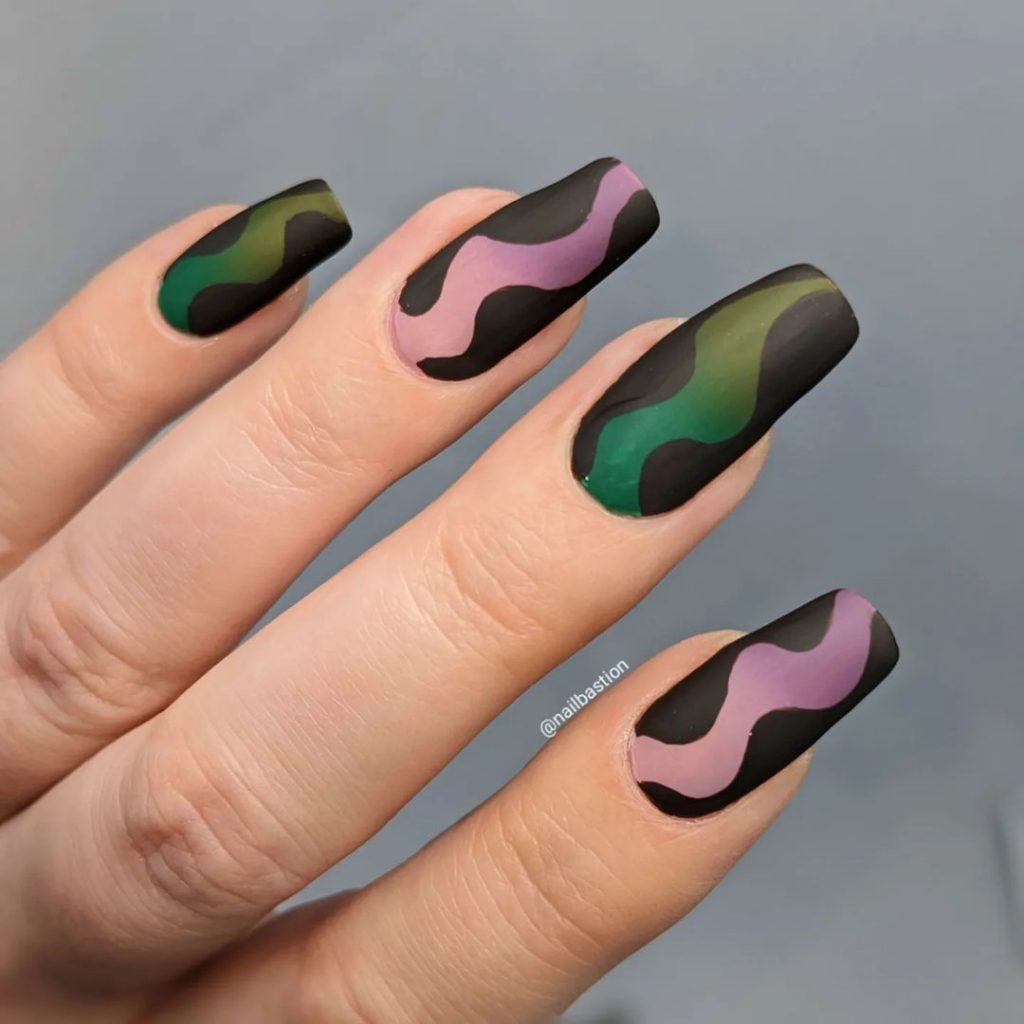 47. Peac