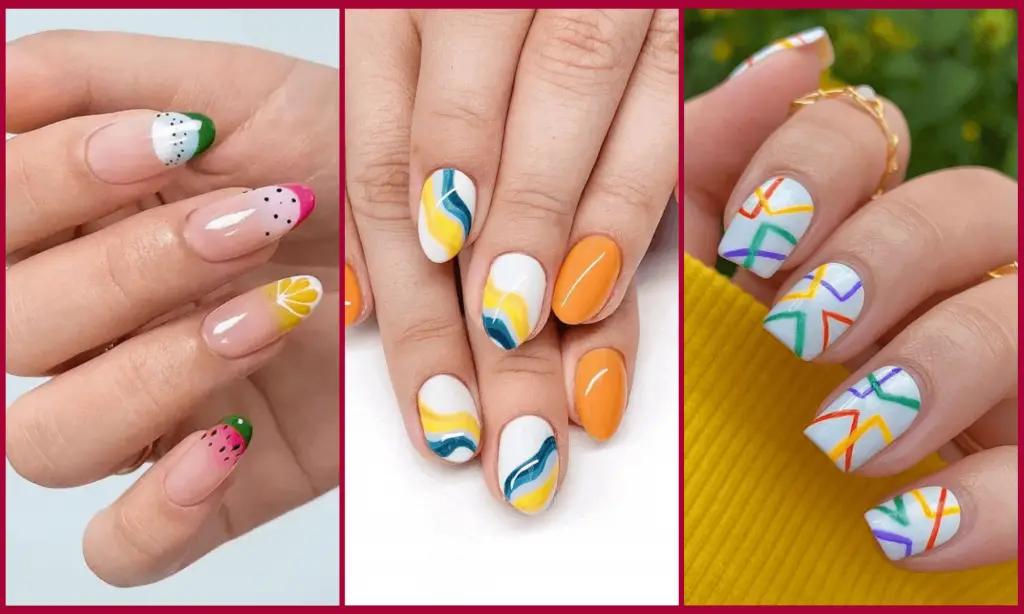 Trendy Summer Nail Designs~ Not only the weather is good to play on the beach or took a campaign with family and friends it does can be really fun to try some cute summer nail designs. You can go from bright plain nails to luminous coffin nails or you can combine any textures, colors,s or designs you like for your summer nail designs.
Diving deep into summer nail art designs below to go for more inspiration and pick one or more for you to recreate. Whether your salon is opening back up or you're going it on your own. These summer nail designs we've chosen are really worth copying.
And feel free to pin any of these images that you feel the design is speak for you and that you want to recreate in the future. So, let's just check it out..
Ps. This post contains an affiliate link, which means when you buy something through our link, we may earn a commission without extra cost for you.
Related Post:
1. Trendy Nails
Source: paragonnails
Abstract nails are one of the most looking nail trends among summer nail designs that everyone will be on it. and you can have this only with Gel Nail Poish and Sally Hansen Double Duty Top coat Base coat.
Or for more practical ways you can just stick on these abstract nail decals and voila!
2. Summer Wave
Source: Nailbykaiti
The combination of black, white, and gold shimmer with a glossy finish make this design look so damn good. Recreate with Kiara Sky Clear Dipping Powder, Black Onedoor Nail Dipping Powder, and Glitters Gold and Silver Jewel.
3. Hot Mint Mani
Source : judynailbeauty_nz 
You can create these simple chic look nails with OPI Infinite Shine Withstands The Test Of Thyme, Ivory Vishine Liquid Gelpolish, and Black Rhinestone.
4. Silly Orange
Source : kawaiiklaws
To get this silly funny nail design you need duri nail polish in Summer dream and Pie in the sky.
5. Summer Party
Source : angelika.martko 
All you need for this look Venalisa Gel Nail Polish in Black, Morovan Acrylic Nail Brush and Venalisa Silver Glitter.
6. Hawaiian Mani
Source : barbrafeszyn 
Create the beachy look for your summer vibes with these Sally Hansen Sapphire Chrome Nail Polish , Senvenski Gel Nail Polish in Green Shades and Modelones Gel Nail Polish Set. For effeciency you can also use Sally Hansen Double Duty Top coat Base coat.
7. Little Daisy
Source : _shadesofrainboww_ 
Calm color and cute daisies make this so lovely also simple. You can get this simple summer nail ideas look with OPI Nail Lacquer.
8. Junkie Purple
Source : choose_correct_look_perfect 
All you need te recreate this designs are Essie Nail Polish Play Date, Ownest Holographic Nail Polish and Elite 99 470 Shimmery,
9. Rainbow
Source :amanda.sudolll
Holiday mood with rainbow on nails. Shop this set nail polish to create your own rainbow.
10. Blue and Marble
Source : press_reset_nails
You need OPI Nail Lacquer Rich Gilrs and Po Boys, Revlon color stay gel envy also put on some shimmery look with VENALISA Silver Glitter.
11. Sage Green
As summer begin you wanna something new like this lil color design that you cn create with OPI Nail Polish Mexico City and the delicate rhinestone to bring some glam.
12. Smile
Source : _dzoanka_nails 
Put on smile emoticon with black nail polish bobby pin on your cherry red layer coat and that's everything you need to create this chic cute summer nail design.
13. The Beach
Source : artbychandhu 
Recreate this really cute beach nail design in summer with SpaRitual Nourishin Vegan Color in Nude and SpaRitual Nourishin Vgan Color in Natura Bathing or you can use DeBelle in Teal Blue and DeBelle in Nude. Or try these press nails for a little more convenient.
14. Baby Zebra
Source : cuti.gals

Just try with base coat and create the zebra baby line with Black nail polish and for extra glossy and protection apply some Sally hansen top coat insta dry.
15. Mermaid
Source : nailsbykatiebug 
Recreate the mermaid tail design with Zoya Dream Nail Polish, ILNP Peace Ultrachrome and RARJSM in turquoisme.
16. French Heart
Source : dashingdiva_au 
Out of the ordinary french nails with these breeze red heart on cuticles. simple summer nail ideas Recreate this extraordinary french nails with the shade from Sally Hansen Color Therapy Nail Polish.
17. Go Anything
Source : bashbeauty 
Better to get this than boring nail design, right? Make this nail design with anykind of nail polish you have or these set colorful nail polish on coffin fake nails.
18. Neat Line
Source : barbrafeszyn 
Fashion your nails for summer with this simple but does look ancy won't make you regret. Everything you need to make this only with this nail polish.
19. Your Yellow
Source : thecolorednail 
Bright color to boost your summer. simple summer nail ideas Make with this nail polish.
20. Dainty Corn
Only with this nail polish and and the silver shimmery you can have the look.
21. Gray Shades
First to create this kind of nail design apply base coat and then you can apply only one white coat with Just Gel Polish Whipped Cream, and to get the gradient look  mix the black nail polish from Elite99 with the white one. Use sponge to apply it with dabbing it. Once it dry you can finish off with No Wipe Top Coat. And to make the sparkling one you can mix base coat with Holographic Nail glitter.
But if you're too lazy to DIY this nail design, try this Grey Marble Nails.
22. Lovely Love
If you wanna some lovely nail designs or this summer, this one is really cute but yet simple to recreate. You need Milanco Ballerina Pure Color Matte Coffin Nails and Lovely Love Nail Sticker. That's it.
23. The Dark 
Source : laurasnails_ 

It looks a bit frightening but also can be really elegant. You can recreate with Vishine gelpolish black and red and finsh it with sally hansen fast dry top coat. 
24. Magnifying Art
Source : claws_nails_warszawa
The flowery nails to bring the summer mood and got the trendy look in simple but highway.
25. For Nude
Source : mary_diamond_nails 
You never can go wrong with nude nails. simple summer nail ideas To re create this with Sally Hansen Double Duty base coat,  OPI Nail Polish Infinite Shine and of course finish it with the Sally Hansen Double Duty. Or if you're too lazy for DIY you can go with Instant Nude Nails. 
26. Classic Angel
Source : esthertaubcosmetics 
Go classic with this nail polish and shimmery fun nail polish. 
27. Lavendar
Source :  jens_nails_spa

Lavendar is bloomed. Have this warm cute shade for summer with nail polish here.
28. Magic Love
Source : sassynaails_
Only with black matte nail polish and top matte nail polish to create the design.
29. Minimalist French
Source : glisic_andrijana 
Best french nails that are sure will hit on summer. simple summer nails
30. Bright Blue
Source : naailedit_ 
Match your nails with this bright blue unique color. As bright as the sky and ocean in the summer, these bright blue nails will make you feelin' like in the nature. You can create with these Base coat, Mi Casa Es Blue Casa, and end off with top coat.
31. The Gang
Source : royalnailbar732 
Shop nail polish here to make the look.
32. Happy Mismatched
Source : nailedbygiselle_
Happy summer with happi mismatched nails. Create with Sping into Summer Nail Polish. Try this press nail
33. Simple One
You'll always fall in with peachy nails color, that is very chic even without any other design. Or you can also try this press nail for instant.
34. Glam Matte
Source : babydoll_nails 
simple summer nail ideas Only with this nail polish you will get the look.
35. Ghost Blink
Source : nao916nail 
If you think cute nails design only will be too boring, then you can go with this smooky nail ideas and go with the cuti nails on other side, perfect mixing of true thriller and calm cutie. 
36. Clear and Color
Source : setsbysaba 
Shop the nail polish here to make a Clear and colored summer nail design.
37. Lovely French Nail
Source : sassynaails_
All you need to create the cute summer nail designs are Clear Coffin Fake Nail, The nail polish and Heart Sticker .
38. Burgundy
Source : dazzlenailco 
All you need to make this burgundy nail with OPI Burgundy nail polish and ZOYA Pixie Dust Nail Polish.
39. BlackPink
Make this nail design with Golden rose nail polish and the black matte.
40. Just Pink
Source : moonshinemanicure 
Shop nail polish here to create tis summer nail design.
41. Glossy Black
Source : feednails1 
The Nail polish you need to make this summer nail design.
42. KissLips
Source : sunshinenailsva 
Create this sexy nail designs look with Revlon Nail Enamen with glossy finish.
43. Butterly
Source : moonshinemanicures 
Duri Summer Dream Nail Polish and some Butterflies Sticker for you to copy this summer nail design.
44. Star Shine
Source : maniwithsami 
How you can resist this cutie nail design. Only with  Sally Hansen Pink Cloud Vegan Nail Polish you can create the look.
45. Tie Dye 
Source :napaznokciach

All you need rof the look only with Sally Hansen Hard As Nails Nail Polish here.
46. Fave Mani
Source : glamistrie 
Simple summer nail color you'll get a lot of compliments with.
47. White French
Source : nails_design_to

Shop nail polish here to get the look.
48. Round Nail
Source : mary_diamond _nails
49. Ring On
50. Cow on Matte
Source : glisic_andrijana 
51. Ombre Nail
Source : nails_design_to 
52. The Leopard Prints
53. Dusty White
Source : _mejzi
The nail gel polish from Didier Lab on Pale is very stunning with the atypical dusty white and the sparkle for splashh of color. You will loove to create the nails for this summer.
54. Pine Chamelon
Excellent combination from pine green nail polish with chamelon color on for whimsy look. You can also try to draw your own shape with the oposite color on top to make it fussy.
55. Flamboyant
Source :nails.by.zo_
You're not sure what color to choose for your summer nails, then you can go with this design. You can have your own splash with these gel nail set.
56. Blushing Shades
Pink series for summer nails won't be bad at all. Create this fminine cute nail design with the pink series gel nail polish.
57. L.O.V.E 
Thhe clear-cut lovely nails with L.O.V.E nails. Spell it on this romantic peach nail color.
58. Soft Statue
Source : @safinailstudio
Hangout with the fresh summer color nails for the summer. Very easy to create on your own in the spare time.
59. Papaya Rulez
Source : @redheadnails
Creating this summer nail designs won't take much time. What you need to do is to create layer the black base first then draw your own stars, after that you can spread yellow nail polish in the angularity. Finally, apply the matte top coat.
60. Shapes
If you're looking for simple cheerful summer nail ideas, this summer nail design is very easy, you can create it with this nail polish. And it has kind of have classic vibes.
61. YSL Nail 
Design branded YSL on your nails is new thing… For fresh new summer ails look YSL inspired nail can ge a great choice. And it's also easy to create. The combination of fancy nail color navy and cute pinky nail polish make this design look va va voomish.
62. Cute Pastel 
Cute summer nails that you can easily create on your own. Get great color with pastel nail polish from sally hansen.
63. Blossom Bloom 
Fill the empty pink space with the stalks and the flower on rise. It looks so great for your summer day.
64. Smile
You can create this summer nail design with the calm shades of this nail polish.
65. Lime Lemon
cute summer nail. If you want something more conventional with this kind of summer nail design here is the nail sticker to cut the way of painting em'.
66. Gold Spotter
67. Purple Codes
68. Holes
69. Blue Scales
simple summer nails
70. Checker Nails
71. 4th of July Mood
72. Summer Fire
73. Summer Shades
simple summer nails
74. Vibrant Mix
75. Chic Flower
76. Rainbow French
Try this instant painted nails.
77. Pink Spin
cute summer nail
78. Perfect Match
79. Green Power
Living vicariously through my nails