Christmas is just around the corner and no matter what you plan to celebrate this year, it's time to give your nails a VIP treats to bring back the glamory. Painting your nails in festive color and designs is one of the easiest ways to spice up your beauty look. To catch the attention.
But do you think out of the box with a red shade or green nail polish, or a fun design? We are inspired by custom art designs seen all over Instagram, including the winter nail look, you can easily DIY with gorgeous details or you may want a professional execution of.
If you would you like to decorate your christmas nails without having to resort to a manicurist and thus save money? Then contemplate our beautiful favorite of Christmas nail ideas and let us offer you lots of creative inspiration!. Definitely worth looking.
Here there are endless cute Christmas nail designs options to choose from.  From candy canes to glitter, snowballs and snowflakes, this impressive Mani list has everything you need.
Now, without further ado, find the most adorable way. Paint your nails this christmas. Whether you're naughty or on your fancy list this year, these Christmas nail designs are surely eye catcher.
Related Post:
Best Festive Christmas Nail Designs
1. Snowman Nails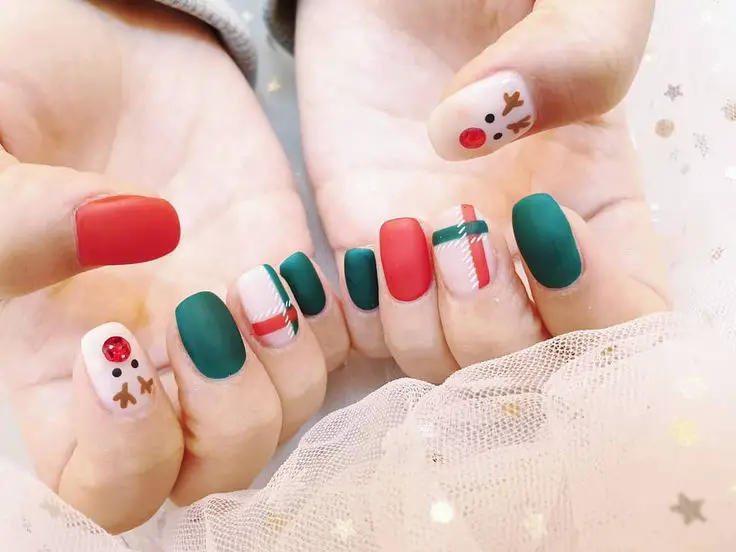 Do you think that making a full snowman is too bored or complicated? then you might want to try this nail ideas for your christmas. Featuring with fresh looking in red and green for mix and match look. Also it take only 4 shades and a red rhinestones to get the look, and voila – you'll have your manicure in no time!
2. Bright Color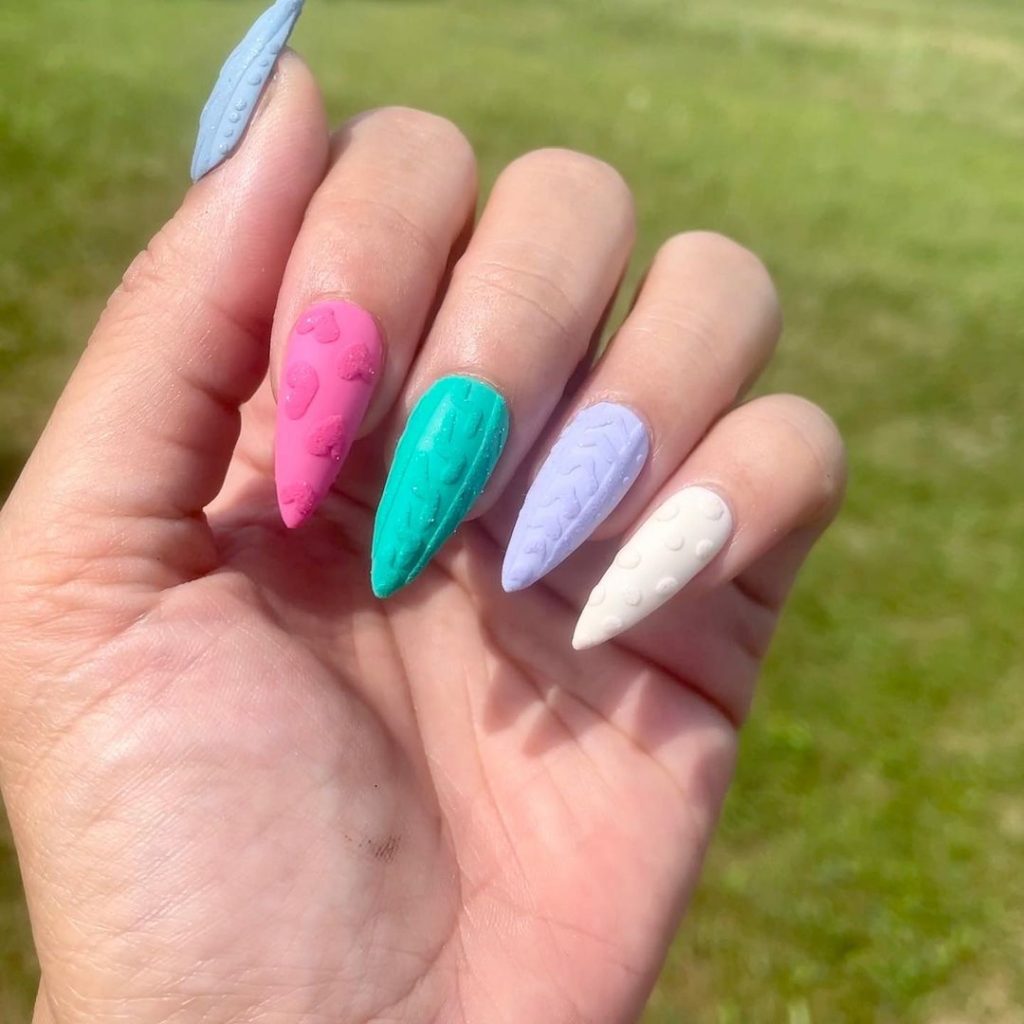 If you love playful and girly nails you porbably going to obsess with this nail ideas. Paint each nail a different shade of playful color from pink to purple or green to red. Match the order with your taste. This look is the opposite term of ordinary from any kind of christmas look that you may want to keep during the winter and of course look well on party.
3. In White Black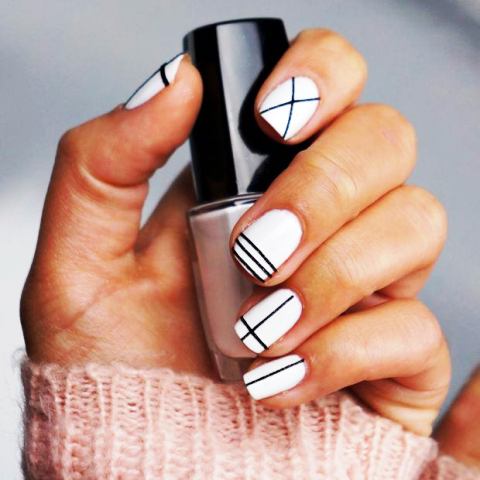 Paint your nails a simple color like white, then dress it up by adding a dash of black lines. It will be a favorite christmas nail design and a great choice without being too much and play basic but still look chic.
4. Zebra Lines
Altered the zebra line nails in to different path with a combination of several colors in one hand. Cheerful looking nails for the christmas party to stunned everyone. Simple christmas nail designs without having preofessional help.
5. Over French
French nails will never out of date with its endless style that you can try. Modify the typical french nails with combining color in different way and spotting in the different way to get the georgous look without being too party-engaged.
6. Green Peace
Grab your typical green polish and paint a green shape in different spot of each nails. Very easy christmas nail ideas that will steal the show. if you want to add a touch of luxury to your seasonal nails with stud green rings and metal gold metal ring.
7. Brand's Logo
A lustrous dark black luster setting that brightens the legend LV's (Louis Vuitton) logo at your fingertips with simple painting without being good at drawing. The results are magical and whimsical.
8. Orange Pepper
The color of orange pepper will make your christmas look extraordinary with red, and green overall theme with most simple painting on favorte coffin nails.
9. Buffalo Plaid
Match with the overall theme with this buffallo plaid nails for dashig christmas look. It only requires basic red polish with other 2 basic color in white and black to create the plaid's.
10. da Christmas's Details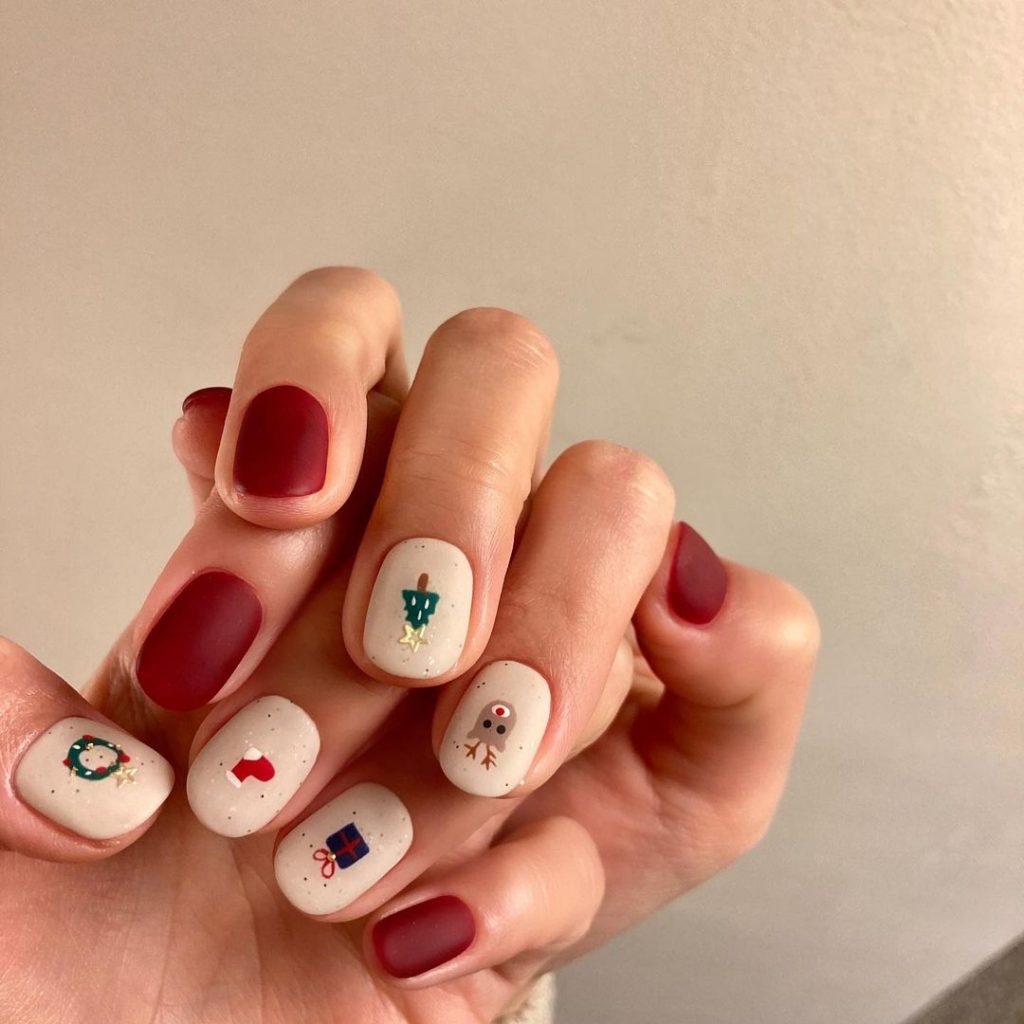 If you have a mind that enjoys christmas details experiences, and you want to decorate each of your nails in a different touch, this nails is for you! A Christmas tree, sock in red, present box, reindeer, wreath on the thumb and deep red for the rest, Very cute christmas nails that are so christmas-y.
11. Glass of Champagne
With specks of chunky gold and blue rhinestones, this luster is basically like a glass of champagne at your fingertips with extra fancy look. For fully look use coffin nails which absolutely gorgeous.

12. Santa Touch
If you're ready to graduate from metallic to glitter, we'll do the shiny red gloss nails inspred by santa's beard in white and shine red coats. Polished with glassy top coat and get the clear pictures.
13. Deep Red and Gold
Red is another typical color of the holiday season that's fun to play with. And who said you can't rock it after Christmas? You can make deep reds a bit more interesting by adding silver or gold shimmery to create luxy gold leaf look, And most importantly easy to create on your own.
14. Silky Pink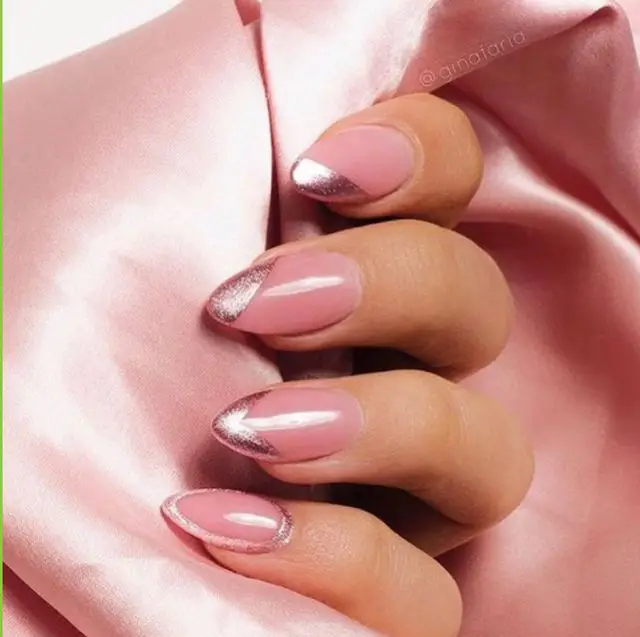 Style your nails with silky pink, adding with the shiny pink shimmer create the untypical french tips. The luter reflect the beauty elegantly. Fancy nails look for the holiday season.
15. Sequins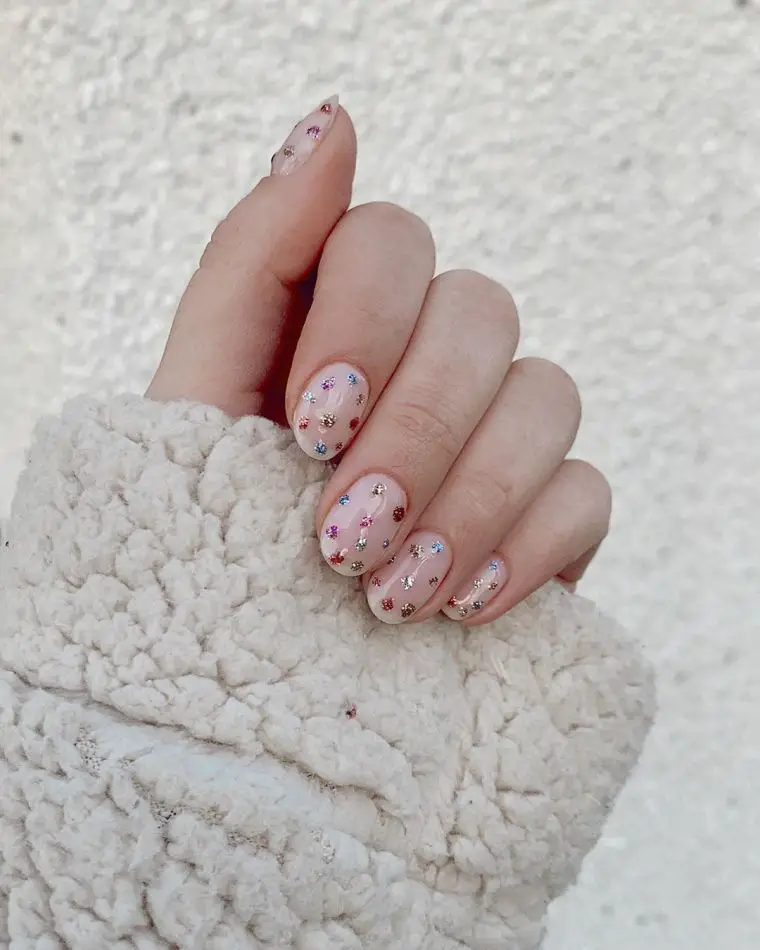 If you're the type of person who isn't used to putting a lot of effort into your nails but loves to be different then this is a great seasonal look. All you'll need is neutral nail polish and sequins, or you could buy daisy 3D nail stickers. Then polished a glossy a top layer over them. Your nails will always be beautiful and natural, just with a bit of a winter twist.
16. White Eye
An icy white will be fantastic if you want to adapt to the cold and chilly atmosphere of winter. You could add a little black eye on bottom. What you ned is only 2 base color white and black and that's it!
17. Firm Shape
Combine the deep red and light red and get the most fabolous look. Paint on different shape with firm lines and overlying the lightest one. easy chic christmas nail ideas.
19. Modest Style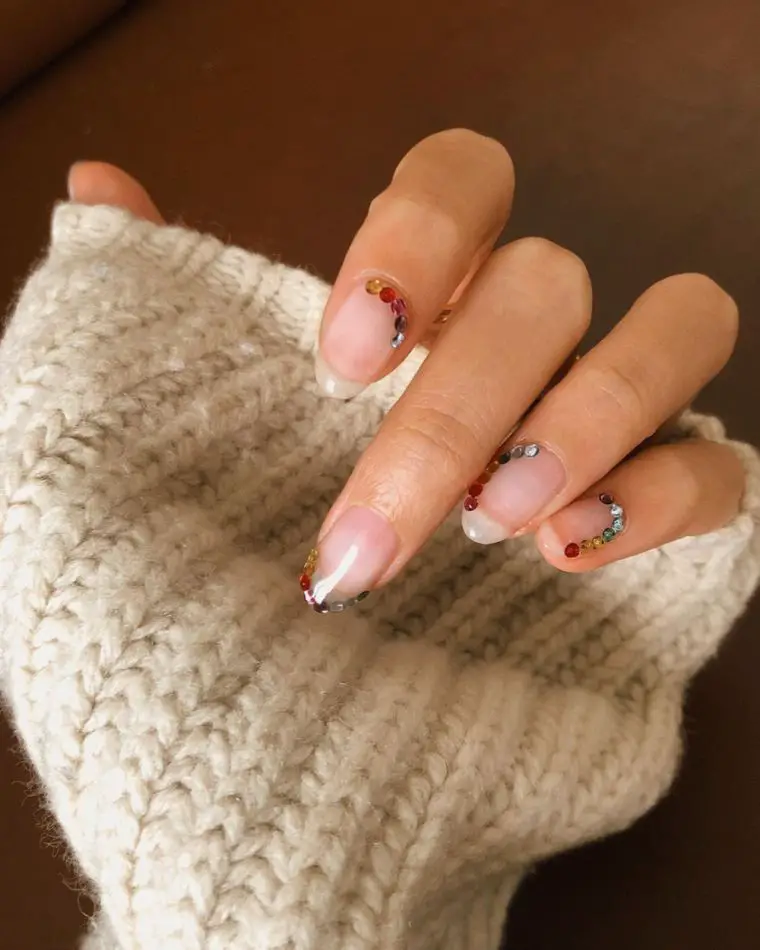 New Year's jackets with rhinestones are classic, While on the nails it des can be odest and festive christmas nails. Picked the litte rhinestonesand placed on sides of nails. It will become fashionable to nude nails, complemented by sweet rhinestones.
19. Blue Orchid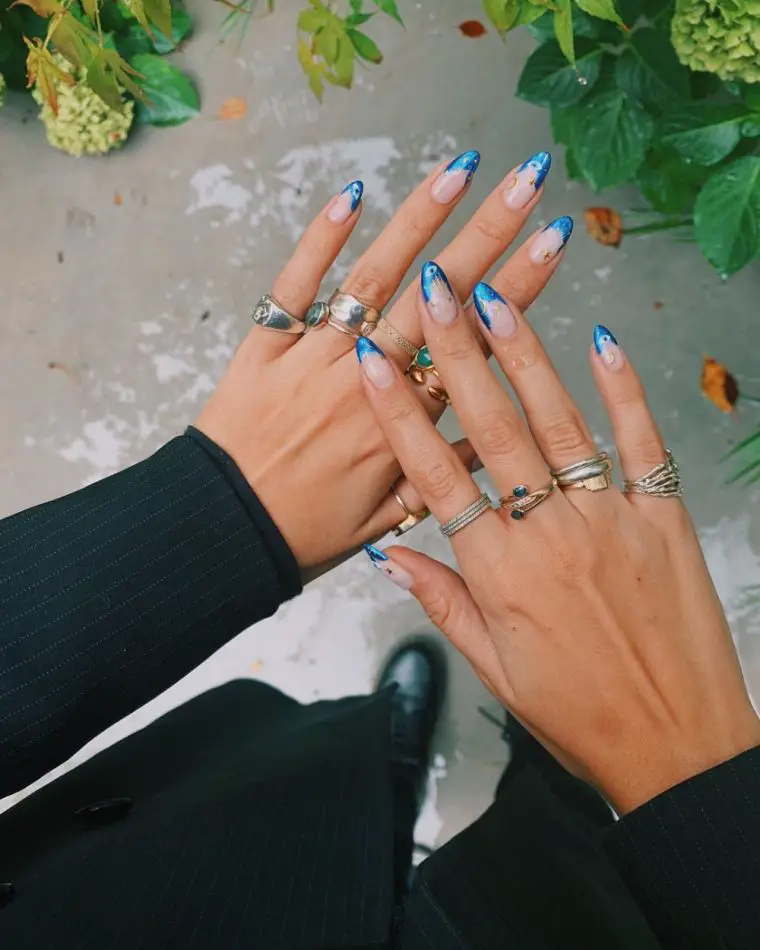 Nails in blue with black and red suit will gonne steal the shw for the christmas party tonight. Create on your own on coffin nails and enjoy the intention.
20. Crown Live
Simple white nails are perfect for winter. They will match the snow outside and can be easily paired with absolutely any outfit. They are a basic look that is easy to maintain if they end up chipping and can be dressed up with jewelry. Added some pattern to live it up or if you feel it's too bare.
21. Christmas Tree
This pine-inspired tone is a perfect match for the Christmas tree. The Christmas tree on the nails presents a beautiful New Year's nail design in 2021 in a classic cute Version, and it is not difficult to implement on your own. Put on nude colored nails to get the picture clearly. You can also add any ornaments for other nails.
22. Deep Tone
Tortoiseshell nails is perfect design to picturing the vintage style. Though you can combine it with deep red polish to get the holiday look. It will be definitely trendy christmas nail design, that you need to try for this holiday season.
23. Pink Grades
A few coats of this striking metallic shade will reflect light rather than luster. In many dimensions, this is not the average. Chrome Pink Gloss . starting with the deepest color and ending with the lightest
24. Reverse French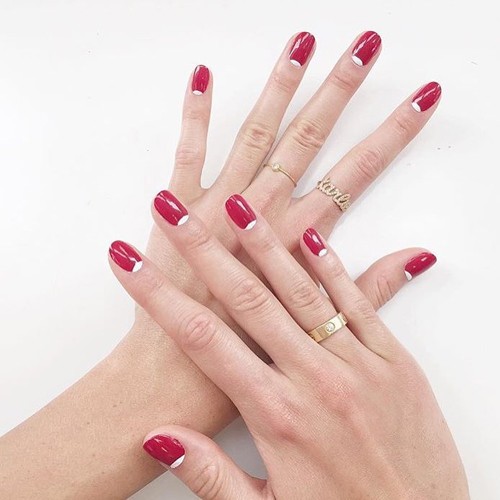 How about going for a reverse French manicure in glittery gold and glassy red? One would be inclined to believe that it is something very complex, but in reality, it is very easy! It is simply a two-tone manicure with lunules, the color of which differs from that of the rest of the nail! Such an option will personalize your Christmas nails and bring an unparalleled touch of splendor to your hands!
25. Snow Watch
Fireworks and snow nail design is perfect pair for your christmas look without having effort to make it. Very stylish holiday look that will suit for any outfits and event without being too much.
26. Neutral Shade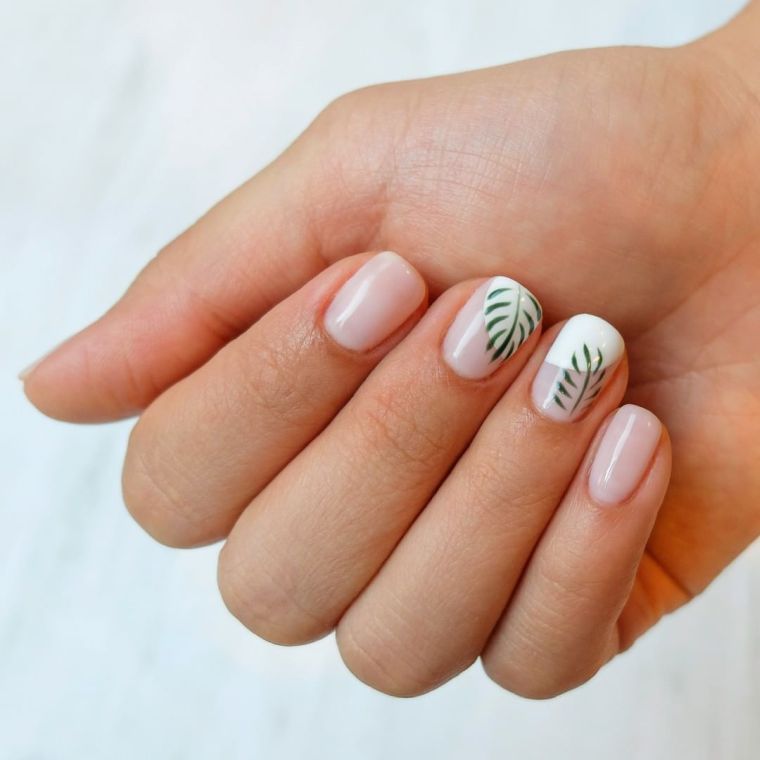 Are you usualy stick with neutal color and simple design? then you can love having this in the winter. Just pick a nail and grab some white polish to represt the snow and paint pne leaves to catch up the holiday season. It can look really stylish while keeping the holiday spirit in mind.
27. Red French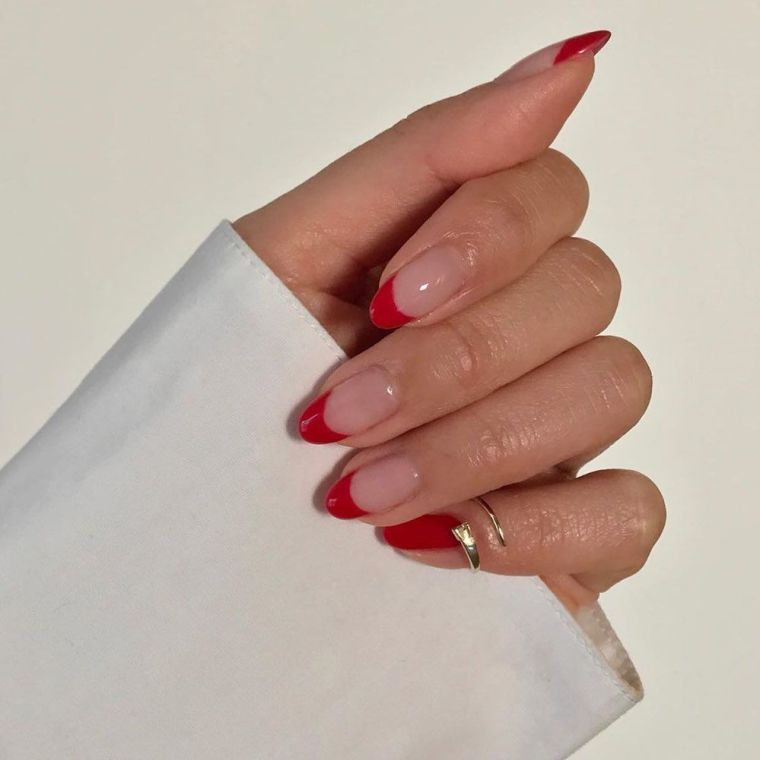 This shade of red is reminiscent of a subtle, pearly finish mistletoe berries. It's the perfect balance between playful and good. Also perfect for your christmas nail look.
28. Classy Black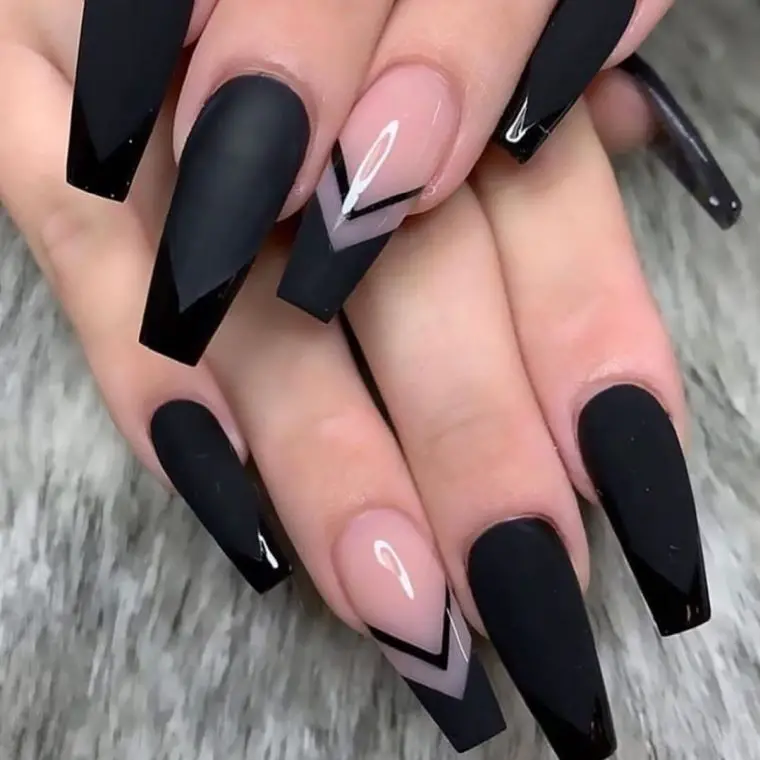 For those girls who have given their preference to long claws in the shape of a coffin, a monotonous covering of calm muted shades is ideal. The friends of black matte with nude pink , and touch of glossy layer will turn your coffin to be absolute great nails.
29. Shot It All
Pick your favorite color and paint each nails in different color. To add the nuance you can decore with anything in the shape of abstract for one nail or more if you want a little details.
30. Frozen Spin
Winter Wonderland has a spectacular frozen snow on the top of crusty red. Large and small snowflakes hang in a clear formula for multi-dimensional sparkle. Multiple coatings at once bam! 
31. The Evergreen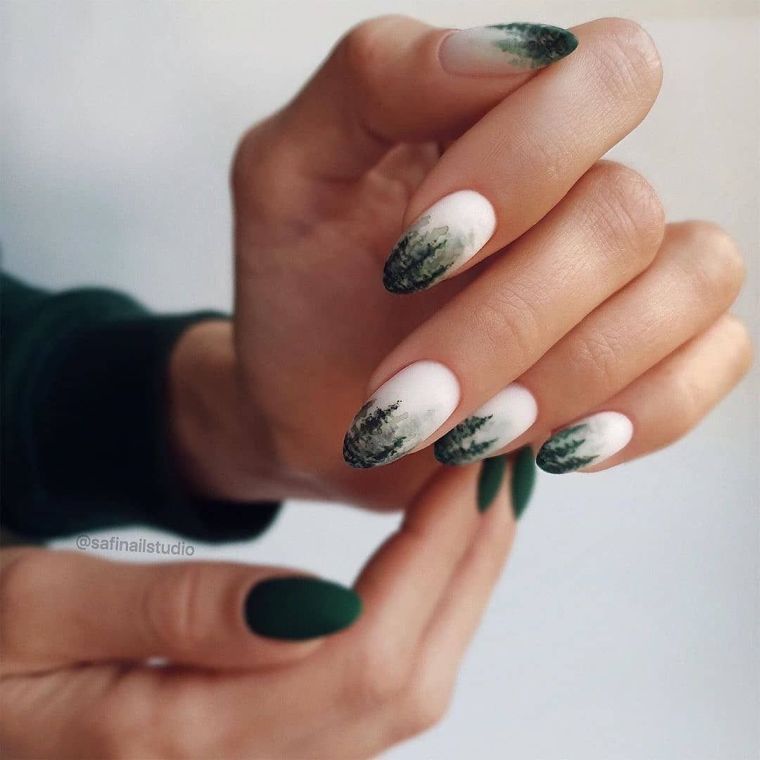 This dark evergreen in frozy nature is the perfect eye-catcher if you want something melodramtic but aren't dull, ugly sweater . Experiment with different shades to get into the vibes. Give it a try; you will have no regrets
32. Winter Shades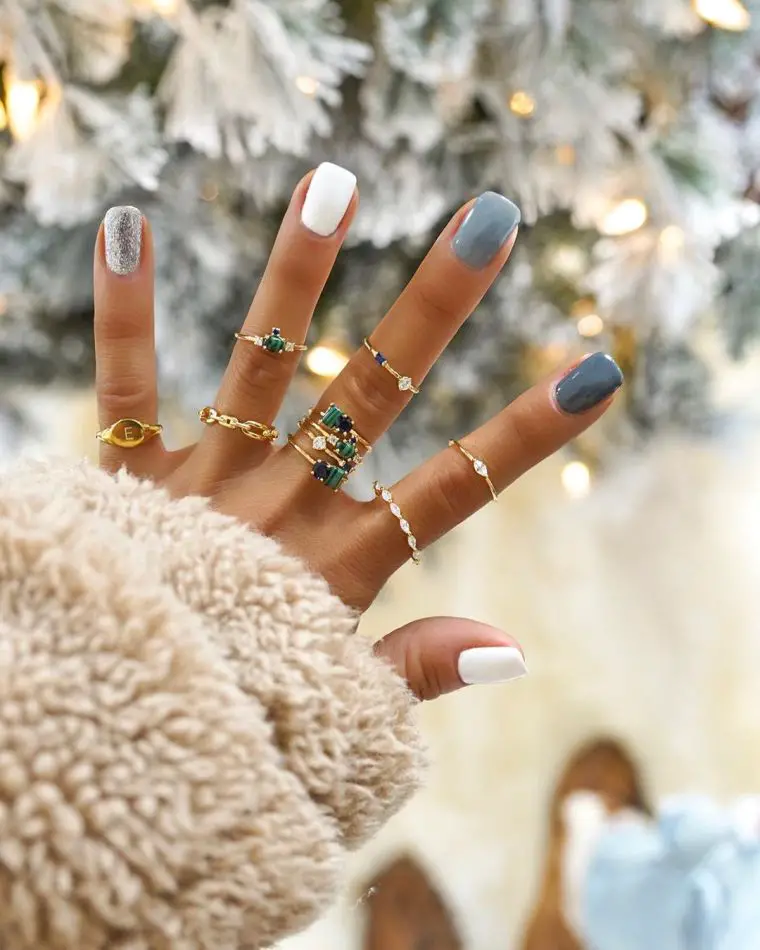 Shades of blue Be the beauty of the ball with this elegance grey blue. This polish will help you look like the ultimate winter queen.
Other Christmas Nail Designs
33. Ocean Scales
34. Abstract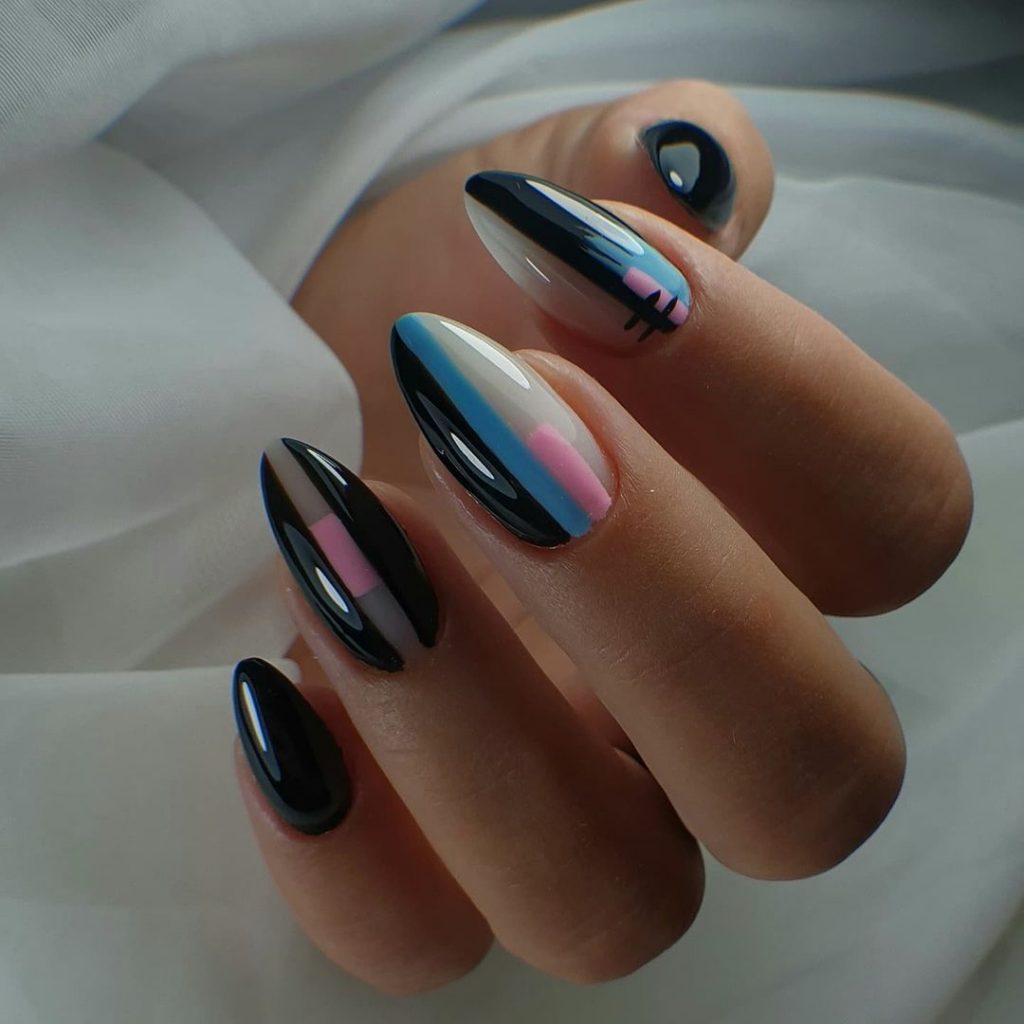 35. Boom of Youth
36. Wine D0wn
37. Modish Marbles
38. Ribbon Nail
39. Starry Night
40. Bushes