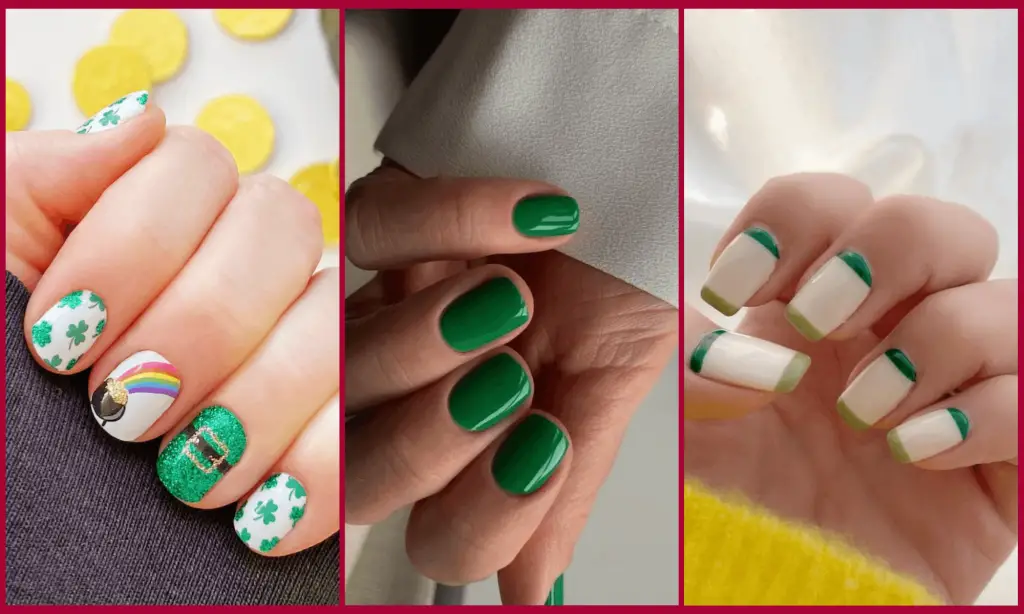 Whether you are celebrating St, Patrick's day or not. Holiday is always perfect excuse to update your nail designs. And the St. Patrick day is unexceptionally, it's a great holiday to bring back your green nail polish on theme. In this post I've got you more than Iconic pics for your St. Patrick nail designs of the legendary St. Patrick but more into lucky cloves leaves an playful green shades. don't worry, all of these nail designs will look great gripping paint.
And we all know Everyone knows that wearing green on St. Patrick's Day is a must. But here are St, Patrick Nails styles that are beyond green in terms of nail designs and shapes.
St. Patrick Nail Design To Copy in 2022
1. Modest Green for St. Patrick's Day Nail Ideas
Let's start with nail painted in one green shades if you wanna look for minimalist but gripping green nails. Get the look for single swipe of green polish
2. Chic Swatches Green Shades for St. Patrick nail designs
Perplexed with what kind of green shades to pick out for this St. Patrick's Day nails. Than yo can go for all of it. Like swatches of green shades from bold green to light mood.
3. The Green Edges for St. Patrick nail designs
For me this nail is very eccentric isn't it? The combination of bonny whites with double edge stripes of two green shades makes it a perfect look for st. patrick;s day nail designs even will look perfect for your spring nail styles.
4. Black an Gold Print for St. Patrick nails
St. Patrick's Day nail designs : Gold and Black chic sides overlay matte green nails.
5. Glossy Greed
Another St. Patrick's day nail ideas in glossy dark green nails with black 3D graffiti.
6. Glam St. Patrick's Day Nails
7. Water Drops
8. Scale Up St. Patrick Nails
St. Patrick's day nail ideas
9. Shamrock Nails
10. Army Spring Print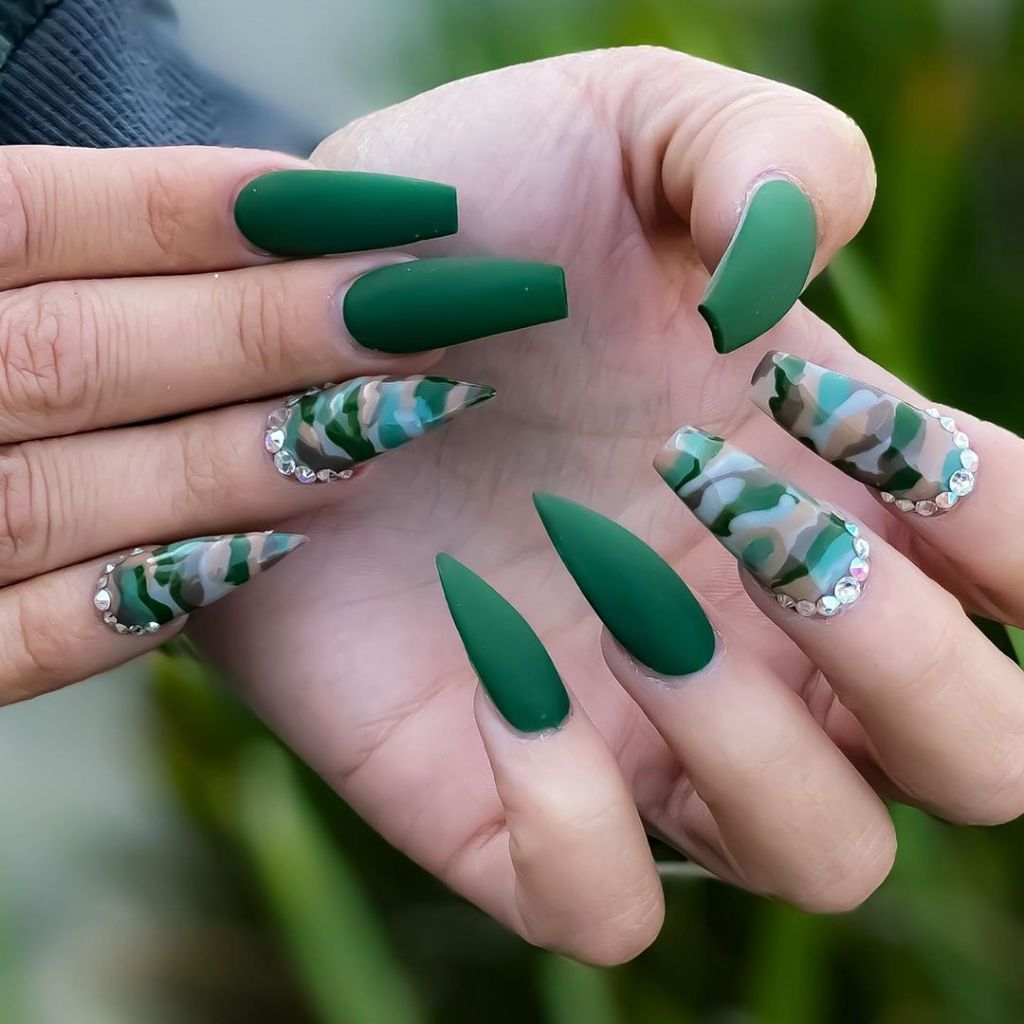 St. Patrick's day nail ideas
11. Dope Spriggy nails
12. Coarse Green
13. Criss Cross Path
14. Galaxy Space
15. Green Marble Nails
16. Dainty Clover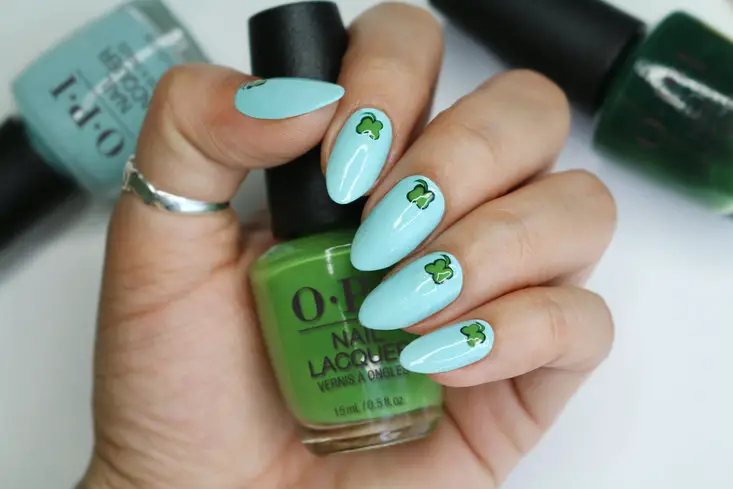 17. Beer Bubble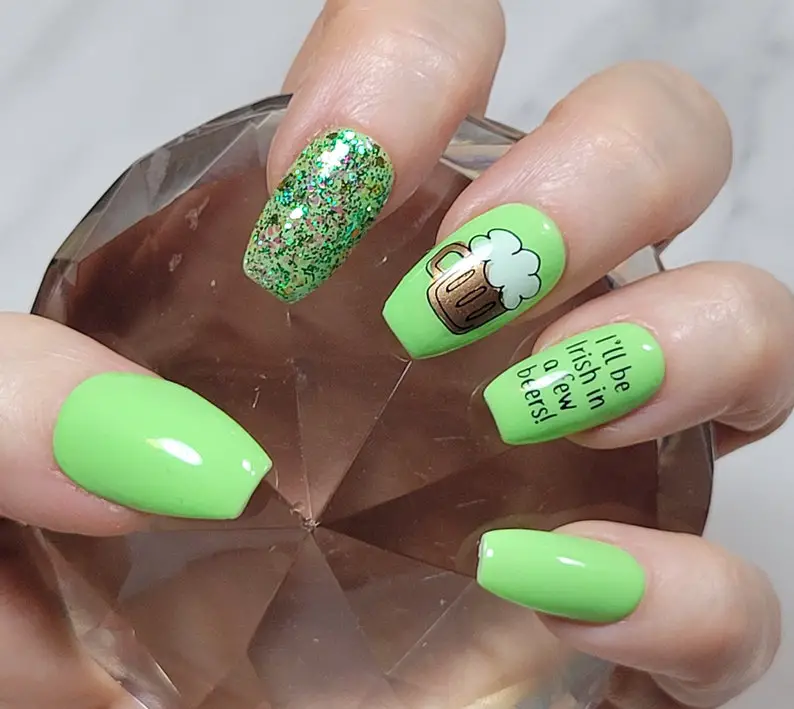 Shop on Etsy
18. Rainbow Clove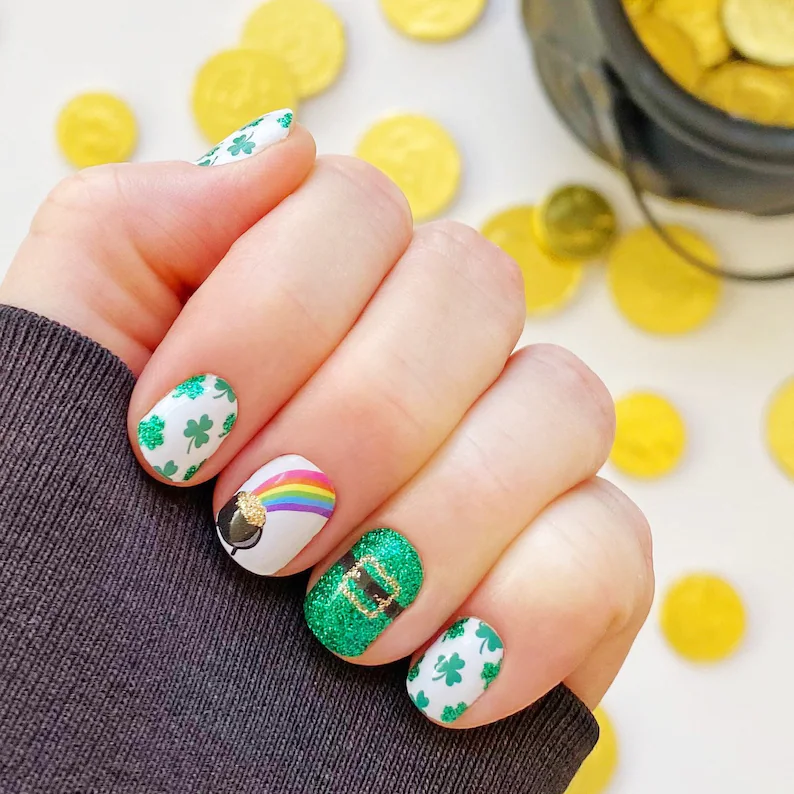 St. Patrick's day nail ideas
Shop on Etsy
19. Coffin Greens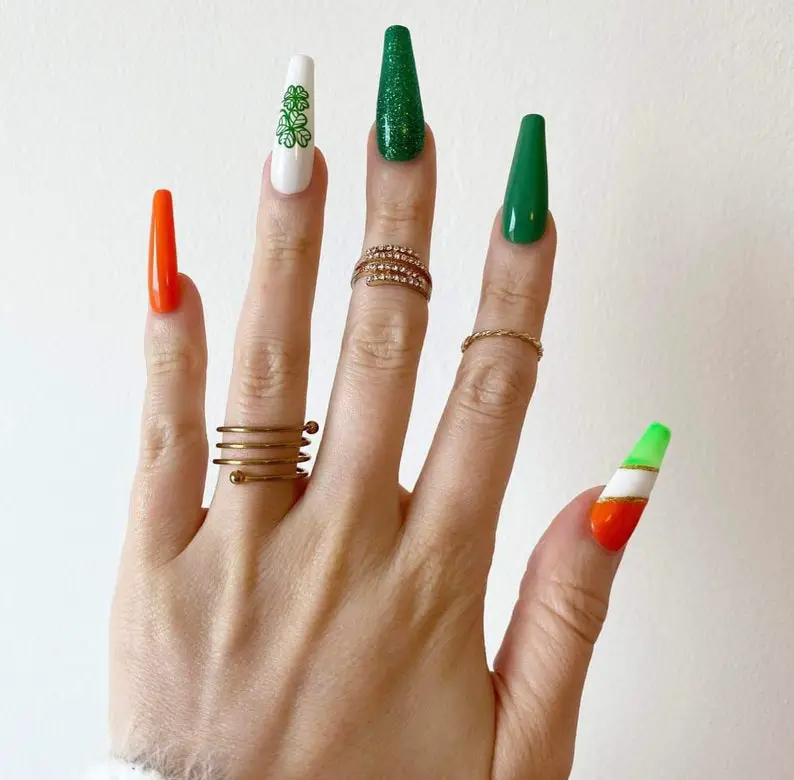 Shop on Etsy
20. Sweet Swirls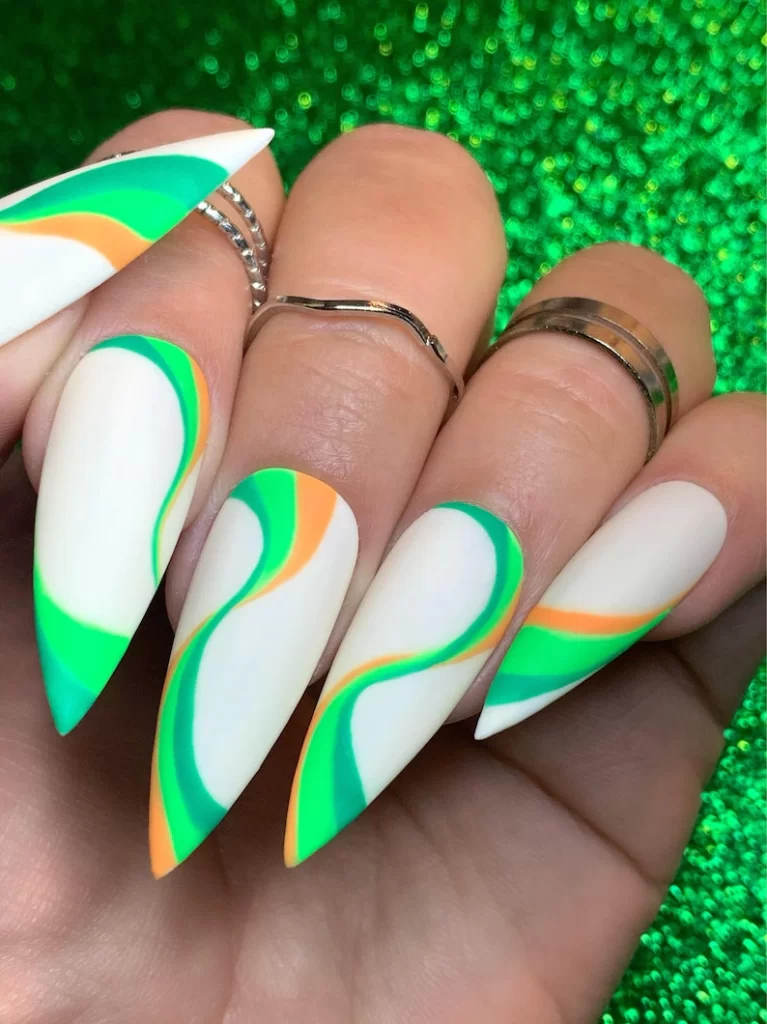 St. Patrick's day nail
Shop on Etsy
21. Lovely Stickers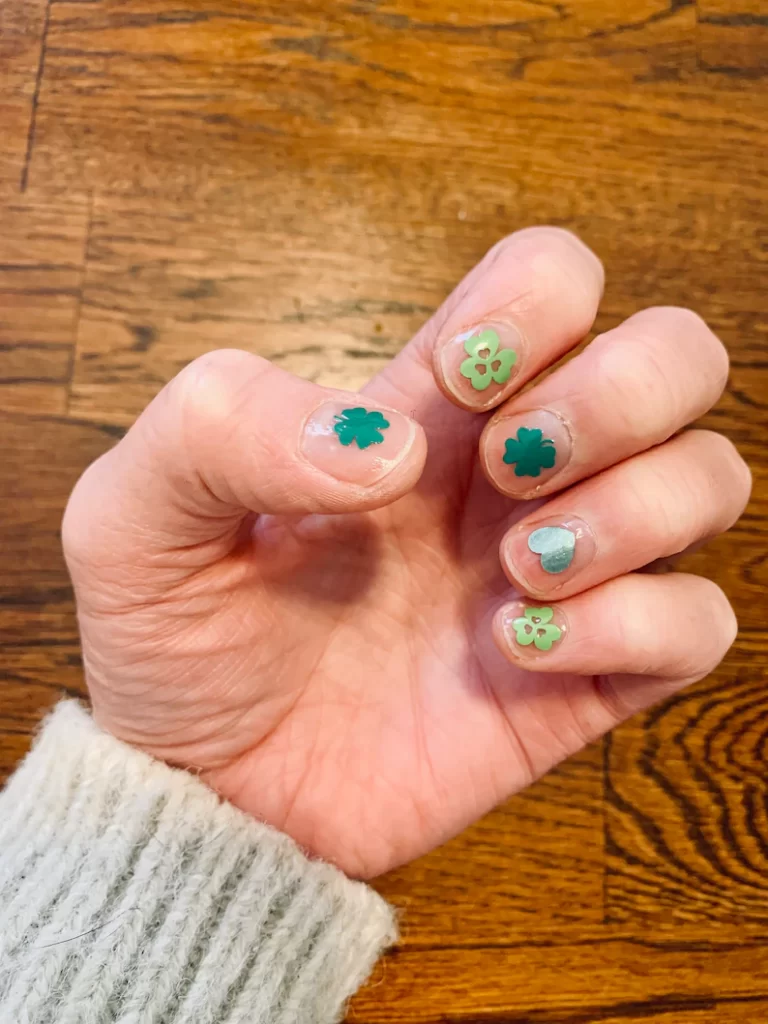 St. Patrick's day nail
Shop on Etsy
22. Shimmery Slides
Shop on Etsy
23. Lucky Luck Cloves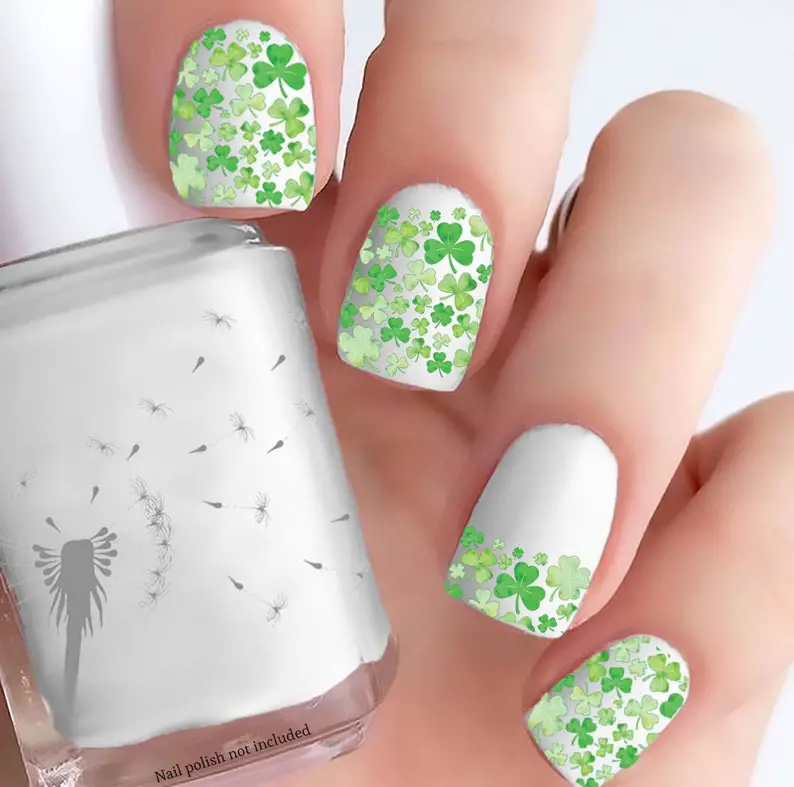 St. Patrick's day nail ideas
Shop on Etsy