In the 'nail art' there is nothing written but each season has its own style. Thus, for the winter nails, the forsty snowy designs with calmer tones triumph, although the color palette has opened, and much. 
Nail art is renewed every season but always under one maxim: surprise! The color palette of winter nails is always more colder, but not more boring for that. There are several trends for each season, and for the winter nail trends Points of light with frosty snowflakes, plaid contour, sterling glitter for the most optimistic and, of course, short and beautiful gel nails or all together!
Get inspired by the best of our reference manicure muse, that's very wintery. Well, in this post we have taken good note of all the wishes, rounded up the best winter nail ideas full of joy, color and creativity. And also, we are going to give ourselves a good dose of pampering.
BEST WINTER NAIL DESIGNS
1
The Color of Winter
Courtesy @beau.tybyvivian
We have already told you that ocher and orange are super trendy in fashion and beauty this fall, and the same happens with manicure. It seems to us a super elegant color, and also different shades can be used within the same range.
2
Say No To Naked Nails
Courtesy @vikfan4
3
The Stars
Courtesy @mal.nailedit
4
Mixture In Blue
Courtesy @nailsby_anniele
These swirls and subtle polka dots made with different shades of white nail polish look like melting ice and snowflakes (but the pretty kind, not the coarse muddy stuff). Framing in metal and adding stars, another good idea mixing trends for the most daring.
5
Fairy Shimmer
There is nothing more classic, elegant and sophisticated than a perfect red manicure. 

They are not ultra-decorated nails but the result is infallible, don't you think they look great with one of the 

leopard skirts

 that are worn so much now
6
Red Nails
Courtesy @nails_by_amandam
Navy winks in the fall? Of course yes! Just as sailor striped jumpers are an ally for your mid-season wardrobe, we love nails with a white background and red and blue stripes. Original and with personality.
7
Wintery Purple
Courtesy @qqnailsnyc
just a neutral color base with geometric embellishments, and they seem like the best!
8
The Snowan
Courtesy @ms88giggles
9
Feminine
Courtesy @nails_by_amandam
The most subtle and elegant way to decorate your nails with splinkle side, in this case a mini stud with a neutral pink background. Beautiful!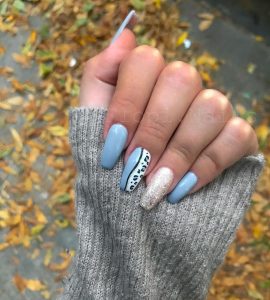 Courtesy @flopi.nails
11
Peachy
Courtesy @kolorowa_dusza
This manicure has it all: Combination of colors in muted and neutral tones and with the touch of the French manicure. Absolutely differentiating.
12
Leopard Print
Courtesy @posh_andcompany
Courtesy @inimawear
The alternative, pastel and with calm colors is the maximum trend. It is very beautiful but it is also going to take a lot.
14
Tranquil
Courtesy @manicure_design_gel
Courtesy @redheadnails
Courtesy @merida_nail_art
17
Forest During Winter
Courtesy @2021maonail0530
18
Glierry Touch
Courtesy @heroine.nyc
 The transparent base provides a feeling of clean hands, but if you already decorate them with a motive, as in this case, hearts or some glitter shine, hands are this ideal.
19
Rain
Courtesy @msnail_melbourne
We love this manicure in shades of blue, neutral and with a touch of gold and metallic. In addition, these have a pattern that a priori may seem from another season but nothing is further from reality. 
20
Winter Sky
Courtesy @m.o.n.a.j
Indigo blue is one of the strongest trends this year. We do not know if it is because it calms down, because it gives us a sense of peace. But it takes aim: blue in its darkest version takes aim strong.
21
The Basic
Courtes @honest_nail
22
Heart Nails
Courtesy @blackday0414
Courtesy @hapbi._.nail
23
Sober Tone
Courtesy @hap_pynail24
24
Mint For Cold Season
Courtesy @maezzi_1001
Do you have a cold heart? Same! Embrace it and incorporate light blue heart designs into your winter nail look.
27
Cutie Calm
They have been the clear trend this summer but now they come with more spring colors, delicate, we leave behind the too bright tones for that 'soft' air.
28
Evergreen
29
Butterfly
Courtesy @sollash_nail
30
Dead Wood
Courtesy @pinknail_jiwon
31
Classic Nude
Courtesy @julia.loveslife
32
Your Favourite Pet
Courtesy @theman__e
33
French Alternative
Courtesy @urbanbeauty_nz
34
Your Orange
35
Bold Color
Courtes @nails_by_amandam
We propose you nails painted in the 'rainbow' style but with shades typical of autumn and winter, but you can also give a hint of color. For example, this manicure in the range of blues and purples are very trendy and are ideal.
36
Galaxy
Well, as it happens with the red one or it could happen with the garnet. Black nails are a basic for the colder months, although logically they can be worn all year round.