I can't believe Thanksgiving is just around the corner! Are you guys ready?! I'm not sure where this fall season has gone! But It's definitely one of my favorite holidays because of all the yummy #FOOD 🤣 with family and friends. what is your favorite dish?!
If you are the host for Thanksgiving this year or will attend as a guest, you will surely need an outfit, right? Whether you're traveling, staying in town, doing it up fancy, or snuggling in for a more casual feast, I'm putting together Thanksgiving outfit idea that are both cute and comfortable — essential for post-meal time!
Without further ado, here are cute Thanksgiving outfit inspirations!
Cute Thanksgiving Outfit Ideas To Copy
1. Casual Dressy
The feminine type with a floral dress. And for a bold look but still on the cutie side pair with animal printed boots with a matching coat. Easy to dress up. Either way, it's a cute 'fit!
2. Chic on Slit Skirt
Looking to elevate your look? Put on Slit flower skirt over a turtleneck sweater. Really. That's gonna end up with a lot of compliets. Oh, and hight boots help too. 
3. Loose Black Dress
You will never go wrong with A black smock dress. Pair it with camel-colored boots to really make an entrance.  It is always a good outfit you can go for any occassion even for the big meal and you still look good on pictures.
4. Oversized Cardigan Dress
On Thanksgiving Day your oversized cardigan dress will look good on the day!Pair with white turtle neck and white bootie and that's it. Don't have to worrie you will feel cramped after the meal,
5. White and Beige Paired Up
These beige pants will look good with any top, just with a sleeveless white shirt, it will be another siple aesthetic style.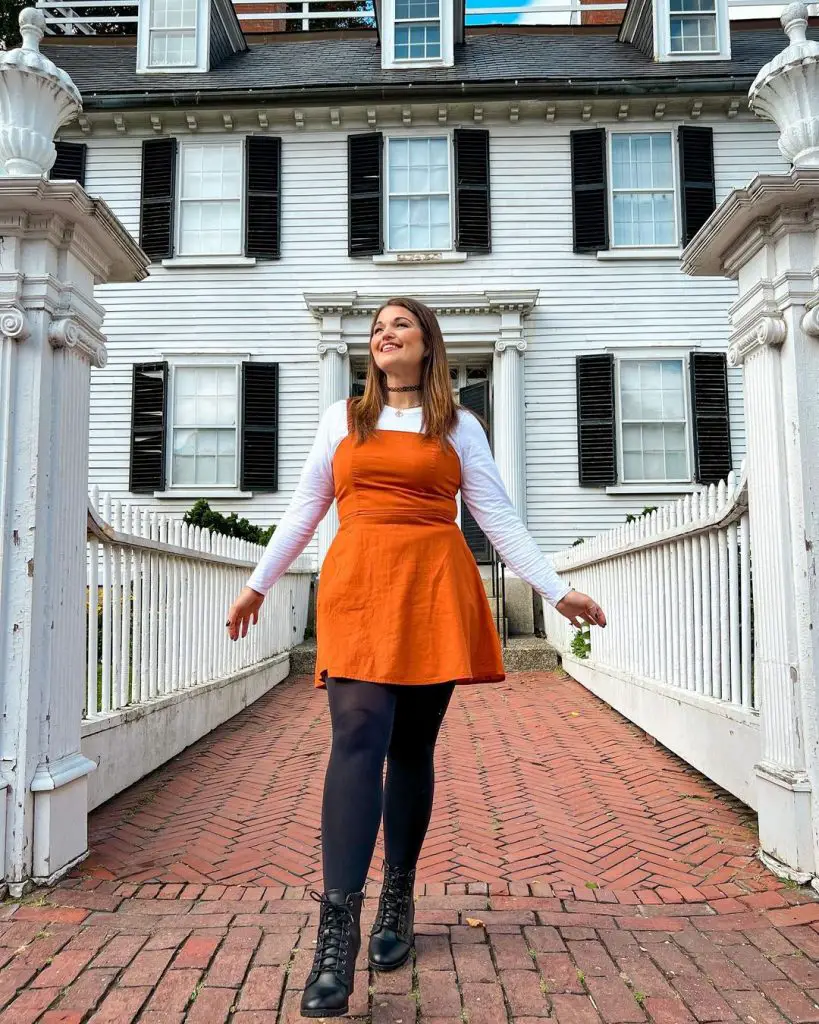 6. Button-Down Maxi Dress
Want to bring your summer dress for the day? go in this dress and make a statement on this Thanksgiving day.
7.
Sweater and jeans is a style that you definitely can wear for anytime. It's simple yet bold look. Knee-high boots add sophistication or you can opt for strappy sandals if it's still a little warm where you are.
8. Knit Dress
It's knit dress season! look cool on your knitted dress with high belt on. Put on a pair of dark black boots and gold earrings and you will be gold.
9. Fall Piece
An orange sweater is a fall piece that you can wear with pretty much any look, but a vegan leather pants and slouchy boots give it a bit of edge. 
10. Red Jumpsuit
How can you not love this fall-inspired printed packaging? Combine it with lace-up sandals or black slides and you will get so many compliments from your family.
11. Rainbow Romper
A rainbow overalls is undoubtedly cute and you know you will wear it all season. I mean who doesn't love a one piece suit? It makes getting dressed a breeze.
12. Leopard Shirt And Activewear
Very casual clothes ou can go for the thanksgiving day, add some spalsh of pattern with put on leopard shirt and sone, it's also convenient to lie down on the couch when the food falls into a coma.
13. Fall Flat Style
leather pants and casual top shirt that is always great outfit. And you must be have this kind of outfit in your wardrobe. And flatty shoes for easy style.
14. Pjamas on Track
I love a pair of pajamas a lot during the sumer and they're do gonna perfect for cozy Thanksgiving at home. Pair it with cute flats and baby bag for a cozy and stylish Thanksgiving outfit.
15. Bodysuit To Fall With
A hot bodsuit like this one is perfect for any holiday event and the dark red is sooooo pretty and sexy.
16. Modest Style
Perfect thanksgiving outfits you can go for this ear. Just pair oversized top and the idi skirt for modish -fall- look.
17. The Plaid Skirt
Save your summer mini skirts for fall by pairing them with a black top and combat with high end boots. 
18. Hype Dress
Hard rocky style on feminine side. Put on dress and laering with hype jacket to achieve the look.
19. Girly Cute
A pretty dress and sweater combination is simple and pretty. It's cute thanksgiving outfits but still comfortable after meal session.
20. Go To Style
Put on t-shirt and long skirt and laer up with your favourite denim. Perfect to go for the dinner party and get outstanding attention in any pictures.
21. Classy Suit
Black will always be a good option, it is elegant and sophisticated and will suit any silhouette. And put on glasses for perfect photos.
22. Casual Cool
A show-stopper outfit that is still comfortable while you're shoveling in your mouth.
23. Blue Sky Dress
Wanna look a bit different than ordinary thanksgiving outfit than you can copy this style, Look stylish on baby blue sweater dress and furry jacket. Boost the look with boots.
24. Chic
You can wear your plain white t-shirt for Thanksgiving too! Pin it up into beige pants and layer in a blazer for an effortless but put-together ensemble.
Which of these thanksgiving outfits do you like the most for Thanksgiving?