In today's style trends, everyone strives for contentment in their comfort zone while feeling exclusive with how it is presented. That's why short nails/ short manicures have acclaimed their spot, and many nail artists nowadays offer endless designs that are as attractive as long nails.
Furthermore, not all girls can wear extra long nails for many reasons like working requirements and others. In fact, long nails, such as coffin nails or almond-shaped nails, are not a good idea for women who do a lot with their hands, such as regularly typing on the computer or playing the piano.
For whatever reason, short nails are a better option. And you can have so many sophisticated cute nail designs with short nails.
You can choose whether to opt for Short nail ideas in gel nails or acrylic nails; both are fashionable nail polishes that are super comfy to rock this year and suitable for any season or occasion. We will show you that short nail designs can be exquisite, feminine, and at the same time, very practical. And that's why they're so trendy.
Let yourself be convinced with these stunning and cute short nail ideas that you will obsess over immediately. And very easy to execute on your own.
Short nails design Inspo!
|1| Reversed Gold French Short Nails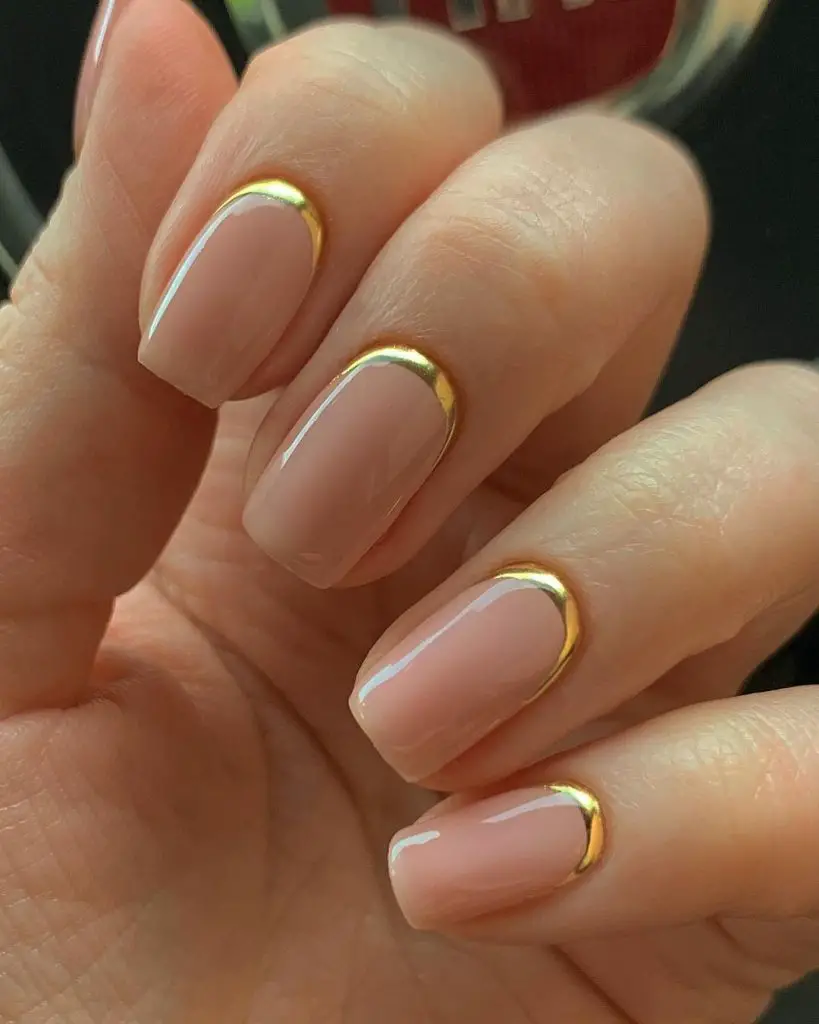 If you want to sport a simple nail design on your short nails, these minimalist golden reversed french are the way to go. Beautiful, isn't it?
Create the nails with Gold glitter polish on combo nude pink nails
|2| Earthy Tones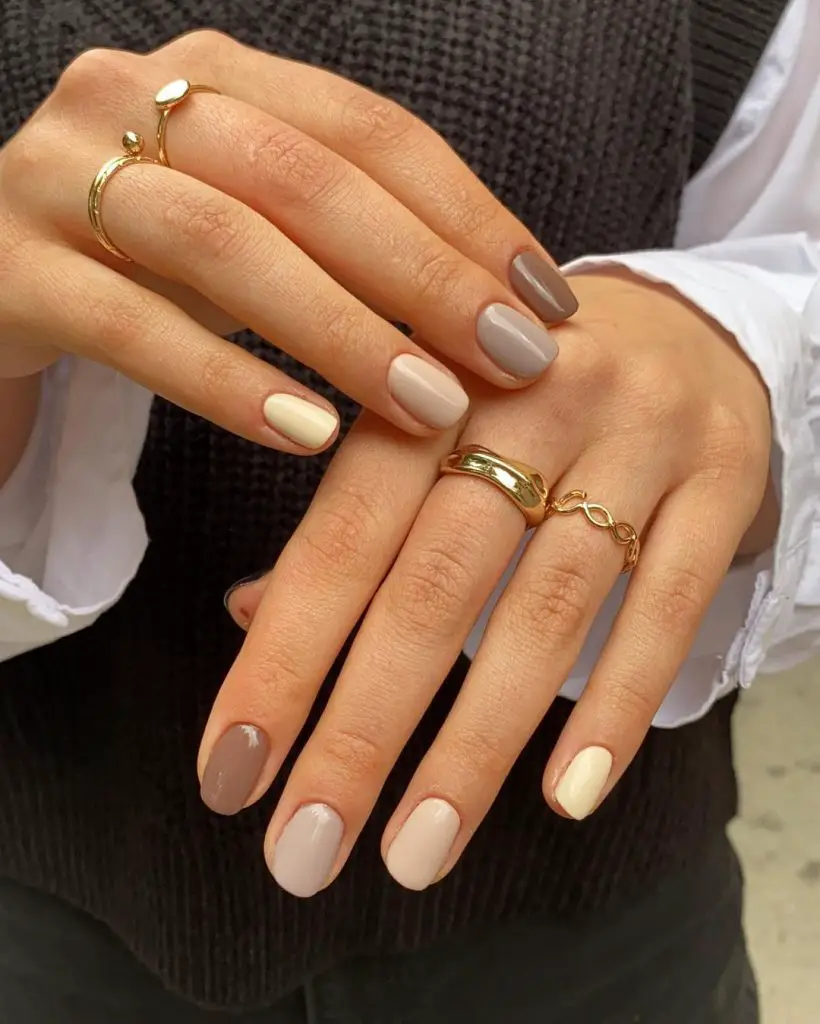 Earthy colors on your nails will perfectly complement your day-to-day wardrobe. However, these nail polishes are the ones you must have at home. Mix and match them for a perfect gradient and chic short manicures that you can rock daily, even to work.
Create the look with these mother earth tones nail polishes
|3| Yellow Marble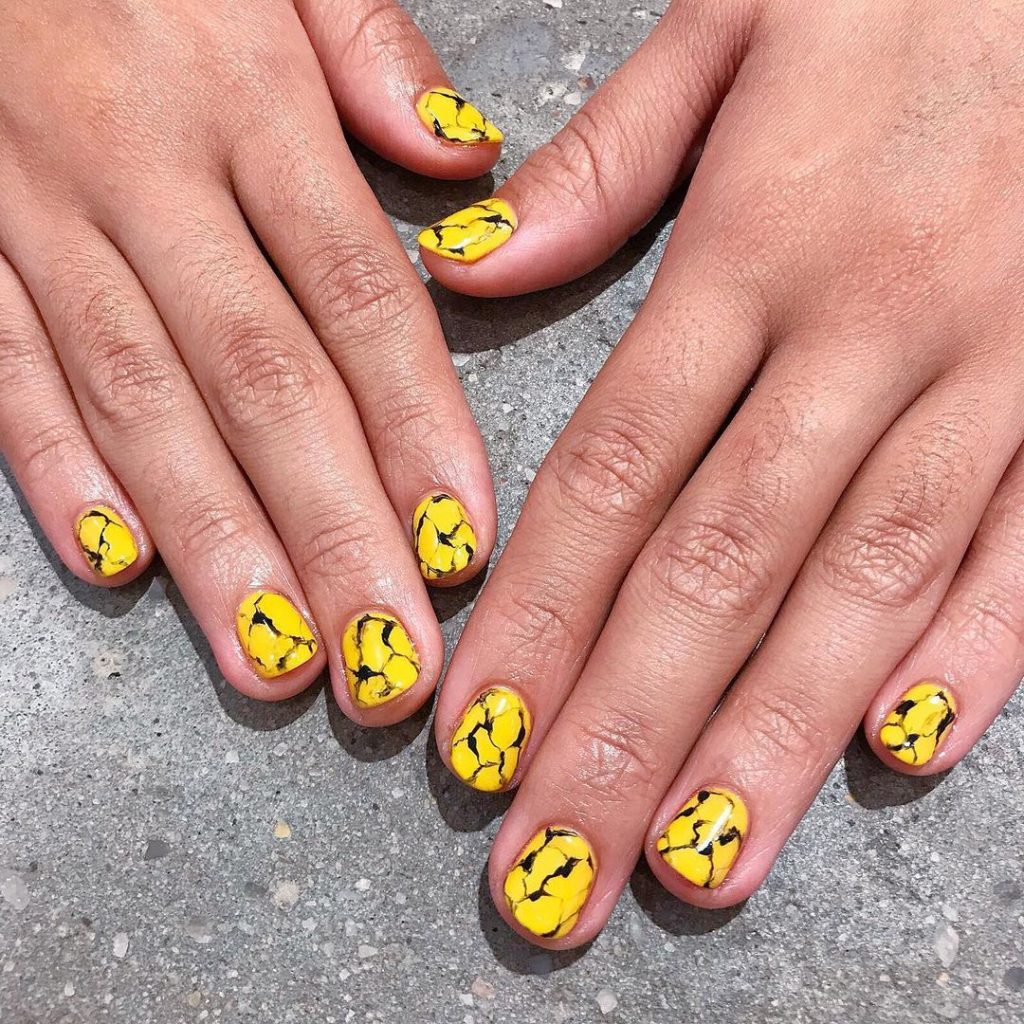 This yellow marble manicure is so fresh and unique that people will dig your nails: fun and simple nail designs for bright hot summer.
|4| Turquoise Nails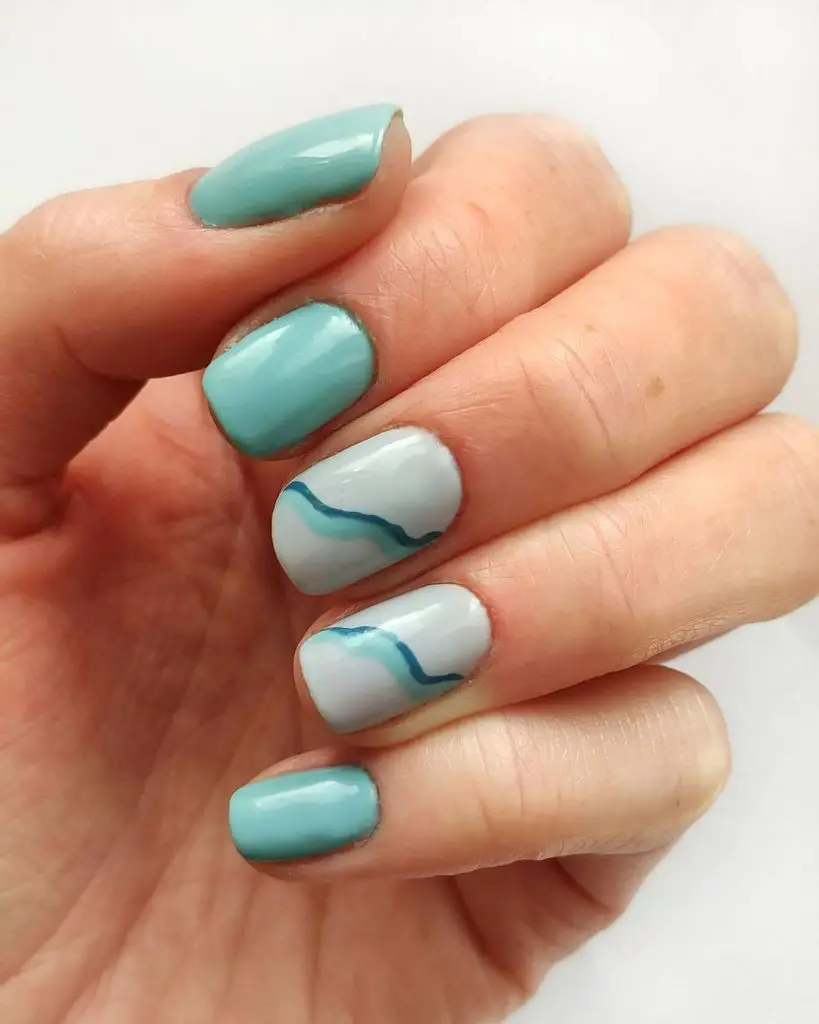 There is nothing more unique and zen than this forging turquoise wavy ocean. So copy the theed of the blue-green mixed sea on your nails and fetch the windy beach day.
|5| Combo Nude Matte with Metallic Stands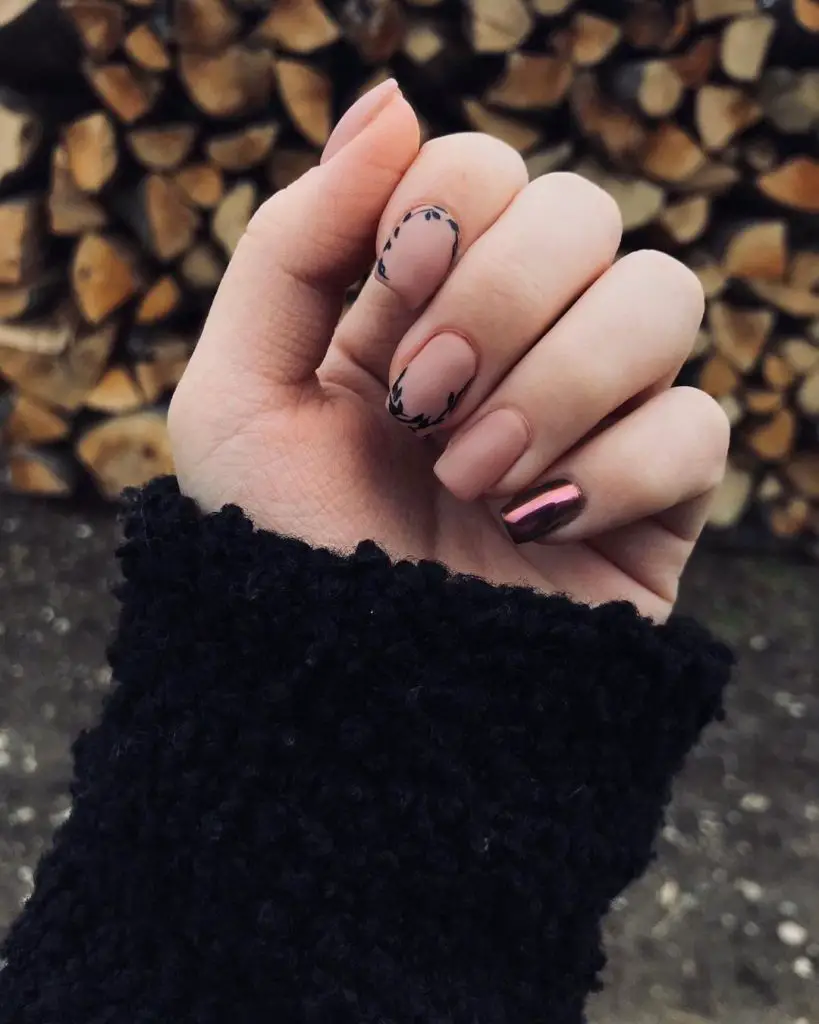 Another cutest short nail design for you to copy this year is this combo matte pink nude polish with the addition of a side rustic floral forge artistic side, with a splash of metallic whisky red to give more dimension.
|6| Mirror Green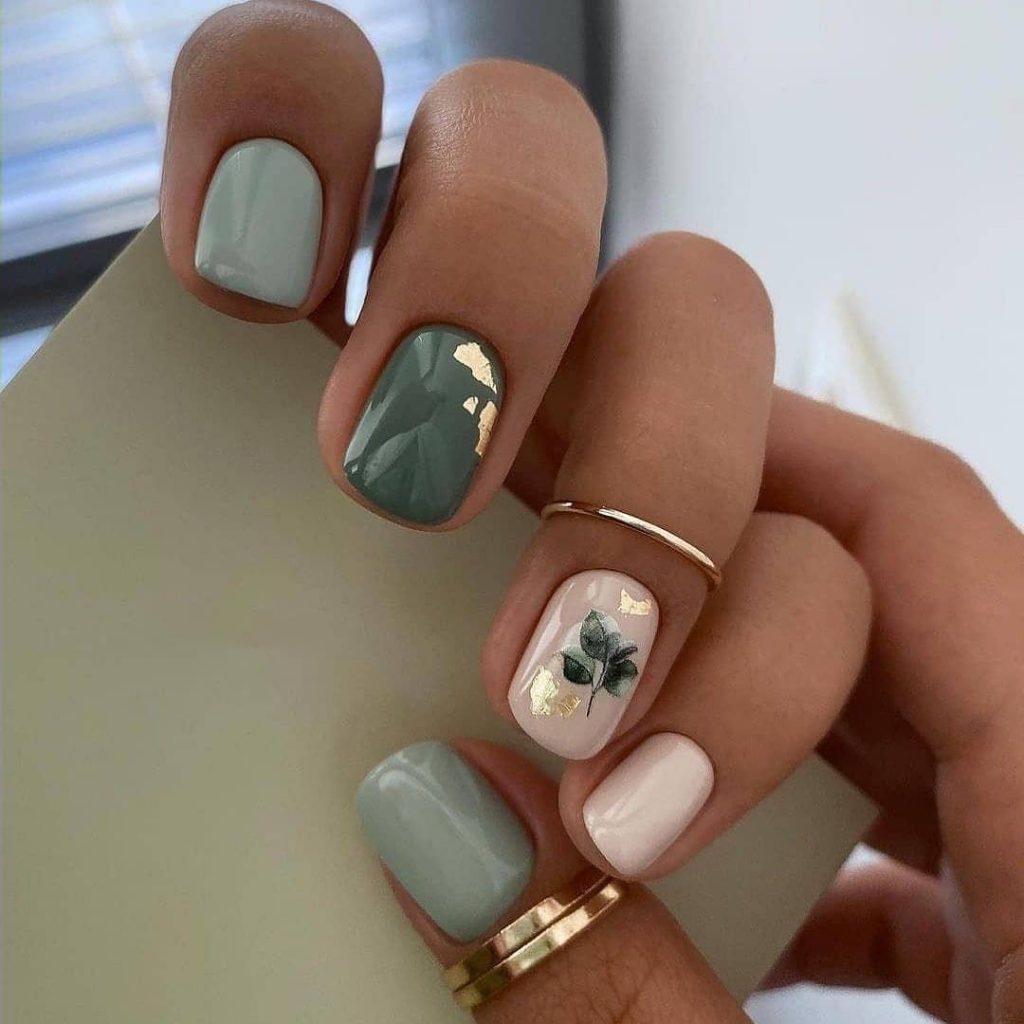 This classic elaborate short manicure design is a superb combo for any likely nature devotee, with its green grades accentuated with green leaves and in the surprise gold splash. Make these nails so exclusively well-presented with a glossy finish.
|7| Sequins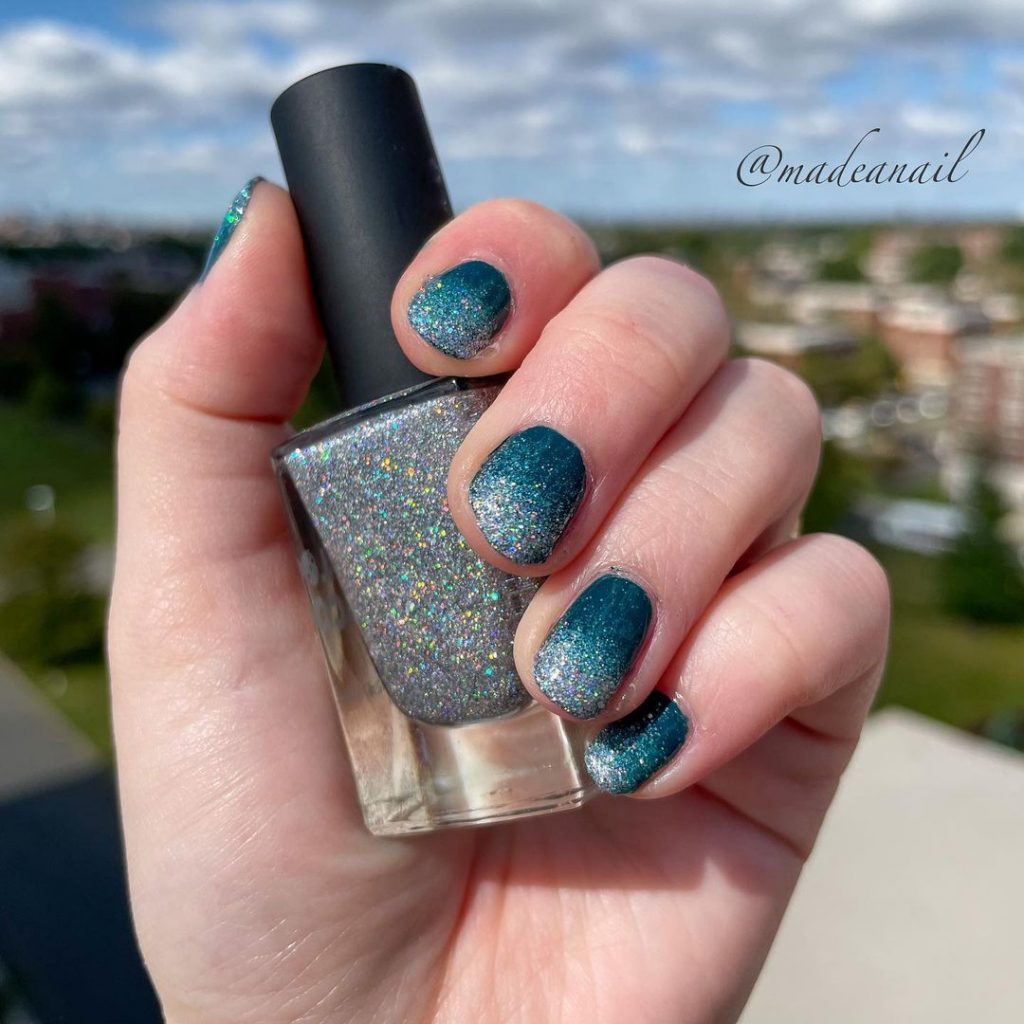 The sequins glimmer nails for a more glamorous look for your style. This short nail design is suitable for spring or summer and offers practical and chic manicures.
|8| Rhinestone on Lilac
Simple but stand-out nail designs with contrast rhinestones on lilac polish.
It might be quite inconvenient with the accent on, especially if you are inclined to flat, simple nails, which you can alternate the rhinestone with something simple or smaller or adjust it the way you want.
|9| French Series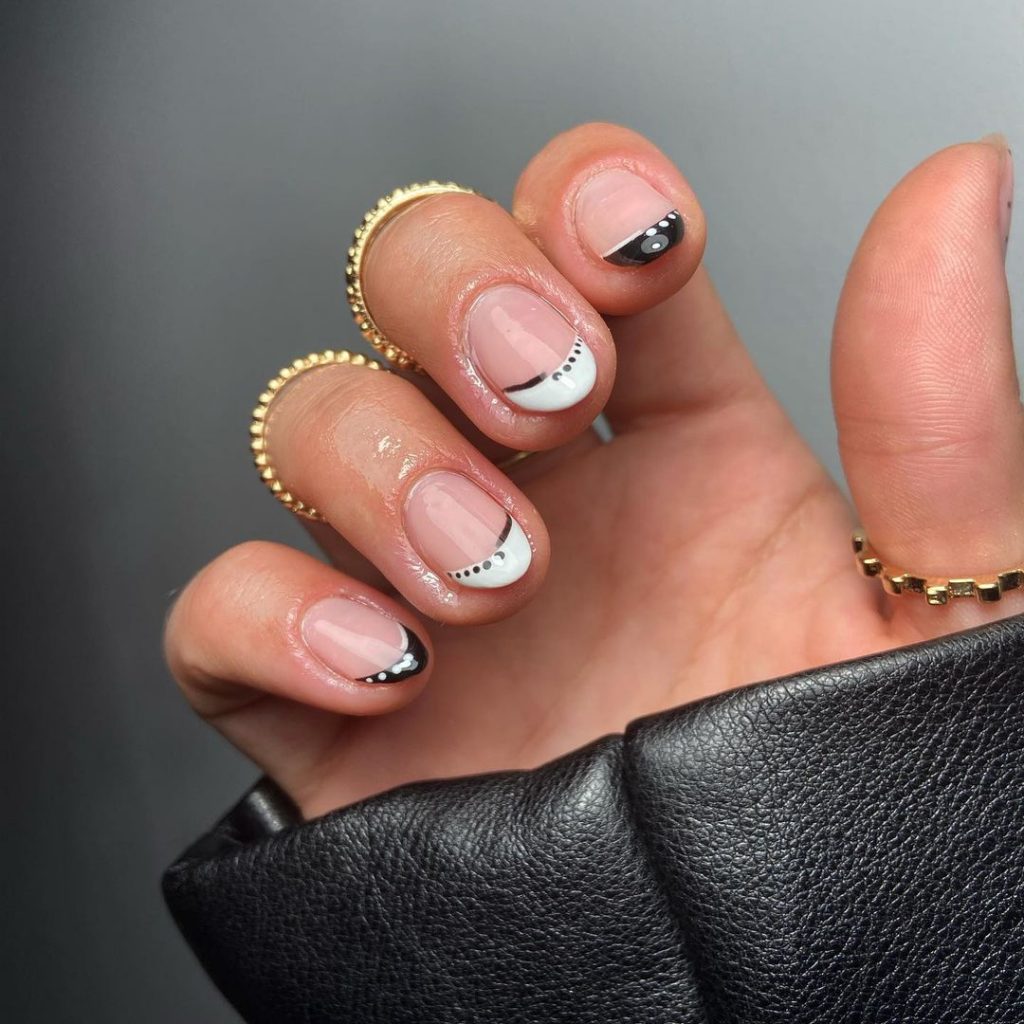 Savage white and black nail polishes are always a stunning fancy color you can wear for any occasion and season. But, to give it more life, you can paint an artistic detail to make the contrary and creates diverse dimension.
|10| Shiny Blue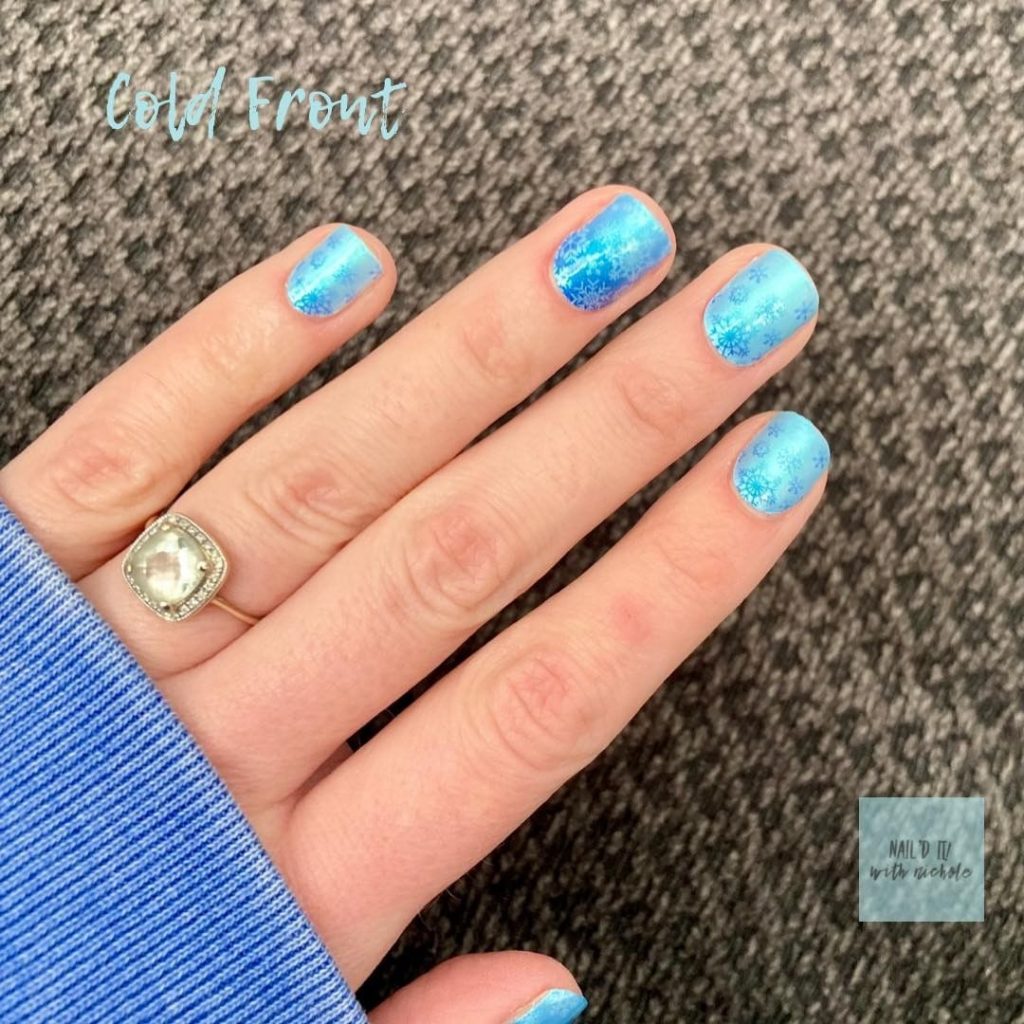 Instead of painting plain blue without any accent, adding some frosty snowflakes would significantly make a difference, especially if you're aiming to capture the winter mood in your winter manicures. This cute short nail design would make such a great pic for the season.
|11| Corner Sides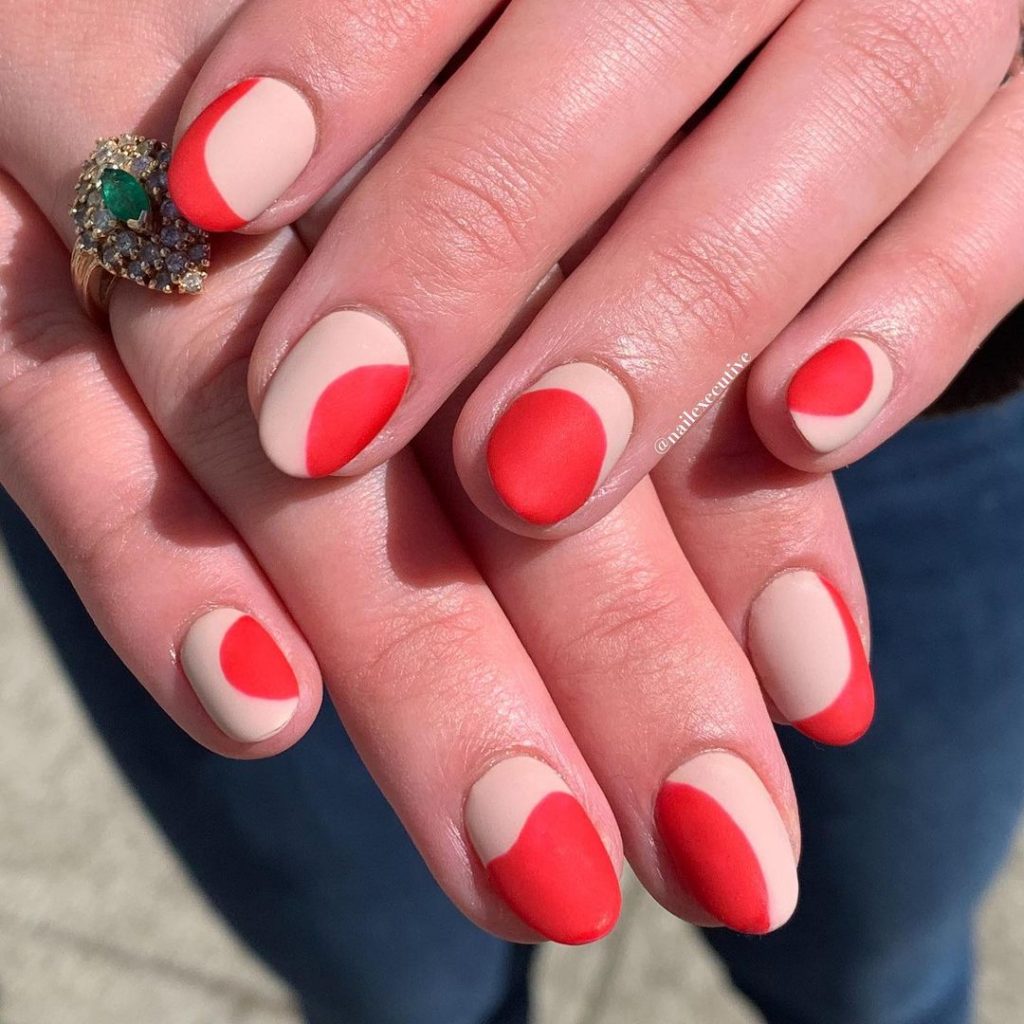 Minimalist nail design in short nails, you can easily recreate. Simplified with a simple matte coat.
|12| Seamless Gel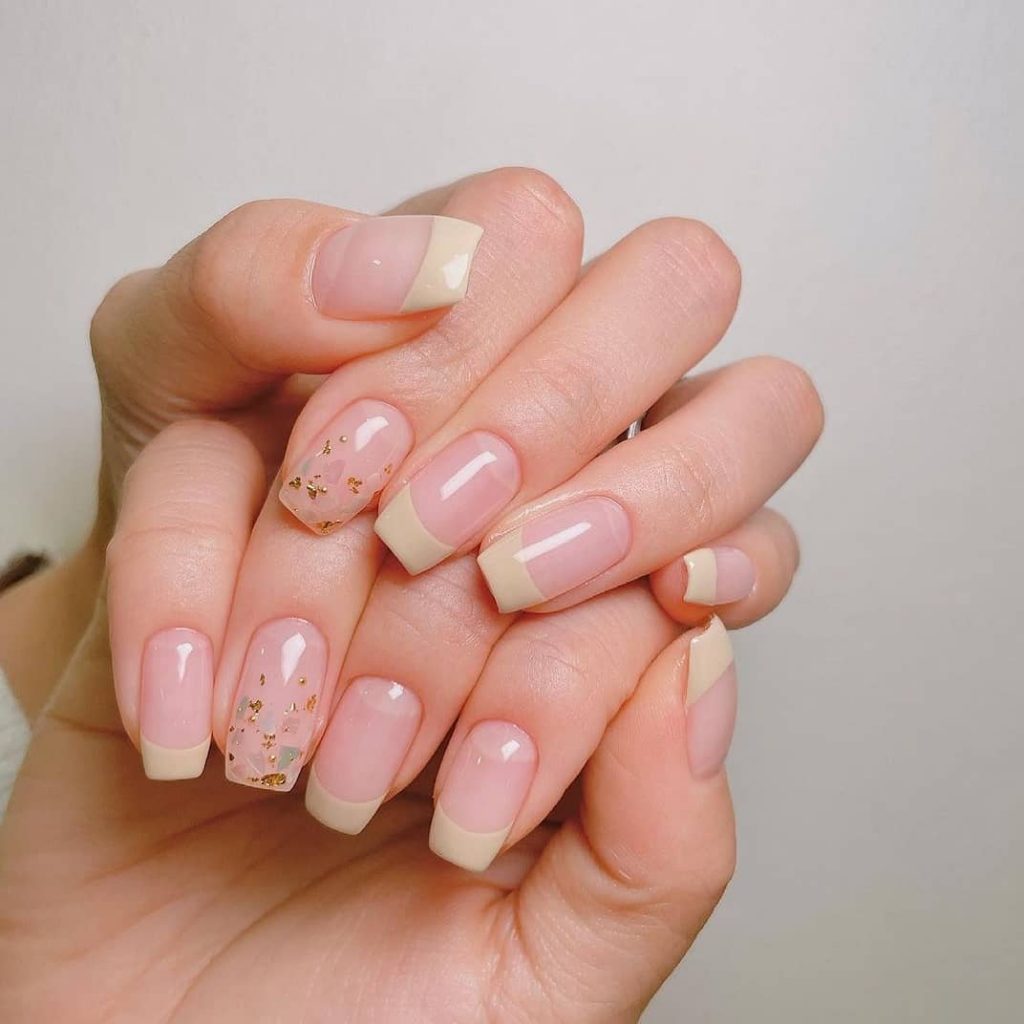 Typical Japanese Korean nail designs with gel nails would make a bold statement for short manicures.
|13| The Art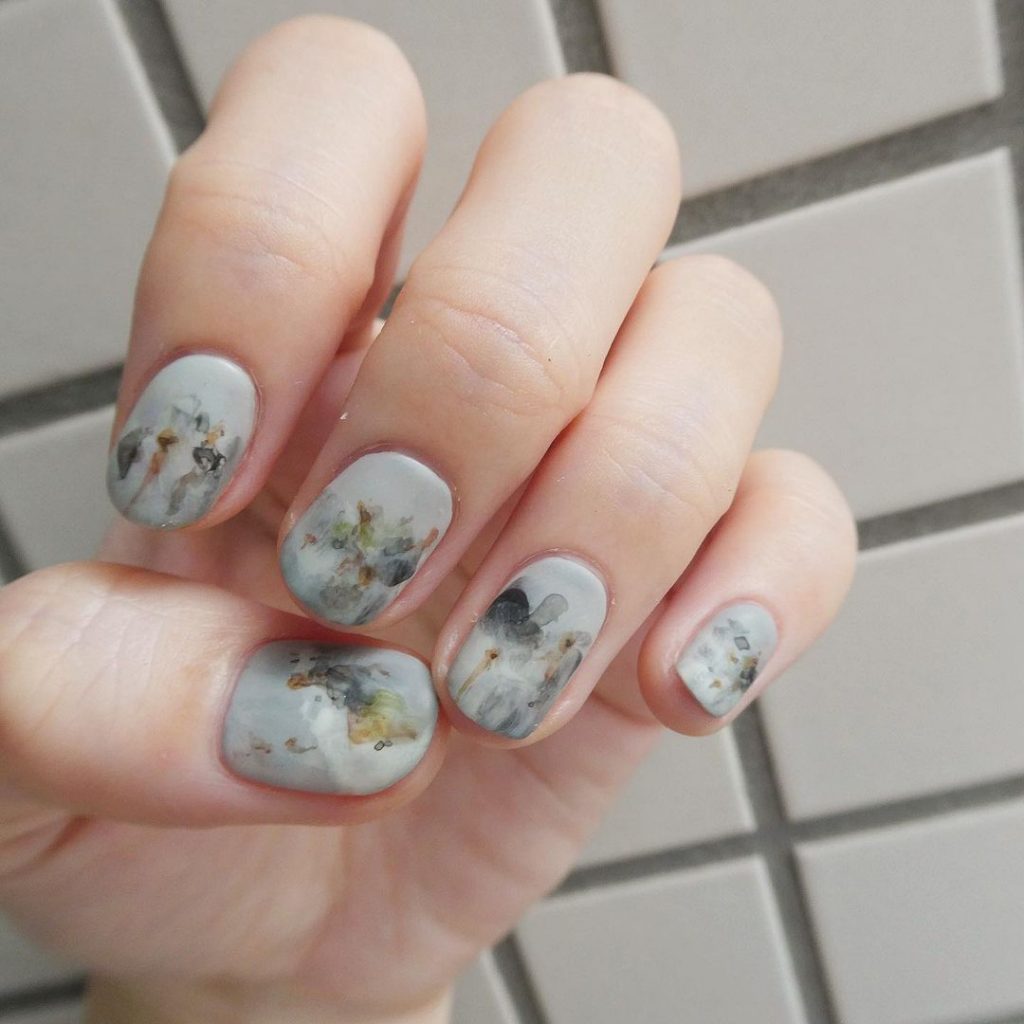 Pastel colors are at the peak of their popularity. Blush pink, mint green, lilac, and light gray are just a few pastel shades everyone adores and have become such hot shades. However, it also looks perfect for short nails to rock this year.
|14| Soft Paint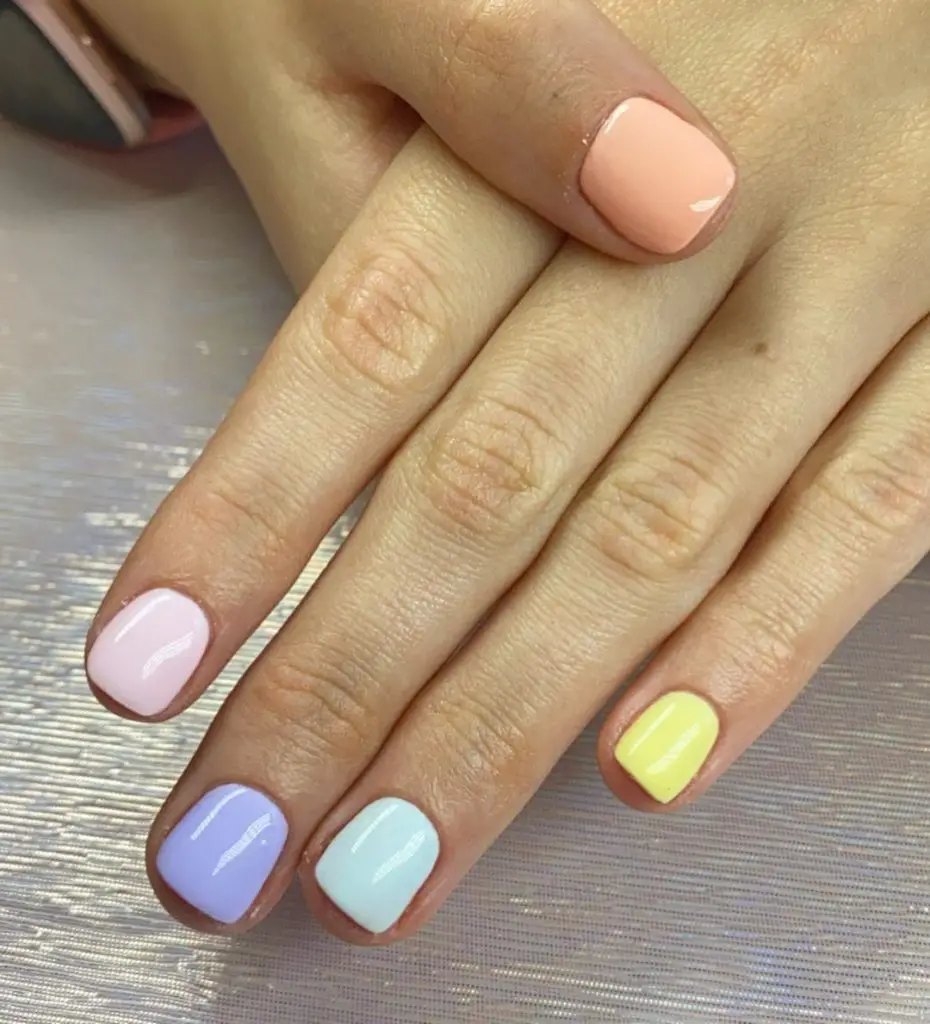 Nothing can make you feel better than a pop of color on your nails or in your wardrobe. It lifts your spirits instantly, even on a rainy day. This soft, colorful manicure will make a stage for spring nails. It is an effortless short nail design that would be fine without a salon to get it.
|15| Single Snap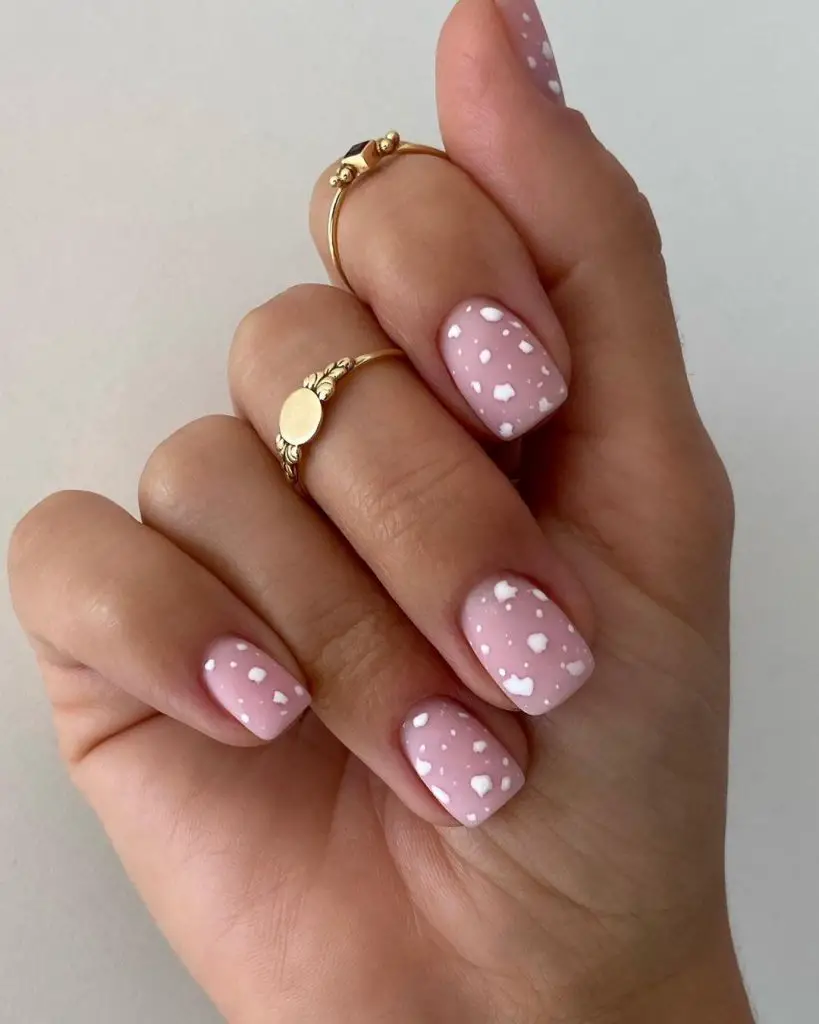 Y'all know how cute this pink manicure is? And I love how the white patches add a super fun element without overpowering the look—again, easily done cute short nail ideas with minimalist design.
|16| Navy Drop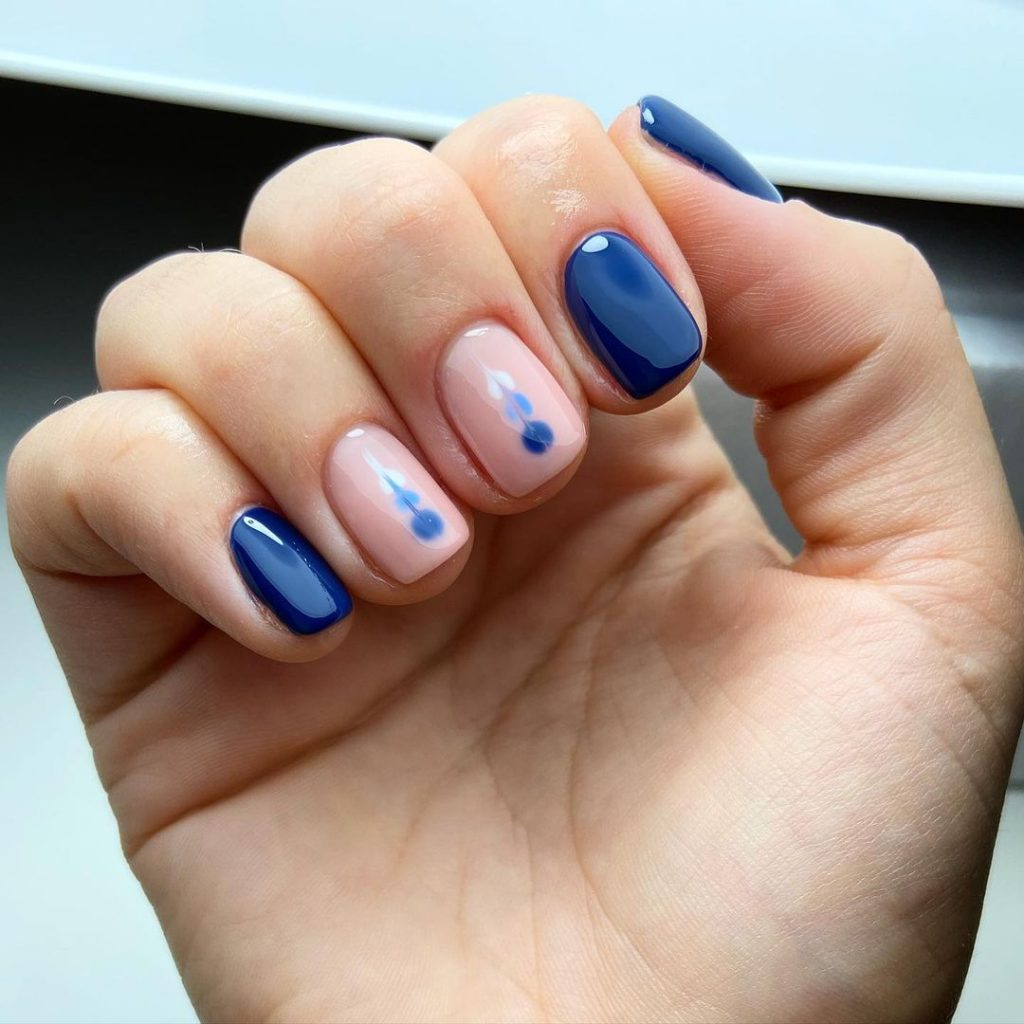 Basic navy shade with facile lucid drop form unique short manicures.
|17| Mixed French Nails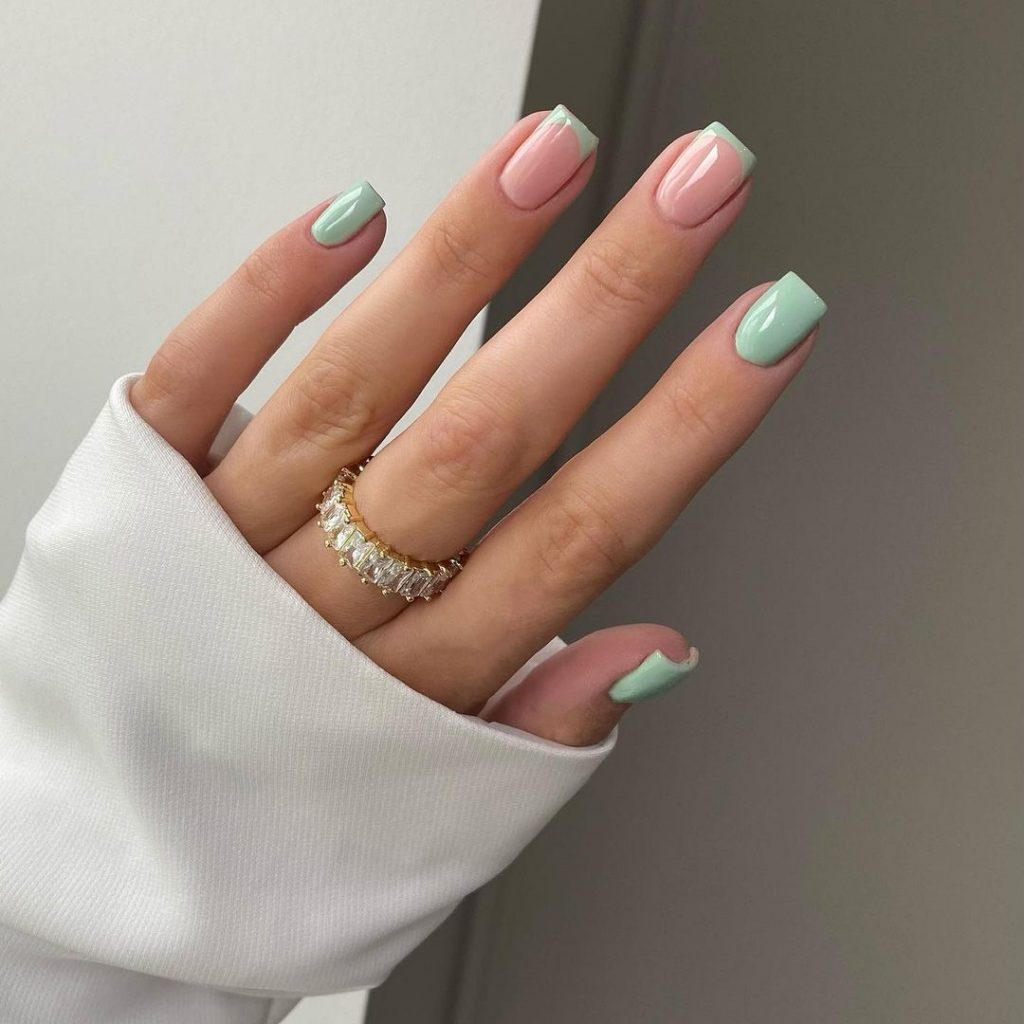 With french nail designs in short nails, forged such minimalist blissful nail manicures that will stand out for any style demanded. And the mint-tone polish pursues the Spring mood blissfully.
|18| Captivated-Red Polish
Another simple short nail idea: Red is a timeless shade, even in short nails. We have already established that. It is perfect for women who like their nails short but chic. You can style the red shade with any other part and color to give it more splash. This classic manicure is ideal for every girl with any complexion. It stands out stunningly in a perfect shrine. 
|19| Gold Glimpse Art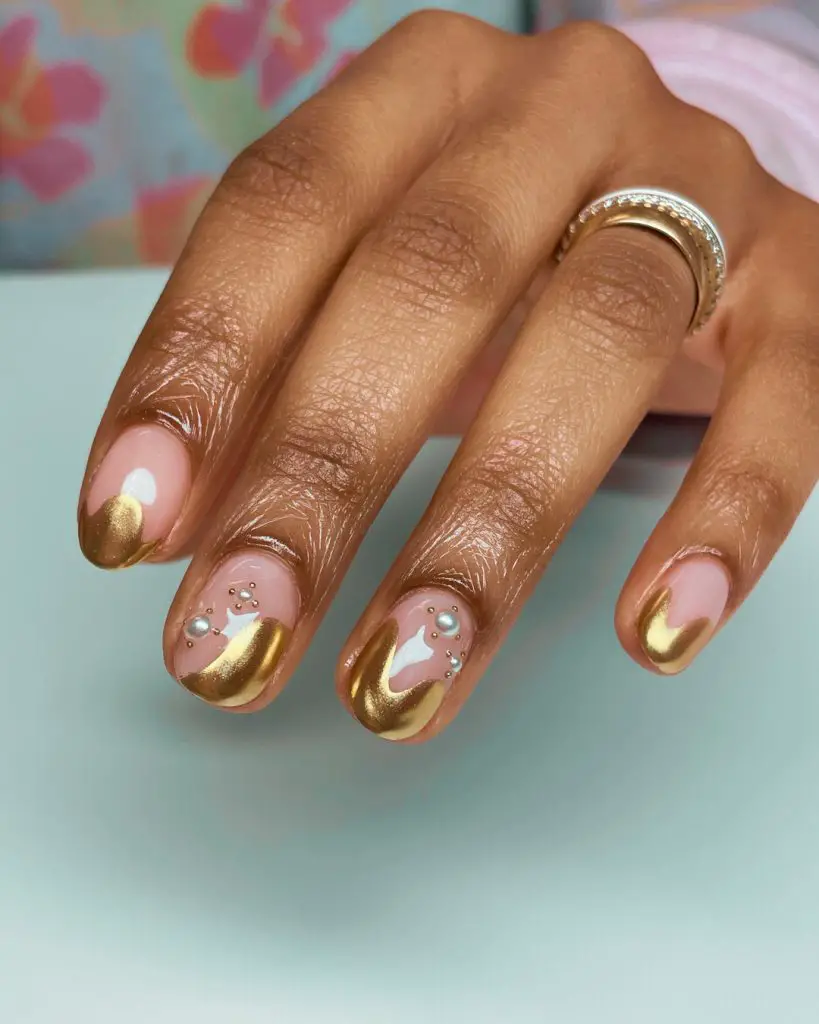 Sometimes nail design in short nails can look like miniature works of art. This is an excellent example of how you can sport an unusual color combination while making your nails look like you've decorated them with a painting.
|20| Floral Accent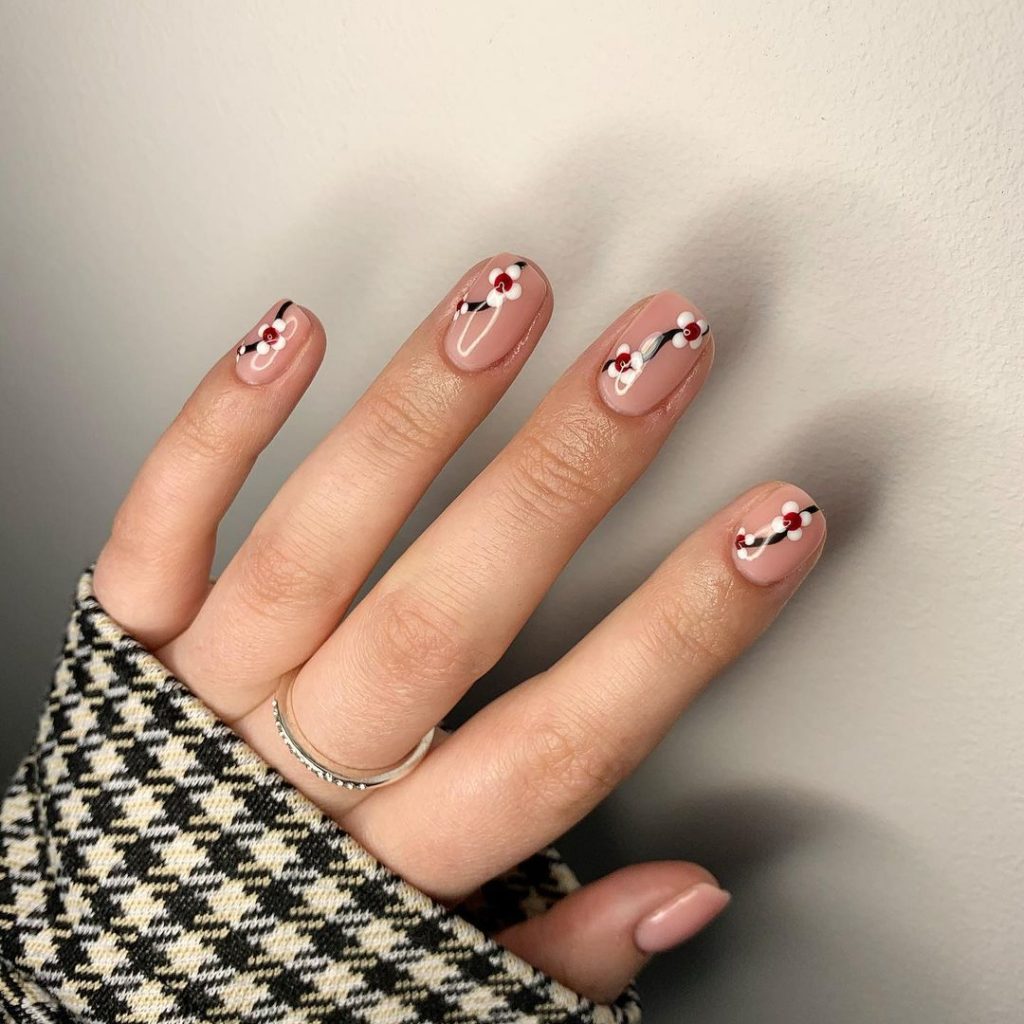 Tradition dainty daisies for perfect short nail designs objectively for Spring splash. These floral nail designs are easy to make with a minimal skill set and some creativity and perseverance.
|21| Playful Summer Manicure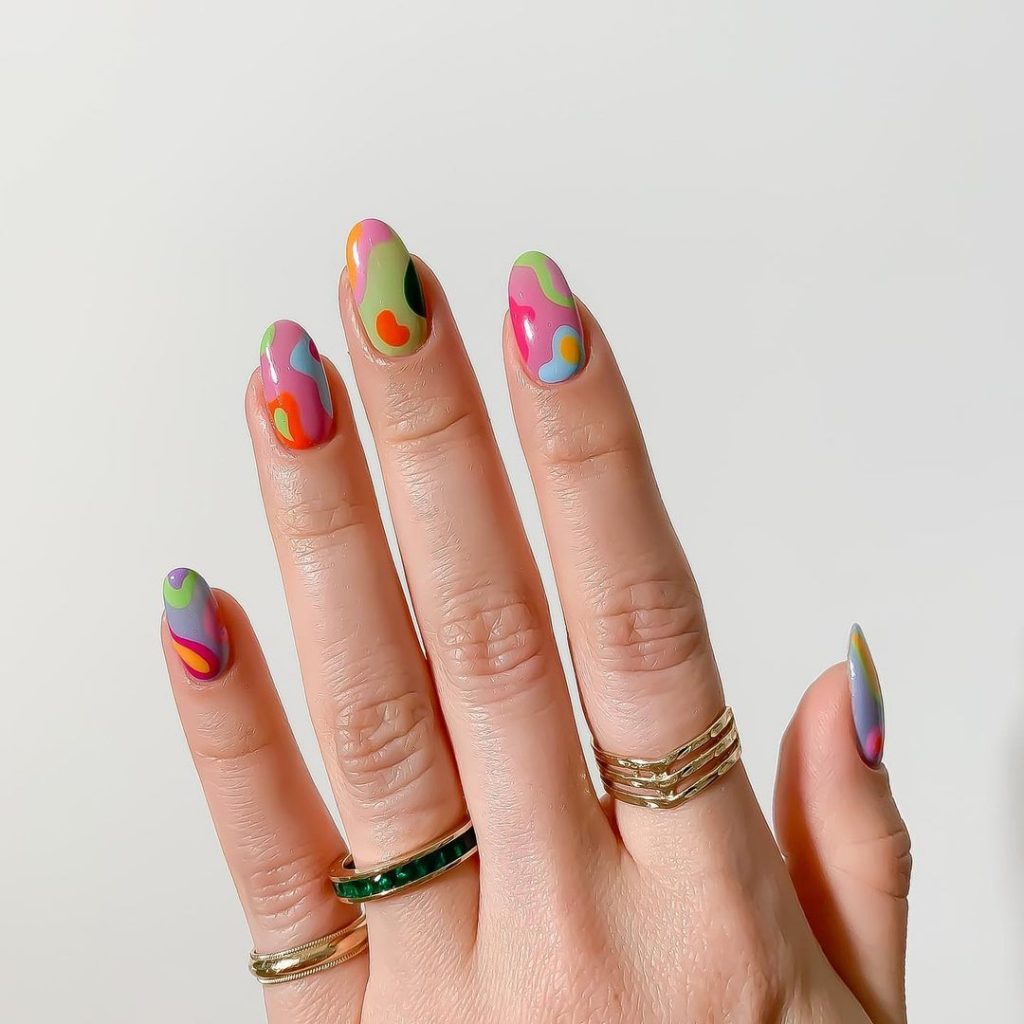 Colorful nails are the ones that are difficult to style. However, you can't go wrong when you add a few of your favorite colors and make a mani like this. This just the right vibes to bring to the Summer play.
|22| Leopard Print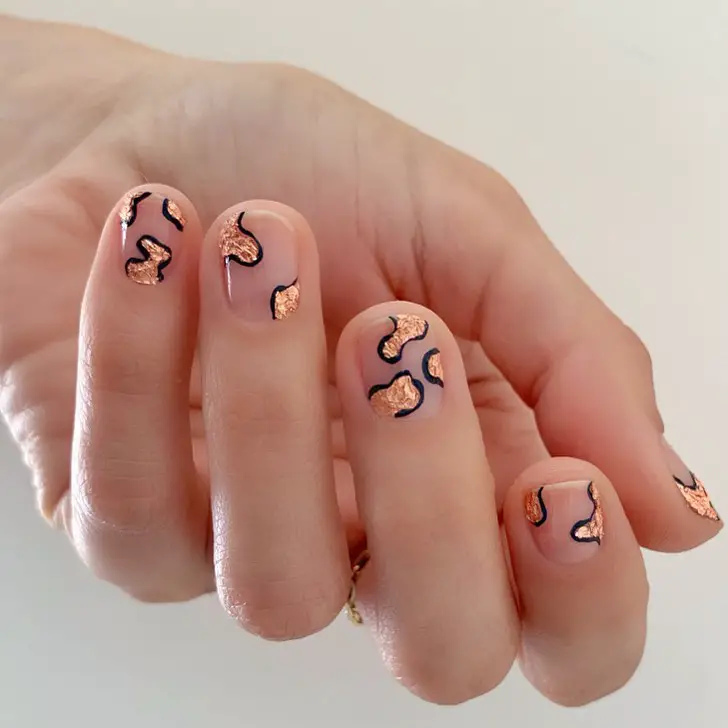 Leopard print doesn't just have to be something you wear – you can also sport these pretty dots on your nails. Use gold foil to create the spots, like nail artist Betina Goldstein here or a gold nail polish color.
|23| One Dimension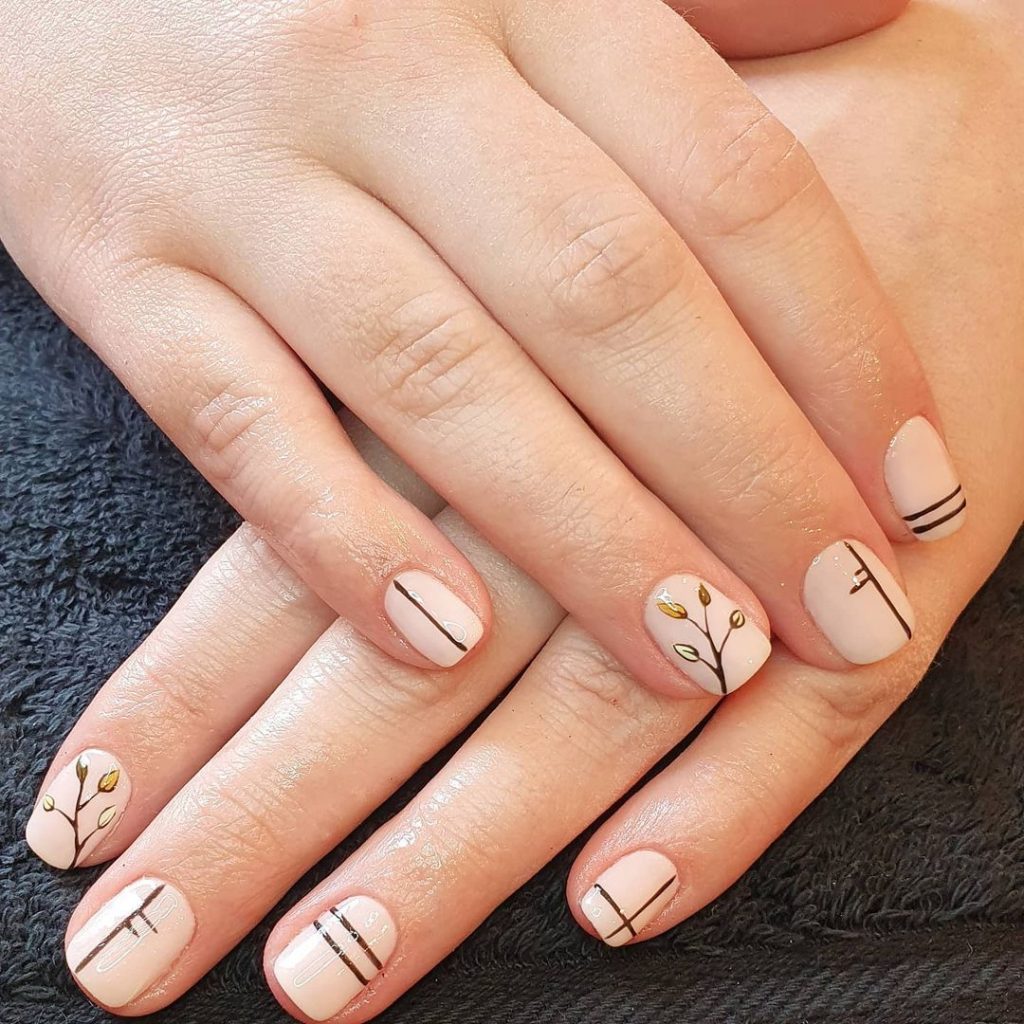 If you are looking for a simple short nail design, it might be one of the styles you want to copy.
|24| The Happy Nails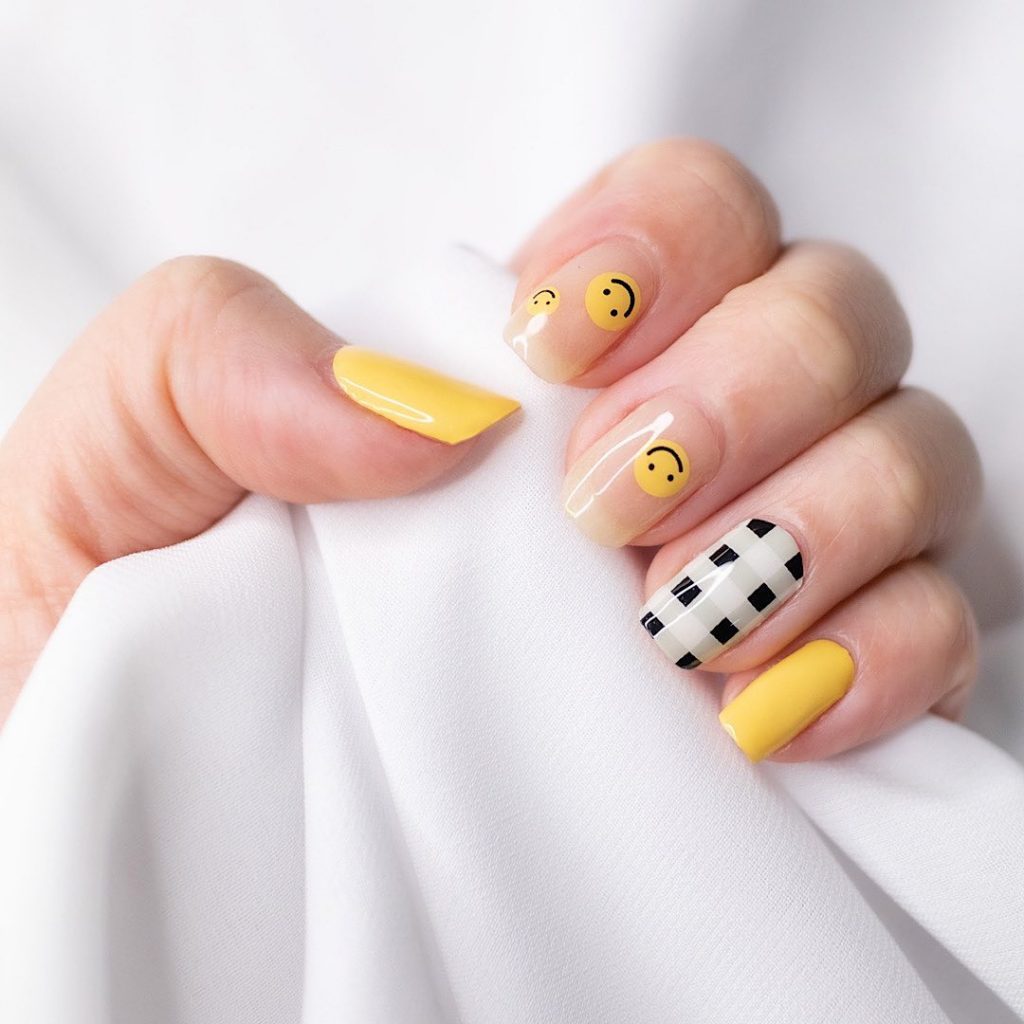 Boost your day by looking at these cute smile emoji manicures that will absolutely make your day.
|25| Grown Dark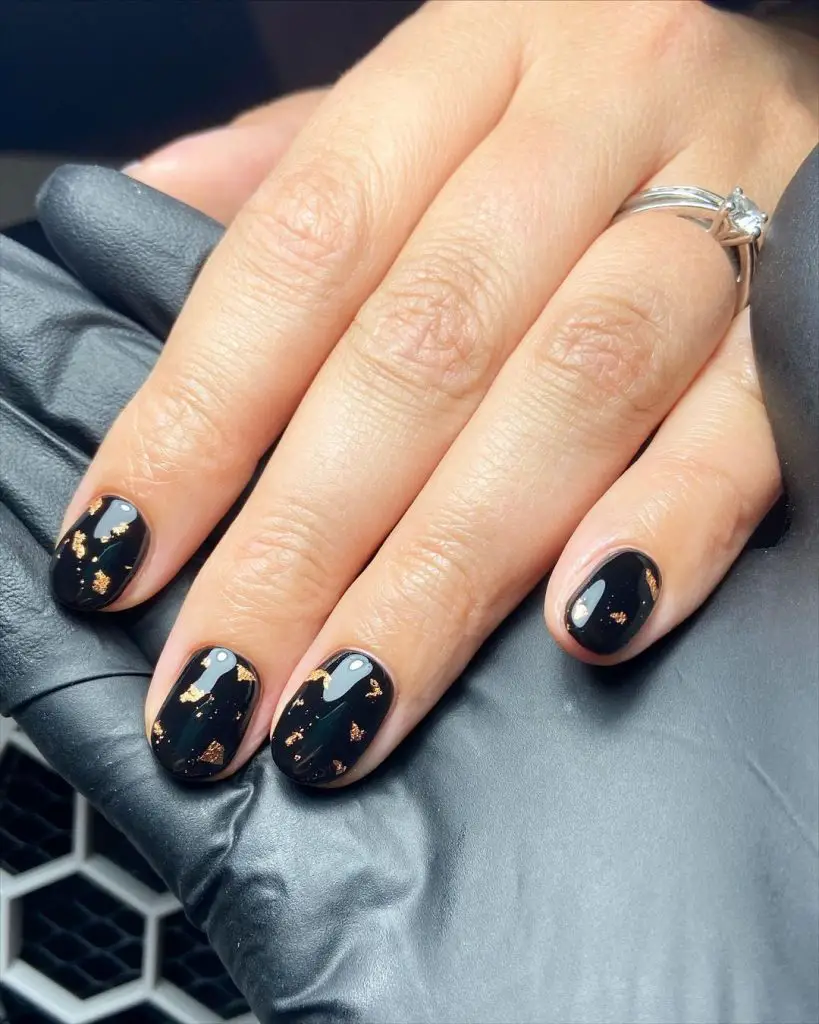 Mysteriously glamorous short nail designs in pitch black and fancy gold spark trace with a glossy mirror-worth end. This manicure would be a great addition to your fancy effortless setting.
|26| Breathtaking Short Nails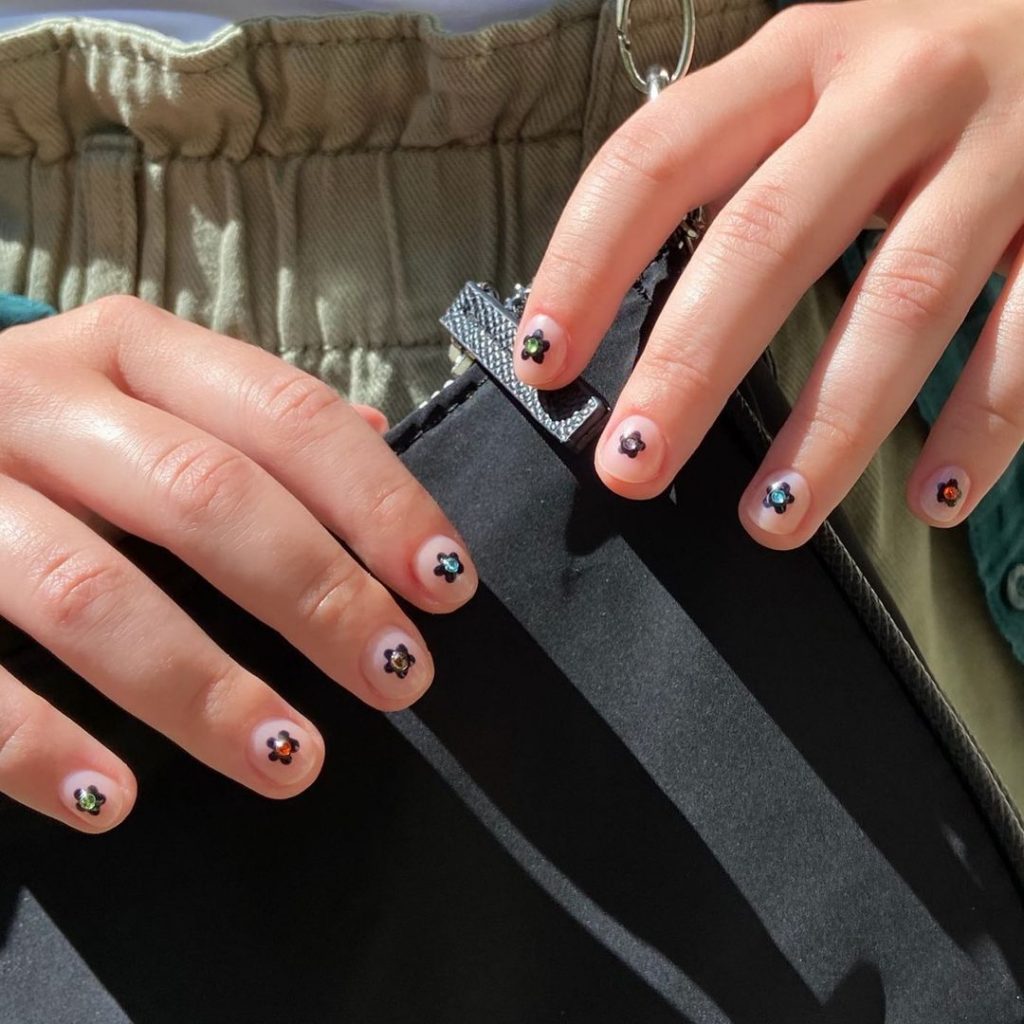 Floral nail art designs are versatile, almost like nudes. You can wear them in one color or combination with other shades. This is such a lovely short-nail design.
|27| Green Polar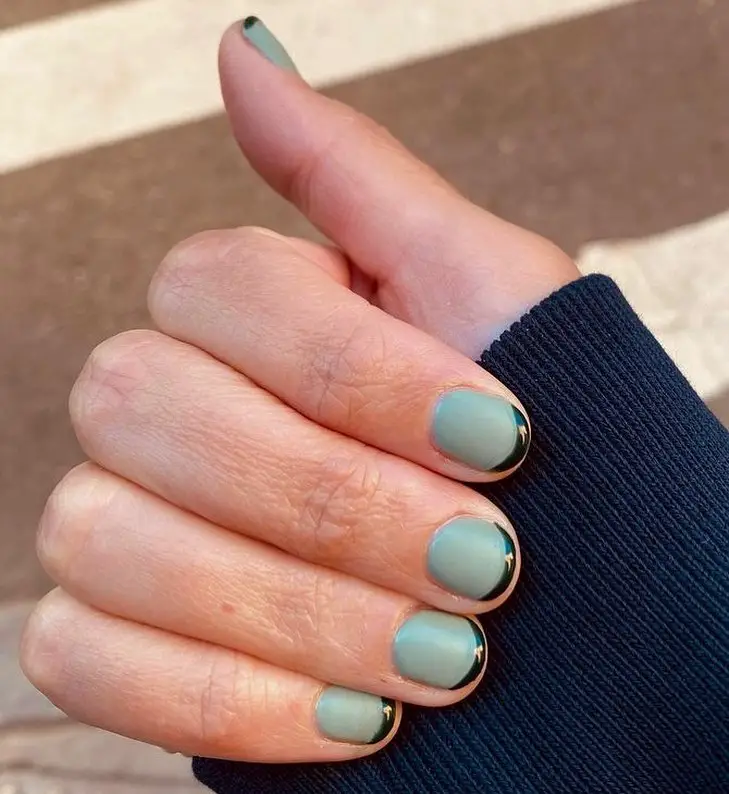 Green ranges shades collided in french designs. The distinction of two conflicting dark and light into one unit makes the short festive manicures simpler and live.
|28| Scenery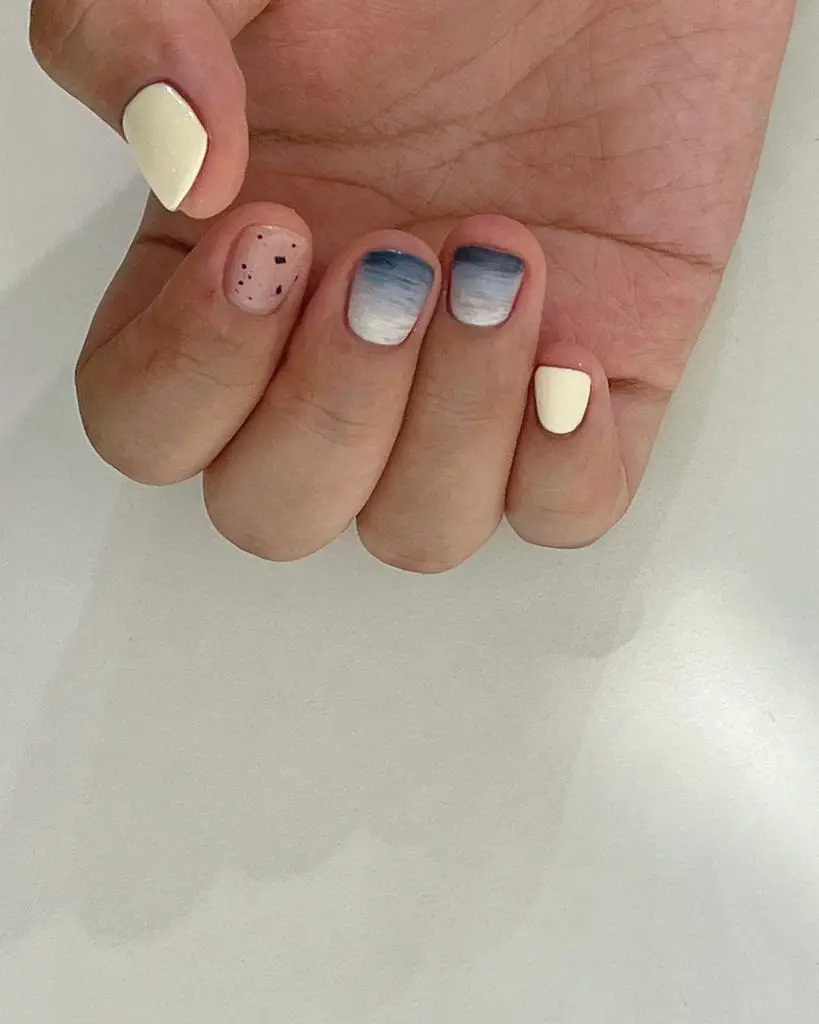 Three scenarios complete each other in this cinematic scenery design, best capturing the oceanic view with yellow shine.
|29| Frech Points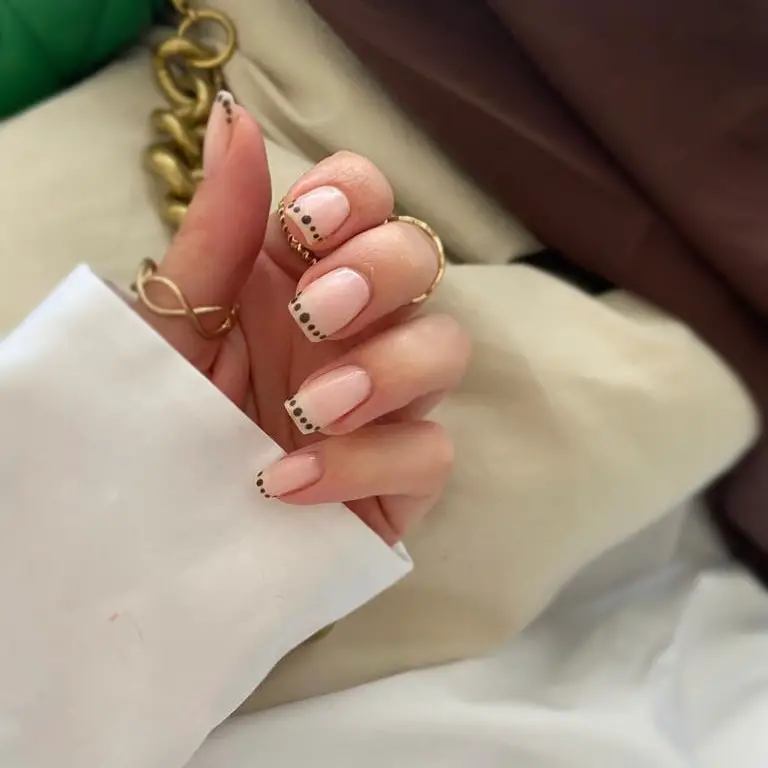 We all know french nail designs are more complex than we used to think. It requires a particular technique to make the proper curve and size, but if you want to make it simpler, you can try these dots with french nails. First, paint some drops in your cuticle like french lines, and all is set.
|30| Green-Flawed Polishes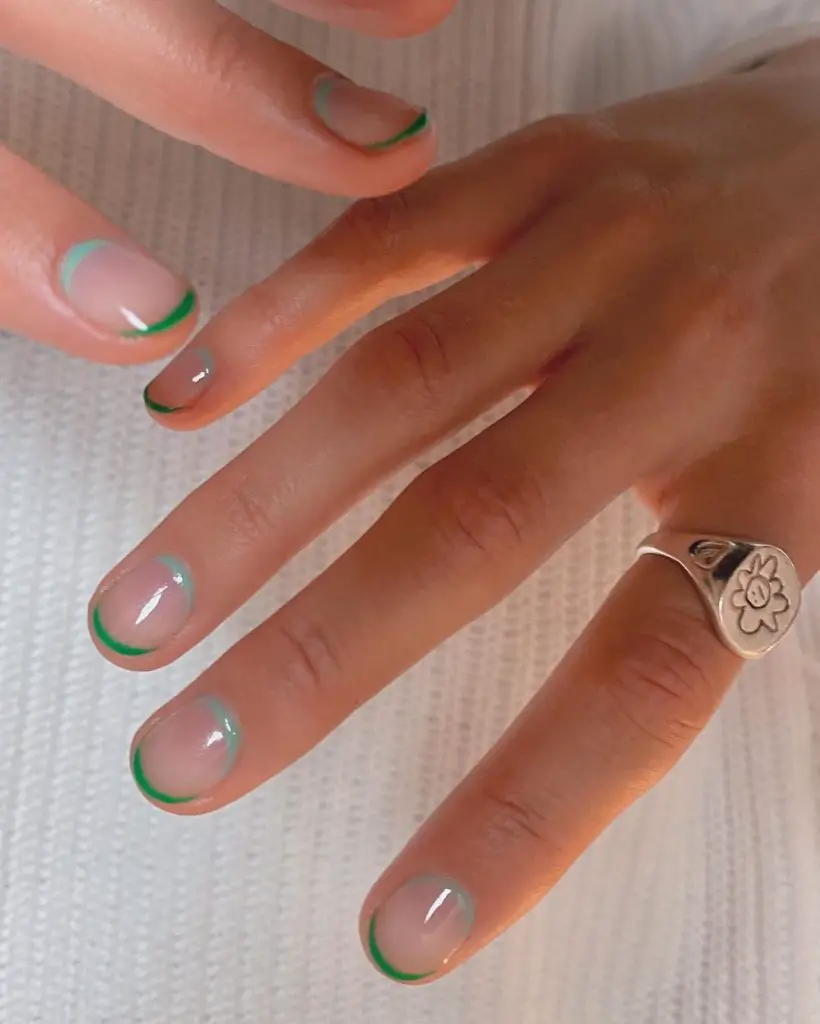 This is what french and cuff manicure designs look like in short nails—a simple and neat mood for everyday style.
|31| Black Swamp Short Nail Ideas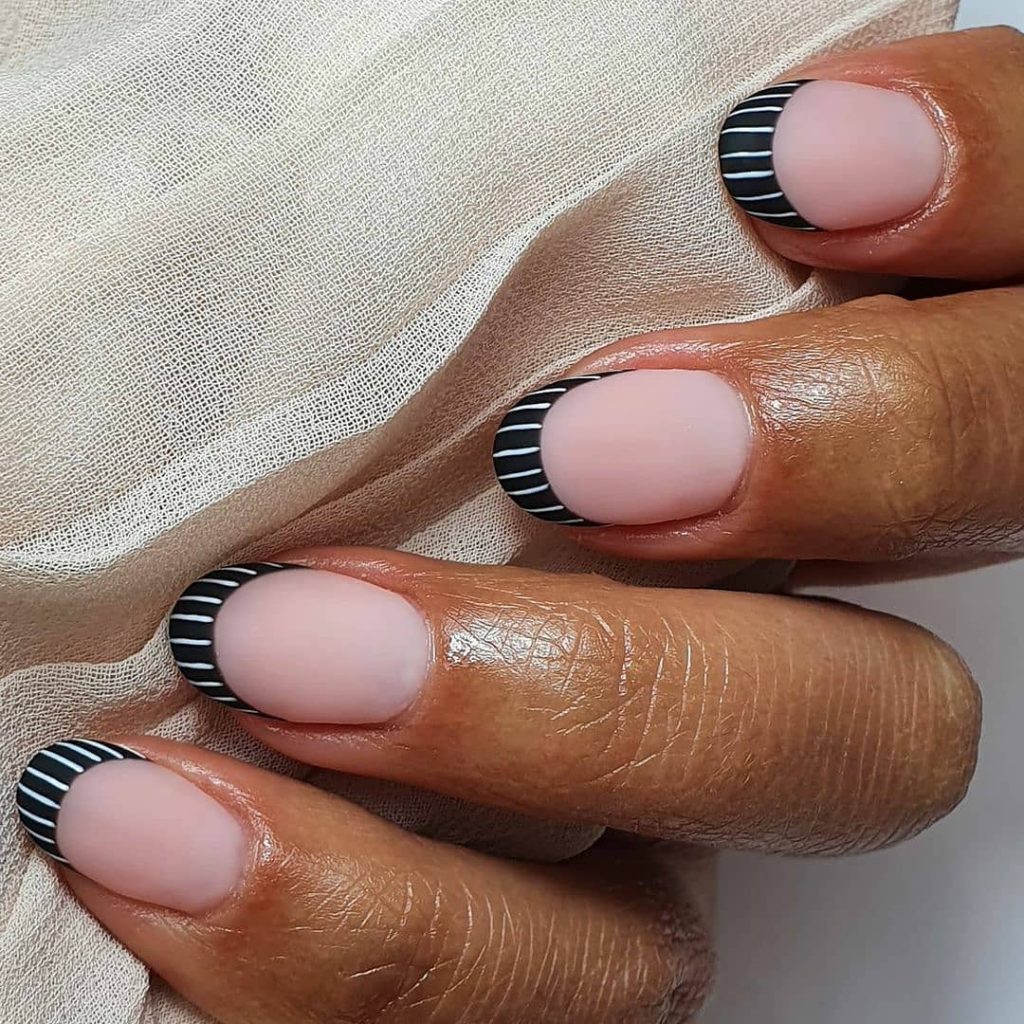 Another minimalistic short nail design in nude basic with a combo black french style and white stripes. Practical everyday look for any season.
|31| Flower Textured Plot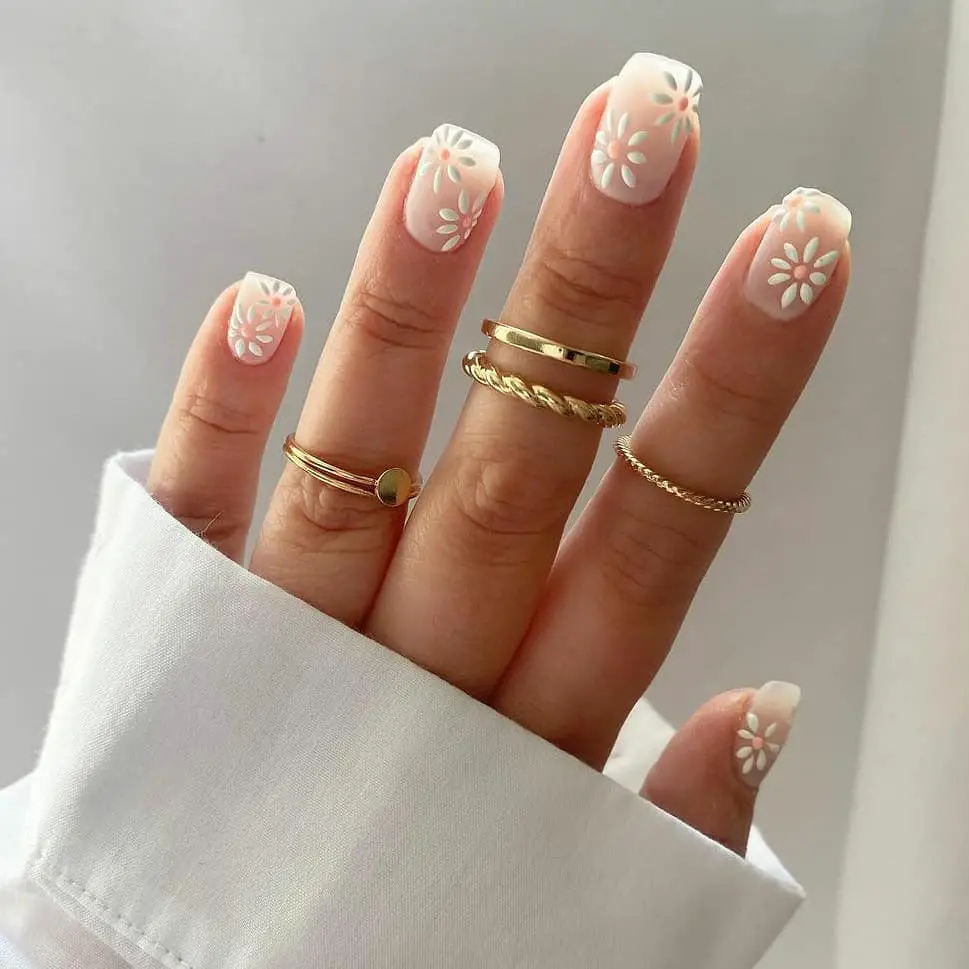 Textured nail designs could also be another opt you can draw in short nails. This floral is just one of many ideas you can go with the design. Though the flower looks alive in one-dimensional transparent nails.
|32| Gem Goldie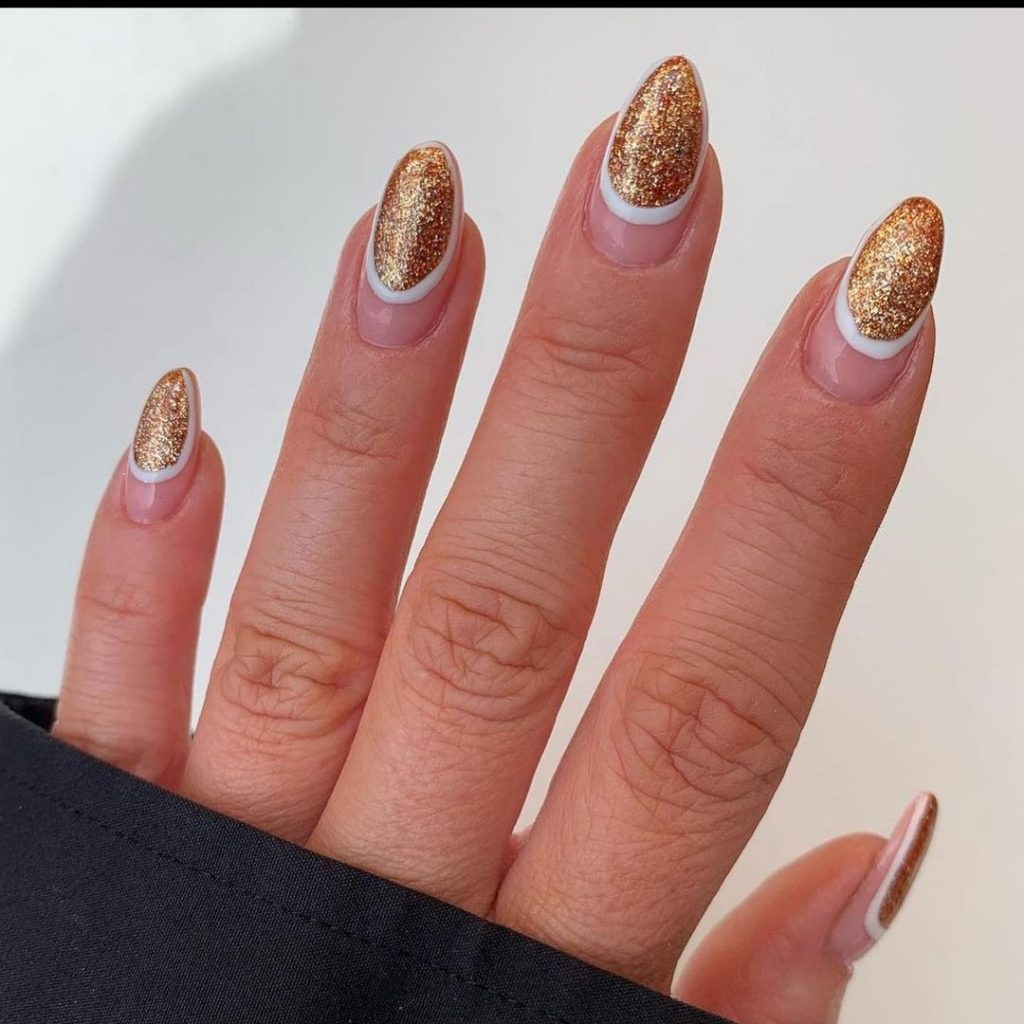 Gold makes such a fancy vibe for shorties without being extravagant. And instead of painting it with total gold, creating elongated-shape gold over white polish would be another artistic way of making this nail come alive.
|33| Lavish Lilac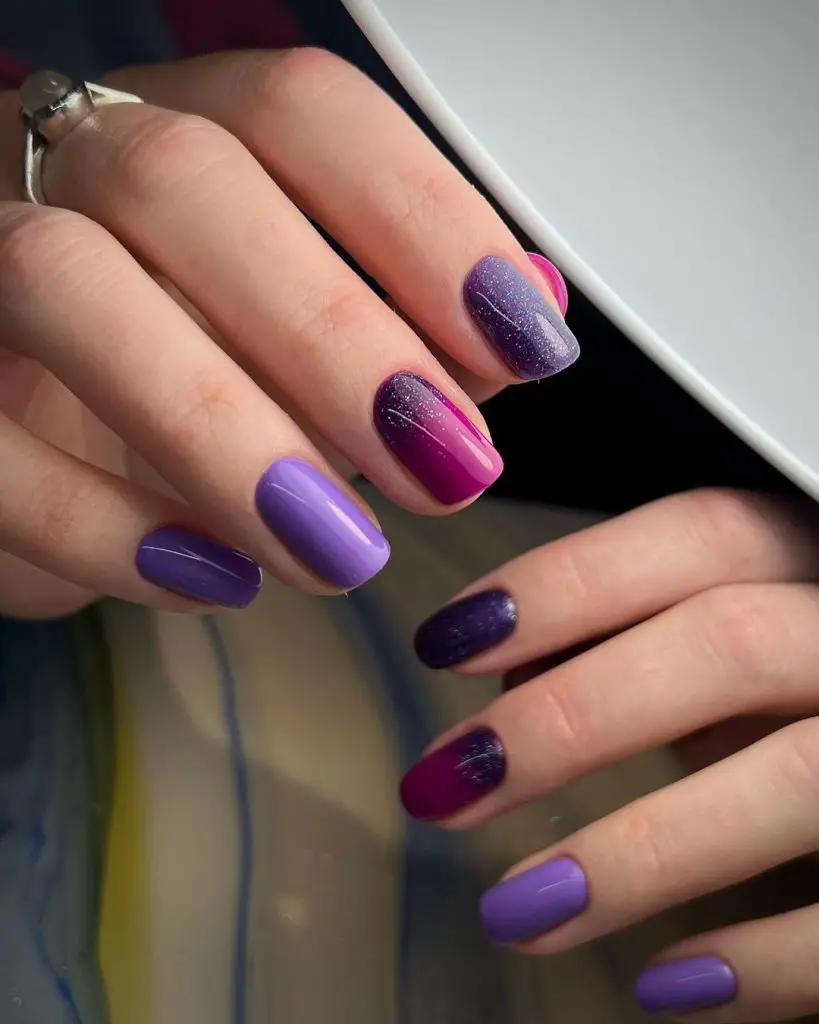 The alliance of dark and light purple shades fusses such a good melancholic mood.
|34| WaterColor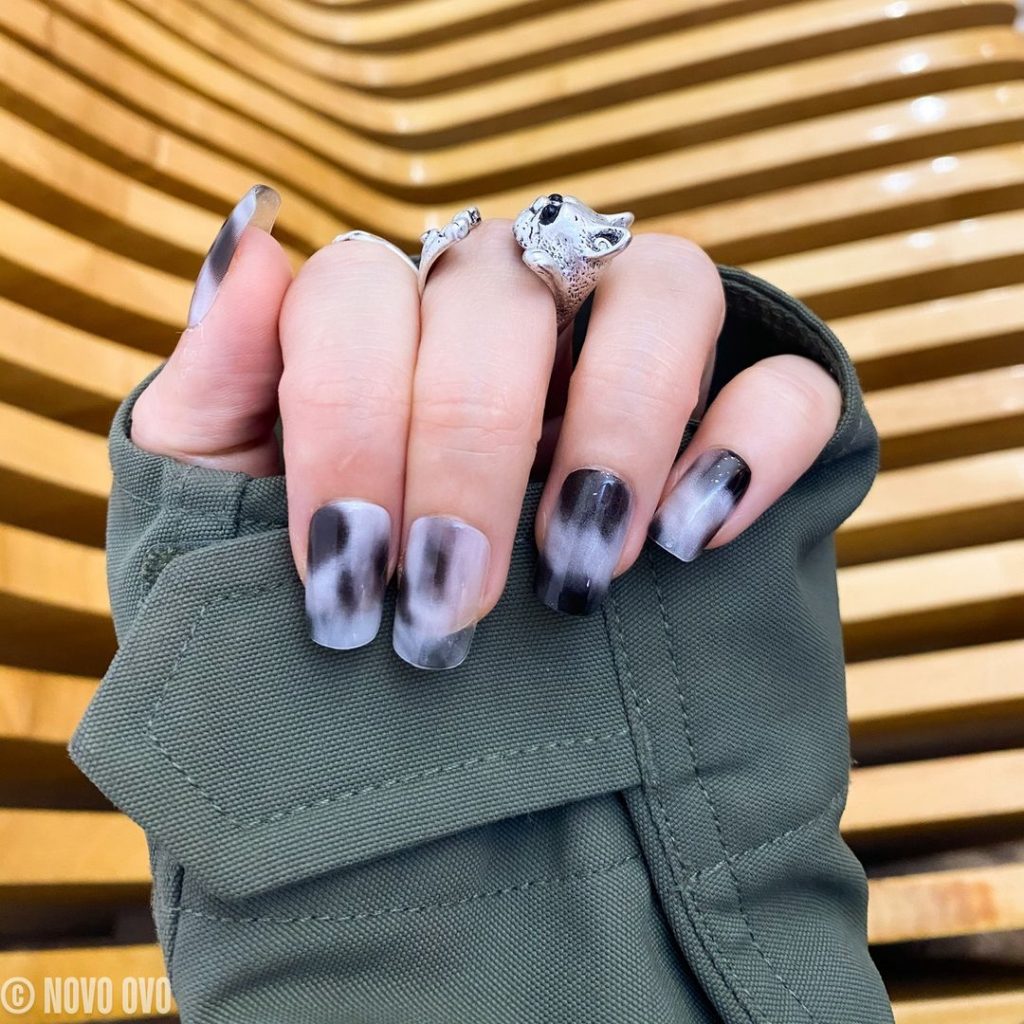 Water base color mani might not be as popular as it is in Asia, but it's a good one to strive on in this 2023 for cute short manicure ideas.
|35| Disco Dance Grey
Balancing the acute glamourous disco perk in grey shadows.
|36| Emerald-Grass Liquor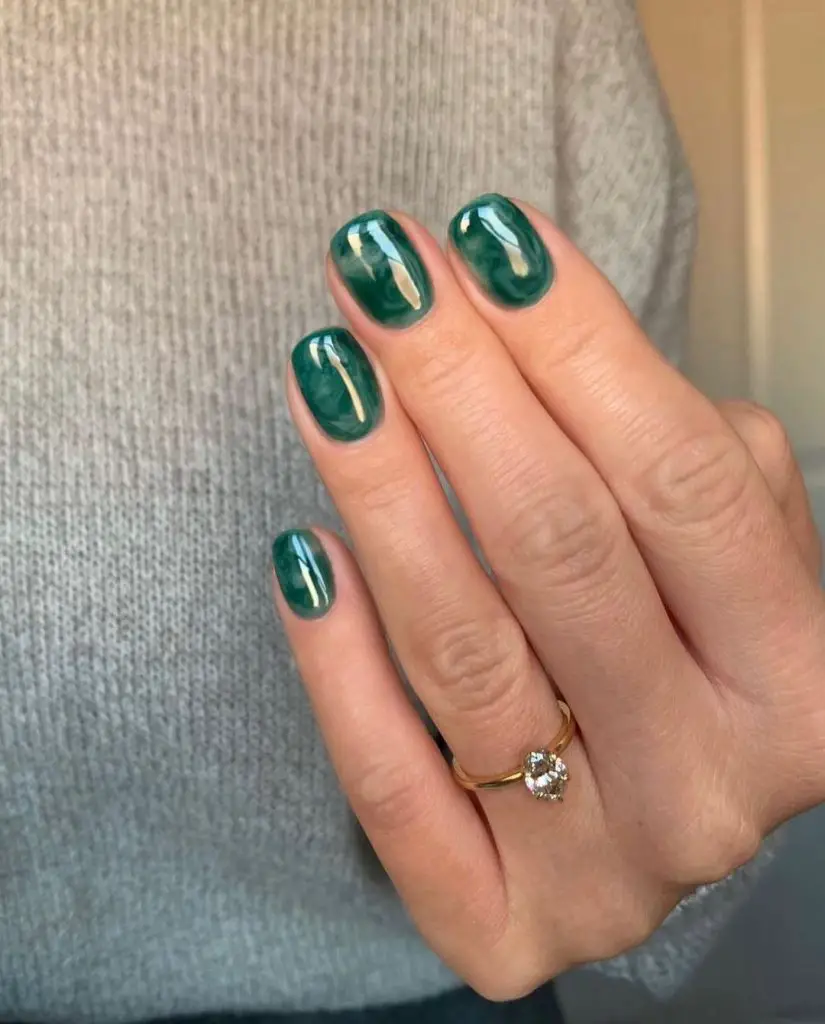 Hottest nail trends in this emerald new brand short nails, glass furnish finish mode, emerge such a beautiful manicure.
|37| Whole-Bronzed Shade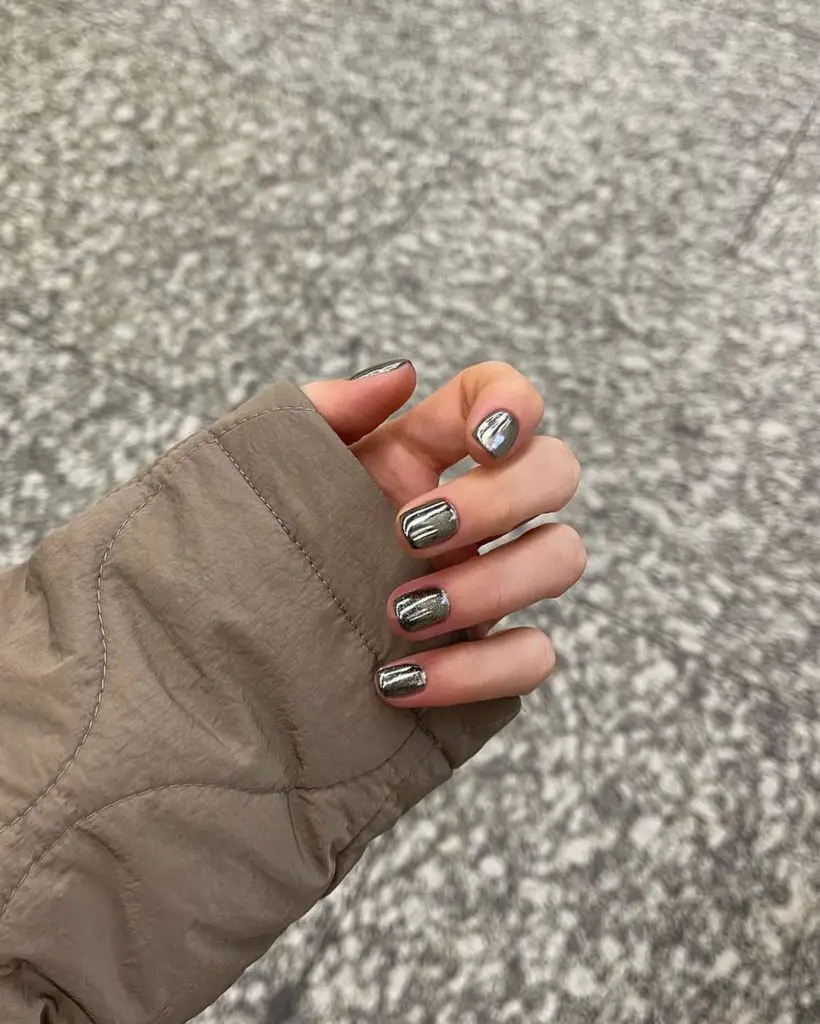 Fill your Monday with Sunday-like bronze shade.
|38| Telltale Fairy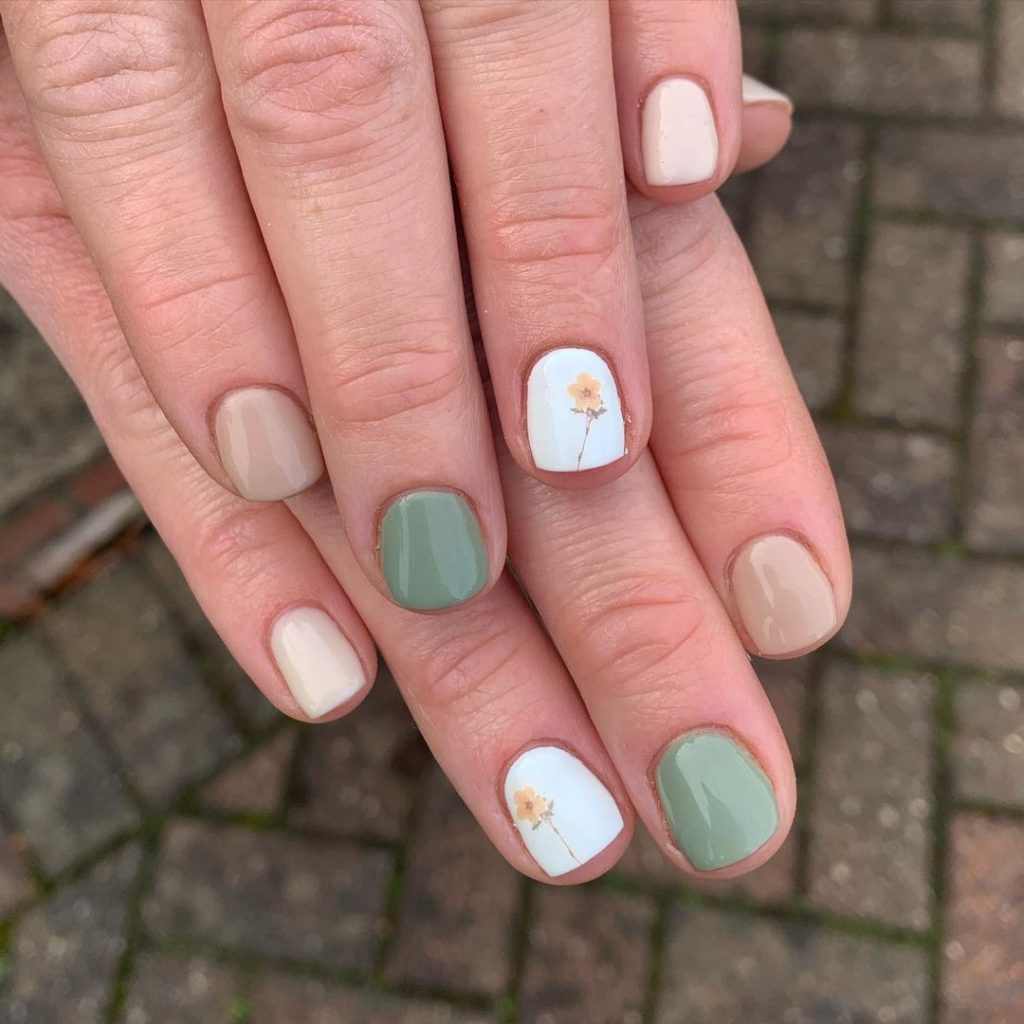 Live life in a fairy dreamland with these cute short nail ideas. Slushy cozy grades with a lovely blossom hive.
|39| Fiery Pink Pout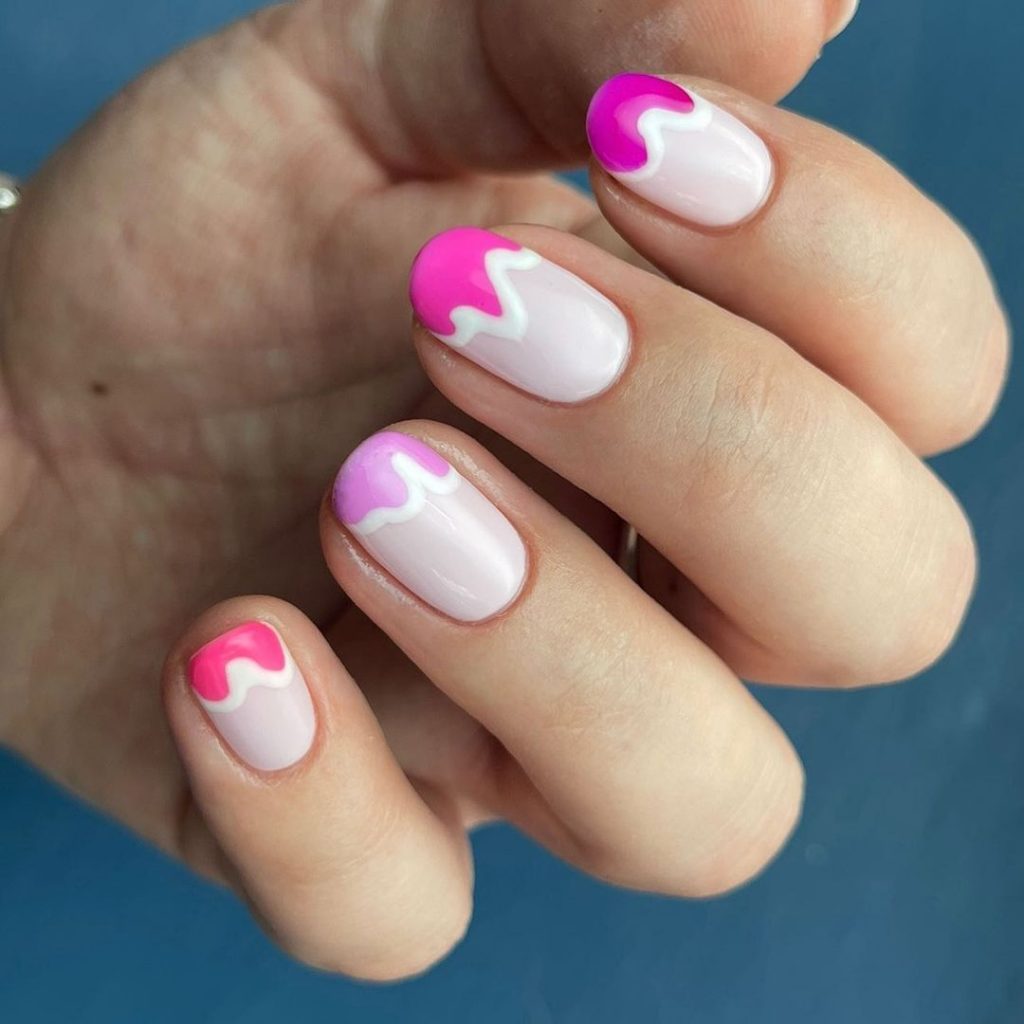 To make this design, you don't need a skillful technique to carve the idea. What you need is creativity and your free spirit to actually create your own wave version, and Viola!
|40| Grid Park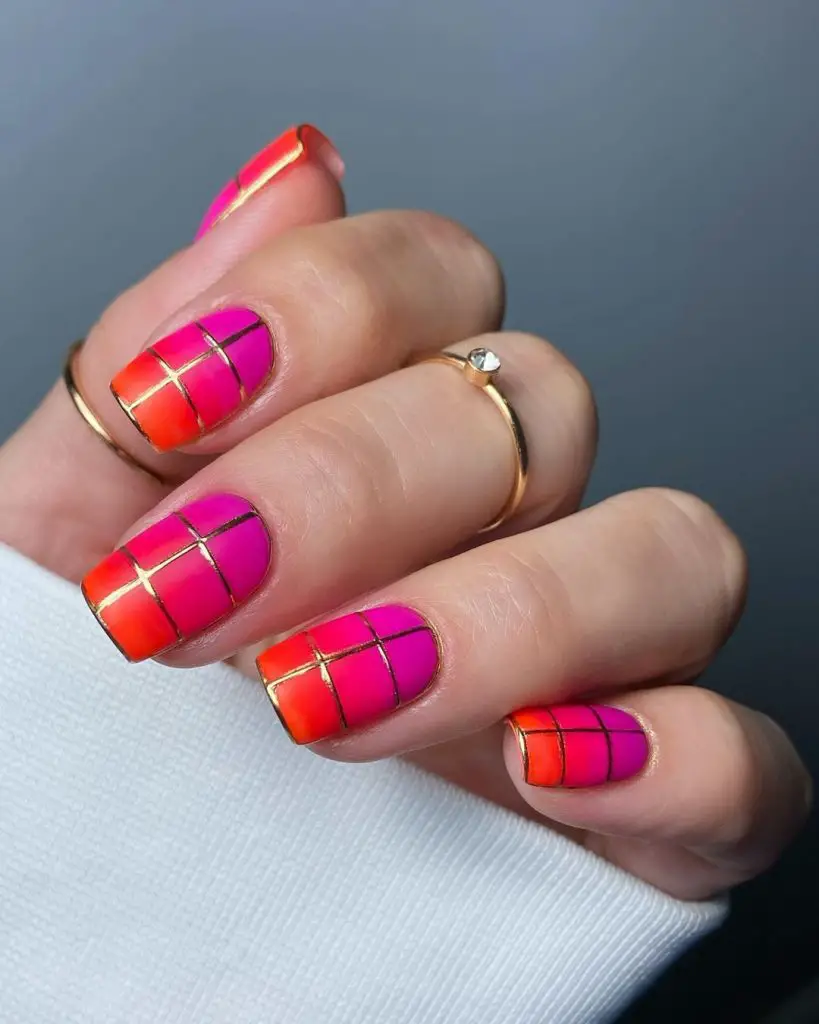 To make this lively scenery, all you need to do is ombre designs and then create the barricade grid with gold scent.
|41| Futuristic Drop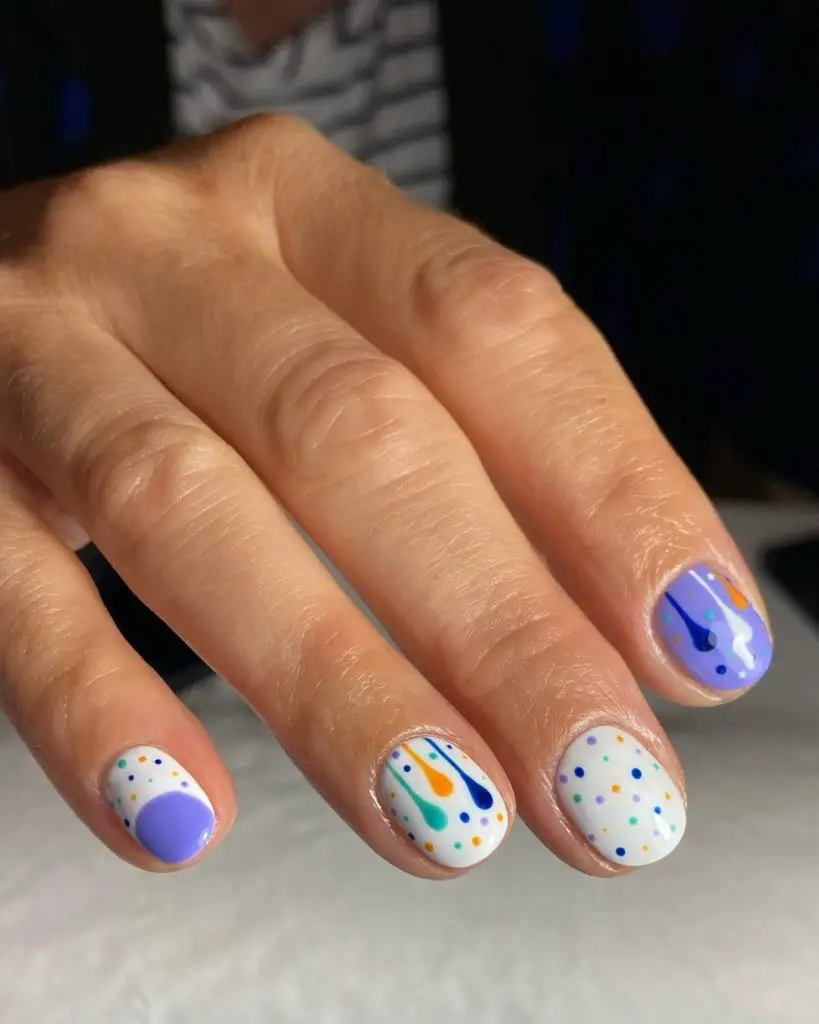 Spill your creativity in these artistic colorful nail designs. It looks perfect in short manicures whatsoever.
|42| Doodling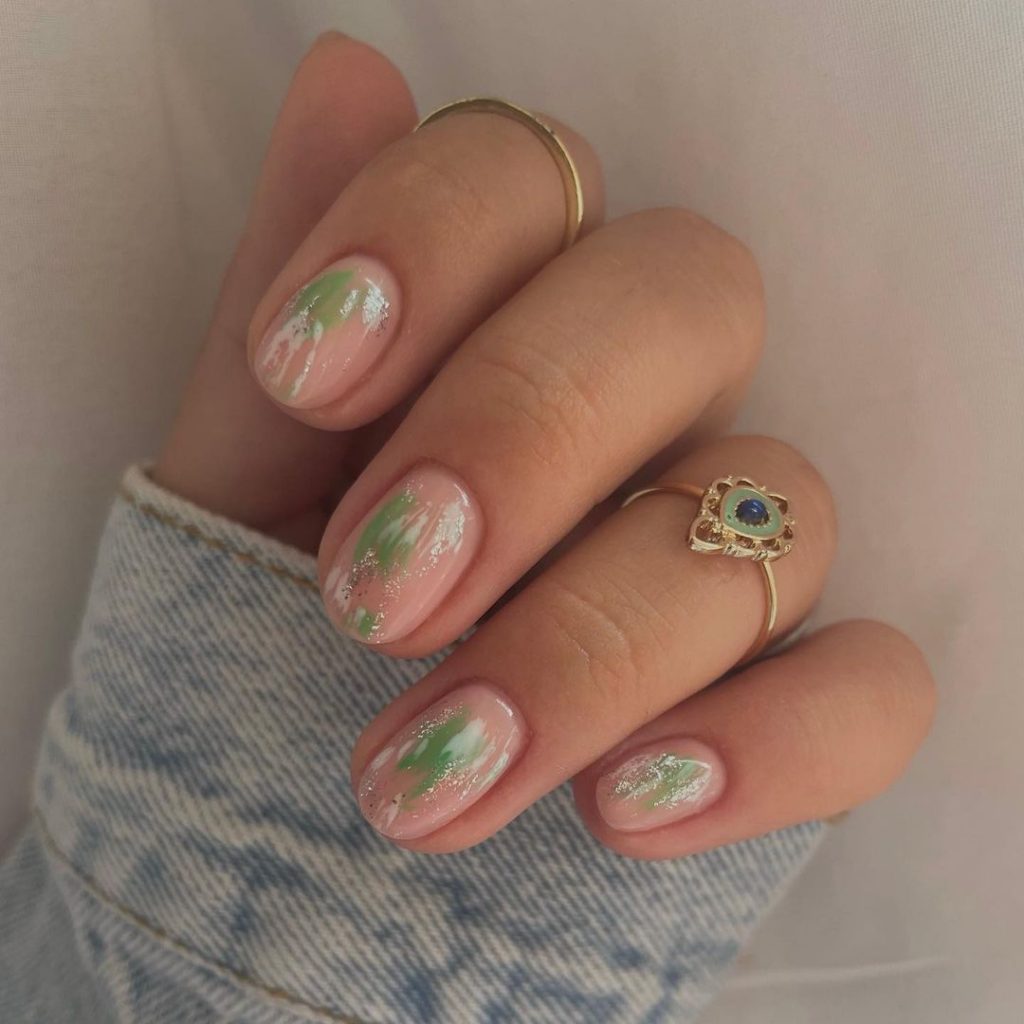 If you have no idea what design to come with, create some scribble with your nail brush, and that's it. The freestyle way to get you to catch up with ambiguity,
|43| Basic Art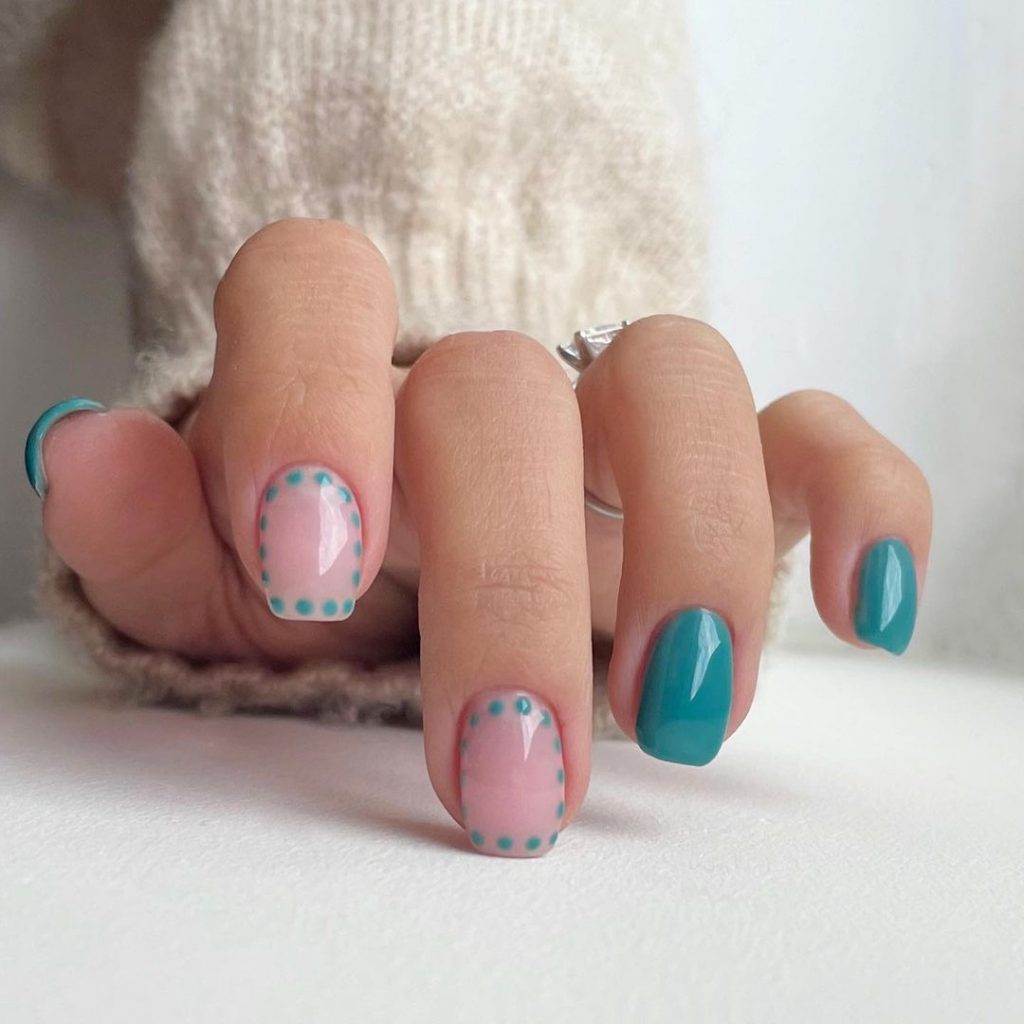 |44| Free-Spirited Cut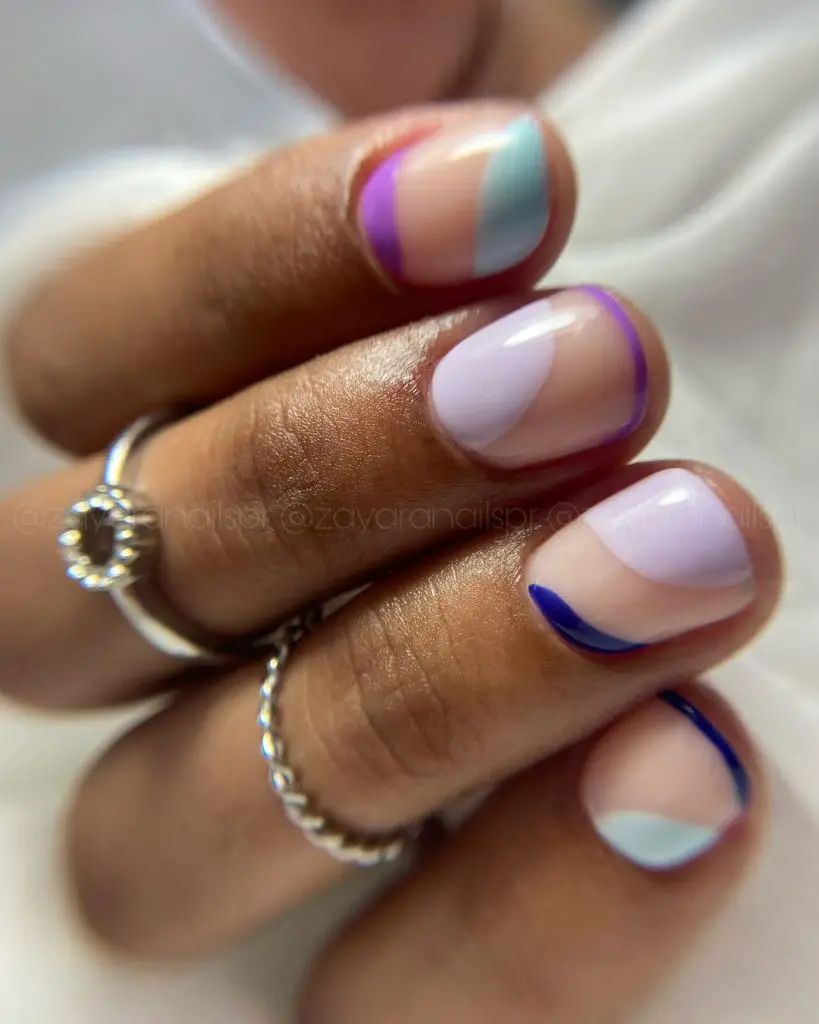 This dual sign shade design captures your best character, mainly if you paint it in your favorite color. It looks captivating and yet wholesome with its minimal style at once.
|45| Silver Streak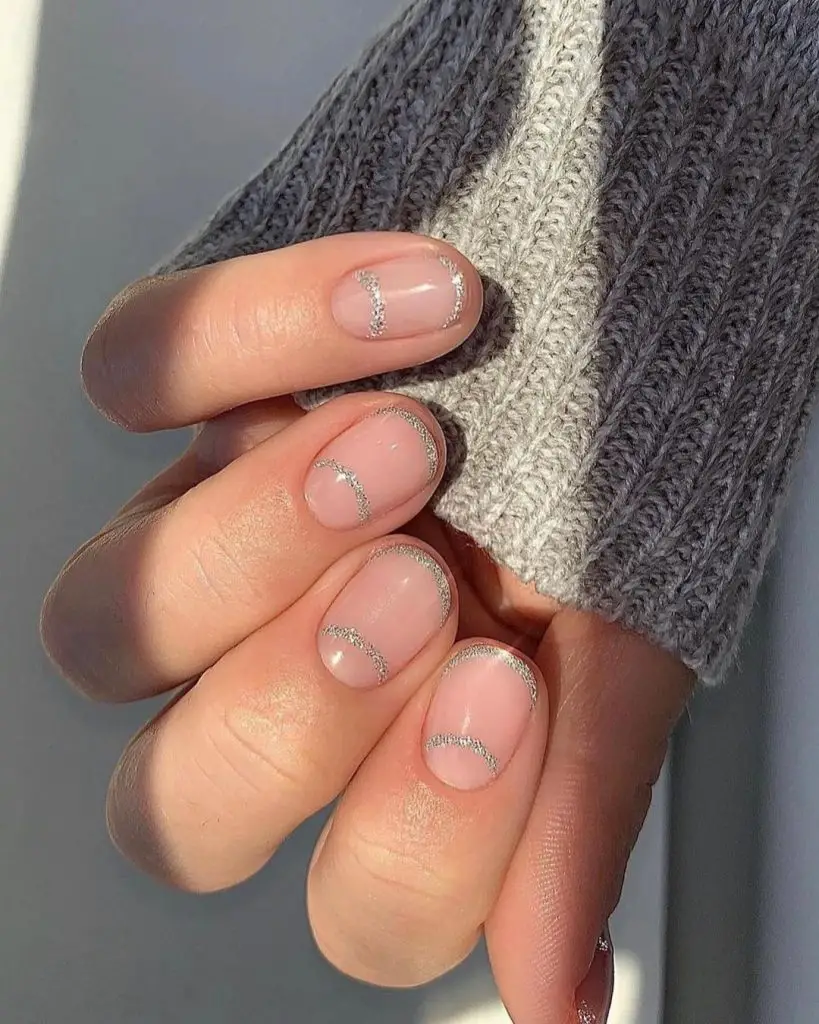 Nude short nail manicures with silver polish accentuated make this design perfect for any occasion. It gives a portion of glamour glimpse to style with a Versace dress and is casual for a daily outfit.
|46| Polished Plain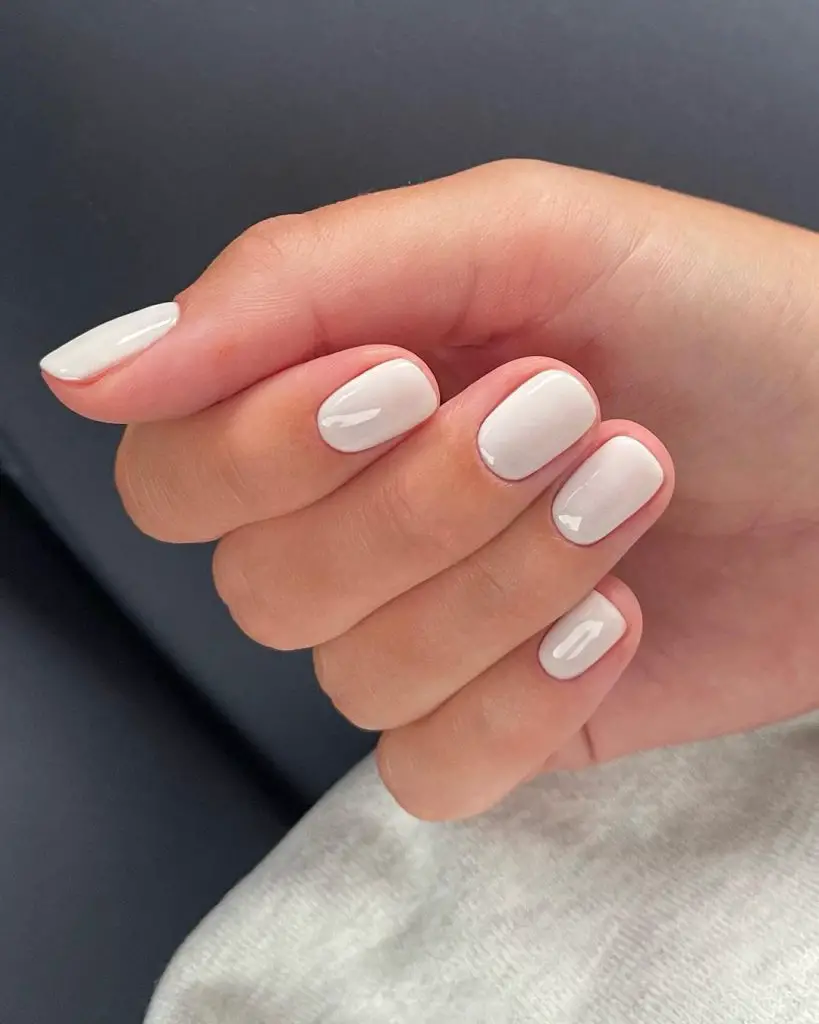 Clean-slate type nail ideas. Off-white with a blush effect will make you a statement look for every style you choose. It embraces simplicity and modernity.
|47| Wildbeast Edge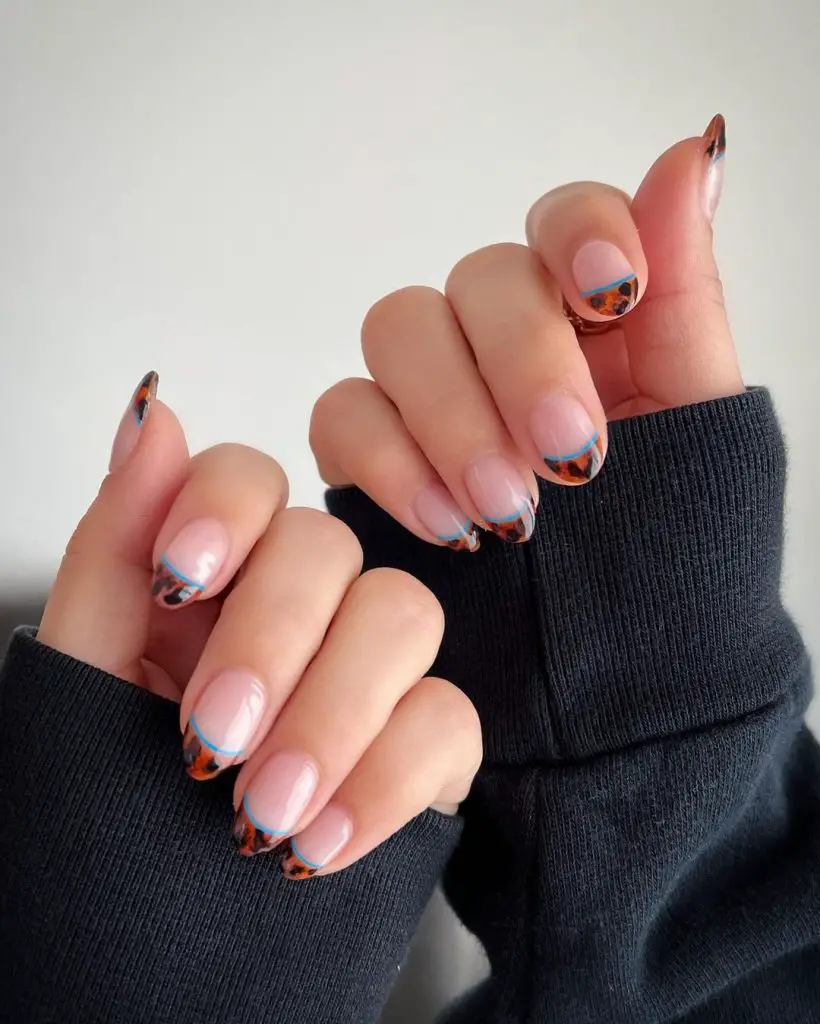 Show off your wilderness in a single statement of your wild beast print short nails picture.
|48| Dark Wine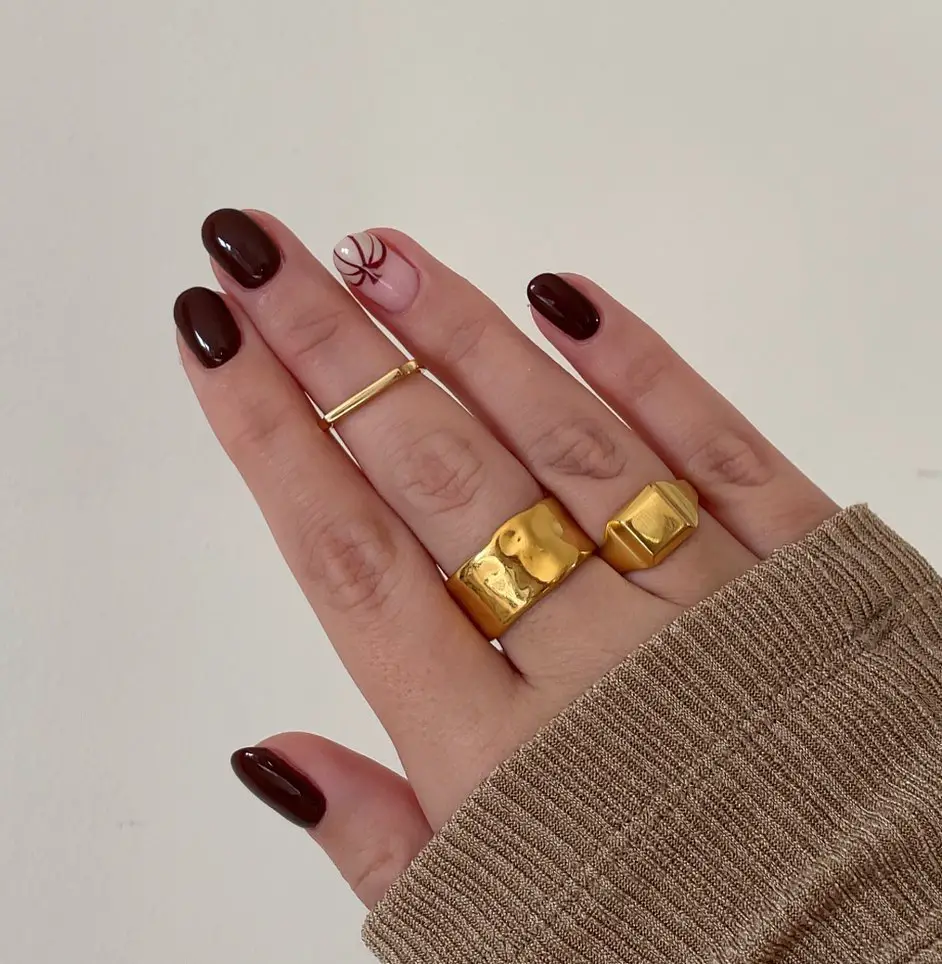 Pumpkin edge style accentuated very well the entire bold dash red polish.
|49| Blush Dash Caved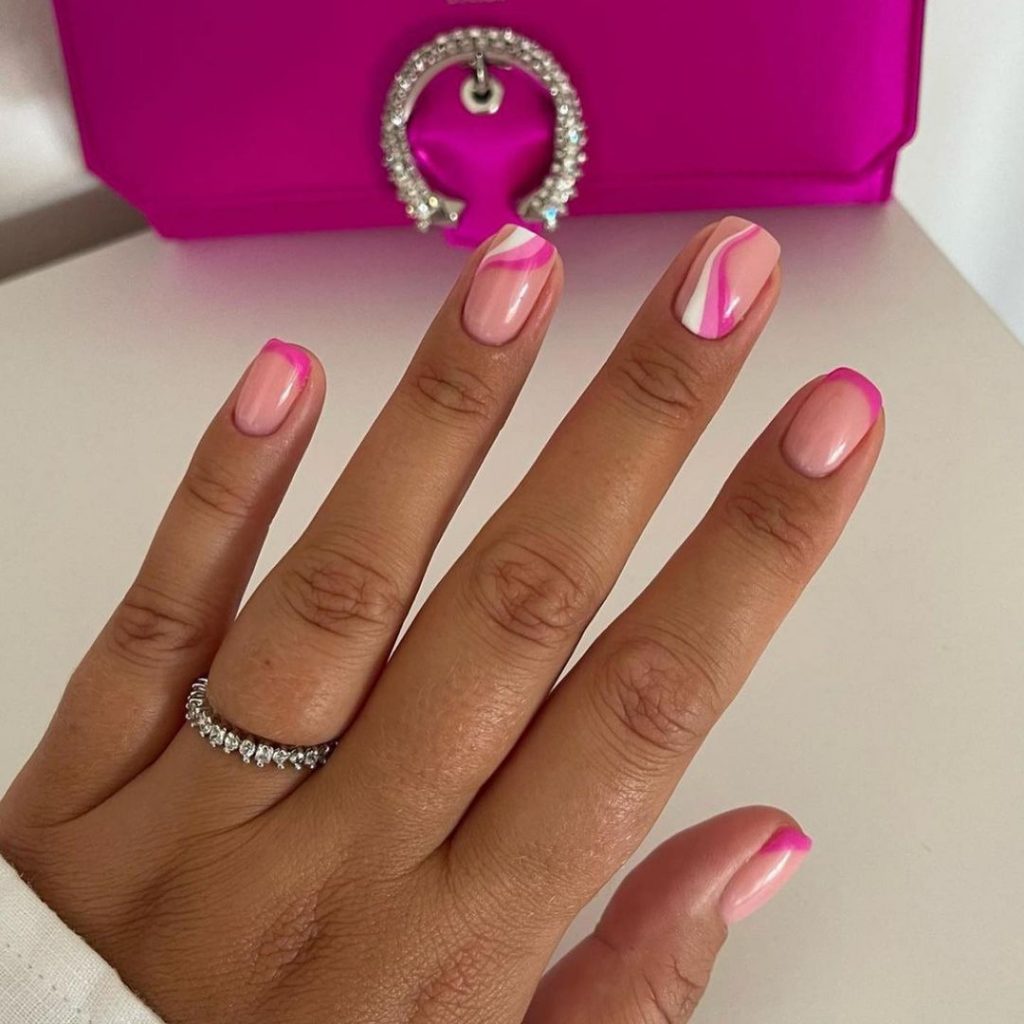 cute short nail ideas in mesmerizing blush pink nail polish.
|49| Dia Duo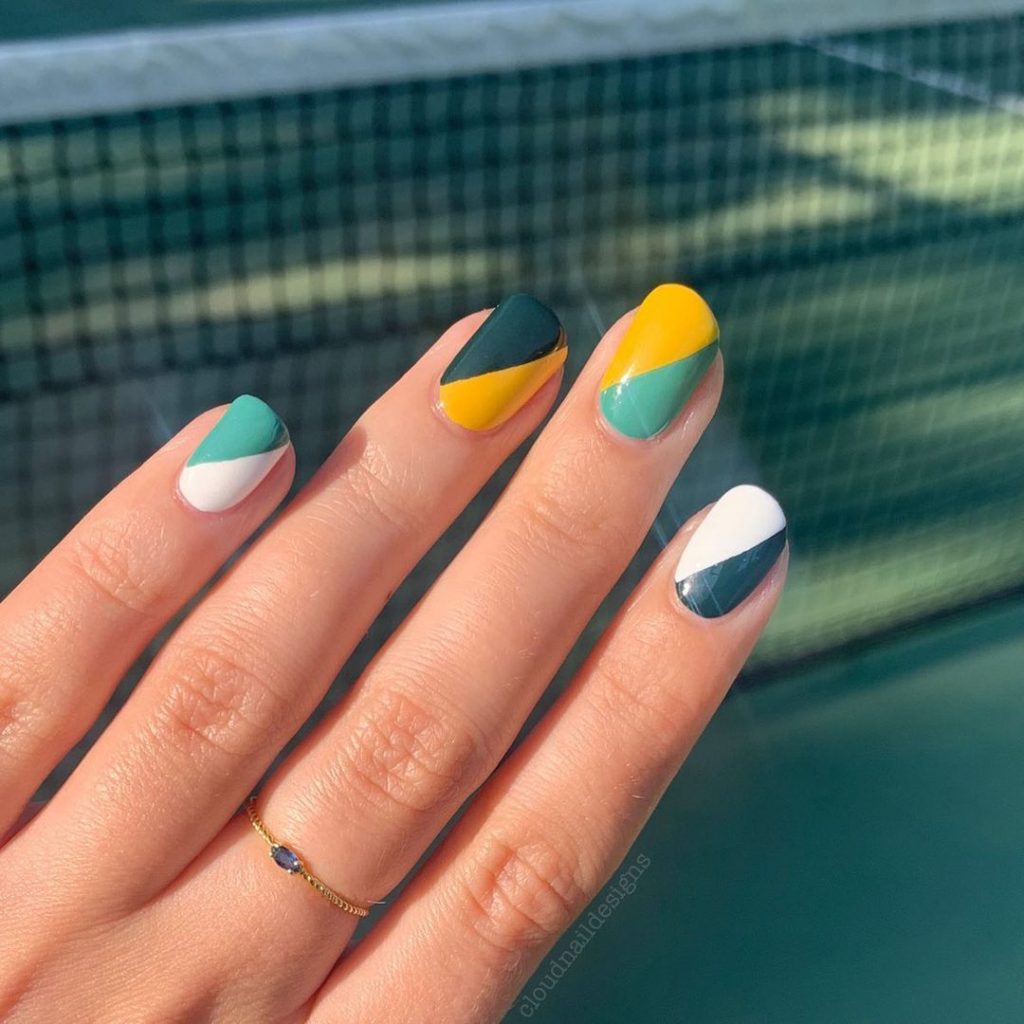 Another way to best capture your duo character in two-colored nails in assymetric cut.
|50| Swing Code White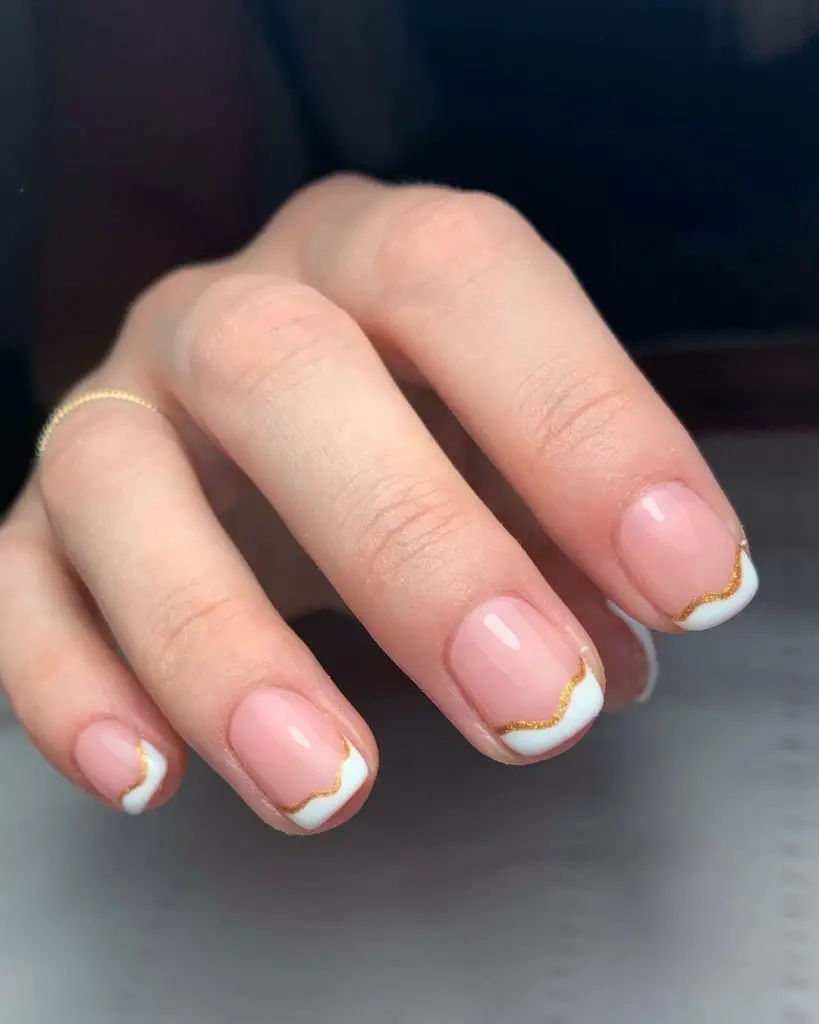 Another combo gold and white office that make incremental move in every style.
|51| Festive Sky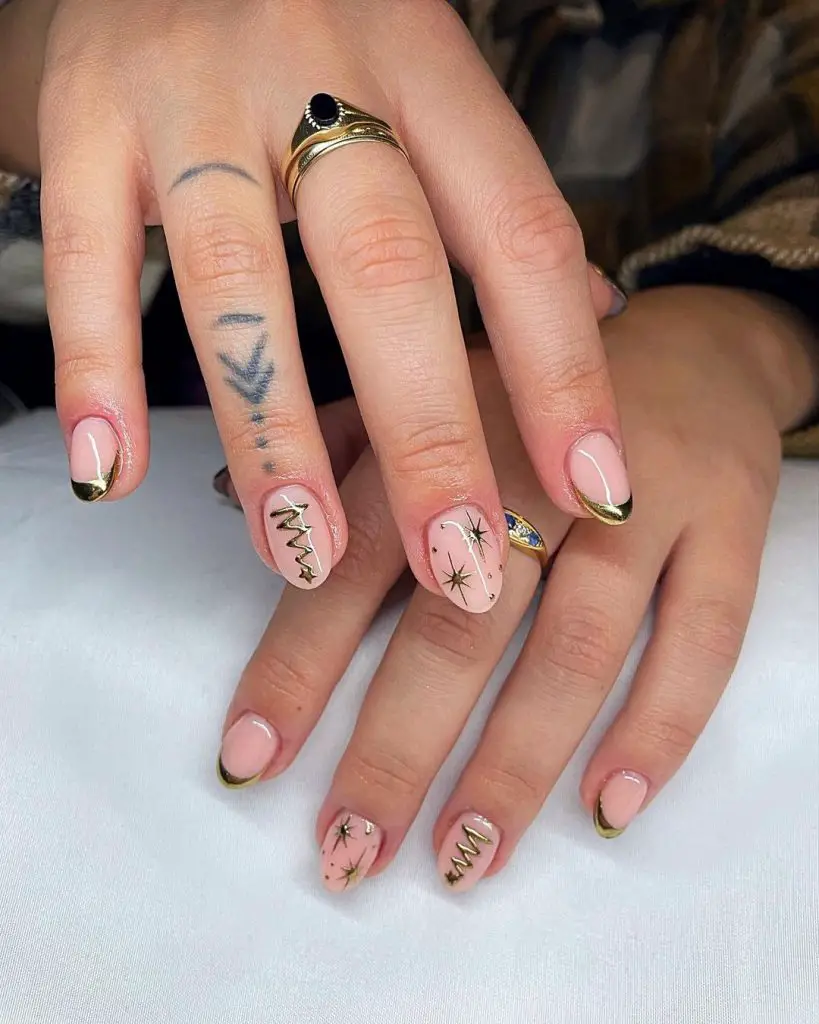 Fire up the next move of new year in this captivating all new year's iconic pics.
|52| Euphoria Gum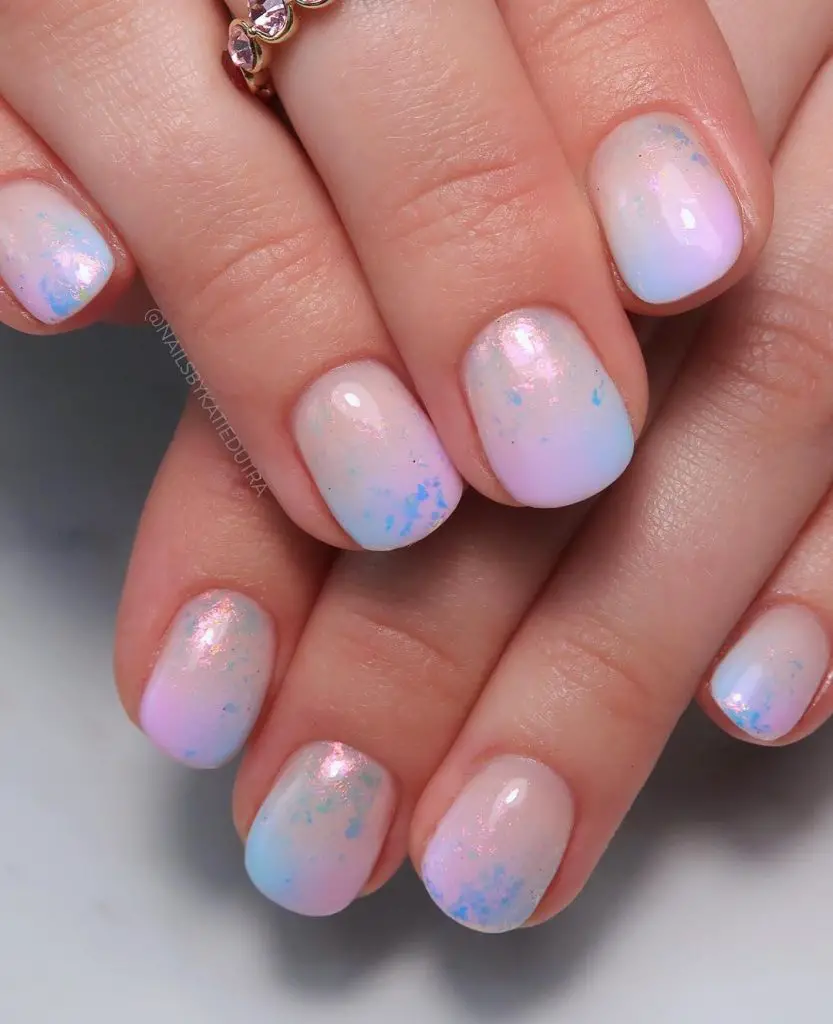 Imaginary euphoria class in this shade. Capture the fantasy back in this fairy polish
|53| Castle Class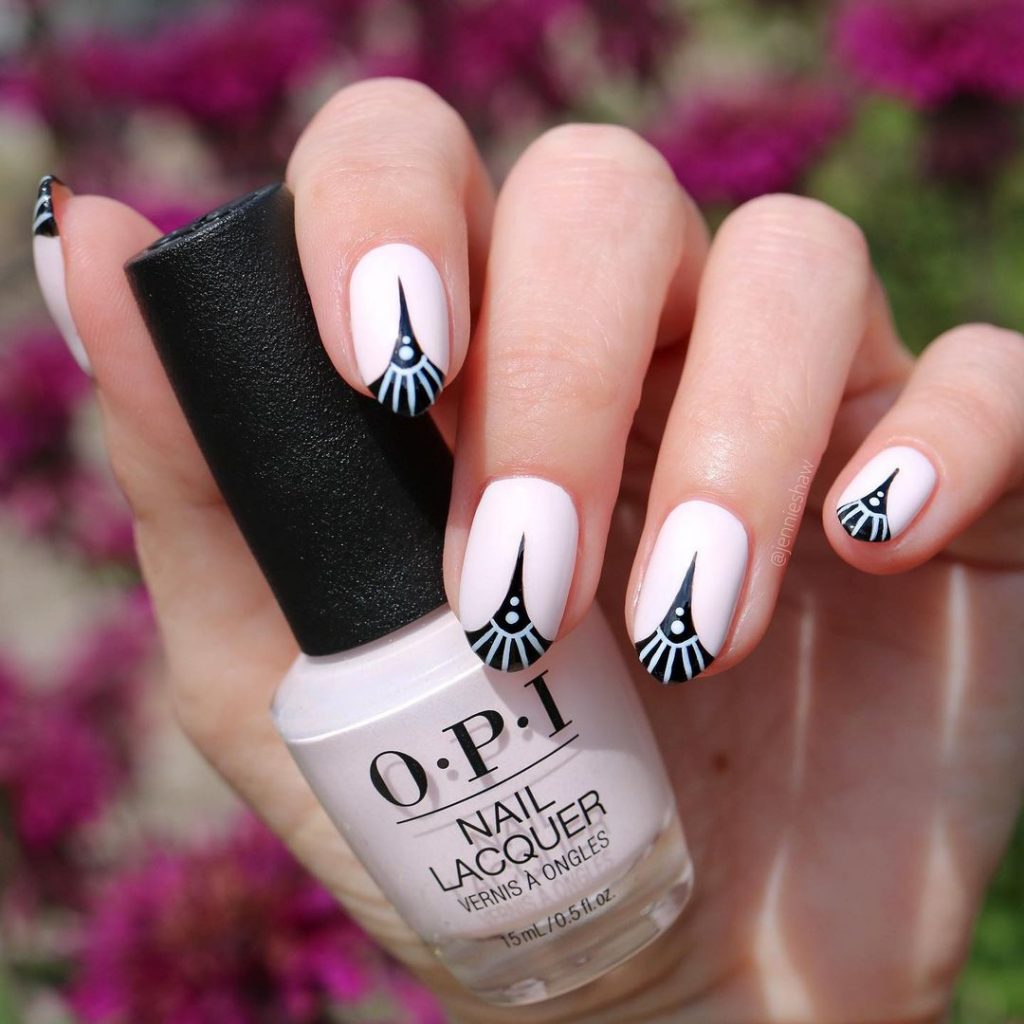 Pink blush shade as basic captured perfectly this iconic black figure.
|54| Lemon Slice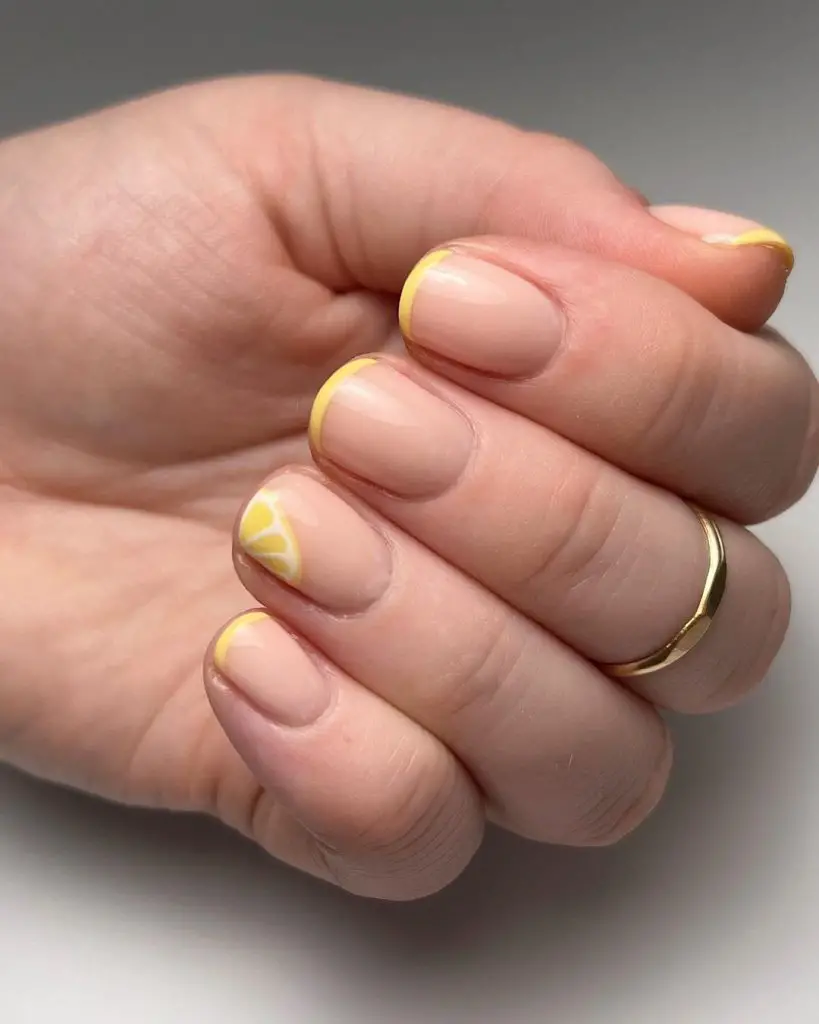 Lovely cute short nail ideas in this crips-fresh lime design in one bite size design. Looking at this pic I briefly imagined the fresh soury flavour.
|55| 1/3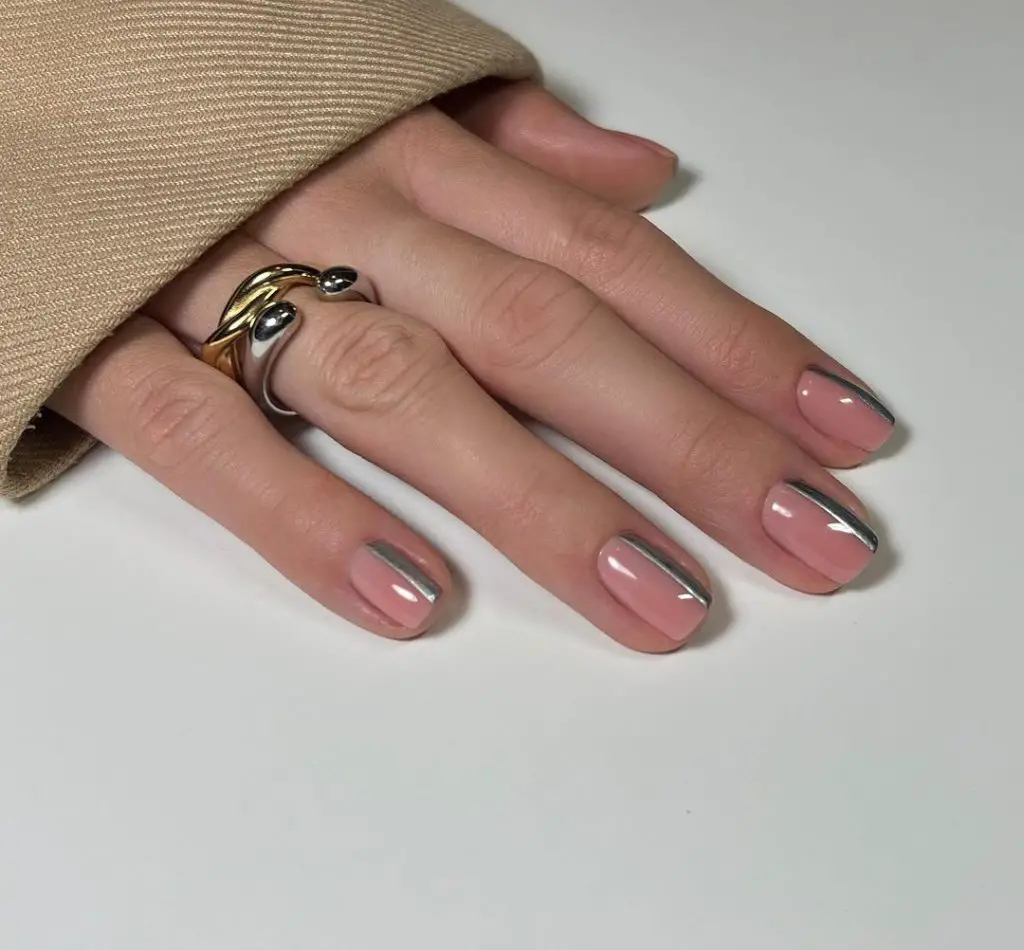 Elegant banquet nail-type ideas for natural all-one designs that win every battle of fashion.
|56| Summer Strikes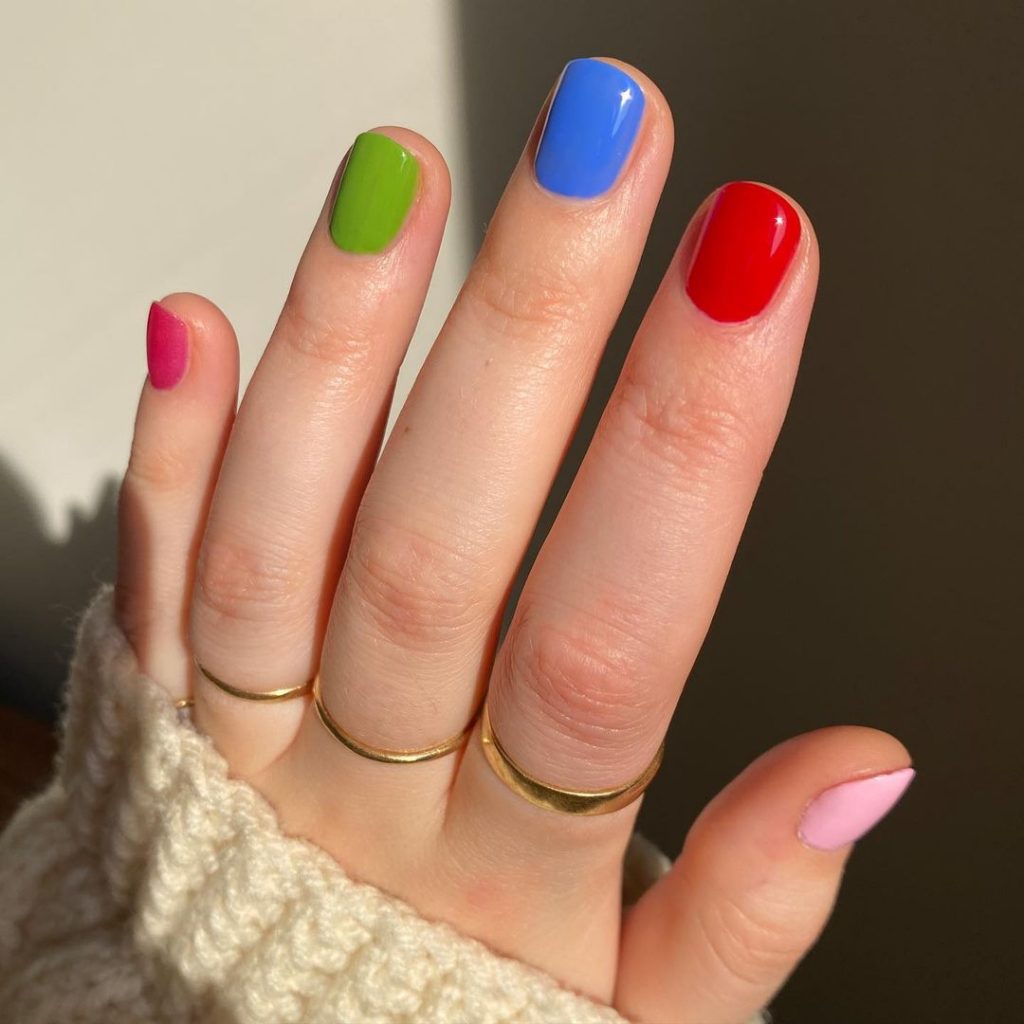 Strikes the hot summer in powerful five combo vibrant shades. Strive for best pic to be captured.
|57| Slumber Wind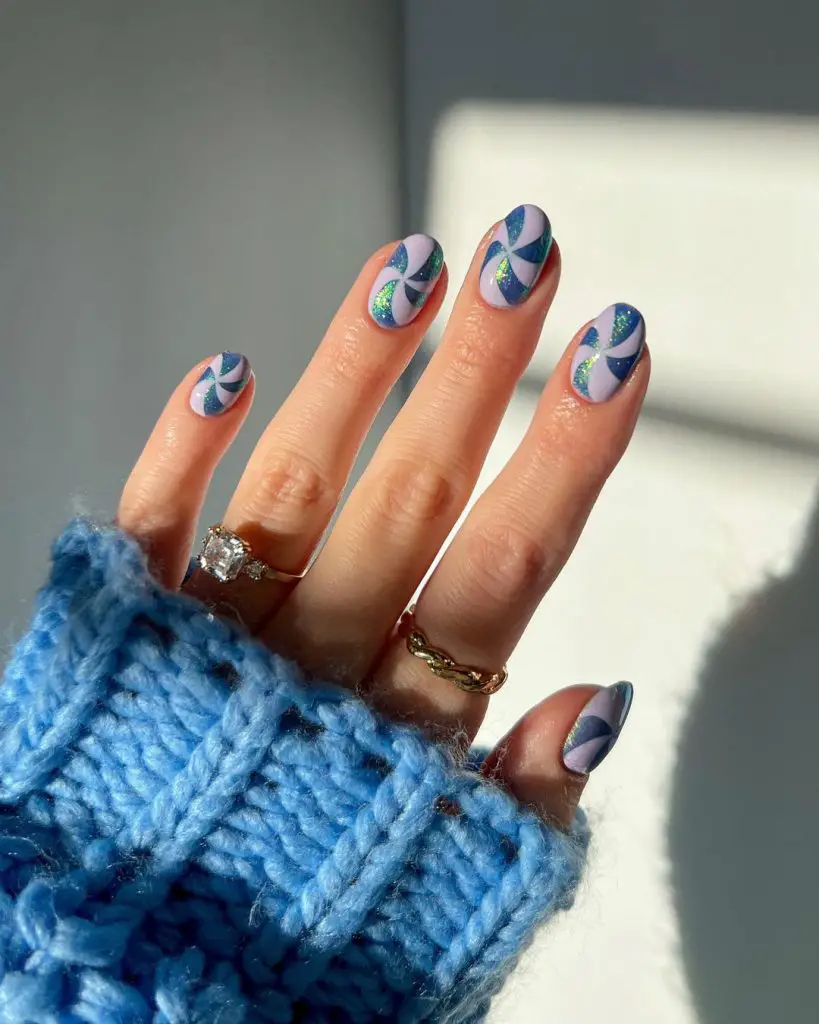 Toast hidden wild energy into antique power symbol.
|58| Witted Bold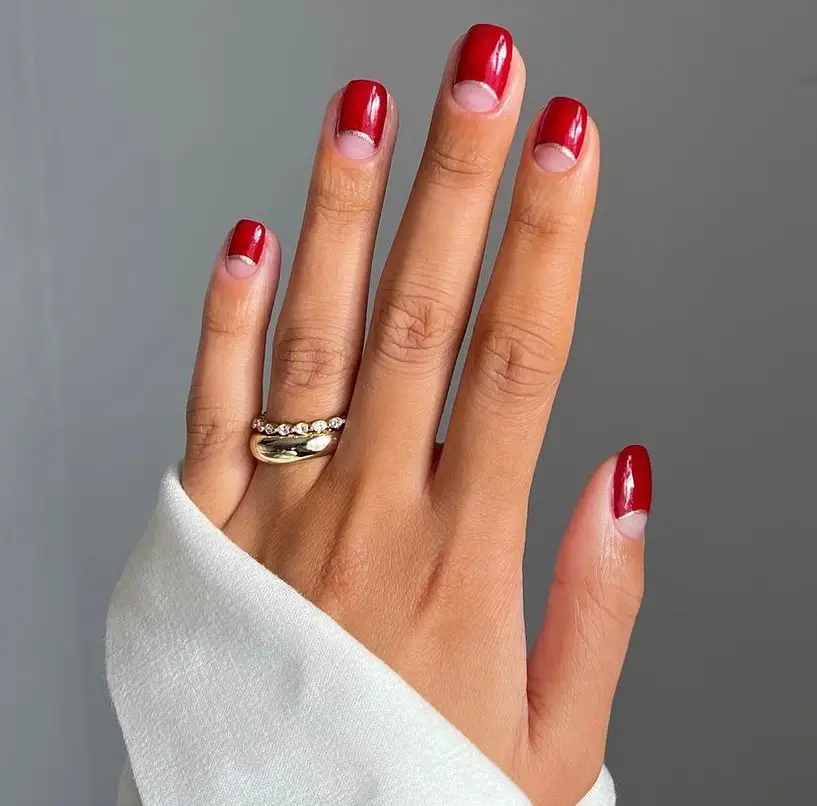 This one another basic way to dray your bold red nail in edge cuff way.
|59| Dopamine Dip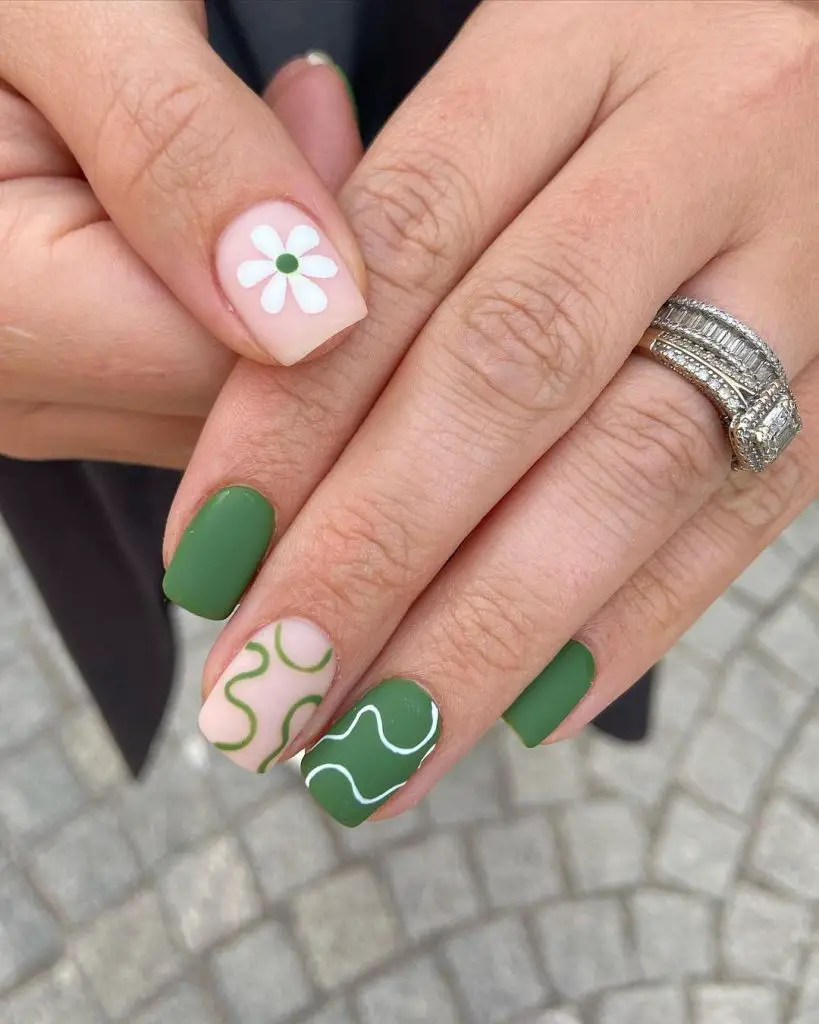 Fun creative way to create your nails with angular line, boosted with crunchy cute floral height.
|60| Naked Nailed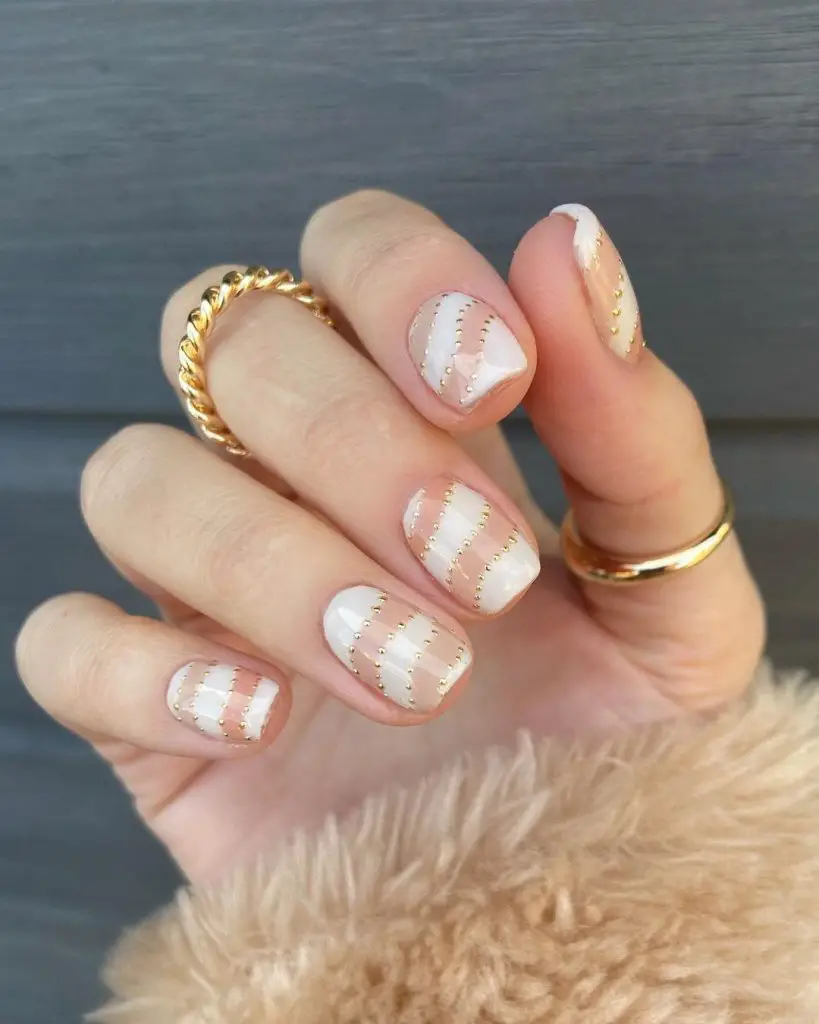 All-season type nail design in alter nude manicure with combo off-white polish.
|61| Silly Sign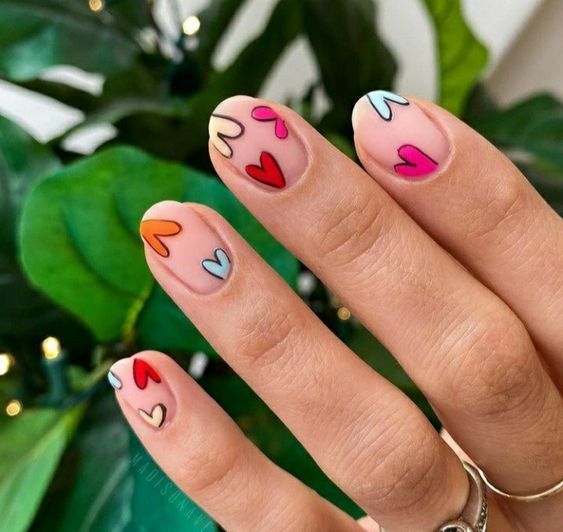 Super cute short nail designs in this silly heart sign colored in playful magic.
|62| Solo Sentiment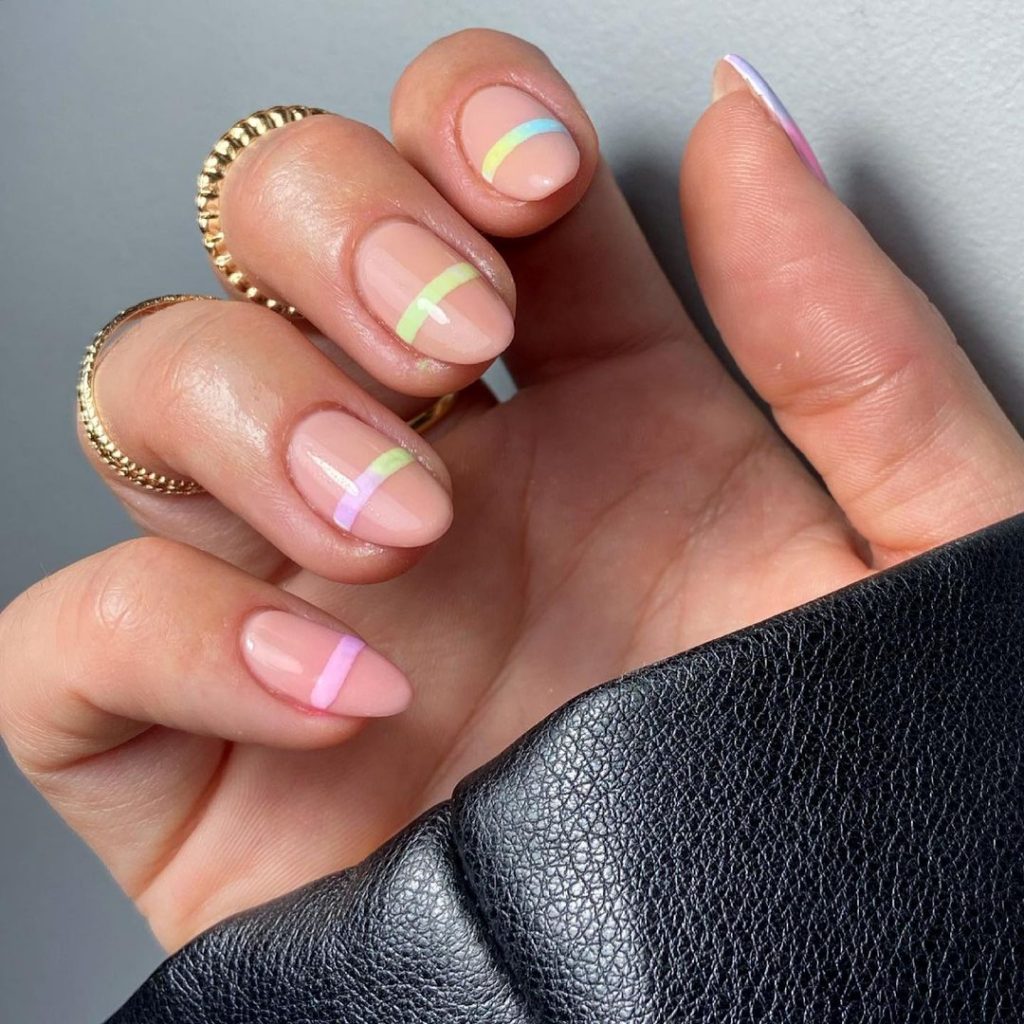 Last but not least in our top inspo of short manicures. Simple single-stripe designs which look insanely holistic and adorable at once.