Acne scars can sometimes seriously hinder daily life. Itching, pain and embarrassment are some examples of this. When the top layer of skin is damaged, there is often not much to worry about. But if the damage goes deeper or the problems last longer, repairing the skin becomes a lot more difficult. However, did you know that you can treat these scars yourself at home?
An acne scar consists largely of connective tissue (collagen). Fortunately, there are many options for treating and reducing these scars. Unfortunately, it is not yet possible to get rid of it completely, but the appearance can be greatly improved. In addition to the cosmetically disturbing effect, it can also cause psychosocial complaints. For example, depression can be significantly reduced with the treatment of acne scars.
However, if somehow it has happened, and these are ways on how you can reduced acne scars appearence in many option, just try the most that you feel it is for you.
Related Post:
Ways to Get Rid of Acne Scars
There are 3 types of how to get rid of acne sacars based on the treatment you're taking. There are home treatment, professional treatment and natural treatment to get rid of this acne scars. Here are the details
TREATMENT AT HOME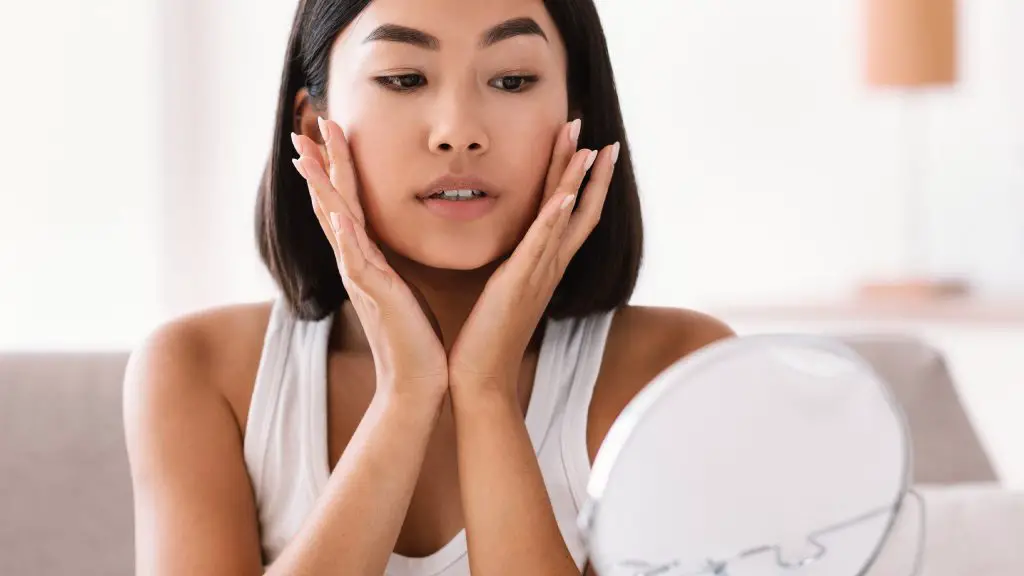 Massage Skin
You can easily treat your acne scars at home using a sponge or plastic sheet. By massaging the skin and applying pressure to the scar site, the scar becomes more flexible and symptoms will disappear faster.
Alpha hydroxy acids
Alpha hydroxy acids (AHAs) are often found in products made to treat acne as they help remove dead skin and prevent pores from clogging. Better yet, AHAs can also help make acne scars less noticeable.
This mild acid exfoliates the outer layer of the skin to help remove discoloration and rough skin.
Creams with collagen
When acne marks are severe or have a long time, the treatments that are required are more specialized and preferably prescribed by a dermatologist who will help us see faster and more effective results.
One of the first options that dermatologists often recommend are creams that promote collagen formation. They are also ideal for adolescents who are at the height of the appearance of blackheads and pimples to avoid deep and permanent scars.
A dermatologist will be able to diagnose what type of cream and how often to use to remove acne scars.
Salicylic acid
You may well have used salicylic acid to treat your acne in the past. From pads and spot treatments to lotions and facial cleansers, it's found in almost every class of acne treatment today.
Salicylic acid cleanses pores, reduces inflammation and irritation, and exfoliates the skin when applied topically. It is considered one of the best treatments for acne scars.
You can add salicylic acid products to your daily routine, or your dermatologist or cosmetologist can use it for less frequent chemical peels.
Retinoids
Topical retinoids are another acne treatment with scar-reducing benefits. In addition to speeding up the regeneration of your cells and improving the texture of your skin, retinoids can also reduce discoloration and make scars less noticeable, according to a recent study.
However, they can also make your skin especially sensitive to the sun. Use sunscreen every day when you are using any product that contains retinoids.
Sunscreen
It is essential to use sunscreen every day on scars. Sun exposure can darken scars and make them more noticeable.
PROFESSIONAL TREATMENTS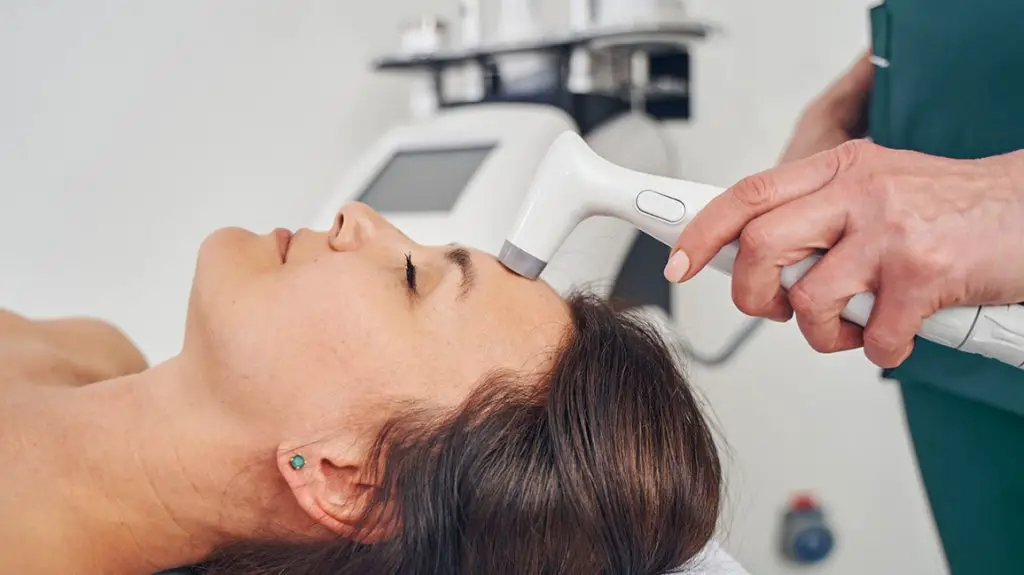 Laser
This treatment has become popular for its effectiveness. The therapist places the laser on each scar and fires shots that can be uncomfortable or painful. The laser causes an alteration of the collagen fibers , so that in the third session a smooth skin is perceived and almost free of acne scars. The result is also long-lasting.
The laser application must be carried out by a dermatologist or therapist specialized in the technique to avoid skin damage or burns. This way is one of treatments that get rid of acne scars quite fast.
Peeling
If you are not completely satisfied with the home treatments, you can also have the acne scars treated in our clinic. Peeling is a technique where dead and damaged skin cellsbe removed. The healthy skin then becomes visible, after which you can enjoy a calm and smooth face again.
Microneedles
It consists of passing a small roller filled with small needles in a row over the entire area affected by acne scars. These needles penetrate the skin causing microscopic wounds that, upon healing, form new skin because it promotes the increase of collagen fibers in the injured skin. This treatment is for people with mild or moderate damage.
This alternative can be done at home buying the roller and following the instructions; however, it is recommended that a dermatologist guide the treatment.
Fillers
Doctors use fillers to fill in acne scars and help make the skin look even. Fillers can be made with collagen, your own fat, or a commercial filler. These are injected below the surface of the skin to help fill in and smooth deep scars.
Most fillings last 6 to 18 months before they need to be redone, but some are permanent.
Injections
There are a few different medications that can be injected into raised scars to help soften and shrink them, including chemotherapy and corticosteroid medications fluorouracil (5-FU) and interferons. Usually a series of injections is done, one every few weeks.
HOME REMEDIES FOR ACNE SCARS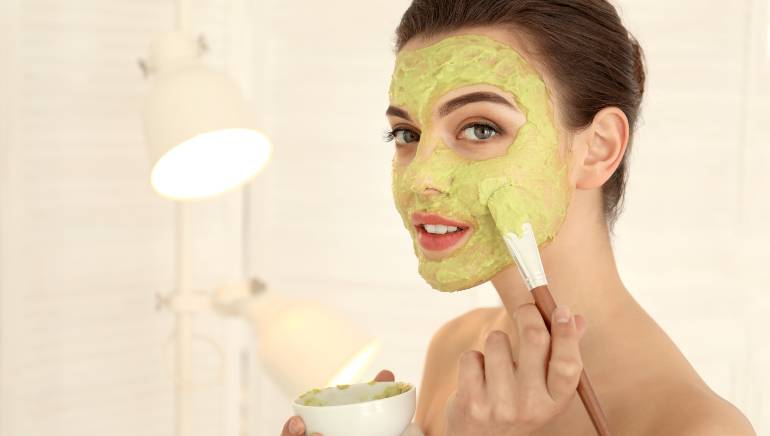 Baking soda
The bicarbonate acts as an exfoliator on the skin , which allows to eliminate the dead cells and that the scars are reduced. This remedy is only effective for those scars that are slight.
The way to apply this remedy is by moistening the face and applying a small amount to the area where we have the spots. After a few seconds, we clean our faces. This alone should do it once a week . If we abuse we can damage the skin.
Tomato slices
Massage the affected area with tomato slices, this is effective in reducing the appearance of marks or scars. It is thanks to the vitamin A and carotenes that tomato contains, which not only provide its radiant red color, but are also antioxidants, which can heal damaged skin tissues and promote the growth of new cells.
Lavender
The antidote and natural remedy against scars does exist and it is lavender oil, this essential oil goes beyond its properties by repairing damaged collagen, helping to reduce deep scars. Apply a little oil twice a week in circular motions on the affected areas for best results.
Asiatic Spark
Gotu kola is a plant native to Madagascar that helps correct skin conditions such as scars, as its high content of medicinal ingredients benefit the production of collagen, and yes, this will make your skin regenerate. Also, your skin will be smoother and the scars will disappear. Let the skin absorb its properties, we recommend applying it as a cream. It really helps you get rid of acne scars or at least reducing the appearence.
Honey
Another type of remedy that can help us deal with acne scars can be honey , the best for this is Manuka honey . This can be applied as a mask with apply a little amount of honey on the effected area. wait for about 20 minutes., then rinse it off, repeat atleat twice a week to get perfect result.