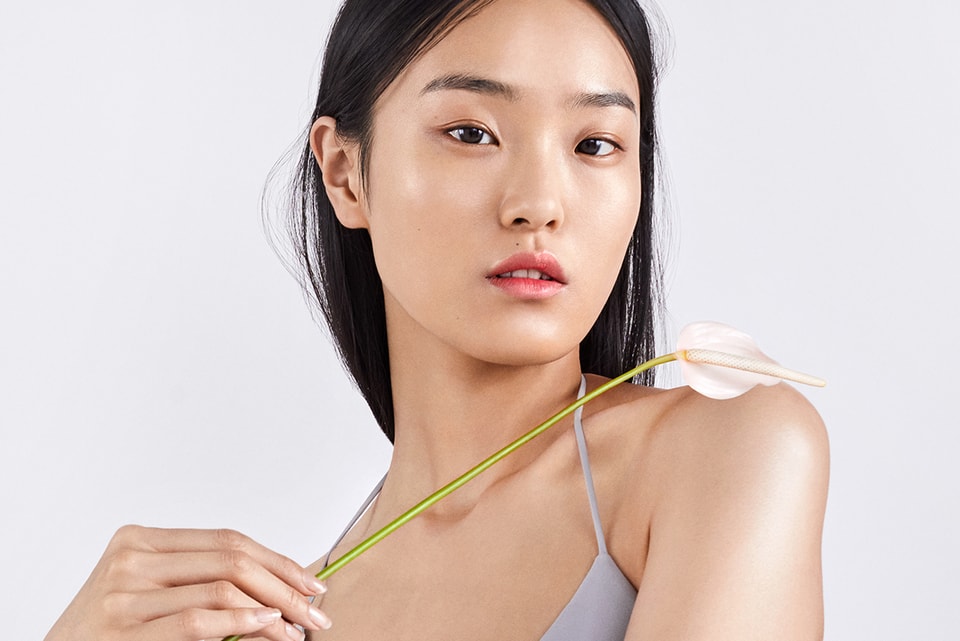 Glass Skin Look~How do Koreans have such a flawless skin? Everyone here must realize that a lot of Koreans have image with glass skin look, especially because K-dramas exposure. We see the actresses and actors they always have the perfectly clear, smooth and so bright skin. They look like have no pores, no moles, no wrinkles even being over 30.
So, today we are going to be showing how to achieve a flawless glass skin look like many Koreans have, in Five easy steps.
Related Post:
Here are 5 steps to have Flawless glass skin
Use Sunscreen
Koreans really use a heck a lot of sunscreen no matter what ages or gender sunscreen always come first. Men, women, kids all of them use sunscreen. Koreans really start use it at very young age. Korean mothers use to put sunscreen at their kids since they're really young and make it as habit.
So, why it is so important to use sunscreen? Actually, it's not really about preventing you from getting sunburned or getting tender, it so much more than that. It protects your skin from UV rays that caused hyperpigmentation, skin damage also permature aging.  
If you buy Korean make up products, you will see that all of them have SPF and usually PA +++. And the thing you may not be aware about sunscreen is that you need to constantly RE-apply sunscreen for it to be effective.
If you haven't re-applied, it's as you haven't used it at all. Re apply every 2 hours! Disregarding how high the SPF is on your sunscreen you need to re-apply it consistently at least every 2 hours. Especially during the hours of 12 PM and 4 PM, the time when you get most UV exposure.
If you can't re-apply consistently throughout the entire day, do at least during the time block. So, if you want to have those glass-skin make sure you're getting protection from all the by-products of sun damage wrinkles, sunspot etc.
I highly recommend Sun Screen Shimmer Sun Essence SPF 30, I have been loving this sunscreen this has pink shimmer in it so, it brightens up your complexion but doesn't have any like white cast so, it doesn't make you like a ghost. It does smell so divine. 
Cushion Foundations
Koreans actually invented cushion foundations and they actually patented it, so when you see cushion foundations from French or US brands like L'Oréal or YSL they are all made in Korea. And what I love about cushion foundations is just gives natural sheer looking finish.
Koreans really care about their skincare. So, most of the cushion foundations have skincare benefits such as hydration, SPF and anti-aging properties. It's not all just about makeup. It's also semi skincare that take care of your skin.
Choosing a cushion foundation may be really overwhelming. I know, because there is so many in the market out there.
So, here I have two in my line that I really love and recommend first is JungSaemMool Essential Skin Nuder Cushion Light, it is a Korean brand. This cushion gives you the effect of having wearing of foundation, it makes your skin looks so beautiful and it has decent coverage, it's definitely buildable. And it doesn't have like a complete moisturizing dewy finish. It sorts of has a semi matte but a light glow.
And the second is AGE 20's Signature Double Full Cover Cushion Foundation It is also korean brand that comes with not only as cushion foundation that provide full coverage but also completes with SPF 50 as sun protector. It has great coverage and makes the skin tone very smooth,Also very moisturising if you have dry skin and great for your sensitive skin.
Hydration
You know the goal of Korean women is not just to have clear skin, they want a perfect, moisturize dewy and youthful plum looking skin. And how do we achieve that is trough hydration.
Forget about the traditional cleanse, tone and moisture. Korean have like 10 skincare routine. But if you're in a rush and couldn't do any skincare routine the easiest way to get glass skin is by using mist as your hydration. And powder up a little bit around mouth and nose part to get glass look skin.
I love using MISSHA Time Revolution to hydrate my skin whenever I have no time to take care of my skin or whenever I have a busy day.
Double Cleansing
Double cleansing is especially important in your night time routine, because after a long day your skin get exposure with a lot of things like dust and impurities exclude make up.
This double cleansing requires two different types of cleanser. You need oil cleanser to remove all of the makeup and you can continue with water-based cleanser to really deep cleanse your skin and hydrate your skin.
Our best chouice is THE FACE SHOP Rice Water Bright Bundle.
Eat Nutritious Goods
What you eat and what you put inside your body is really affecting you in and out. It does affect your skin look.
So, if you want to have 'glass-skin' look you must consume nutritious food to keep your body healthy and get those flawless skin.
Korean used to eat Kimchi a lot since they're kid, and did you know that kimchi has a lot of nutrition, it is really healthy food, it has antibacterial properties, vit A and a lot more.
And do not forget to have some water and drink a lot to keep you in hydrate and as your natural hydration. Also consume a lot of fruits, especially Vit C-rich to nutritious your skin, that will help you to get glass skin look naturally.