Not only skincare that should be your daily routine. Cleaning the vulva or your lady parts also should be a part of your daily hygiene routine. But, I think still many of us have less heeded to taking care of their private area.
For instant and simple way warm water is all you need to adequately clean your lady part. However, nowadays there are many feminine hygiene products outhere offer to cleanse, moisturize or freshen up betweem showers down there.
Anyway as you can know, anything that you use on your nether bits can easily enter the vagina which is super sensitive, so what's in the products really matters. If you do invest in soap, wipes, or other sanitary products, go for something that's hypoallergenic and fragrance-free. If you to have those scene for your feminine hygiene products try to use it as least as possible as it can cause dryness and hange vagina's normal pH, leading to irritation and infection.
Related post : 9 Top Tips Feminine Hygiene You Should Know
Here are 8 Feminine Hygiene products you must try:
1. Summer's Eve Cleansing Wash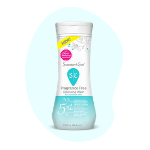 This summer's Eve Cleansing Wash is fragrance free that gently cleanses and freshens your vulva area without sensitizing your vagina. It is pH balanced, free from dyes, parabens and scnet, and gynecologist-tested.
But keep in mind even these products claimed as fragrance free, if it's shown any irritation or discomfort to your vagina stop the uses
available at amazon, cost $11.97 .
2. Saalt Menstrual Cup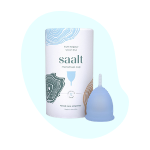 Saalt menstrual cup made from silicone and have no allergic materials for sensitive women. It's toxic free, latex free and chemical free.
And importantly it is very comfortable that comes from its flexible and soft materials. I myself prefer menstrual cup rather than tampon or sanitary pads because it's way more affordable for wallet and sustainable for environtment.
available at amazon or target, cost $32.99
3. Lola Cleansing Wipes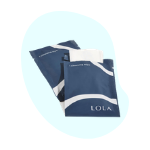 Lola Cleansing Wipes feature a 100% organic cotton, soakd in a simple purified water solution. According to the brand this product is pH balanced, hypoallergenic, and gynecologist-approved, and can be used on the entire body. Throw one of these individually organic wipes in your bag for a quick refresh during the day outside.
available at mylola, cost $9
4. Rael Certified Organic Cotton Menstrual Large Pads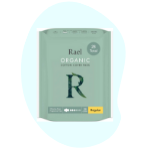 Created from 100% certified organic cotton top sheet. The unscented santary pads have an eco-riendly draw, with the cottons grown without the use of toxins, pesticides or synthetic chemicals. It is made with hypoallergenic, soft and breatheble shhets to alliviate bad odors during menstruation. Suitable for any types of skin of women.
available on Amazon, cost $11.80
5. Dove Sensitive Skin Bath Bars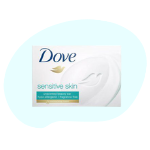 Your body soap or bath bar liquids can easily come down and enter your vagina during the shower that can disturp your vagina's perect pH.So by that in general you wanna use products that's the least allergenic and toxic that can reduce the risk of sensitizing your private area.And Dove Sensitive Skin Bath Bar is perect for it, this soap is very mild that is crafted for people with sensitive skin type.
available at Amazon, cost $14.15
Other fragrane free and gentle soaps recommendation:
6. CORA Organic Tampons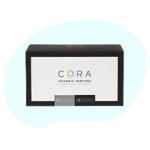 According to the brands Cora Organic Cotton Tampons crafted with 100% organic cotton and hypoallergenic. Also made without pesticides, dioxins, chlorine, fragrance. Comes with BPA free compact applicator that easily fits in your pocket and on the go period care.
Available on Amazon, cost $15.99
7. Bambody Absorbent Panty : Period Panties/Maternity & Postpartum Underwear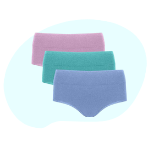 The leakproof panties is way to go when you're having your period. Designed with breathable fabric that didn't sweat you like pads usually do. You can use like wearing your regular panties not just overnight wear. My recommendation if you're looking for period panties.
available on Amazon, cost $14.90
8. Happy V Probiotics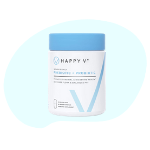 Despite all of the hygiene care that we all did with the right products , it still incomplete without proper daily intake that will maintaining our health.
In order to help and maintaining vagina flora, balance pH and in general our health. Taking probiotic is should be included into our hygiene care. And Happy V pribiotic feature a vaginal and digestive probiotic and also allergen free, certified organic and vegan riendly.
Available on amazon, cost $40