FACE CLEANSING MISTAKES ~Washing your face is non-negotiable skin care routine if you want to get those flawless, glowing and healthy skin. You won't get your perfect skin if you think washing your face is a trifle thing.
But unfortunately, there are many girls out there think that washing their face is a simple thing that they tend to belittle it and are more concerned with the next facial care steps. In fact, no matter how good the toner and serum you use, the results will not be optimal if your facial skin is not cleaned properly. Not only that, mistakes in washing your face can actually trigger the growth of breakouts, and other damaging things, you know! Well, don't want that to happen, do you?
So, here are mistakes that you might doing it, let's get start it
Mistake #1 Do Not Remove Your Makeup Before Washing Your Face
The most common mistake when washing your face is not removing your makeup before washing it. Hey, who still 'believes' that clean your face or using micellar water is enough to take off all of the dirt?
Even if you don't wear makeup, there are many things that stick to your face and you can't really get it off with just wipe it with a piece of wet tissue. For example, sunscreen residue, oil, dirt, and pollution particles. Therefore, you need a double cleansing step so that the pores are not clogged and lead to blackheads or pimples. And then you can start washing your face.
Mistake #2 Choose a Face Wash Product That Isn't According to Your Skin Type
Another face cleansing mistakes when washing your face is choosing a face wash product that is not suitable for your skin type. Many people choose face wash products just because they are tempted by advertisements or by their attractive packaging, even though they know how important it is to wash your face that is match to the skin type.

Mistake #3 Wash Your Face Too Often
Not only in product selection, but washing your face too often is also a mistake when washing your face, which is often done by many people. Wash your face too often isn't a solution to your skin problem such as oily skin to make it look better all the time, instead it would just irritate your skin, and maybe even worse that lead to breakouts! So, better to wash your face 2 times a day in the morning and before go to bed.
Mistake #4 Skip Washing Your Hands Before Washing Your Face
Before washing your face, make sure your hand are clean. Maybe this sounds useless because in the end, our hands will get cleaned too, right? Believe it or not, washing your hands is important. Our hands have touched many objects which of course contain lots of bacteria and dirt. The cleansers used on the face are not formulated to kill these bacteria, so they may transfer to your face.
Mistake #5 Clean Your Face with Wet Wipes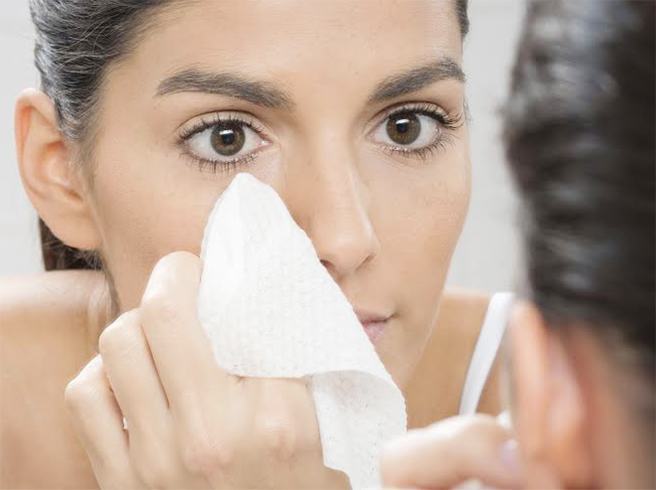 Offering practicality that can be used anytime and anywhere, makeup wipes are often a favorite for traveling. Unfortunately, even though it is practical, its ability to clean the skin is not optimal.
Dermatologist Shasa Hu told that makeup wipes do help remove most of the makeup, dirt, and oil, but they also leave a residue. This has the potential to cause acne and even infection in sensitive areas especially on eye areas which is more sensitive than other areas on your face.
Mistake #6 Use a body towel for the face
Next  face cleansing mistakes we oftenly did. Do you really want to spread body bacteria to your delicate facial skin? Experts say that using the same towel over and over again is spreading more bacteria and fungus to the face. That's why, always set aside a small towel and wipe gently by pressing the face (not rubbed).

Mistake #7 Wash Your Face Using Hot Water
Hot water is not a good friend to the skin, especially for sensitive areas like face. It may feel good when you shower after a long day of work, but unfortunately this can damage the way the skin protects its cells. Hot water naturally exfoliates the oil barrier in the layers of the skin which should serve to maintain its integrity. Instead, use warm to cold water to wash your face.
Addition "Use Regular Makeup Remover to Remove Makeup"
Most of today's makeup products are waterproof, sweat, and smudge-resistant, so regular facial cleansers won't remove them well. We recommend trying the dual cleansing method to clear your pores of makeup, oil, and bacteria.
The most effective facial cleansing solution that we recommends is to use the Foreo Luna Mini 2 facial cleanser, which is able to cleanse the face deeper down to the pores. Unlike a facial cleansing brush made of nylon, beauty influencers Kathleen Lights' favorite facial cleanser has a surface made of soft silicone that is bacteria resistant and doesn't have to bother with changing the brush head. There are four different types of facial cleansers according to skin types, ranging from oily, combination, sensitive, and normal skin.
Foreo deliberately released a mini version of this beautiful gadget for those of you who have high mobility, to make it easier to carry everywhere and fit in your makeup pouch, you know.
How to use it is quite easy. With a wet face, apply soap to the entire surface of the face, press the button to turn on your Foreo Luna Mini 2 so that an adjustable intensity vibration appears. Because it is the size of a fist, it makes it easier for you to clean your entire face from the chin, cheeks, nose, forehead. The vibrations will stop in a minute. Well, in just one minute, your face will feel cleaner and softerthan cleaning it with hands or a nylon brush.
Mistake #8 Too Hard When Rubbing Your Face
Well, you also have to avoid mistakes when washing your face on this one, Girl. Please, Never scrub your face too hard while washing your face, you won't get those deep clean face instead it will just irritate your skin also stimulate oil glands to prodce more, that will lead your face get oily even more.
Mistake #9 Too Fast Rinsing Face
Face cleansing Mistakes that some of you must have done is rushing to wash your face so that you wash your face too quickly. In fact, washing your face must be done with time so you can remove dirt on your face perfectly.
I know, you might be on a rush but try to wash your face and rinse it at least after a minute, so you can get rid all off you're the dirt that clog your pores.
Mistake #10 Contempt To Replace Face Wash Products
The last mistake when washing your face that you must avoid is the habit of changing your face wash products. Because this can make facial skin become damaged and can cause skin problems.