Notice
: Function WP_Scripts::localize was called
incorrectly
. The
$l10n
parameter must be an array. To pass arbitrary data to scripts, use the
wp_add_inline_script()
function instead. Please see
Debugging in WordPress
for more information. (This message was added in version 5.7.0.) in
/home/morning5/public_html/wp-includes/functions.php
on line
5905
ps: this post may contain an affiliate link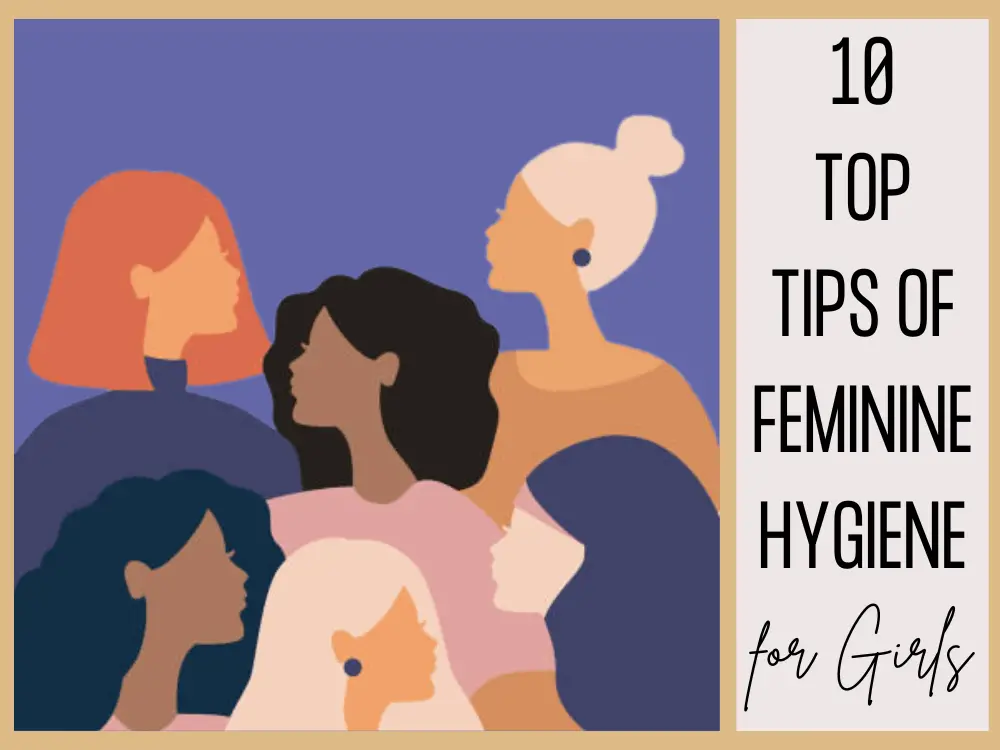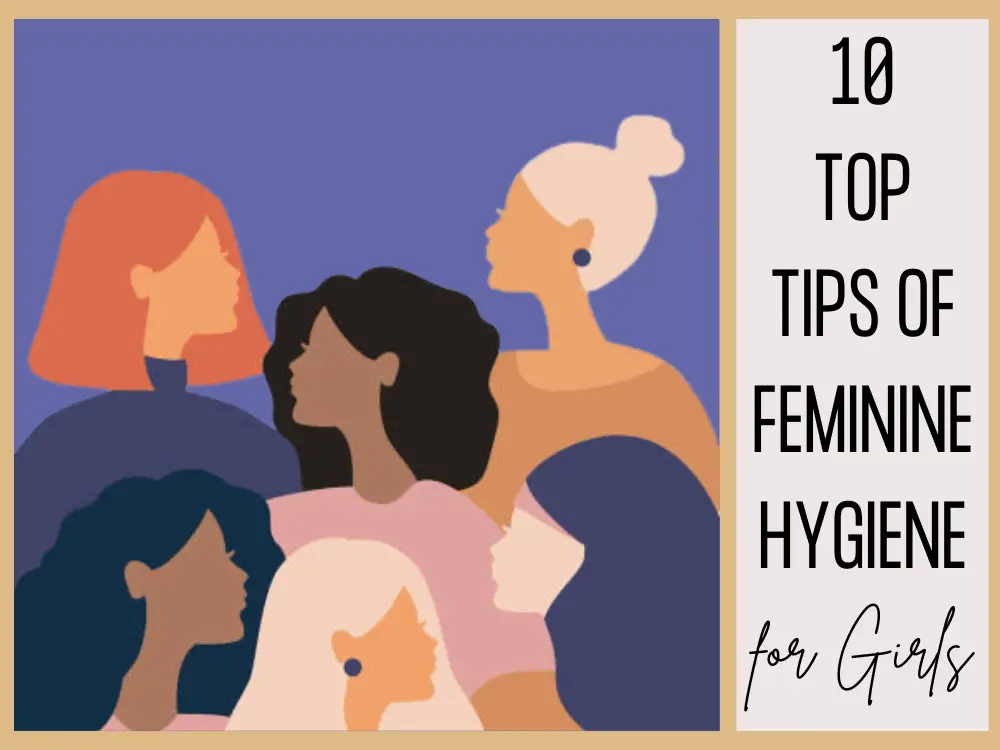 Being a girl is hard. We have many phases to go through, and we have steps to worry about, especially taking care of the lady part. There are many things we should take care of and learn about, especially for this part, and mostly our mom didn't really tell us much about it. So that's why I make this post to dive deep into female hygiene tips ladies should know.
All girls need to know these tips on female hygiene. Just so that you can make your life easier, we can all achieve a healthy inside out. And plus, have a fresh and clean vagina. That you will be confident and comfortable with.
But as a female, you're going to have a smell. Everybody has a natural scent. That's just how it is. You cannot make your Mrs.V smell like flowers. What you can do is how to care for it to stay fresh, clean, and wholesome.
Note: These are just some tips that I learned while growing up and through some deep research, and surprisingly, most of these things most of the moms didn't tell their daughters.
10 Essential Hygiene Habits For Ladies
Keep It Dry and Clean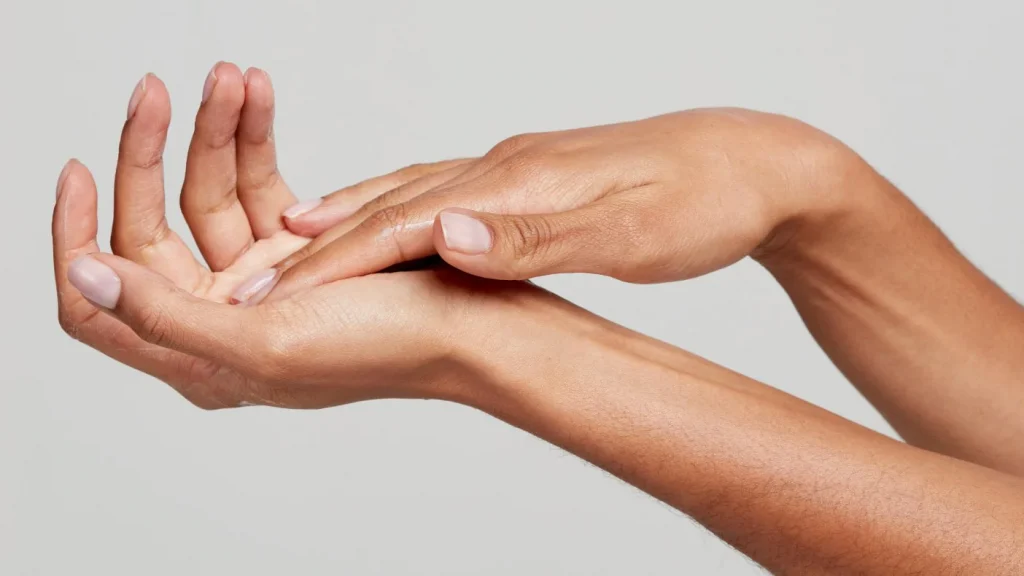 Make sure whenever it is, you keep your vagina to stay dry. As you might know, humidity in your private area can increase the chance of harmful bacterial or fungal growth that can lead to some infections or vaginal discharge. In addition, it can change the odor of your private area, which could entirely affect your whole body's fitness. Also, don't stay in wet clothes (swimwear).
Use toilet paper the right way.
Do you use toilet paper from back to front after going to the toilet? Or do you wipe from front to back? Women should use toilet paper from front to back. Otherwise, you will bring bacteria from your anus into your urinary tract.
This can lead to infections such as cystitis, usually caused by E. coli bacteria in the gastrointestinal tract. If these infections are complicated, the bacteria can travel up to the kidneys. Therefore, it is important to prevent problems through good genital hygiene.
And it is essential to clean the perineal area from front to back so as not to drag germs from the anus to the vulva.
Foods to Eat + Avoid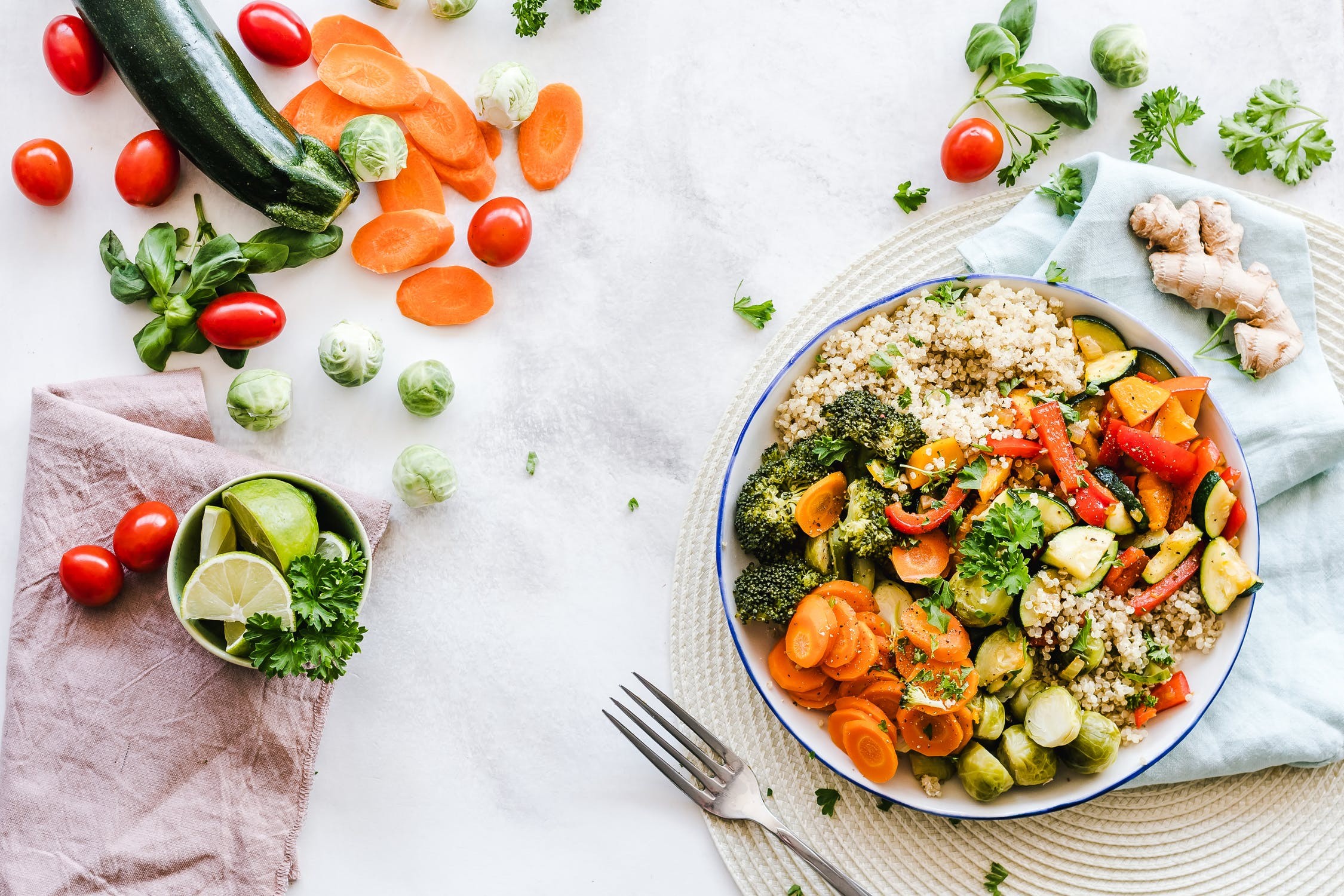 So, the next tip you should know is foods to avoid and eat, which is as important as what you put on the outside, which can cause a pleasing odor.
Food To Eat :
Starting with pineapple chunks, it has been known that they can actually change how your body produces odor and taste. Also, the nutrients and enzymes found in pineapple are excellent for your skin. So it is a win-win. Another alternative you can get is cranberries.
Something you also definitely need is a lot of water. Did you guys know dehydration can actually cause a change in the smell and overall state of your Mrs. V? So you want to make sure you're constantly hydrating. It's also good for your body to stay hydrated and fresh. So make sure you're drinking water daily.
Food To Avoid:
If you want to prevent odor, I recommend avoiding things like red meats, beans, and high-percent milk.
Related Post:
Do Not Douch (unless medically prescribed)
Many women feel more hygienic if they do vaginal douching after menstruation or sexual intercourse. However, this practice can worsen vaginal discharge. In addition, these douches eliminate healthy bacteria that protect the vagina against vaginal infection.
Avoid Scenty Body Washes
As much as you love your amazing-smelling body washes. You never want to place this inside your most delicate area because it can mess up the pH balance and will have the opposite effect of making it feel and smell good. I don't recommend washing your private part with any body wash or anything with fragrance. It is WAY MUCH BETTER to CLEAN the area with warm WATER gently.
But if you do wanna wash your pubic area with a specific product, I have this most recommended feminine wash. I have Summer's Eve Feminine Wash in my line with a free fragrance cleansing wash designed explicitly for your feminine areas. It is 5 in 1 product. It's super gentle, smells good but not too much, and is safe for your feminine part. It is also a hypoallergenic soap. 
What I do with this it is for sensitive skin. I lather it in my hand or loofah and really clean, Mrs. V, and make sure you wash it softly and gently.
Luke Warm – Cool Water
Something that's also really important when it comes to female hygiene is to take a shower. No matter how many products or steps you took to keep it clean without proper washing it's hard to maintain general hygiene itself, let alone feminine hygiene.
And when it comes to washing your private part ensure that you're using a water temperature that goes well with the soap and your body.
You never want to make the water too hot; maybe it feels good for the rest of your body. Still, you don't want anything but lukewarm water or cooler water around your vagina and feminine areas because this will keep the balance neutral, preventing any odor, abnormal discharge, or anything like that.
On The Go
As a girl, I think it's essential always to bring some hygienic stuff in your bag. I used to get some panties, tampons or pads, and wipes. So whenever my period hits me or has a minor incident that makes my private area wet or uncomfortable, I can change it immediately. 
These are intimate wipes, soft and gentle witH alcohol and paraben-free. And this is specifically meant for your feminine being.
Change Your Underwear Every Day Minimum
Dr. Lisa Ackerley, Professor of Environmental Health at the University of Salford, England, says underwear should be changed every day without exception and replaced every year. Not washing underpants often enough can cause health problems, such as urinary tract infections and canker sores:
Choosing Breathable Underwear
So speaking with underwear, this is really important to use breathable panties to ensure the vagina area stays dry and fresh.
And cotton underwear should be your best friend. The cotton material easily absorbs liquids and is breathable to make the vagina stay dry, fresh, and smell good.
You can choose cotton underwear, but the more breathable your underwear is, the better. It's easy to keep dry cotton underwear. It is the best way to go.
Extra Tips: try to sleep with no underwear, let your vagina breathe, and get fresh air. You don't have to go naked when you sleep; you can wear oversized tees or pajamas.
Recommend Hygiene Panties: We love Fruit to the Loom for super comfortable, stretchy, and breathable underwear but not covered in lace and itchy and has no room for your most private area.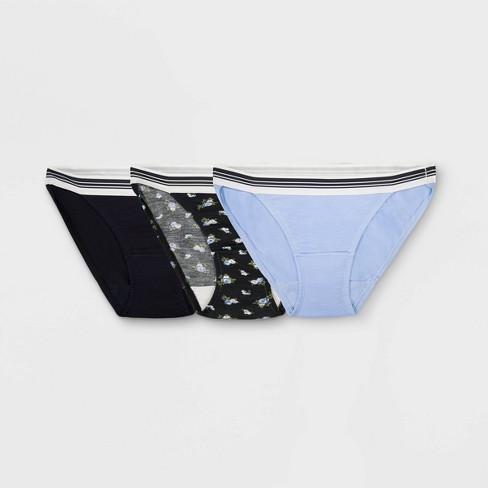 If you prefer Thongs over regular panties. These thong packs from ThirdLove could be the best option for you. Made of 100% organic cotton with no cut, super breathable and great for your intimate hygiene.
And for more affordable opt, you can try Quince's thong. It has quite similar, with only half the price of ThirdLove.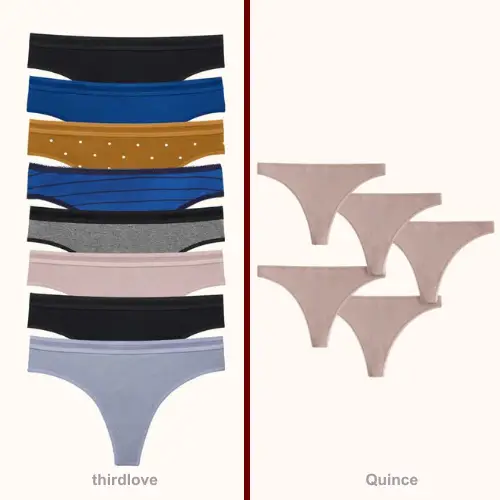 Washing Your Undergarments Separately
Another tip many girls do not really pay attention to is separating dirty clothes and undergarments when washing them.
You know like your underwear is the first layer that directly touches your sensitive part, and you don't want the 'outsider' from your clothes to go into it. So, make sure you clean it separately, especially if you have fur pets.
And if you have a stain (from a period or some flex) on your panties, you can hand wash them because it is easier to clean them.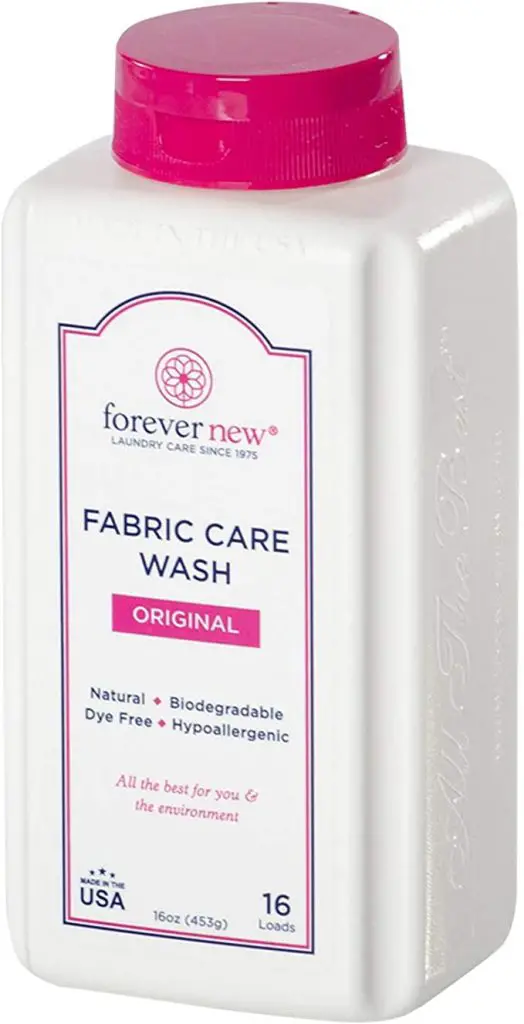 Consider Replacing Your Underwear Once Every 6-12 Months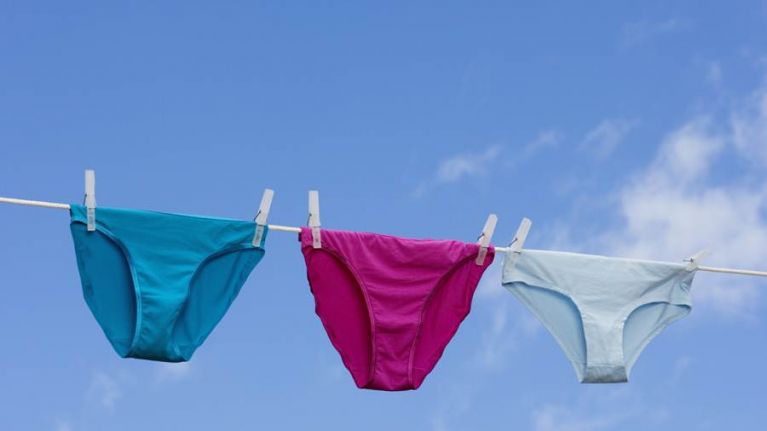 I know it may sound a bit excessive. But Renewing your intimate clothing should be an almost mandatory hygienic habit to avoid health problems. 
Despite washing them after using them, they cannot eliminate all the bacteria from the tissue. Over time, the build-up bacteria would cause excess discharge or distress in your pubic area.
Though the range of 6-12 months itself is actually not a fixed thing, nor is there a fixed guide according to this subject. It's a good way to give your Intimate area to replace your old enough underwear and change with new fabric.
Wash Your Hands Before and After Going Into the Washroom
You never know what bacteria or dirt on your hands can lead to bacterial or fungal infections in your private area, so always wash your hand before you go to the bathroom.
Also, you won't want that bacteria on your most delicate area to transfer to your face, which also can cause breakouts. So make sure to keep clean before and after going to the bathroom. And these days, washing your hand is a must; it is one of the essential hygiene habits to stay fit.
Take Daily Probiotic
A lack of probiotics can make your floral bacteria grow unbalanced, putting your vagina in horrifying condition (foul smell, excessive vaginal discharge).
To get a probiotic substance, you can generally get it from your everyday diet, but you can also take a probiotic supplement. Keeping your body balanced is key to staying yours in and out fresh. 
And It is especially recommended to take probiotics when you are under treatment with certain antibiotics to avoid vaginal candidiasis.
Take Good Care of Your Genital Hygiene During Period
It may sound obvious, but during menstruation, you need to pay extra attention to genital hygiene. In addition to managing the smell that usually accompanies menstruation, keep in mind that acidity is also lowered. Low acidity is an ideal scenario for infections to occur.
As mentioned above, it is not necessary to wash the genital area several times a day. However, sanitary napkins and tampons should be changed every 4 to 6 hours. 
Be Very Careful When Waxing
When it comes to achieving a smooth pubic area through waxing or shaving, it's important to be cautious and avoid injuring yourself. Open wounds create a breeding ground for bacteria and infection, so take care not to irritate the skin during the process. Be mindful and gentle to promote a safe and comfortable experience.
We also recommend that you do not completely remove pubic hair. In fact, pubic hair protects the genitals from many bacteria, so the absence of such hair increases the risk of developing infections.
Avoid Tight-Fitting Clothes
Wearing clothing that is too tight around the genital area can cause irritation. Constant friction not only makes you feel uncomfortable but can also make you sweat more. This can lead to bacteria and bad odors. This is usually a problem when wearing tight jeans.
If clothing is tight against the body and rubs against the skin, chafing burns or minor cuts can occur, which can lead to infection. A woman's vulva is usually full of bacteria, but constant friction and humidity increase the risk of infection.
Don't Wash With Sponge
Do not ever scrub the vulva area with a sponge. Sponges are packed with bacteria and should be avoided. The skin in this area is very delicate, and harsh rubbing can cause irritation, which can potentially lead to infection. It's recommended to avoid using sponges and instead use your fingers for the best results.
It is recommended to wash the genital area with clean hands. Be careful not to use your fingernails to clean, as this can open wounds and cause infection.