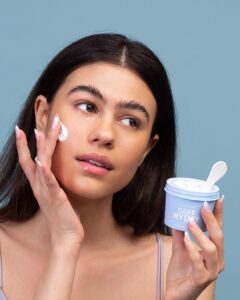 Best Drugstore Moisturizers ~ Finding good drugstore moisturizers has been a little bit of a struggle, beacause there are just so many out there and majority of them are formulated with a lot of ingradients that usually not my favs whether it's stripping alcohols or a lot of fragrance or just a lot of essential oils.
And all the products in this post here are fragrance free. There' isn't essential oils or undisclosed fragrance in these drugstore face moisturizers below.
We found moisturizers for each skin type so don't you worry. Know all these moisturizers we really try to make sure that each of the brands were the most accessible skin care brands out there.
Because i know a lot of you might from different country so here we make sure these things is easy for you to get by only going to the main drugstore like Walgreens, Walmart, Target and other stores similar.
Related Post:
BEST DRUGSTORE MOISTURIZER FOR  DRY SKIN
So, here i have two recommendations if you find that you do have more pretty severly dry skin, you want something that's really occlusive and hydrating, kind of forms a thicker layer of moisture over your skin.
1. CeraVe : Moisturizing Cream
In terms of formula perspective this product is just pretty much superior to every drugstore moisturizer or dry skin that i've been able to find.
Glycerin is the second ingradient, it's s a humectant which means it's going to pull in moisture from the environment deep into your skin to help make sure that it stays hydrated.
Caprylic Triglycerida is the third ingradient which is gonna lock in that hydration. it is also formulated with Ceramides as well as Sodium Hyaluronate that's gonna pull in moisture from the environment similar to glycerin. Also it is fragrance free.
And another reasons why i recommend this moisturizer, This one is the most cheap for best drugstore moisturizer. You can get one of those big tubs for like $17 that'll last you a good 6 months at least.
This may not be the most flashy brand oth there but they deliver the best ingradiients and the best formulas without risking long term damage.
2. E.L.F : Happy Hydration Cream
This one just blew my mind. Cannabis Sative Seed Oil is the second ingradient in this porduct. Which if you don't know, this seed oil is really good or hydration, it's been really popular ingradient recently.
But a lot of times brands will formulate with a really low concentration of this seed oil to get lot of sales because it is trendy. But the fact thet this is the second ingradient, this shows that this is a pretty igh quality product.
It's also formulated with Glycerin for draw in the moisture. And Niacinamide ingradient that work to reduce sensitivity, irriation and regulate sebum production to make sure that you're not too oily or too dry. Also it brightens any dark spots or pgmentation.
It has shoothing peptides complex. and fregrance ree. I would say it is really optimal for people who want alot of hydration but don't want a thick layer o moisture on your skin.
BEST DRUGSTORE MOISTURIZER FOR COMBINATION SKIN
1. CeraVe Moisturizing Lotion
So first if you're just looking for basic moisturizer for combination skin that's gonna work well This CeraVe Moisturizing Lotion is so great. It's really similar to CeraVe of a moisturizing cream but the only dieffrence is that it's not formulated with Petroleum.
Petroleum itself is a thicker really occulsive emollient ingradient that forms a thick layer of moisture across your face and it doesn't seem that optimal for people with combination skin.
But all the other ingradients in the moisturizing cream are really good, which is why we recommend you the moisturizing lotion. If you're just looking or good one with good ingradients and fragrance free go grab it
2. Shea Moisture : Skin Rescue Moisturizer
For anyone has more combination skin to dry skin this is a good one. In terms o the main ingradients is formulated with Glycerin, Shea Butter which is really gonna moisturize and soften your skin as well as Hemp Seed Oil.
And it's really formulated with great ingradients that you would want in a good moisturizer. I also really like that it comes in glass packaging so it's more environmentally sustainable and can be reused.
It's lightweight but still delivers a lot o moisture which is better for combination to more dry skin.
3. Olay : Hungarian Water Essence Cream
This is for you thaat has more combination oily skin. It's Fragrance free and formulated with Glycerin, Penthanol, Niacinamide which is gonna help to control thet oiliness that you're expereincing in your skin and it is also formulated with Camelia Sinensis which are gonna be great for shoothing any sensitivity or redness.
The only thing that might be a little consideration is this product is kind of pricey. But this is very accesible in alot of places and worth of money. 
BEST DRUGSTORE MOISTURIZER FOR OILYSKIN
Finding good fragrance free moisturizers for oily skin  it's abit diicult. But here we are
1. Versed : Dew Point Gel Cream
You can find this product anywhere like Target and Walwart .It's so lightwieght but the ingradients are amazing which formulated with Squalane which is usually a more heavy moisturizing but it's very lightweight.
It has green tea extract, aloevera juice and jojoba oil and it's ragrace free.
It's the closest dupe i've been able to find to the iUnik : Cantella Calming Gel Cream which really good drugstore face moisturizer for oily skin but it's really only available in Korea and only shipped to certain countries.
2. Neutrogena : Oil reeCombination Moisturizer
It is formulated with Cyclomethicine which is actually similar to dimethicone but it provides a drier finish, it is a common really good silicone that prevents any trans-epidermal water loss which is the process by which we lose water through our skin causing dryness, irritation and sensitivity. It works really well to reduce oiliness and not feeling greasy.