After several seasons where everything has been seen talking about nail trends, wearing them in "nude" tones is the most in.
Practical, stylish, and versatile – this is how a nude manicure is characterized. It is created using neutral shades. An important point is the correct shape of the nails.
Now, nude nail designs have evolved. Now we have abstract designs of nude nails, nude nails with cow prints and more you will find in this post that will change your perception about nude nails. The "nude" shades no longer mean just "pink". Currently, there is a wide variety of colors ranging from classic neutrals, such as pink and peach, to beiges, browns, or even whites that are super trendy. Beiges fascinate me, they are my favorites in this trend.
Here are some of my favorites:
White Tips Nude Base Nails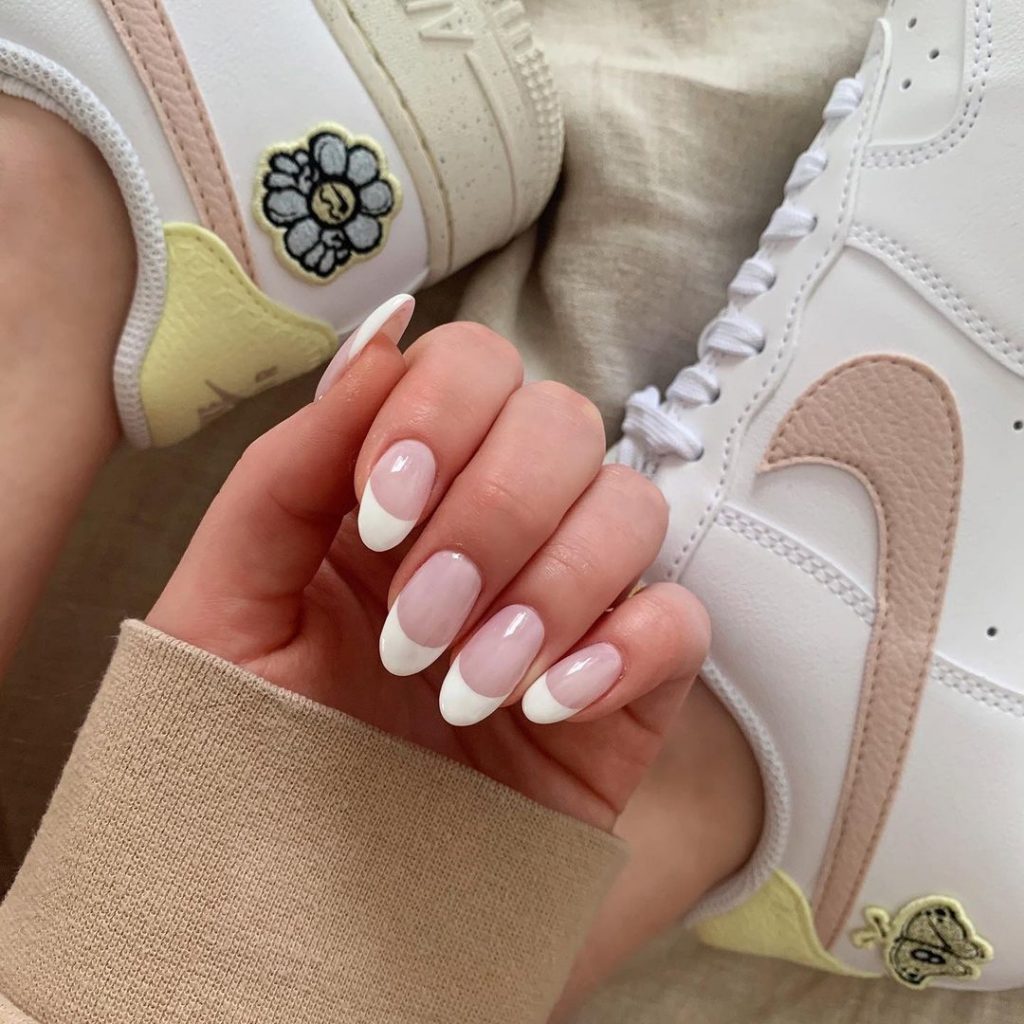 Almond nails have seen a huge increase in popularity. They are quite self-explanatory and elegant, they are nails that have the same shape as almonds!
This is a new style that is gaining a lot of popularity and is easy to understand why, since it is minimalist and amusing. It creates a perfect balance between neutral nude nails and a touch of color. ~like white and tangerine pastel.
You will never get boring with a french manicure, and this subtle black version is sure to be a hit. Wear it as is or pair it with extra nail art on a few bright nails of each season.
Novelties of nude manicures are perfectly played with different decorative elements that will help to achieve a fashionable everyday manicure design or refined evening design whose caught every eye.
an incredibly elegant and sophisticated nail shape that looks prettier the longer the nails are.
It gives a twist to classic nails, they are very easy and quick to make. If you like couture fashion, these nails are for you
The four colors presented in this nail design complement each other perfectly, while maintaining a sense of belonging and simplicity. 
bet on nude tones that enhance the naturalness of your nail. to preserve simplicity these pinkish neutral nude nail ideas is best bet to win everone's heart.
One of the most subtle ways to add decorations to your minimalist nude nails without being too noticeable is how with this design with gold sparkles at the corner of these nails. Gorgeous!
The elegant porcelain design of these nails is further emphasized by the individual gemstones found on the cuticle line of each nail.
For a Type A personality who can't get enough style, these nails are a godsend. It's essentially type of fancy minimalist with dainty tiaras.
Marble nails never go out of style, perfectly stunning combined in rose nude nail color, play with different shades in each nail to marbles veins like white and gold here. .
You can also choose to decorate only a single stripe of nail to give it that different touch and have all the prominence.
These nails have a very youthful style and, in addition, will help you highlight the summer tan.
This trend does turn the hands into a work of art and achieves it through the single accent to actually accentuate the glamourous and elegance.
The Turkish eye is well known for its influence to remove negative energies and envy, so, if you want to fill your nails with power this cuckoo design is perfect.
Another pictorial technique that becomes a manicure trend and that manages to give the natural bases a hypnotic finish.
A new trend is a cute manicure in the nude range and on a short nail plate, which looks quite stylish. As a design, you can choose sliders or make drawings of branches like you see here.
These shiny, pink nails will look like lengthening your hands while maintaining a collected look. 
If you have light or dark skin, this pattern can be adapted to your complexion. Pink-pink with a purple-purple tint is a style that you can achieve on your own with a double coat of varnish in two tones. 
It's no secret that we love gradient nails. While color itself can play an important role, this idea of a manicure takes it a notch higher with sequins.
If all the nails are the same color as the index finger, you will have a clear flesh tone ready for any situation. Instead, this pink gradient manicure asks to be worn in the city.
Do not miss the opportunity to immerse yourself in the trend of nude nails, marking the edges of each nail with a bright shade.
They are a twist on the classic French nails and are called that since these colors were the most popular in the mid-60s.
Cats are cutely shaded with a nude shade, tastefully applied to other nails, for a balanced and chic image.
It is not necessary to cover the entire nail with paint to create a stunning nude manicure. Just look at this glossy sequined nail.
Still not over of my obsession with nude nails, Like jelly nails, animal print is a nineties style with which you can express your love for animals. From snakeskin, zebra, cow, or the most popular of the moment … Butterflies.
For those with a calm character and chocolate leather, this style is perfect as a stylish design. A smooth pink-pink shade is decorated with silver near the cuticle line to create a unique look.
We don't know about you, but we're fascinated by these almond-shaped floral print nails. Although the design is thin, the silhouette is a bit sharp, they create a fun contrast of beauty in general.
Don't these nails look like you can just eat them? Of course, they are too beautiful for this, but the fact remains: these nails are really one of the most elegant and stylish. Each nail is different from the little finger with subtle variations of the same design. 
How cute are these abstract silhouettes? Their minimalist character and skillful design give us a French atmosphere.
If you are obsessed with floral nails, you'll appreciate those acutely adorb nails featuring a panda and a stem of bamboo.
Amplify these nude nails, place glitter on the tip to cuticle fairly.
The easiest proposal to achieve and also the one that most reflects ambient light are glitter enamels applied to the entire nail. The best thing about this option is that it looks prettier when taken to the sun and that, indoors, goes through a totally natural manicure.
Geometric drawings are not inferior to their leading positions, being very popular as drawings for fashionable manicures in 2022, among which was nude design. Geometric print brings restraint and rigor to nail design, so to give a touch of chic will allow a matte effect and a lit sequins in the form of glitter.
A single strip is capable of transforming a simple manicure into something much more special and the best thing is that it works with short, long or medium lengths, 
you never get tired of strikes of blue color out over these pinkish nude nail colors and they look just as good with long nails as with short ones.
a restrained manicure for everyday with black scatter over nude polish.
the latter of neutral may look pale and nondescript, which will also not suit many of vibrant gals. In this regard, this nude nails design might be a great alternative for you, compiled with lively color