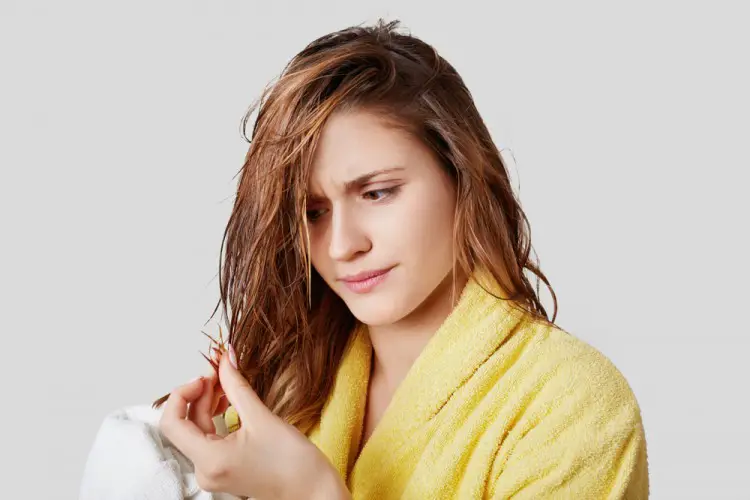 Lack of washing, improper use of hair products or the condition of the hair itself can cause our hair to accumulate oil. , giving it a matted and unctuous appearance. However, a few tricks can help you improve its appearance and make it look and feel cleaner. Because There is nothing better than the feeling of having freshly washed hair.
Do you want to know how to remove oil from hair ? Do not miss these home remedies to get rid of greasy hair and some tricks to remove oil from hair without washing it and without damaging the iron. Keep reading!
Causes of oily hair
Greasy hair is a very common problem and occurs when the sebaceous glands increase their production of hair oil . There are several causes that stimulate this increase and that sometimes cause the hair to become greasy in a very short time after washing it. Among the causes that can cause oily hair, these are some of the most common:
Stress : when we go through moments of work stress or worry, the sebaceous glands can see their production altered, aggravating the problem of oily hair.
Hormonal imbalances : when we have an imbalance in hormonal levels, the sebaceous glands increase the production of oil and you will notice your hair dirtier than usual.
Lack of vitamins : if there is a lack of type B vitamins in the body, an imbalance can take place that ends with hair with more oil than usual.
Poor diet : if fatty foods such as butter, chocolates, sausages and others predominate in your diet, you may notice an increase in the production of sebum from the scalp.
A poor hygiene : The lack of hygiene of hair will clog your pores, and make your hair oily even more.
Styling product abuse : products such as gels, foams or lacquers often leave residues on the hair. This will make, if you have hair with a tendency to get greasy, your problem worse.
Misuse of products : using products that are not suitable for your hair type can create an oily problem or increase the generation of sebum on the scalp.
If you have oily hair and you do not know why, it is important to consult a dermatologist to determine if there is a health problem behind that should be treated.
How to get rid of greasy hair with washing your it properly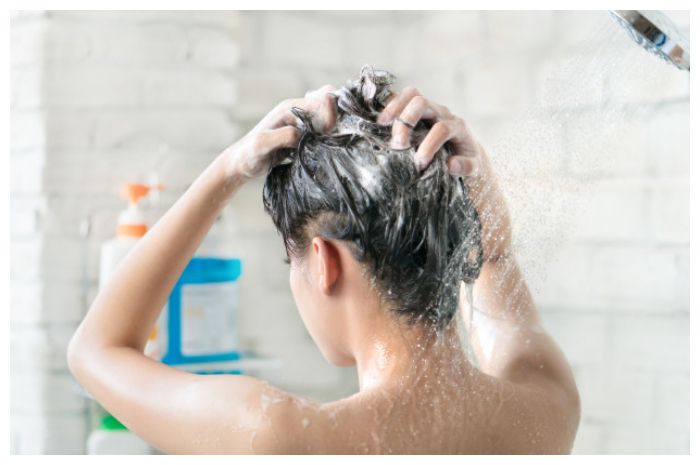 It is important not to wash it in one go, but after shampooing and rinsing it should be repeated , covered with shampoo again and massaged gently so that the shampoo penetrates to the roots and circulation is activated.  Also wash your hair daily is not that good, since if every day you remove all the oil from the scalp, it ibegins to secrete more sebum, and make your hair become greasy more often.
Choose your shampoo carefully, use a good shampoo for oily hair that, in addition, also adapts to the rest of the characteristics of the hair, and always use warm water , since very hot water stimulates the production of sebum. Also take a note to not dry it with a hair dryer with a lot of heat.
How to get rid of greasy hair without washing it
If your hair has a tendency to get greasy, but wash it daily is not good option. Here are some tips to help you space out the frequency of washing, with these other ways but washing it. Take note of them!
Talcum powder
An effective trick to remove oil from hair and improve its appearance is the use of baby powder. It is very easy to apply, you just have to follow these 3 steps and you will know how to remove oil from hair with talcum powder:
Spread a little common talcum powder on the roots of your hair, the area that reflects the oil the most.
Allow a few minutes for the talcum powder to absorb the fat.
Comb until residue is removed. If you have curly hair, blow dry the excess powder.
This product is ideal for absorbing oil and giving your hair a much cleaner appearance.
Dry shampoo
If you want to remove oil from dry hair and leave it as freshly washed without even getting it wet, dry shampoo is your best option. It is applied simply, quickly and, in addition, there are several alternatives on the market, so you can find the perfect product for you. In just minutes you can wear a much cleaner and more attractive mane. Follow these steps to know how to dry clean your hair :
Shake the shampoo bottle dry.
Apply on the roots at a distance of about 20 centimeters so as not to stain.
Let it act for a few minutes.
Brush your hair to remove any remaining powder residue.
Home remedies to get rid of greasy hair
However, you can always try some home remedies for hair oil to help you look healthier with the help of natural products. If you want to know how to remove oil from hair naturally , take note! They will also help you if you are looking for remedies to remove oil from the scalp
1. Toning Mask
To clean your mane of impurities and reduce the production of sebum. Apply from roots to ends a mask of 3 tablespoons of aloe vera, the juice of a lemon and ½ cup of yogurt.
Leave it to act for 15 minutes, rinse with warm water and repeat the application every week.
2. Black Tea
One of the infusions that undo the accumulation of oils in the hair follicles is the well-known black tea.
You just have to boil two cups of water, then add two bags of this tea. When the potion cools. Then take a shower and pour it, after shampooing, all over the head through gentle massages.
After 5 minutes wash, spread a good conditioner and voila!
3. Egg Yolk
Another mone remedy to deal with oily hair is to use a hair mask made from egg yolks. You may have heard of using eggs as a face mask to help prevent acne, but what about the health benefits of eggs for hair?
Egg yolks have a high sulfur content, which can help relieve the symptoms of dandruff and oily hair. Also, egg yolks contain lecithin and proteins that can help strengthen your hair while giving it a softer and shinier appearance.
You can use egg yolks alone or mix them with honey, tea tree oil or olive oil. Apply to dry hair, leave for about 5 to 20 minutes. Then wash your hair thoroughly and rinse well.
4. Corn Flour
Corn flour removes excess oil and grease from the scalp and hair. It makes hair smooth and shiny. It also nourishes hair as it is rich in vitamin E. Sprinkle cornstarch on dry hair and scalp, massage for 10 minutes and stay for 30 minutes. Wash with shampoo and rinse.
5. Apple Cide Vinegar
The acid in apple cider vinegar is an excellent ally to balance the pH of the scalp and remove oil from the hair. This allows you to control the sebum secretion so that the hair is cleaner. To know how to remove oil from hair with vinegar.
You can start with Add 2 or 3 tablespoons of apple cider vinegar to a glass of water and stir. Apply to damp hair after washing. Then leave on for 10 minutes and rinse with lukewarm or cold water.