Makeup addicts use any excuse to do an extraordinary makeup and your Valentine's date should not be the exception. Just visualize yourself on a romantic date (or with your friends) looking fantastic… sounds exciting doesn't it? If you want to take advantage of this date, check out the following looks and get to work. Even if you are not going out, take advantage of your makeup for your Instagram.
PS. while you're looking for this valentnes day make u. You might also wanna look for valentines day outfits and nail ideas.
1. Romantic Look
For dreamy people who love to watch romantic movies , receive bouquets of flowers and celebrate this day in a big way, a makeup in pink tones is the perfect option.
2. Modern French Look
Let's face it, red lips are a surefire classic for Valentine's Day, especially for a first date. And the coolest way to wear this makeup like a French girl : with simple eyes, striking lashes and all the attention on your lips . Another great way to combine a red lipstick in a traditional way is with a cat eye liner, 
3. Conservative Pop
For all those who want to look good but prefer a less festive look, a makeup in golden tones is the solution. Start with a brown base and blend little by little, add a touch of shimmering eyeshadow , and voila! You will look subtly arranged without falling into the typical seasonal colors.
4. Colorful Strike
A colorful makeup. Taking advantage of the date, which is full of exaggerations or kitsch, invent a makeup with vibrant colors.
5. Dramatic
Loo dramatic with Red glitter eyeliner is a good option, especially if you won't have much time to produce your makeup. Best of all, it looks great even without any shadow.
6. Classic Style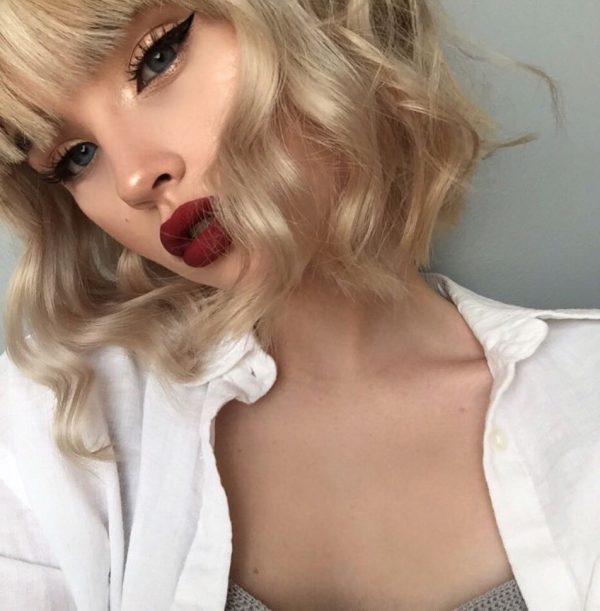 Red lips are a classic of this date. If you're not very good with shadows yet, red lips will save your butt. Just try to wear permanent lipstick in case the kisses show up.
7. Glossy Shine
The gloss shade will be perfect for you if you like to follow trends. This year the gloss will be everywhere, look in your favorite makeup store for a color that you like. We recommend a red for the occasion.
8. Fantasy Shade
If pink is too mainstream for you, put a different spin on your Valentine's makeup with a look in shades of purple . Whether you decide to focus on the eyes with lilac shadows , or on the lips with an enigmatic dark lipstick , this color palette will make you look unexpectedly cool.
9. Smokey Paint
If you already planned to go clubbing with your boyfriend or friends, take advantage of a smokey! It is not every day that we can cast ourselves dramatic shadows. You can also take advantage of photos.
10. Heart Point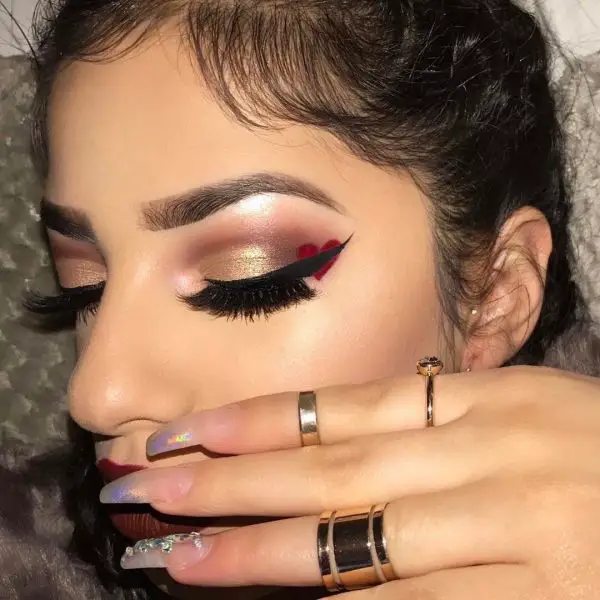 A glitter shadow with a heart ornament. I know that many do not like ornaments in the eyeshadow, but a small detail does not look bad and makes you look different from the rest