Valentine's Day Outfit Ideas ~ The party of lovers is getting closer and closer. We have to choose the right Valentine's Day outfits for an evening of romance and love ! Therefore, it is worth thinking about what to wear that day.
Regardless of whether you have a date with your partner or go to dinner with friends at your favorite restaurant, or just flopping on the couch to watch a Valentine's Movie a trendy outfit will make you feel more confident. If you have no idea how to dress for Valentine's Day, get inspired by these cute Valentine's outfits. 
 PS, check out these fun valentines nail designs , while you're at it.
Valentine's Outfit #1 Stylish in Legging
If you basically live in leggings, don't let a special date night stop you. Complete this detailed faux fur pair with an oversized sweater and a stack of nostalgic camp bracelets (or share them with your partner or best friend).
Valentine's Outfit #2 Glam Style
During the evening of Valentine's Day, who knows where he will take us? One thing is sure, we must be pretty and elegant, but it is also necessary to feel at ease, in this way we can enjoy the evening serenely. Then this glam dress is a perfect outfit for a valentine's date.
Valentine's Day Outfit #3 Feminine on Way
The balloon sleeves, a great trend of recent years, give elegance and refinement even to the simplest dress. Combine with faux leather dress for add the shine.
Valentine's Day Outfit #4 Rock Girl
For those who want to get out of the traditional canons of what could be Valentine's Day looks , a black mini dress with an alternative color, with an ankle boot could give the evening the right rock touch.
Valentine's Day Outfit #5 Romantic Red
If, on the other hand, what we are looking for is absolute romance , we recommend a sexy red dress for a strong and delicate look.
Valentine's Day Outfit #6 Quenn Style
However, for many of us, Valentine's evening can be the right occasion to feel a little more princess than usual. It is absolutely not out of place therefore to choose a long dress . A tight cut under the breast makes it wearable by different types of women.
Valentine's Day Outfit #7 Black and White Outfit with Cute Touch
The evergreen colors are black and white. But to spice up the look a bit with these colors, it's worth to add some blazer for splash of color like this pink outer,
Valentine's Day Outfit #7 with Boots and Short
Over the knee boots are, according to men, the sexiest shoes. So it's better to wear them on Valentine's Day.And Instead of the miniskirt, opt for the more interesting leather shorts. Choose the model with a high waist, thanks to this the legs will seem longer.
Valentine's Day Outfit #8 with Converse
Not a fan of high heels? Then on Valentine's Day your converse is go to. You can dress with skirt and sweater, that creates incredible cute touch.
Valentine's Day Outfit #9 for Outdoor Game
If you and your SO heading outdoors (ice skating, maybe?), Stay true to the holidays and current trends with a vibrant pink coat (The improves mood color). Wear something a little more festive underneath, just in case you end up having dinner. 
Valentine's Day Outfit #10 Comfy Look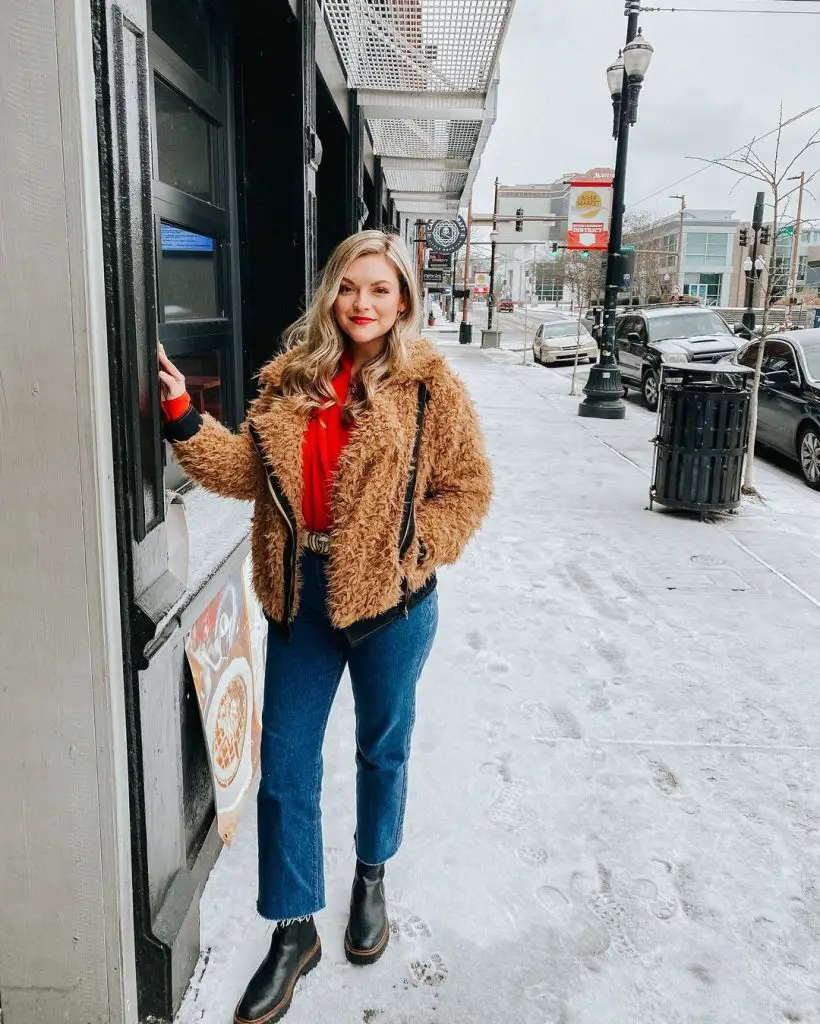 If you're going from the desk to dinner, try this nice flowy (and comfy) top with blue jeans. Prepare your outfit for the evening with strappy sandals and a sparkly tote bag.
Valentine's Day Outfit #11 Casual Date
For a work-appropriate outfit to mark the occasion, opt for straight leg jeans in a soft blonde hue. Accompany it with an button-down shirt.
Valentine's Day Outfit #12 Silk Skirt
this cute and feminine style is for you if you had romantic dinner. This valentine's day outfit is very simple but yet llok fancy with the silk skirt.
Valentine's Outfit #13 Jumpsuit
If you only have fun when you feel comfortable, a cheerful party is the way to go.