Spring has nothing left to come and we are looking forward to wearing halftime looks that allow us to take our coats out of the closet to change them for flowing dresses, fabric sneakers, To make the transition from the colder months clothes to the lighter and more cheerful ones. Now it only remains to put into practice the trend for this season and shine through the streets with your style. Still don't know how to do it? No problem. We bring you some suggestions of spring 2022 outfit ideas with which you will surely sweep away. Here are from casual spring outfit to cute spring outfi with mini skirt and tee for your daily inspiration.
Ps: Here are also spring nail inspo for you to copy for this spring 2022 look.
Here are Casual Spring Outfit Inspo!
Chic Spring Outfit with Faux Leather Jacket
First spring outfit ideas for casual go-to style is you can combine the jacket and idi skirt. The leather effect jacket and the midi skirt with Converse and and small bag. It is certainly a trend, but it has the vocation of a classic.It is also suitable for offic outfit.
Flared Jeans
One of the star garments of spring will be jeans and especially with this wide leg pant jeans. For casual spring outfit you can combine sleeveless white tee crop top and sneaker,
Pleated Skirt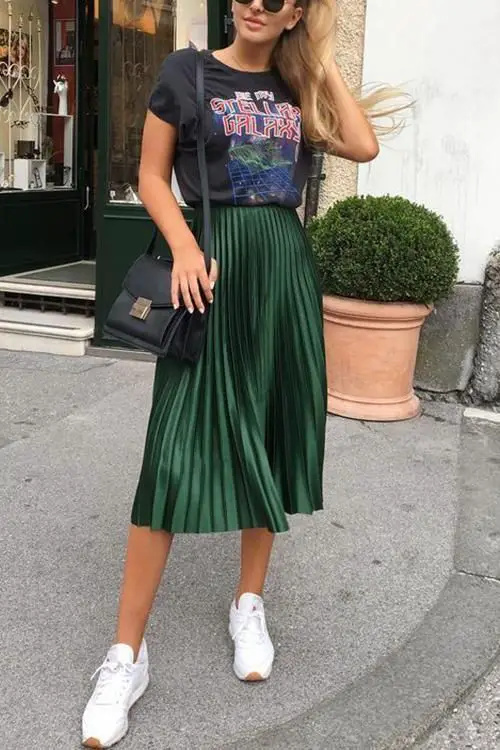 These skirts already have in themselves a spring essence with their lightness, movement and feminine and affectionate touch. To achieve a more sophisticated or relaxed spring style you can mix with casual tee and the white sneaker.
Casual Short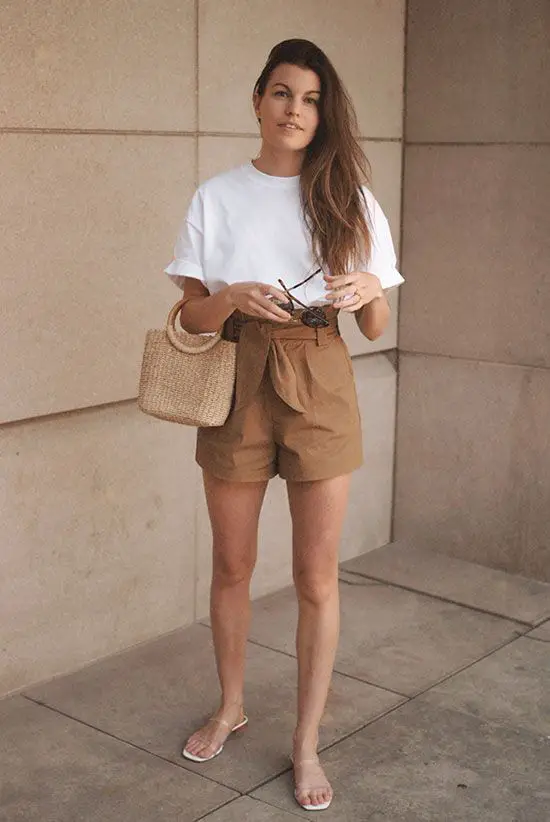 Shorts are one of the big trends for the season. They have even left skirts in the background in the collections of the great world stylists.
Vancy Vibe
The fashion for this year has a component of asymmetry in the skirts, but even if it was not there, it is a style that never goes out of style. This spring outfit kid of style gives a modern and current appearance.
White Jeans
White jeans are perfect for spring looks because of their essence that evokes lightness and freshness, and also because of how easy it is to combine them.
Its neutrality allows you to easily create different outfits and styles, when combined with other strong colors, floral prints or simply with other soft tones and pastels.or you can combine with white top for all white outfit.
With the flowered duster
Choose pink to start the week: solid color silk top and floral duster coat with matching bag. 
The Soft Striped Trousers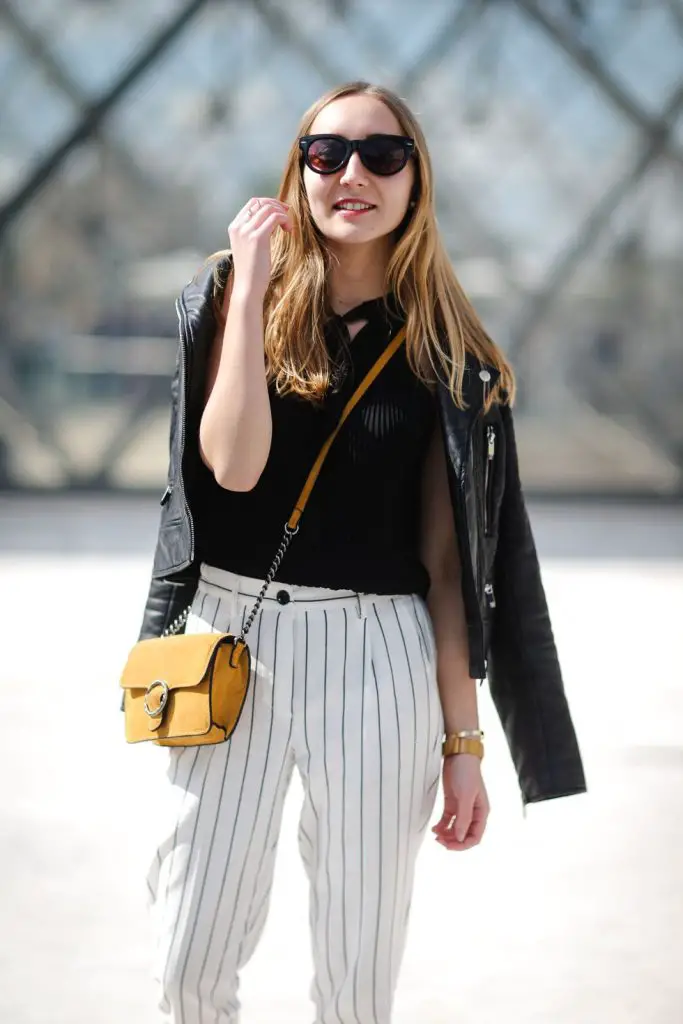 A wardrobe must have: the soft white striped trousers to combine with a simple black sweater and a nail on the shoulders. Prfect spring outfit for stylish look to rock this year.
Modern Trench Coat
Anothe spring 2022 outfit ideas to copy : Trench coats are one of the essential garments to combat the constant rains of spring . With some sneakers and an matched oversize trouser you will have a simple but effective look.
Cherries Dress
We have instantly fallen in love with this cherry print dress. It seems that it is screaming "spring." We love the combination with the Converse but with flat sandals it looks like death.
Sportwear
For Sporty Casual Outits in Spring : Spring is the season for new beginnings and fashion is there to try. Take advantage of the fact that all the conditions are met and play with your outfit mixing different styles to create a unique and very fashionable look.
Sweater and Mini Skirt
Mini skirt will always be kind of trend as the weather getting warmer like spring. One of the essesntial outfits for cute spring outfit. And it looks cute in every way you atch ith any tops. But with sweater and high boots it look like goto outfit you can't resist.
Shirt Dress
A shirt dress is always suitable in spring and more when it comes with a print as spring and as fashionable as polka dots or simply with plain white derss that look flattering.
Mini Cowgirl
What do we like a mini denim in spring and especially in summer (and in autumn and winter …). Most of the time, it only takes a t-shirt and a cute bag to make you look great. Cute spring outfit and def for all season to copy.
Stylish with Hat
It is beginning to be the time to wear a hat and for it to have the prominence it deserves,
Comfy Style
Have you ever thought of combining tailored pants in this way? Not us and the truth is that the result is a Marvelous.
Lightweigh Style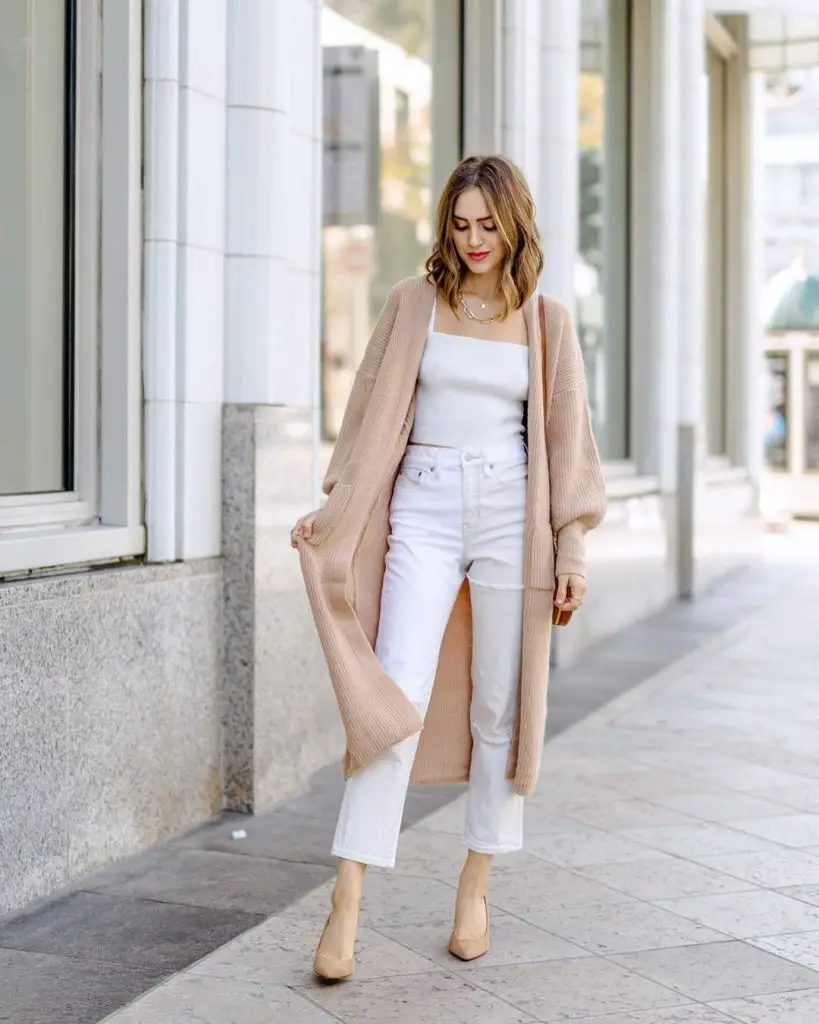 We have fallen in love with this look instantly and the top is so beautiful that it allows hundreds of combinations. This one, with jeans and espadrilles, we love this cute spring outfit.
Spring Outfit with Culotte
This mix and match of the stripes and culottes is best casual spring outfit for go-to attire. You can wear sandals or sneaker and it will deadly styish but most comfortable for daily outfit.
Pastels Chic
One of the cute spring outfit ideas for you to copy is with this pastels party. And you will never fail with the style on pastels.
Spring Dress
For another stylish cute spring outfit ideas this mini navy dress will also be your perfect ally during hot spring day .
Vibrant Spring Outfit
As the weather have rises your sleevles tee is on the go spring outfit you can mix match with any bottoms like this with blue skirt to create vibrant casual outfits.
Spring Outfit with A-Line Skirt
Anothe way to look cute and modern on daily style. An a-line skirt, long sleeve tee and white sneaker for modest cute outfit for this spring.
Midi Dress
Last but not least spring 2022 outfits that wll never out of trend re spring dresses. It' versatile simple outfits you can mix and atch with boots ot converse both look deadly.