When it comes to nail polish, some shades look amazing on dark skin tones. In fact, there is a wide range that allows you to highlight your tone in a warmer way. And here are the best nail colors for dark skin.
And if you usually only stick to the same nail colors for your dark skin, just to reassure you can't go wrong, Then you miss your chance to get fun with your manicures.
Let's just step away from our comfort zone and allow ourselves to experiment more. And I will assure you, you will be obsessed with these nail polish shades. These are the best nail colors for dark beauties; you will never regret trying them. Enjoy your eyes with these fun shades and nail designs that look amazing on dark skin tones.
21 Best Nail Colors for Dark Skin to Copy Now
1. Blue Sky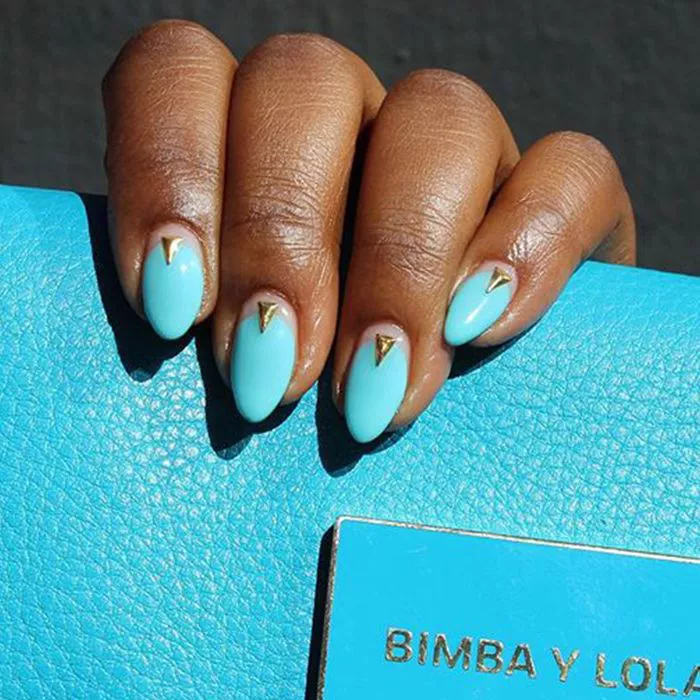 Go for a bright blue like this vibrant aqua color. If you feel spicy, recreate the above by adding a metallic ornament in the center. This nail color literally belongs to your dark skin tone.
The Nail Polish: Sally Hansen v Keith Nail Polish
2. Orange Hue
These orange shades will never go wrong for your complexion. Go with a vibrant orange hue, or play with slightly different shades to complement your skin tone. A slight asymmetrical frame on the sides will add dimension.
Get The Shades: Ulta Beauty
3. Fuschia Pink
This color contrasts wonderfully with tanned skin. Being part of the range of red colors, you can not fail.
Get the fuschia pink here.
4. Neon Green
It's the best summer tone if you're looking for bold, bright manicures. This neon green will absolutely look flattering for a dark complexion. Combining this shade with white will actually kick in style.
Get the neon nail polish at Amazon.
5. Gold Shot
One of my favorite shades that go beautifully with my dark skin is gold; it really compliments my golden undertones. The best thing is that your nails can match your jewelry or hair accessories.
Get the polish here
6. Beige
This is the basic in nails for dark or brown skin. If it has pearly touches, it will give your fingers a touch that will envy you.
Get this nude beige polish here
7. Purple Glam
This color is one of the most complicated nails for dark skin because it is very strong. And it might not suit your personal color. But for some, it can look so good for brown, dark skin.  However, there are several shades that you will love. Do not hesitate to try it; you will love it.
Get the polish at Amazon.
8. Delicate Green
This tone is very tender and delicate, a fascinating nail idea for brown and dark beauties. If you wish, you can combine it with other shades or apply it evenly on each finger, like in this pic.
Get the polish at Amazon or Ulta
9. Metalic Tip
Chocolate or even metallic colors are winning nail formulas for dark skin. If they are very close to your skin tone so you can try them on with the lossy touch and matte coat to create the dimension, this color will work as a neutral color.
Pairing nude nails with glittery pink will leave the most beautiful contrast for your skin tone.
Get the nail polish here
10. White ShadeNail
Whether you go for a full white or get more creative with it, there's nothing better than a white shade on dark-tanned skin. And in order only wear if wish only white plain, you can play it with off-white patches to make it more alive.
11. Terracotta Nails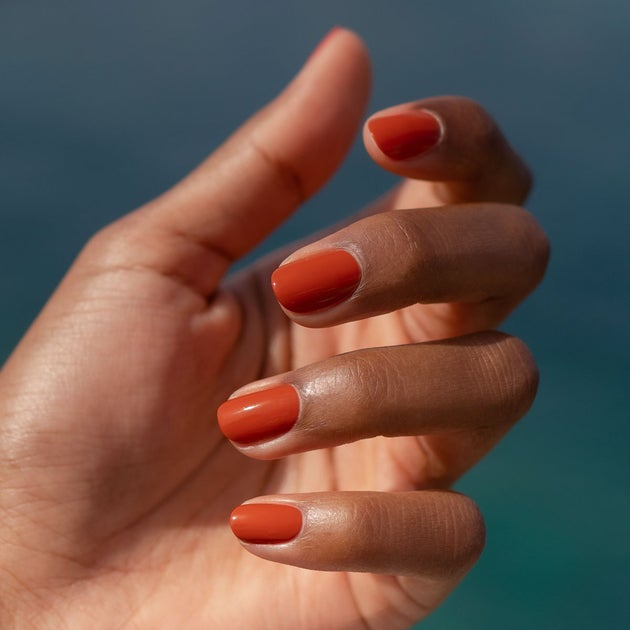 This color is one of the most modern shades and trendiest colors for you to copy this year. And the best thing is that you can opt for reddish or brown tones. You will love it in your hands!
Get the polish at Amazon.
12. Blue Indigo
If you are looking for a winning option for the summer, navy blue is for you. This color looks amazing on dark skin, especially with the gold shine.
This color will make your flawless, dark skin stand out. You can wear it smoothly or with bold designs; It is perfect for day or night.
Get the polish at Amazon or Ulta.
13. Neon Yellow
This is another shade that will drive you wild. If you want a color idea for dark skin, this color will leave you speechless. It goes very well or dark complexion for any occasion.
Get the yellow polish here
14. Lilac Tone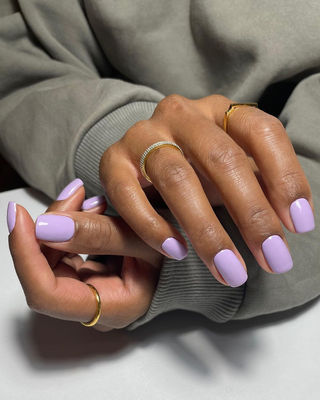 This lilac shade will instantly brighten the look of your nails that will look stand out for any season.
Get the polish at Ulta or Amazon.
15. Sipcy Wine
If you want a sexy look, wine red is ideal to match your skin. Unlike white skins, red burgundy will make you stand out even more.
Get the nail polish at ulta
16. Neutral-Blush Shades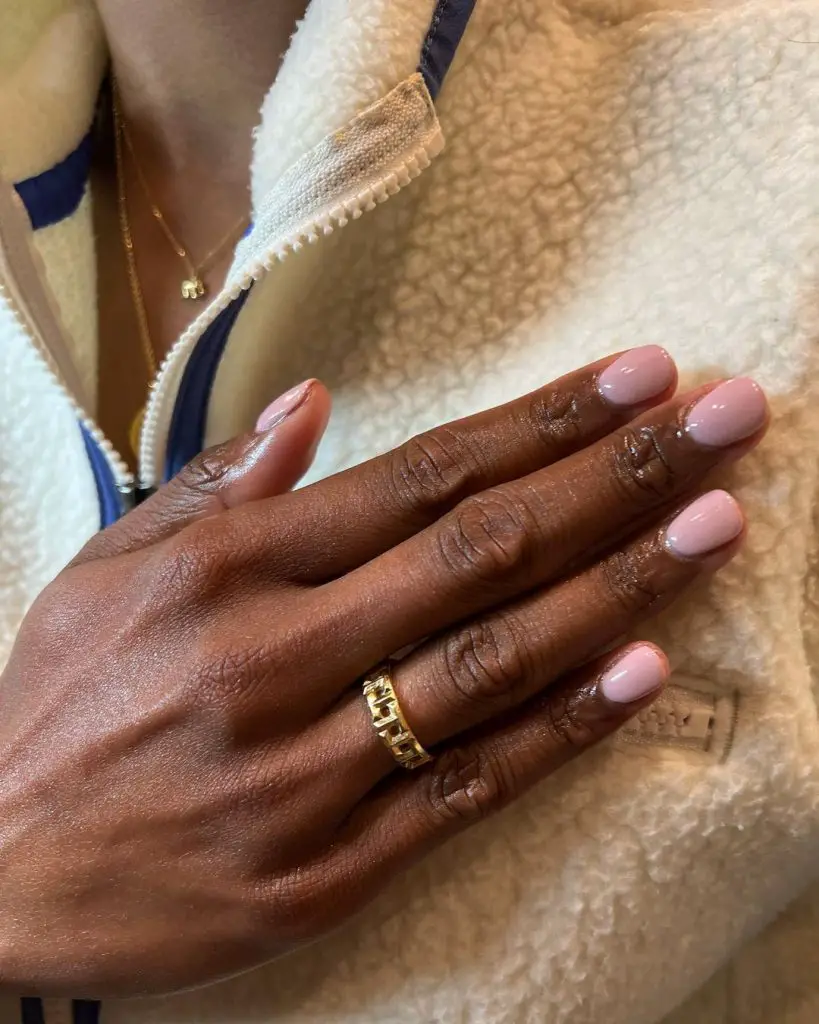 Just like pastel colors, these earth-tone shades will give you the nail look you need to be on trend this year to flatter your complexion—especially pink- nude brush. You can use it on everyday work, go out style, or party night, and you can not fail.
Get the polish at Ulta or Amazon.
17. The Gray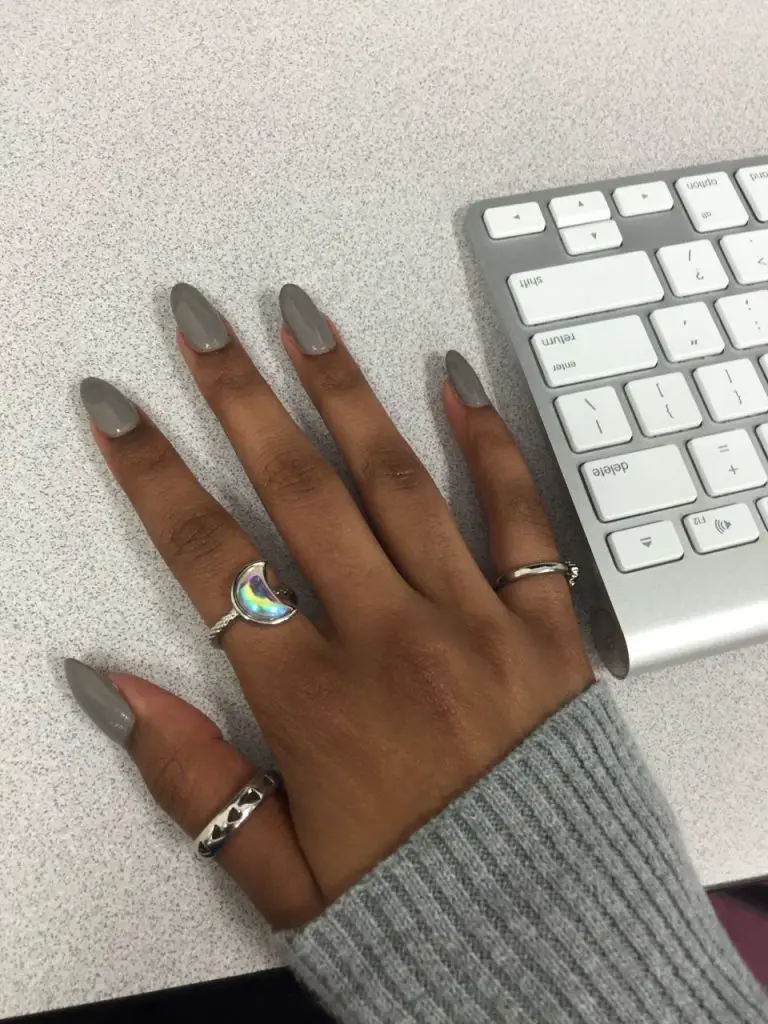 This color has many shades of enamel. However, the one that is ideal for you is the cement color to look spectacular. Create it on almond-shaped nails to combine.
Get the polish at Ulta or Amazon.
18. Indulgent Red
You will never fail with red color. This tone is very elegant that will allow you to look very sophisticated during the day or look perfect for a formal or romantic dinner.
Get the polish at Ulta or Amazon
20. Fresh Mint
If you are looking for a feminine, soft touch but not so common, mint is an incredible option in nails for dark skin tones. You can apply it uniformly or with designs with rhinestones to look spectacular.
Get the nail polish at ulta or amazon.
21. Glossy Black
Last but not least beautiful nail shade for dark skin. You might think that the black shade gonna look dull on your complexion. But otherwise, this shade looks so incredibly flattering.