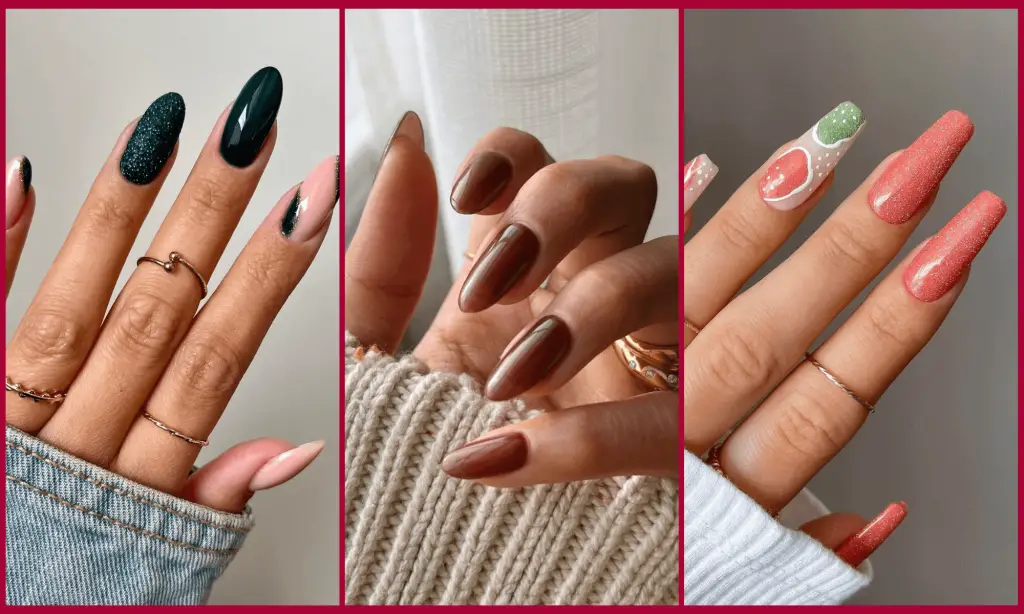 Let's forget about the pastel-colored nails and neon French manicures that have swept through the summer. With the arrival of the new autumn season, the colors that will drive us crazy range from terracotta to burgundy, which we will see intensify; we are also waiting for the black that returns with force.
Every year, the trends in nail colors are renewed, so we tell you what is coming for this season. Compared to last year's autumn-winter colors, which were more sober and earth-hued, this season's colors are more energizing.
As you already know, the last three months of the year are regularly located by the shades of reddish, orange, brown, white, pale yellow and ochre, dark green, and more; colors that we regularly appreciate in each landscape that nature gives us with the change of season.
Coziest Fall Nail Colors To Lit it Up
These colors, along with the autumn season, you will definitely fall into
1. Peaches Pink
Yes, as you read it, pink comes in its second air during the year, and we still see it on the catwalks of Valentino and other fashion houses.
2. Olive Green Nails
This rare jewel-toned hue is just so bewilderingly elegant. Its deep, fancy vibe turned out to be the perfect pitch for the autumnal hues. With this color, you can thrive for simple and modern manicures for the season you can't take your eyes off. We observe countless nail ideas for autumn and winter 2023 in green.
3. Enamel Blue Fall Nail Polish
Here is the classic hue of autumn dark blue enamel. It is ideal for both short and extra-long nails and will give a very current touch to any style.
4. Peach Season Nails
Another of the colors that we will see this fall will be Peach Orange, that vibrant tone that fits perfectly with the basics of the season, such as gray, black, or brown.
5. Demure Fall Brown Hue
Another of the classic nail tones of autumn is this plum brown, which is so flattering. Combine it with designs of different textures to obtain a finish as beautiful as this.
6. Burnt Orange Nails To Shade Up
A real hit this autumn is the burnt orange – a rather stunning medium to dark shade of orange that is really reminiscent of flames A seamless combination of red and orange, two perfect hues for the warmer nuance.. This nuance has another advantage: it can be combined with most other colors. So you can quickly create an elegant autumn outfit. The compliments are guaranteed!
7. Purple Presence
If you're looking for another darker nail polish color, you can dye your nails purple. Dark purple nails with an ombre design or with other patterns will bring you the perfect autumn atmosphere and warmth. Fresh and not too gloomy, the nail polish by Nailberry "L'Oxygéné Serenity" is.
8. Red Wine
Red is great, and just like blue and black, it is one of the evergreens in manicures. This autumn and winter of 2032, you can opt for darker shades such as wine red, Bordeaux, and blood red.
9 Shiny Black Polishes
The nail polish also works perfectly in the office. The trend color comes elegant and natural and makes you look serious and chic at the same time. Embrace in classic short natural lengths of nails.
10. Bang Mint Green Nails
An eloquent shade of green palettes, pic of an imaginary land shade of fall-winter sorceress.