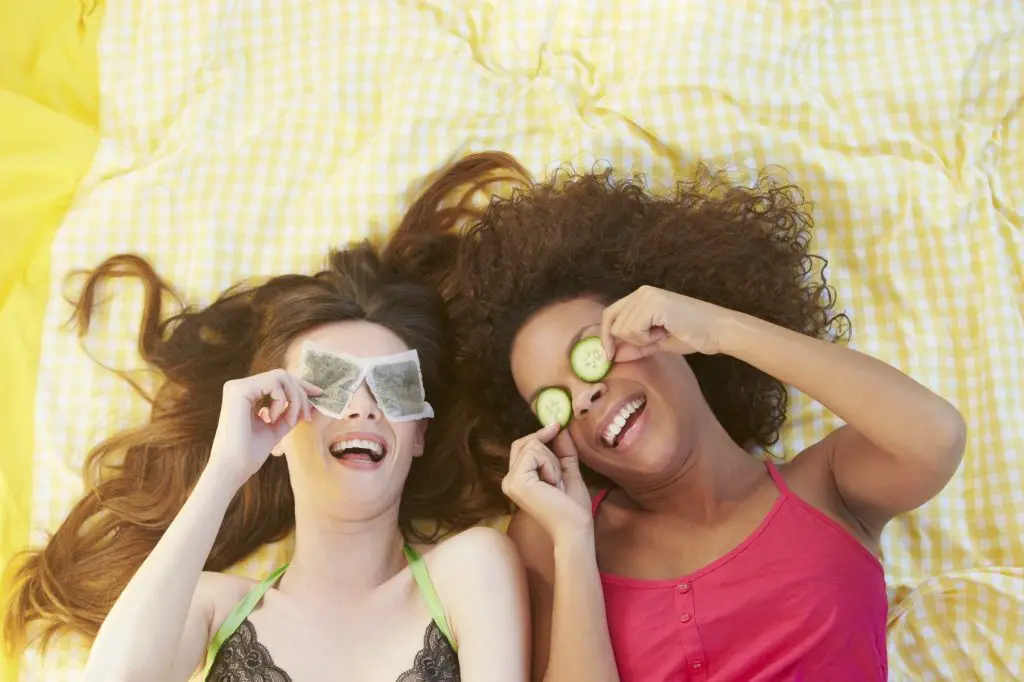 Sometimes to show the best of yourself, you need to be less critical and more practical, learning to enhance your appearance by optimizing time and costs with these 20 Beauty hacks and tricks.
And there are countless beauty hacks floating on the interner. But not all of them keep are truly practical and ended up with dissapointment. So here we present 20 simple and genius beauty-life hacks and tricks that actually work.
We have carefully researched and gathered the most diverse  beauty hacks for you to copy, which are easy to use and also bring a noticeable improvement.
Beauty Hacks for Hair
1. Fat away with baby powder
Do you have an oily hairline but don't have time to wash your hair? No problem! Just take some baby powder and dust an old toothbrush with it. Now run over the approaches and blow-dry for 20 seconds. And the unsightly shine is gone!
2. Always clean hair 
just pour a little sea salt into your shampoo to make your hair cleaner, softer and longer.
3. Make curls faster – with the ponytail technique
If you don't have time to work your entire mane with a curling iron, but still want to achieve beautiful waves, we have a practical tip for you. Tie a high ponytail and then curl it in coarse strands with a styling tool . This is much faster than with loose hair and the effect of opening the ponytail again is still great.
4. More shine – rinse with cold water
If you rinse your hair with cold water after the conditioner , it will look particularly shiny and supple after drying. This is because the fine flakes are laid on the surface of the hair. The hair can therefore bind more moisture and reflect the light more strongly.
5. The DIY bun pillow – made from a sock
 Would you like a more voluminous bun, but don't have a bun pillow ready? Then just cut the front part of a sock, gather it into a roll and use it instead of a hair donut!
6. Prevent hair breakage – do not comb wet hair too hard
 The favorite beauty hack of many hairdressers – only gently detangle the hair when it is wet with a wide-toothed comb  or Tangle Teezer . In this way, the susceptible hair fiber is not unnecessarily stretched and stressed.
Beauty Hacks for Beautiful Skin
7. DIY fan brush – with bobby pins
As is well known, highlighter can be applied particularly well with a fan brush . If you don't have one at hand, you can easily clip two hairpins over the base of a normal make-up brush – and the temporary "fan brush" is ready!
8. No more mascara on your eyelid again – with a piece of cardboard: 
If you sometimes accidentally paint yourself on your eyelid while applying mascara , try holding an old business card behind your eyelashes. Now you can press fully against the eyelashes with the ink and all blunders stay on the box.
9. DIY leg foundation – with body lotion and bronzer: 
If you want to beautify and tan your legs a bit now in summer , we can only recommend mixing bronzer into your body lotion . That looks just as great as purchased leg foundations !
10. Fight pigment spots naturally – with potatoes, lemon and yogurt
This face mask brightens dark areas and combats acne scars. Simply mash a boiled potato, add some yogurt and lemon juice and apply to your face with a brush!
Beauty tips and tricks for beautiful nails:
11. Avoid discoloration – with base coat
The trick 17 to avoid persistent discoloration of dark nail polish is to apply a layer of base coat to the clean nail beforehand .
12. Stronger nails – with the right filing technique
Brittle nails can be counteracted by only working in one direction when filing . The usual back and forth damages the nail tip and makes it more vulnerable.
13. Remove nail polish faster – DIY remover tool
Do you know these practical nail polish remover jars from the drugstore? If you just stick one or two household sponges soaked in nail polish remover into an old jam jar, you get the same effect. Put your fingers in, twist a few times and the nail polish is completely removed!
14. Getting nails clean without nail polish remover – with clear varnish 
Do you no longer have nail polish remover at home and still urgently need to get rid of the chipped paint on your nails? Then cover the old lacquer with a thick layer of fresh clear lacquer and immediately wipe everything off with a kitchen towel. The solvent in the wet nail polish also removes the old, dried one at the same time.
15. Making nail polish last longer – with the right preparation
If you want to avoid chipping nail polish, it is important to thoroughly degrease the nails before applying. This works best with cleaning alcohol or nail polish remover .
Other Life-Beauty Hacks
16. Light legs
If you notice tired or swollen legs at the end of the day and you don't have a specific product on hand, an option that will quickly comfort you is to apply your fresh body cream with an upward massage.
17. Fragrance preservation
To your great regret, your favorite perfume evaporates just a few hours after being sprayed on? With this simple trick, it will last much longer: Massage some petroleum jelly or a scented cream onto the areas of the skin where you will later apply your scent.
18. Carmine
To prevent lipstick from dislodging, Yannick Vaudry, makeup consultant for Yves Saint Laurent, advises' applying a coat of lipstick, kissing on a handkerchief, applying a few small dabs of loose powder, and finally redo apply the carmine
19. Face without dark circles
If you want to hide annoying dark circles, red lipstick will be your best ally. It sounds weird, but it works. First apply a little 'rouge' lipstick using a small brush all over the area of ​​the dark circles. Then, blend it with the help of the same brush that you used, take concealer for dark circles and apply it on them by means of small touches with your finger. And finally, apply the makeup base that you use all over the face, focusing on the area of ​​the dark circles, but also applying it by gently tapping with your fingers. The red tone will have faded and there will be no trace of dark circles.
20. Revival for mascara
Is your mascara dried out? Don't throw it away! With this beauty hack you can make it functional again in no time: Fill a glass with hot water, then put the mascara in it and wait about 5 minutes. When you remove the mascara, the dry residue should melt and the mascara should be easy to brush on again.