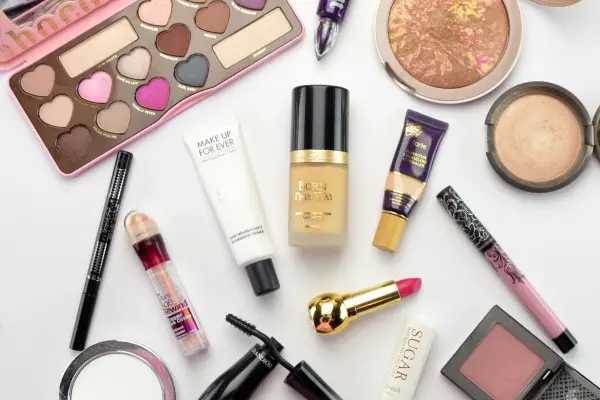 Best High-end Makeup Dupes ~ I know Everybody's on a budget, and when you can get half times less the amount than these high-end lux makeup, why not.
That's why for me drugstore makeup has always been my best friend. Finding exact dupes has been my favorite thing to do these days, especially after the pandemic hit. Here's why I came up with this post to share my best findings on High-end makeup dupes.
As you might notice, these days you will find the drugstore makeup version of these high-end makeups spreading outrageously, making makeup lovers will easily find the cheap, inexpensive version of these best-selling high-end makeup, or called dupes. Although they are not exactly like their high-end counterpart on the formulation side, they perform pretty similarly.
The only thing that consistently sets between this drugstore's makeup dupes from its luxurious high-end makeup is the price. The most exact drugstore dupes listed here are only half or even three times less than their twin high-end makeup products, which is very affordable for most people.
If you can purchase a gold-formulated cushion for $5, why should you spend more than $30 for the same coverage? Like it's a big saving of money. But understandable to prefer High-end products as it's granted with its high-quality ingredients or your taste is more likely to It. But for college students like me who have no money left in my wallet after spending it on college stuff, these makeup dupes are the best way to go. Now, let's start with the drugstore makeup dupes.
Related post: 10 Make Up Essentials For Beginners NEED To Have
Best Drugstore Makeup
1. Becca Sunlit Bronzer Vs. Physicians Formula Murumuru Butter
Becca Sunlit Bronzer is absolutely one of the most natural-looking bronzers that give the skin a sunkissed look you have ever met. They provided perfect natural blending under any skin tone and lasted long. This bronzer is formulated with Color-True Pigments that provide a silky, creamy application that won't leave a hint of fros on your skin.
Physicians Formula Murumuru Butter Bronzer is the best alternative if you won't spend $38 on Becca Sunlit Bronzer.
This is also one of Physician Formula's best-selling products and feels more than its price tag ($15.99). This bronzer itself, as shown above in Light Bronze, is formulated with natural ingredients of murumu butter, cupuacu butter, and tucuma butter that give this bronzer soft and smooth textures, easily melting into the skin. Very similar in shade and shape in the pan, this bronzer is definitely the high-performing dupe that I highly recommend if you're looking for the Becca Sunlit Bronzer Dupes.
2. Giorgio Armani Luminous Silk Foundation Vs L'Oreal Paris True Match Lumi Healthy Luminous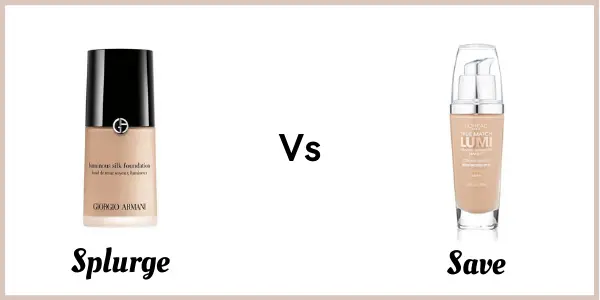 Who doesn't like The Giorgio Armani Luminous Silk? If you have ever tried it once before, It's just never satisfying enough to go with other drugstore foundations. But until this L'oreal Paris True Match Lumi Healthy Luminous Makeup stepped in, It is really a real dupe. They're both super lightweight and have no caking up to the skin. This is one of my cult fave high-end foundations, and knowing there are such exact dupes like the L'oreal Foundation really excites me.
3. Smashbox – Photo Finish Foundation Primer vs. Maybelline – FaceStudio Master Prime Blur + Pore Minimize Primer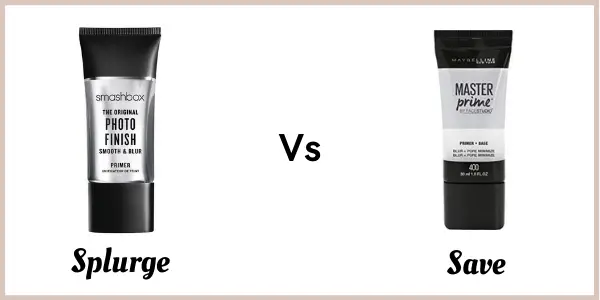 Not only did the packaging look alike, but these primers also did works very similarly. Smashbox – Photo Finish Foundation Primer is a water-based primer that claims to smooths skin and creates a soft focus finish for perfect makeup application. With their ingredients, these primers are considered one of the best makeup primers by professional makeup artists. It comes with an excellent price makes this primer not very a good choice for many of us, especially someone with a limited budget.
But here, Maybelline – FaceStudio Master Prime Blur + Pore Minimize Primer stepped in with a very similar look and ingredients as Smashbox did, and you can grab it for only less than $10. This primer itself claims to reduce the appearance of pores giving smoothness and evening out skin tone.
4. NARS – Radiant Creamy Concealer vs. Maybelline – Fit Me Concealer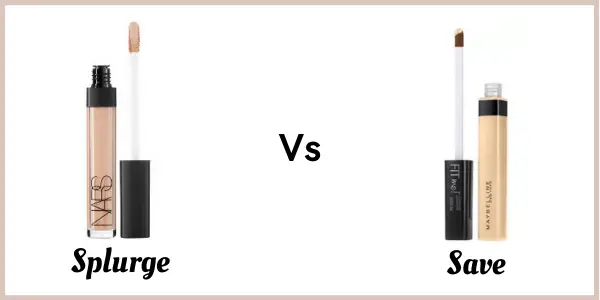 NARS Radiant creamy concealer is concealer for under eyes and dark circles. NARS comes with great coverage, which blurs out any signs of wrinkles and fine lines and hides dark circles under the eyes naturally. This concealer is also very hydrating and light diffusing concealer which I love as my skin is very dry. It's a very good concealer, and it costs $27, which I don't have the guts to spend that much money on for my concealer.
And Maybelline (one of my cult-fave makeup) is definitely an inexpensive dupe of NARS creamy Concealer. This concealer is very smooth. Give natural coverage, which blends very well and gives a natural finish, and is very breathable. You will not be able to distinguish these two concealers unless you really look closely for it.
5. Laura Mercier – Loose Translucent Setting Powder vs. Maybelline – Fit Me Loose Finishing Powder
Laura Mercier Translucent Powder is a semi-transparent crumbly tool to set the makeup effectively. This Setting Powder from Laura Mercier is so popular among beauty lovers as it has many advantages. It ensures the durability of makeup for the whole day. It is formulated with weightless, translucent powder that doesn't make your makeup heavy but gives a natural shine and does not bake your skin. It is oil-free, making it great for all skin types.
Regardless of what Maybeline claims about this powder, many experts think that this Maybeline Fit Me Loose Finishing Powder is more likely to be a setting powder and an excellent dupe for Laura Marcier's translucent setting powder. Of course, they are some differences, but they are not really a big deal. The one that you might need to be careful about is what shade you use. As it is not translucent powder, it does leave off some pigment on your skin tone.
6. Urban Decay Naked3 Pallete Eyeshadow Vs LA Girl Beauty Brick Eyeshadow, Nudes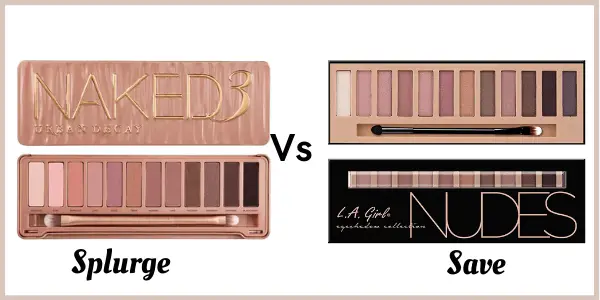 Who doesn't love the shades from Naked 3 Pallete? It has beautiful shimmery pigmented shades that every beauty addict must dream of getting. But as it costs a bit pricey, you can go with this very similar dupe. LA Girl Beauty Brick Eyeshadow in nudes, Despite how this palette. A little bit more powdery and more light. The pigment performance is very very similar. You can't really tell the difference between the two of them if you put them into different sides of your eye.
7. Tatcha The Silk Canvas Protective Primer Vs E.L.F Poreless Putty Primer
8. Tarte Shape Tape Contour Concealer Vs Maybelline Instant Age Rewind Eraser Dark Circles Treatment Concealer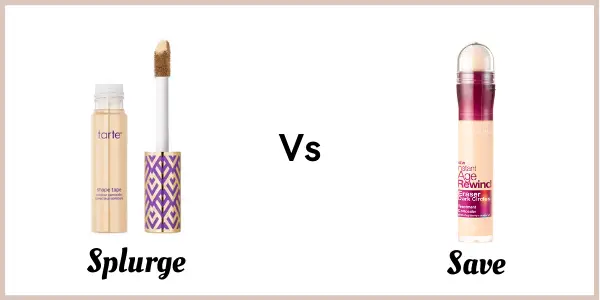 Another best find for this high-end makeup of concealer from Tarte. It is a holy grail finding you can't miss. Here we have a Maybelline Age Rewind Concealer that gets you a very similar result to the concealer from Tarte. And foremost, you can save up about 20 bucks.
9. Iconic London – Prep Set Glow Spray Original vs. Makeup Revolution – Glow Revolution Illuminating Face & Body Spray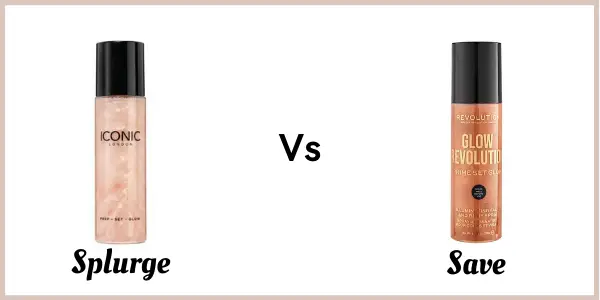 10. Fenty Gloss Bomb Universal Lip Luminizer Vs Revlon Super Lustrous Lip Gloss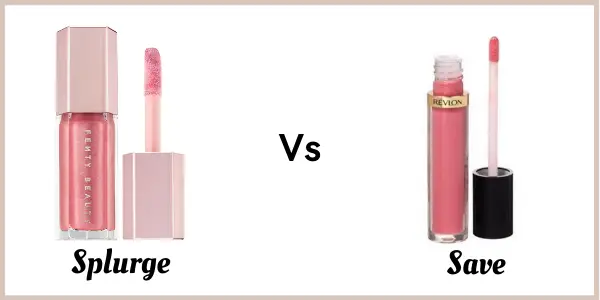 11. NARS Blush Vs Milani Baked Blush